Here's a breakdown of the best pool noodles for all of your aquatic activities, from swimming, to Aquafit, to floating around at the beach.
The pool noodle leans on the recreational side of swimming, often seen in the wave pool or with kids slapping each other silly with them (I might have been one of those kids at one point…).
While the pool noodle looks strictly like a water toy or something to keep only in the leisure pool, it is extremely useful for other things in the water.
There are a ton of uses for the standard pool noodle, from increased resistance in the water to providing buoyancy for a relaxing day at the beach.
Below is a breakdown of the best pool noodles for every kind of aquatic activity, from swimming to relaxing.
Let's jump right in.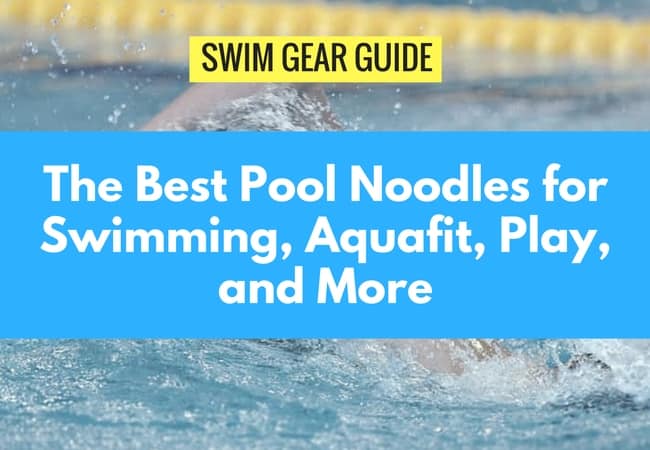 1. AquaJogger Sqoodle
AquaJogger is probably better known for its flagship products, aqua jogging belts and water dumbbells, but these uniquely shaped pool noodles are an excellent addition to anyone who enjoys exercising with floaty aids when doing water fitness activities.
The Sqoodle is made of closed-cell EVA foam that doesn't get water-logged and dries rapidly between sessions in the water. It bends nicely so you can wrap it under your arms, sit on it, or use it to press the water during water fitness classes.
The main feature of this pool noodle compared to other similar models is the square shape of the noodle and the added buoyancy that comes along with it.
This added flotation makes it more durable, more challenging to exercise with, and won't crumble and fall apart like some of the cheapo ones on the market.
A little awkward to say ("Sqoodle" doesn't quite roll off the tongue…) but when it comes to pool noodles that can be used for exercise and play and can take plenty of both, the Sqoodle leads the pack.
Available in two lengths, either 48" or 64" and both are available over at Swim Outlet.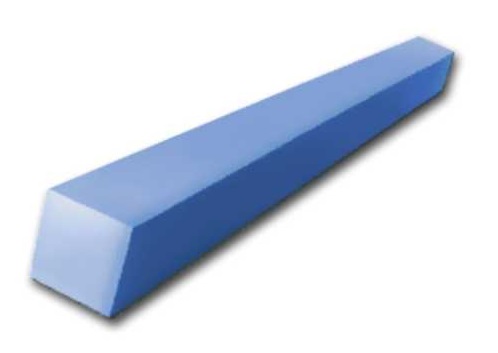 2. Oodles of Noodles Swimming Noodles
This is the classic swimming noodle seen at most local aquatic facilities. They are light, thin, easily bendable, and last for about a zillion years. With a hollowed-out construction, these foam noodles are an excellent swimming aid as they can be easily folded and bent according to your body in the water.
The Oodles of Noodles 6-pack (you can get them multi-colored or in sets of one color) is super affordable, made to last, and are at home both in the pool and at the beach.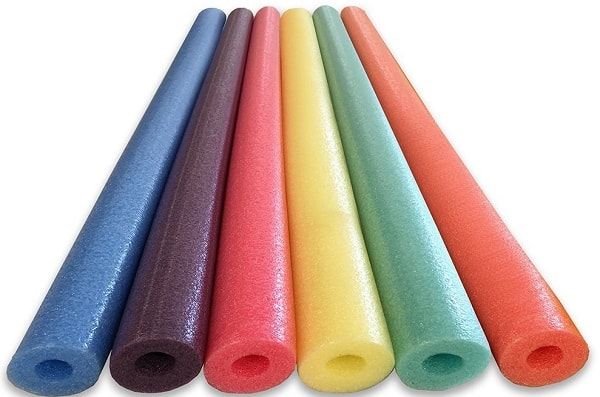 3. World of Watersports Foam Noodle
This water noodle looks more like a foam roller, and although you might be tempted to use it as such, it might not give you the roll that you'd expect from an actual roller.
Nonetheless, the bumps and the vinyl coating of the roller is designed to give you a comfortable and non-slip float/water run/swim/hit your siblings with.
It's also a little wider and thicker than the typical pool noodle that you are used to seeing at your local aquatic center. It provides extra buoyancy, supporting persons up to 250lbs.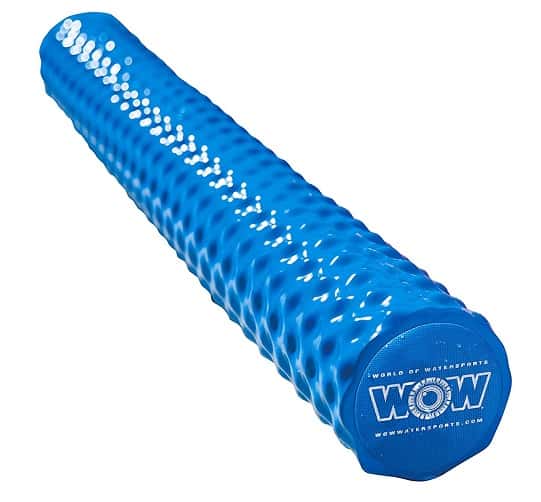 4. SwimWays Standard Swim Noodles (Bulk Pack)
For swim clubs, pool administrators, or people who just really, really like pool noodles, you can get them in 35-packs (yup, that's not a typo—35 pool noodles).
When ordering them in bulk they are also hilariously cheap, coming in at just over a dollar per noodle. The SwimWays Standard bulk pack features five different colors and has a hollow core.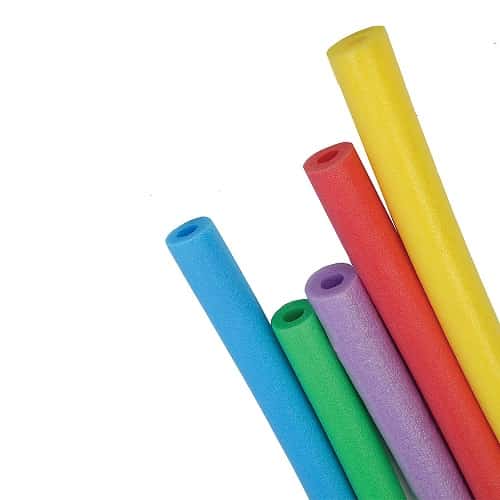 5. Oodles of Noodles Mega Jumbo Pool Noodle
Want a pool noodle that a few swimmers can latch onto? Or maybe you simply want a larger pool noodle that can keep you floating in the water?
The Oodles of Noodles Mega Jumbo is a solid, six-foot-long, and five-inches thick pool noodle that is extremely buoyant while also being surprisingly flexible for such a long and thick noodle.
Larger swimmers—the Jumbo can easily keep me buoyant and I'm a dense 285lbs—and small groups of swimmers who want to float together will love this pool noodle.
Made domestically, the foam dries quickly when out of the water, is perfect for exercising in the water or floating, and is the biggest, thickest pool noodle that I've found on the market.
Being a "mega jumbo" and all, it does cost significantly more than your simple standard-sized noodle, and there aren't any additional color options, with one jumbo noodle retailing for around $39 (check Amazon for current pricing and availability).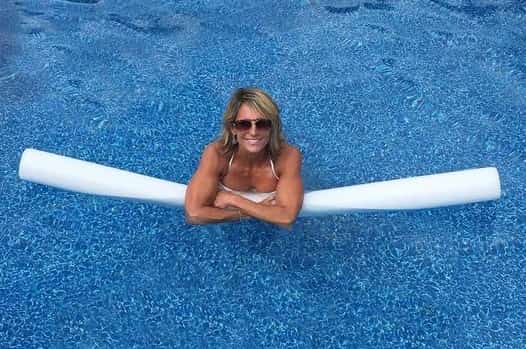 6. SwimLine Inflatable Pool Noodles
While swim noodles are generally made of highly durable foam material, the SwimLine Inflatable Aquatic Noodles switch the script by providing an inflatable alternative.
The inflatable noodles, available in red, blue, and yellow, come in a straight noodle and a curled noodle, which makes it easy to use the noodle to climb, ride and sit on.
The SwimLine Inflatable Noodles inflate and deflate in moments, making them an excellent choice for the beach-goer or for the pool swimmer who wants to use the aquatic noodle at their local aquatic center. Families who are traveling and want a swimming toy that they can easily stuff into their luggage will appreciate the SwimLine noodles.
The noodles come in a length of 72″, making them ideal for kids and adults and endless fun in the pool, and are reasonably priced, with Amazon retailing them for less than $20 per set (check Amazon for current pricing and availibility).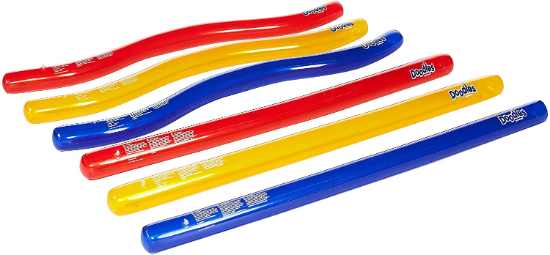 7. Airhead Sun Comfort Swim Noodles
Although not as long as the other swimming noodles that we have on this list, the Airhead Sun Comfort Aquatic Pool Noodle makes up for it with its alternative design, which has the noodle wider than the others. At 5″ wide, it almost feels like an aquatic jogging belt when you wrap your arms over it.
The PVC-free ecocell foam construction is durable against the elements (including harmful pool chemicals like bromine and chlorine) and won't break, peel, or crack over time. The Airhead Sun Comfort Swim Noodles are available in a pair of colors and are 45″ long.


8. TRC Recreation Swimming Pool Jogger and Aquatic Noodle
While the TRC Recreation Swimming Pool Jogger isn't a pool noodle in the strictest sense of the word, the flotation can be used as one, making it on our list for the virtue of being adaptable enough to be used as a water belt and pool noodle.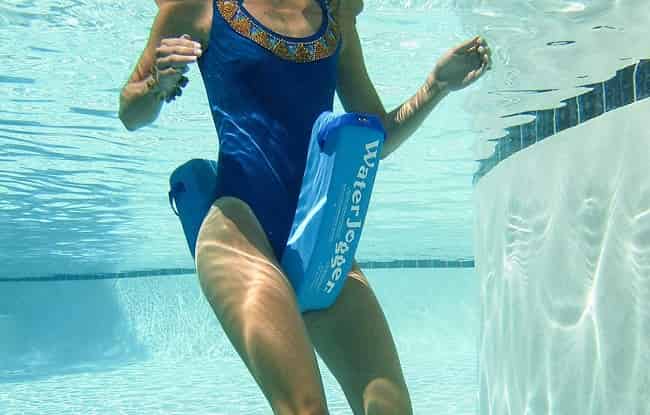 The pool noodle-slash-belt can be used in a variety of ways, from a pool lounger (it has a small headrest that you can use to prop up your head), a water joggin' belt, and as a noodle that you can ride and float on. Made of extremely soft foam that is coated with vinyl, it won't chafe your skin or crack after repeated use and exposure to the sun.


9. Water Pickle Inflatable Swimming Pool Noodle
While the Water Pickle—adults will have as much fun cracking jokes about its name as the kids will playing with it—is a little pricier than the others on this list, it's an excellent travel inflatable that can be quickly inflated and is easy to hold onto in the water.
The best part of an inflatable pool noodle is that you can inflate it according to your body shape and weight. Being inflatable, the Water Pickle can be filled (only takes about 8-10 solid breaths to fill it) puffed up according to your preferences.
Guaranteed to generate some snickers among the adults, and endless fun among the kids, the Water Pickle Inflatable Pool Noodle is easy to transport, a cinch to inflate/deflate, and highly durable.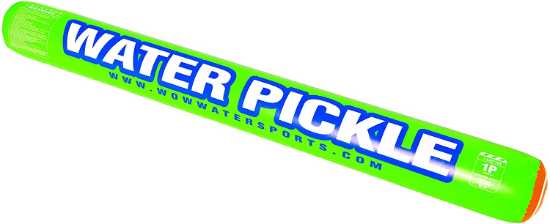 ---
How to Choose the Best Swim Pool Noodle for You
For something that is so simple, there is a wide variety of types and shapes when it comes to pool noodles.
Here are some things to keep in mind when choosing the right one for you:
⭐ Pool noodles for swimming come in either a hollow or a solid core. Hollow pool noodles float better and are stiffer, giving them more overall strength and durability. Hollow swimming pool noodles are lighter and provide less buoyancy, but they are much easier to twist and wrap around your body.
⭐ What are pool noodles made of? Quality foam pool noodles are made of polyethylene. This is an inexpensive material that is extremely resistant to pool chemicals like chlorine and bromine. They won't fade from exposure to the sun's UV rays, either. There are some alternative pool noodles on the market now, too, including the inflatable noodle set made by SwimLine, which is made of heavy-duty rubber and can be inflated in moments, making them suitable for families on the road.
⭐ Pool noodles—as you saw in our list of best water noodles above—also come in a hilariously diverse range of bright colors. From your aqua blue to vibrant yellow, pool noodles are available in a wide array of subtle and not-so-subtle colors to match your preferred style and aesthetic.
⭐ Noodles generally come in a length of around 50-70 inches in length. This is generally the standard size for this swimming and floating aid, with both longer and shorter lengths on the market. If you want to customize the length of your pool noodle, the ones with hollowed-out cores are easier to customize for length (just use a serrated knife to cut the foam).
⭐ Pool noodles are exceptionally versatile for such a simple piece of foam. They can be used at the beach, the pool, or even in the hot tub. All you need is a little bit of water and you are good to go.
⭐ Inexpensive. For the most part, pool noodles are very cheap, especially foam ones. Inflatable pool noodles can run a little more in some instances, but generally speaking, you are looking at a cost of around $10-20 for individual noodles and noodle sets.
---
Swim Pool Noodles: FAQs
What are the benefits of pool noodles?
There are tons of benefits to this kind of water exercise equipment.
Here are some of the reasons you should pick one up before hitting the water:
✔️ A better buoyancy tool. The pool noodle can be used as a flotation aid to help beginner swimmers learn how to balance themselves properly in the water. Swimming aids provide a measure of buoyancy, and pool noodles are a great one for developing swimmers or people who simply want to turn up the leisure in their backyard pool or at the beach.
✔️ It can double as a kickboard, particularly for those who find stretching their arms across the kick board to be strenuous on their shoulders. You can manipulate the shape of the pool noodle to get a more comfortable and natural kicking position; under your armpits and around your chest, for instance.
✔️ Useful for water running. The noodle gives you just enough buoyancy to keep your head above water, which makes it helpful for those who like to exercise by water running. Simply wrap it around you and you are off to the races.
✔️ The swimming noodle is great for developing upper body awareness in the water. You can use it to emphasize the upper body portion of treading water (sculling, basically). By "riding" the pool noodle you take your legs out of the equation and you can concentrate on executing the back-and-forth sculling movement properly which is essential in being able to tread water efficiently.
✔️ High degree of movement. The best benefit of a pool noodle is that unlike your favorite pull buoy, kickboard, or even a life jacket, the pool noodle provides buoyancy and support without being fixed or strapped on, restricting the movement of the arms or legs. They give you a customizable and free range of movement.
✔️ It's easy to use and remove. No stumbling and bumbling trying to remove it before moving onto something else or finishing your workout. Simply throw it on the pool deck or let it float peacefully away.
✔️ Excellent for water therapy. The pool noodle is commonly used with physical therapy patients at the pool that I train out of. With just enough buoyancy to keep people afloat, it allows them to move through the water slowly and safely.
✔️ Doubles as resistance training in your local Aquafit classes. The noodles allow for low impact exercise and movement in the water and can even be used as a piece of resistance equipment while doing AquaFit or other aquatic aerobic-related exercises. The pool noodle, in addition to your favorite swimsuit for water aerobics and a set of water dumbbells, give you a variety of ways to get in shape during those classes.
Are pool noodles waterproof?
Yes. They are made of high-density EVA foam that is buoyant and also doesn't absorb water, making them an excellent flotation tool that won't get water-logged. Because pool noodles are water-proof, they dry quickly and won't seep water into the backseat of your car on your way home from the pool.
That said, they aren't invincible–storing them between sessions in the water will protect them and extend the life span of your pool noodles. There are plenty of excellent pool storage boxes and bins to make your noodles last even longer.
How do you swim with pool noodles?
Swimming is an excellent activity and skill that everyone should learn.
There are plenty of tools out there for helping new swimmers master the basics of floating and moving through the water, and pool noodles are one of my favorites for helping swimmers work on their kicking motion and ability to scull the water.
For example:
Learning the flutter kick. Flutter kicking is a crucial part of mastering the freestyle and backstroke. Wrapping a noodle under one armpit, around the chest, and under the other armpit and "leaning forward" can give a swimmer the confidence to focus on the kicking motion. You can also do this to work on kicking on your back by setting the noodle around the back of the shoulders.
Sculling. Sculling is another favorite skill on the path to swimming confidence. Extend the noodle across your chest and under the armpits and move the hands, palms down, back and forth, working on "catching" more water. This simple movement encourages a deeper understanding of how much water can be moved.
Ultimately, when it comes to swimming with a pool noodle, most of the work is done mastering the kicking and sculling motions as your arms/shoulders are generally required to hold onto the noodle.
---
More Stuff Like This:
The Best 8 Swim Caps for Swimmers. Looking for the best swim cap for training and competition? Here's your ultimate guide to picking out the best swimming cap for you.
The 7 Best Goggles for Swimming. Confused about what kind of goggles to get? Here's a breakdown on the best swimming goggles for fast swimming.
5 Best Poolside Basketball Hoops. Elevate the fun in your backyard pool with our collection of the best basketball nets and hoops for your swimming pool.