Here's a breakdown of the best pool noodles for all of your aquatic activities, from swimming, to Aquafit, to floating around at the beach.
The pool noodle leans on the recreational side of swimming, often seen in the wave pool or with kids slapping each other silly with them (I might have been one of those kids at one point…).
While the pool noodle looks strictly like a water toy or something to keep only in the leisure pool, it is extremely useful for other things in the water.
There are tons of benefits to this kind of water exercise equipment.
Swimming Noodles: Benefits and Uses
A better buoyancy tool. The pool noodle can be used as a flotation aid to help beginner swimmers learn how to balance themselves properly in the water.
It can double as a kickboard, particularly for those who find stretching their arms across the kick board to be strenuous on their shoulders. You can manipulate the shape of the pool noodle to get a more comfortable and natural kicking position; under your armpits and around your chest, for instance.
Useful for water running. The noodle gives you just enough buoyancy to keep your head above water, which makes it helpful for those who like to exercise by water running. Simply wrap it around you and you are off to the races.
The swimming noodle is great for developing upper body awareness in the water. You can use it to emphasize the upper body portion of treading water (sculling, basically). By "riding" the pool noodle you take your legs out of the equation and you can concentrate on executing the back-and-forth sculling movement properly which is essential in being able to tread water efficiently.
High degree of movement. The best benefit of a pool noodle is that unlike your favorite pull buoy, kickboard, or even a life jacket, the pool noodle provides buoyancy and support without being fixed or strapped on, restricting the movement of the arms or legs. They give you a customizable and free range of movement.
It's easy to use and remove. No stumbling and bumbling trying to remove it before moving onto something else or finishing your workout. Simply throw it on the pool deck or let it float peacefully away.
It's a common water therapy tool. The pool noodle is commonly used with physical therapy patients at the pool that I train out of. With just enough buoyancy to keep people afloat, it allows them to move through the water slowly and safely.
Doubles as resistance training in your local Aquafit classes. The noodles allow for low impact exercise and movement in the water and can even be used as a piece of resistance equipment while doing AquaFit or other aquatic aerobic-related exercises. The pool noodle, in addition to your favorite swimsuit for water aerobics and a set of water dumbbells, give you a variety of ways to get in shape during those classes.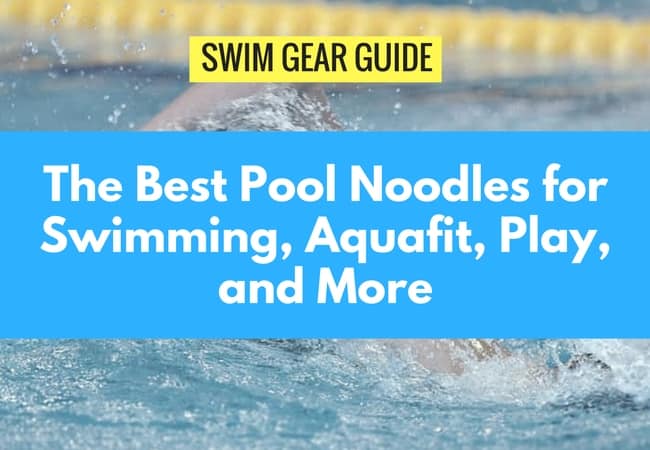 Picking the Best Pool Noodle for You
Pool noodles are typically made of foam, and as a result, they are basically indestructible. They are also quite cheap (especially compared to other pieces of swimming equipment like racing suits and training fins), usually coming in at around $10-12.
They come in either a hollow or a solid core.
Pool noodles—as you will see in our list of best water noodles below—also come in a hilariously diverse range of bright colors.
Can be used at the beach, the pool, or even in the hot tub. All you need is a little bit of water and you are good to go.
The Best Pool Noodles for All Your Swimming Needs
Here are four of the top swimming noodles out on the market:
1. Oodles of Noodles Swimming Noodles
This is the classic swimming noodle seen at most local aquatic facilities. They are light, thin, easily bendable, and last for about a zillion years.
The Oodles of Noodles 6-pack (you can get them multi-coloured or in sets of one color) is cheap, made to last, and are at home both in the pool and at the beach.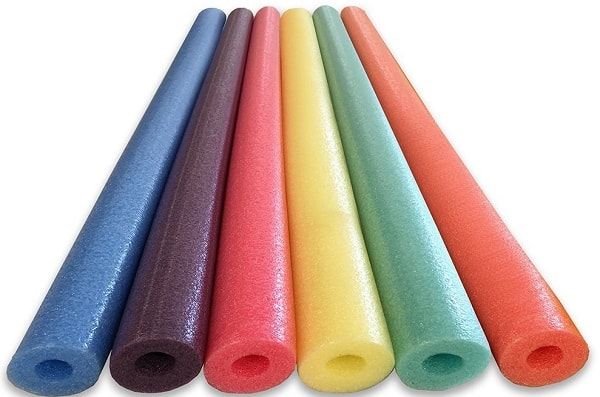 2. World of Watersports Foam Noodle
This water noodle looks more like a foam roller, and although you might be tempted to use it as such, it might not give you the roll that you'd expect from an actual roller.
Nonetheless, the bumps and the vinyl coating of the roller is designed to give you a comfortable and non-slip float/water run/swim/hit your siblings with.
It's also a little wider and thicker than the typical pool noodle that you are used to seeing at your local aquatic center. It provides extra buoyancy, supporting persons up to 250lbs.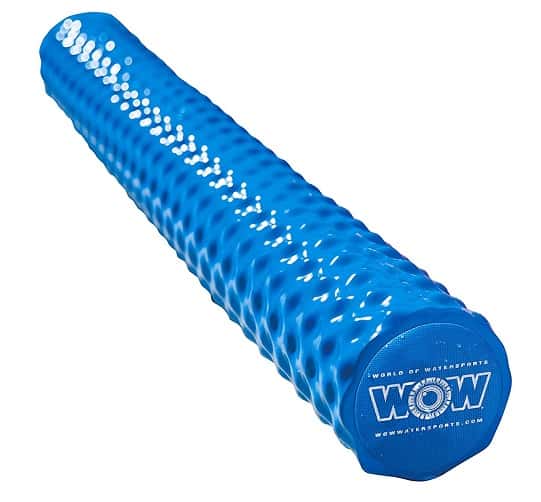 3. SwimWays Standard Swim Noodles (Bulk Pack)
For swim clubs, pool administrators, or people who just really, really like pool noodles, you can get them in 35-packs (yup, that's not a typo—35 pool noodles).
When ordering them in bulk they are also hilariously cheap, coming in at just over a dollar per noodle. The SwimWays Standard bulk pack features five different colors and has a hollow core.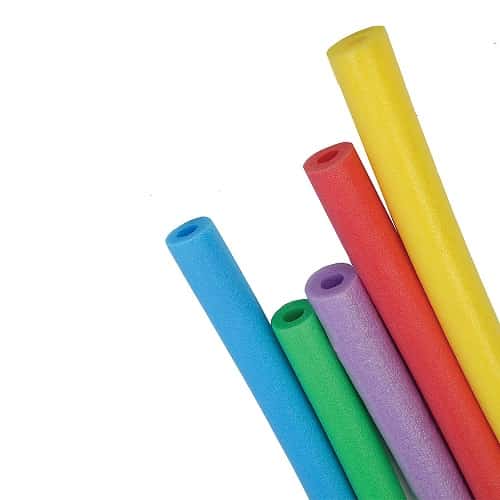 4. SUN Searcher Inflatable Pool Noodles
While swim noodles are generally made of highly durable foam material, the SUN Searcher Inflatable Aquatic Noodles switch the script by providing an inflatable alternative. The inflatable noodles, available in red, blue, and yellow, come in a straight noodle and a curled noodle, which makes it easy to use the noodle to climb, ride and sit on.
The SUN Searcher Inflatable Noodles inflate and deflate in moments, making them an excellent choice for the beach-goer or for the pool swimmer who wants to use the aquatic noodle at their local aquatic center. The noodles come in a length of 72″, making them ideal for kids and adults and endless fun in the pool.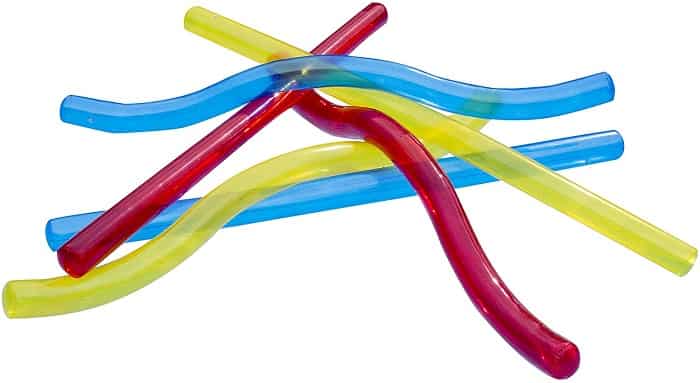 5. Airhead Sun Comfort Swim Noodles
Although not as long as the other swimming noodles that we have on this list, the Airhead Sun Comfort Aquatic Pool Noodle makes up for it with its alternative design, which has the noodle wider than the others. At 5″ wide, it almost feels like an aquatic jogging belt when you wrap your arms over it.
The PVC-free ecocell foam construction is durable against the elements (including harmful pool chemicals like bromine and chlorine) and won't break, peel, or crack over time. The Airhead Sun Comfort Swim Noodles are available in a pair of colors and are 45″ long.


6. TRC Recreation Swimming Pool Jogger and Aquatic Noodle
While the TRC Recreation Swimming Pool Jogger isn't a pool noodle in the strictest sense of the word, the flotation can be used as one, making it on our list for the virtue of being adaptable enough to be used as a water belt and pool noodle.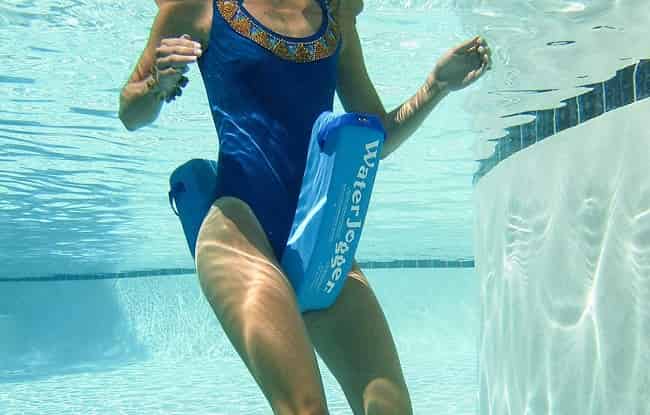 The pool noodle-slash-belt can be used in a variety of ways, from a pool lounger (it has a small headrest that you can use to prop up your head), a water joggin' belt, and as a noodle that you can ride and float on. Made of extremely soft foam that is coated with vinyl, it won't chafe your skin or crack after repeated use and exposure to the sun.


*
More Stuff Like This:
The Best 8 Swim Caps for Swimmers. Looking for the best swim cap for training and competition? Here's your ultimate guide to picking out the best swimming cap for you.
The 7 Best Goggles for Swimming. Confused about what kind of goggles to get? Here's a breakdown on the best swimming goggles for fast swimming.
5 Best Poolside Basketball Hoops. Elevate the fun in your backyard pool with our collection of the best basketball nets and hoops for your swimming pool.