Pump up the fun in the pool with our collection of the best poolside basketball hoops.
The backyard pool is a great place to be during the hot days of summer. Whether you have an in-ground or above ground swimming pool, it's hard to beat the refreshing awesomeness that comes with jumping into the cool water.
Beyond swimming, there is a wide variety of pool games that you can engage in to pass the time and ramp up the enjoyment. Lots of people use their backyard pool for working out and there is no shortage of pool exercise equipment to get your blood flowing and calories burning.
Adding a poolside basketball hoop is an easy way to make the backyard pool even more fun. Sure, you could swim in place using a swim tether or do some water jogging, but everyone likes shooting some hoops.
Here is our hand-picked selection of the best basketball hoops for your pool.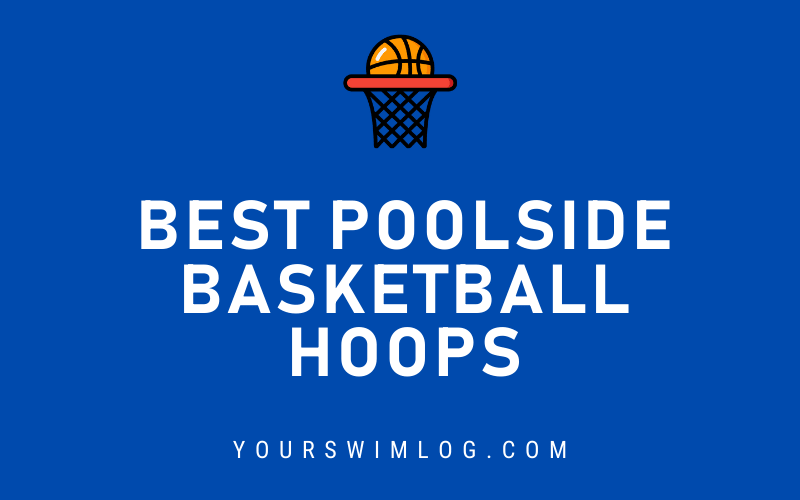 Lifetime Adjustable Poolside Basketball System
For a more feature-rich basketball hoop, the Lifetime Poolside Basketball System comes with a ton of bells and whistles, making it our favorite of the full-size hoops.
With a 44-inch backboard that is shatterproof, the all-weather hoop is powder-coated with a weather-resistant finish. The hoop and backboard can be adjusted from 4-feet to 7-feet, making it an awesome basketball hoop for kids and adults.
The 27-gallon base is filled with water or sand to provide stability (but do not hang off of it), and the hoop has a 5-year manufacturer's warranty, meaning that you can shoot some chlorinated hoops with peace of mind.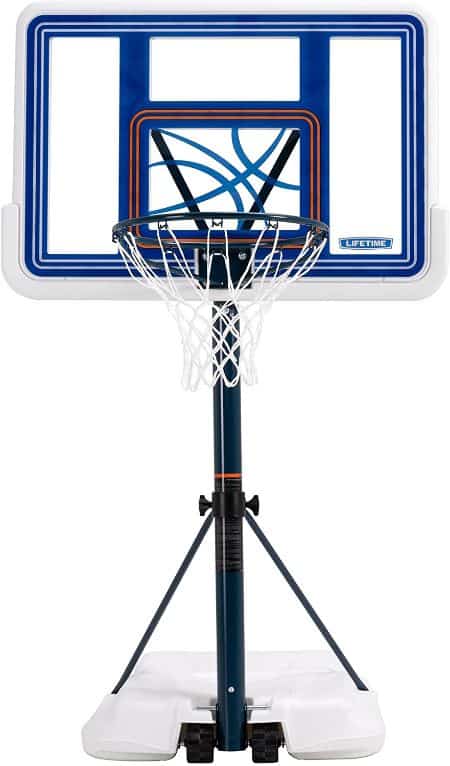 GoSports Splash Pool Basketball Hoop
GoSports makes tons of fun gear for backyard pool enthusiasts, and their Splash Pool Basketball Hoop—an Amazon Editor's choice—is a cost-effective way to introduce basketball to the water.
The rim is springy and can withstand the action. Included are two basketballs, the backboard and hoop, and a pump to keep the basketballs inflated. The backboard is 34" wide and the rim is just over a foot wide. A weighted base (filled with water) keeps the backboard and rim stable while you and your friends ball out.
Available in blue or red, the GoSports Splash Basketball Hoop is a budget-friendly addition to your in-ground swimming pool.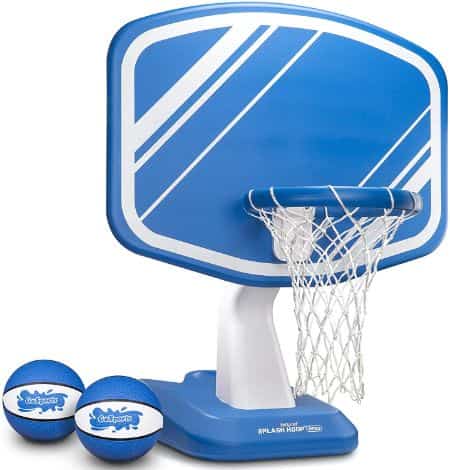 Dunnrite Pool Sport 2-in-1 Basketball and Volleyball Combo
Want more versatility with your backyard pool activities? The Dunnrite Pool Sport 2-in-1 is both a poolside basketball hoop and a volleyball set.
The set is vinyl coated for maximum durability in the face of pool chemicals and sun exposure. When set up as a basketball hoop, the net stands three feet above the pool deck, and the volleyball net can be stretched out across pools up to 22' in width.
The base can be filled up with over 100-pounds of water when completely filled up, providing a strong and secure footing for the hoop. Includes both a basketball and a volleyball, and Dunnrite backs the set with a three-year manufacturer's warranty.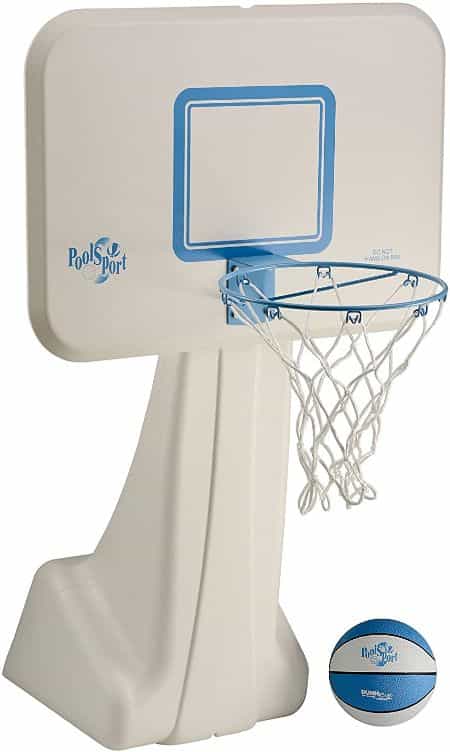 Poolmaster Splashback Poolside Basketball Net
I will be the first to admit that this poolside basketball hoop is no particularly good looking. That being said, Amazon found it worthy enough to rank as one of their favorites, and the reviews for the basketball hoop have been overwhelmingly positive.
Poolmaster ships this hoop with an exceptionally tough backboard that is just under three feet wide, with a 14" hoop. A weighted base can be filled with water or sand for hoop stability, and the PVC hoop and polyethylene will stand up to the wear and tear inherent with outdoor pools.
The Poolmaster Splashback Poolside Basketball Net comes with a basketball, inflation needs, and guaranteed good times.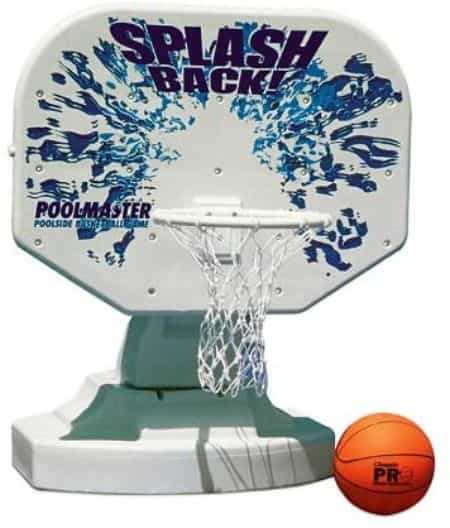 ---
SwimWays 2-in-1 Poolside Basketball and Volleyball Set
Another two-in-one combo set comes to us from the folks over at SwimWays, another popular manufacturer of accessories for backyard pools. Easy to set-up and change between sports, the SwimWays 2-in-1 Combo Set features a basketball hoop that is around a foot wide, a volleyball net that can stretch across a 24' pool, and both a basketball and volleyball.
The heavy-duty base fills quickly with water to provide stability and safety no matter what sport you engage in, and the whole set is made of plastic, which means no rusting and corroding. The SwimWays poolside basketball hoop is easy to set up and requires no tools to install.