Looking to pick up a new above ground swimming pool? Here is your ultimate buyer's guide to the best above ground swim pools.
When it comes to picking out the best above-ground swimming pool, there are a bunch of different things to consider:
Shape. Pools come in a wide variety of shapes, lengths, and styles.
Water depth. When it comes to younger swimmers, pool depth is an important consideration.
Duration of installation. Is the pool going to be there for the long term, for the summer, or for the weekend?
Cost. Of course, the cost is another major consideration. While in-ground pools are expensive to buy and maintain, above ground pools are actually quite cheap.
In this guide, we cover our "best in class" for every kind of the most popular types of above ground pools.
Let's do this!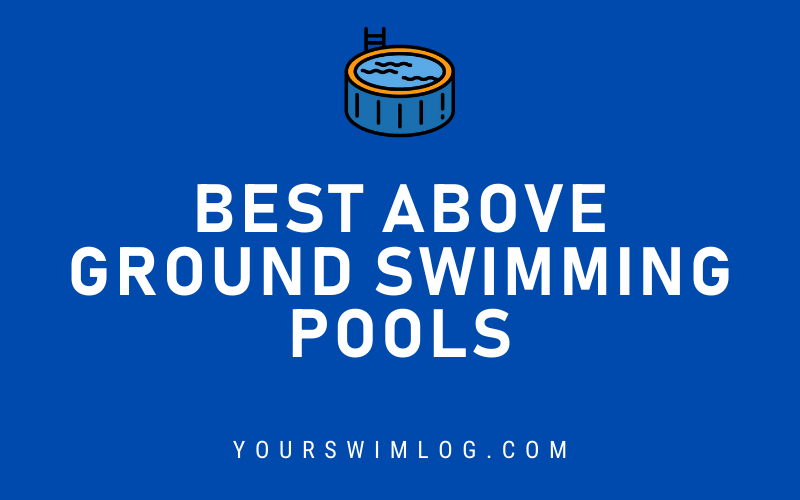 Intex Ultra XTR
Intex is one of the most popular makers of above ground pools. They build them in a series of styles and sizes.
Built with a strong and durable frame, the Intex Ultra XTR comes with a sand filter pump, ladder for ease of entry and exit, a cloth to protect the grass/ground, and a pool cover.
The filter flows at a rate of 100 gallons per hour and has a water capacity of just under 7,000 gallons. The frame is powder-coated for maximum durability and rust prevention.
As one of the leaders in backyard pools, the Intex Ultra XTR can be set-up in just under an hour for all of your swimming and backyard fun and is our top pick for above ground pools.


Summer Waves Elite Above Ground Swimming Pool
Ready to get your splash on with a sturdy and long-lasting pool that can withstand the elements? The Summer Waves Elite Above Ground Pool Set has a water capacity of 5,200 gallons and comes with a SkimmerPlus 110/120v filter pump to keep that water clean and sparkling all summer long.
The frame of the metal and can be assembled in around 45 minutes. The Summer Waves Elite comes with all the regular TLC accessories you will need to set-up and protect your new pool, including a cloth to put on the ground underneath your pool, a pool ladder, pool cover, and a maintenance kit to keep your pool running smoothly.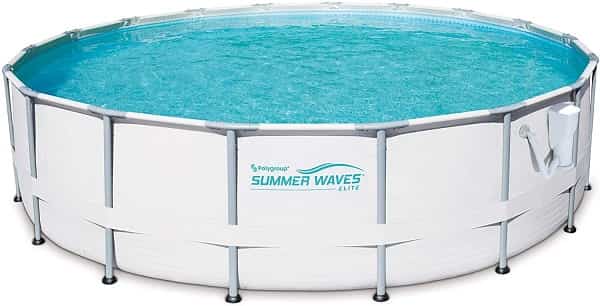 Bestway Steel Pro Rectangular Above Ground Swimming Pool
The reasons you would want a rectangular above ground pool are numerous: it could fit into the shape of your yard, or you are looking for a backyard pool that you can use to do some swimming (with a swim tether, of course).
Our favorite is the Bestway Steel Pro. Supported with heavy-duty PVC piping, the pool frame is painted with a rust and corrosion-resistant layer for maximum durability. Bestway pool frames are made with a patented design that eliminates leaks.
The Bestway Steel Pro above ground swim pool is easy to assemble (no tools required), and comes with a flow-controlled valve helps regulate water levels. Note: pool filter not included.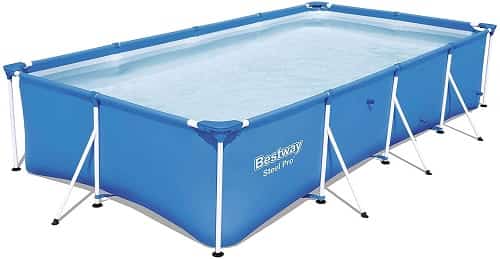 Intex Rectangular Frame Above Ground Swim Pool
Another choice selection from the Intex line of pools is their rectangular swim pool. It comes in a variety of lengths, from approximately 7 feet to just under 15 feet in length. The pool can be put together in around half an hour.
The frame is steel but painted with a rust-resistant layer to reduce corrosion from the sun and general use. The pool can be quickly filled and drained via a garden hose and a drain plug, which is handy when you need to drain the pool water away from the house or sensitive yard space.


Gladle Freedom Series Inflatable Backyard Pool
For those of you looking for a more temporary above ground pool, the Gladle Freedom Series Inflatable Backyard Pool gives you the best of both worlds–you get the splash and cooling off of a pool without the long-term fixture in your backyard.
Large enough that it can fit up to 4 adults and a couple of kids, the Gladle Inflatable Pool is 118″ long, 73″ wide, and 20″ high. Made with non-toxic PVC, the highly durable material is long-lasting and thick.
The pool's "frame" is made of three separate air chambers that help you quickly find any future leaks. The way the PVC surface of the pool is cut also reduces rags along the seams. The pool comes with two repair patches.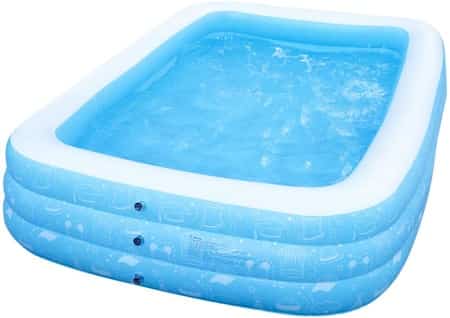 Homech Inflatable Swimming Pool
Another awesome choice for a killer inflatable backyard pool is the Homech Inflatable Swim Pool. It is slightly larger than the Gladle Freedom Series pool, and is built with soft and durable napthalene and BPA-free materials.
The pool can take on a couple of adults and three to five children, it is inflated in a couple of minutes (pump not included, unfortunately), and the three separate air chambers with double intake valves keep the pool rigid and inflated during all of your summertime activities.
The Homech Pool is also extremely well rated on Amazon, with a 4.5/5 average rating from well over 5,000 reviewers.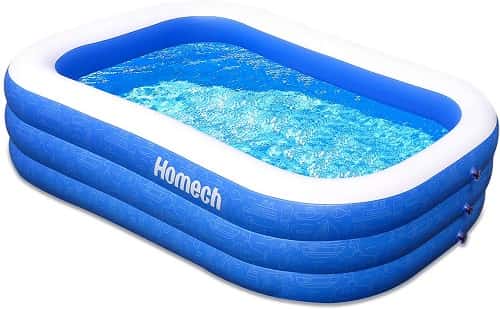 How to Care for Your Above Ground Swimming Pool
We have put together a few guides and buyer's recommendations for products and tips to maximize the life of your above ground pool.
Here are a few more resources for you.
6 Best Winter Pool Covers for Protecting Your Pool. Winterize your pool and protect your investment, whether you have an in-ground pool or an above-ground pool, with our selection of the best winter pool covers.
5 Best Heaters for Your Above Ground Swim Pool. Being comfortable in the water means properly heating it. Here are some of the best-reviewed and rated heaters for keeping your above ground swim pool ready to go.
7 Best Accessories for Above-Ground Swimming Pools. Outfit your backyard swimming pool with some of our favorite toys, games, floaties, and entertainment options made specifically for aquatic fun.
6 Best Variable Speed Pumps for Swim Pools. Tired of big electricity bills for your swim pool? Replace your standard pool pump with one of our favorite cost-saving variable speed pumps.
6 Best Pool Skimmers for Above Ground Swimming Pools. Keep your above ground pool crystal-clean and sparkling with our hand-picked selection of the best automatic and manual pool skimmers.