Looking for the right backyard pool for you and your family? Here's what you need to know about the best above-ground on the market right now.
One of the best ways to beat the heat and crank up the summer fun is with a backyard pool.
But for those of us who don't want to spend the cash on putting in an in-ground swimming pool, an above ground swim pool provides an affordable option that doesn't sacrifice on the fun.
Above-ground swim pools are generally very easy to set-up and require significantly less maintenance (and associated costs!) than their in-ground cousins.
---
? Want to skip right to our #1 pick? The Intex Ultra XTR Above Ground Pool is our champ, with sturdy construction, quick set-up, and included pool pump and pool cover. Click here to shop them at Amazon.
---
These types of pools come in a wide range of sizes and shapes, from smaller tot-friendly family pools to larger party-ready pools.
Choosing the Best Above-Ground Pool for You
When it comes to choosing the top above-ground pool for you, there are plenty of things to consider:
? Shape. Pools come in a wide variety of shapes, lengths, and styles. The most popular are rectangular, oval and circle-shaped. Above-ground pools can be as small as six-feet in length and as long as 30ft and longer.
? Construction. Pools need to be able to withstand the elements and heavy-duty use. And not just the elements–they need to be able to handle constant exposure to pool chemicals. Look for pools built with PVC and alloy steel, which resist corrosion.
? Water depth. When it comes to younger swimmers, pool depth is an important consideration. Most above-ground pools are in the 2-3ft of depth ballpark.
? Maintenance and cleaning. Regular maintenance and cleaning of your above-ground pool keep it clean and ready for fun all summer. Some above ground pools include a filter and cover to help you stay on top of regular maintenance, while others require you to invest in these items separately.
? Duration of installation. Is the pool going to be there for the long term, for the summer, or for the weekend? These types of pools have never been easier to install and set-up, but installation differs by brand.
? Cost. Of course, the cost is another major consideration. While in-ground pools are expensive to buy and maintain, above ground swimming pools are actually extremely reasonable, ranging from $150 to $3,000 for the biggest ones on the market.
Okay, that's a decent little list.
Now that we know what to look for, let's take a deeper look at the best above-ground swimming pools on the market.
Let's dive right in!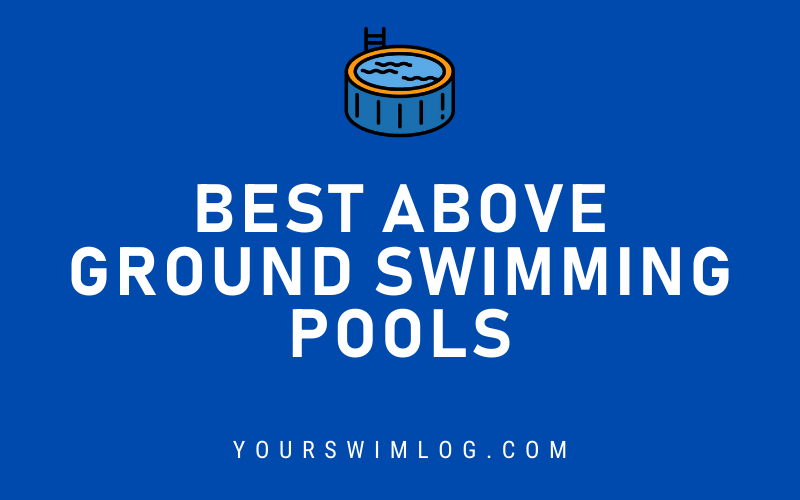 ---
Intex Ultra XTR Above Ground Pools
? The Intex XTR is a top-of-the-line above-ground pool that combines extensive size options, a reasonable price tag, and sturdy construction.
Intex is one of the leading makers of backyard pools and pool equipment.
Whether it's pool slides, inflatable kiddie pools, or pool loungers, Intex makes reasonably priced pool gear that stands up to long summers.
The Intex Ultra XTR line of pools checks all of the boxes when it comes to an awesome above-ground swimming pool.
Let's start with how well-built these things are.
The frame is built with galvanized and powder-coated steel that won't rust and corrode when exposed to water and the elements. A patented locking system gives the frame a sturdiness that you don't see often with pop-up pools.
Intex ships these bad boys with most of the accessories you will need to keep the water comfortable and clean, including a 120v sand filter pump, a pool ladder specifically designed for above ground pools, a cloth to lay on the grass under your pool, and a cover to keep the water warm overnight and keep debris from falling into the pool.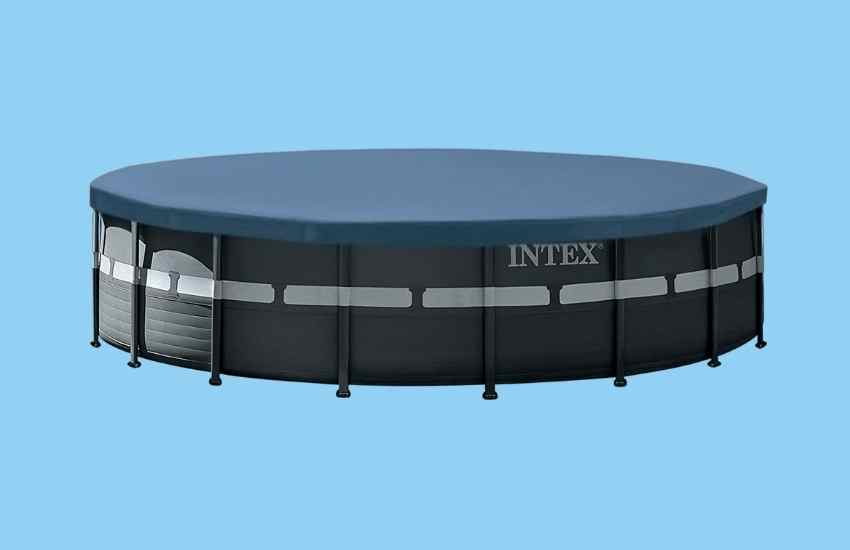 The number of size and shape options with the Intex XTR is almost as high as the amount of fun you will have in this thing.
The XTR comes in round and rectangular shapes (one of the rectangular models has a saltwater option, too) and in a variety of sizes, from 18 feet in diameter to a 32-foot long rectangular above-ground pool.
See also: 7 Best Intex Filter Pool Pumps for Cleaner Pools
Intex is the biggest name in the above ground pool biz, and the XTR is their best pool and my top recommendation for an easy-to-install and durable pool that you can set up in less than an hour.
Perhaps most importantly, these pools won't break the bank, with a 16ft round pool retailing for less than $800 (check Amazon for current pricing and availability).
The Intex XTR is the best above-ground pool for most families and users.
? Key wins: Affordable, variety of size and shape options, comes with lots of accessories for maintaining the pool. Includes ladder and pool cover.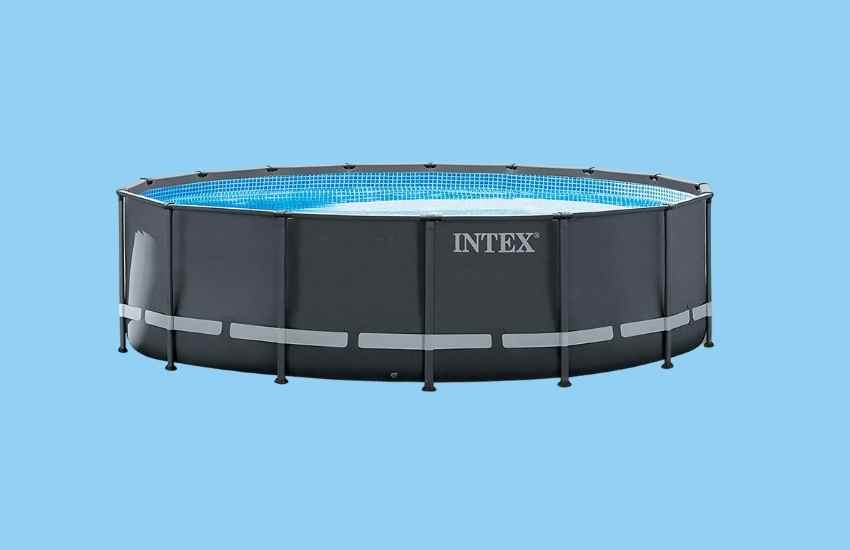 ---
Summer Waves Elite Above Ground Swimming Pool
Ready to get your splash on with a sturdy and long-lasting pool that can withstand the elements? The Summer Waves Elite Above Ground Pool Set has a water capacity of 5,200 gallons and comes with a SkimmerPlus 110/120v filter pump to keep that water clean and sparkling all summer long.
The frame of the swim pool is galvanized metal and can be assembled in around 45 minutes. The Summer Waves Elite comes with all the regular TLC accessories you will need to set-up and protect your new pool, including a cloth to put on the ground underneath your pool, a pool ladder, pool cover, and a maintenance kit to keep your pool running smoothly.
Reviewers consistently rave about the sturdiness of the metal frame, finding it easy to put together, and the reasonable price tag.
The Summer Waves is an ideal above-ground pool for small families who are looking for a budget-friendly pool that is perfect for kids who are ready to move on from inflatable pools.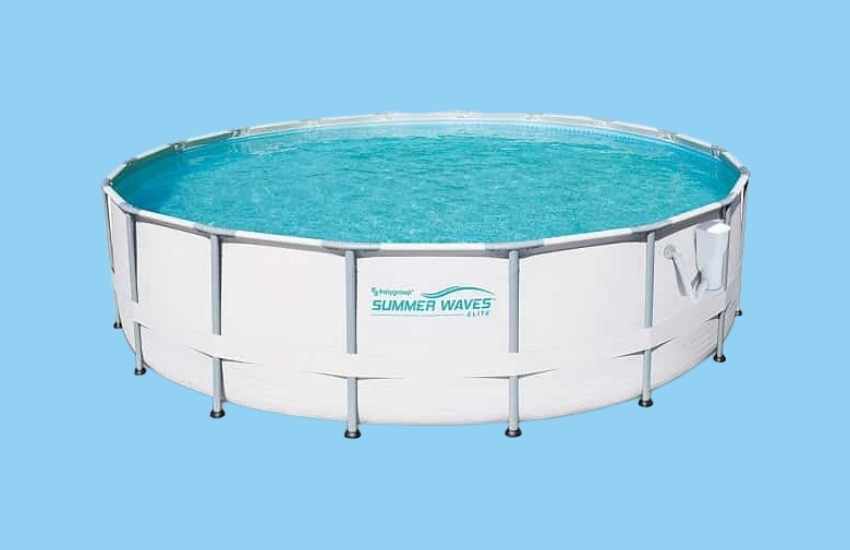 ---
Bestway Steel Pro MAX Above Ground Swimming Pool
The Bestway Steel Pro Max is a feature-rich pool that is easy on the wallet.
Framed with heavy-duty PVC piping, the pool frame is painted with a rust and corrosion-resistant layer for maximum durability. The liner of the pool is a tough 3-layer fabric, and a supportive band wraps all the way around the pool and the frame for added stiffness and durability.
Bestway pools have a liner that is made of DuraPlus, which is a combination of heavy-duty PVC blended with a polyester inner mesh that provides an ideal balance of flex and rigidity. In other words, the Bestway pool isn't going to fold like wet cardboard at the end of a long day splashing around.
The Bestway Steel Pro above-ground swim pool is easy to assemble (no tools required), and comes with a flow-controlled valve that helps regulate water levels. Note: pool filter not included.
Even though these pools are called "Pro MAX," they aren't exorbitant in price, with the 12-foot model retailing for about $150 (check Amazon for up-to-date pricing and stock).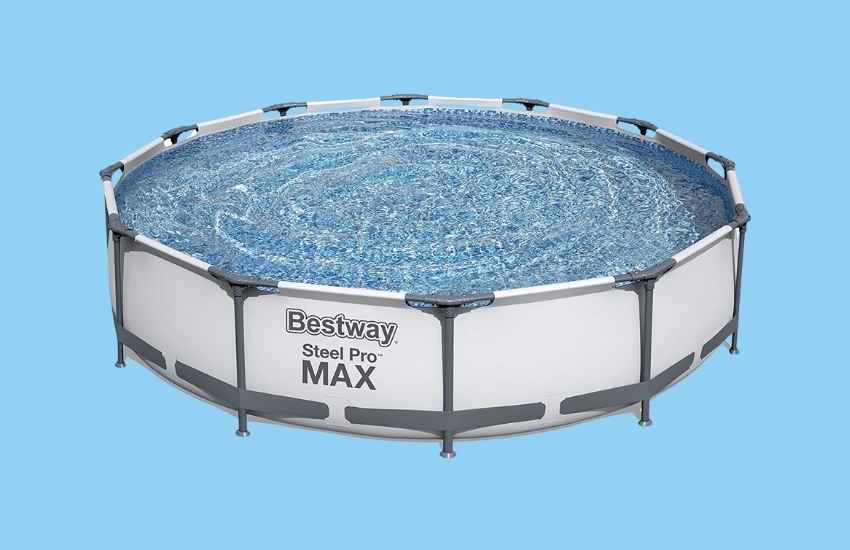 ---
Intex Small Family Above Ground Swim Pool
Another choice selection from the Intex line of pools is their rectangular swim pool that is primarily designed for small families. This line of pools features a range of sizes, from 8.6′ to 14.9′ long, making it perfect for splashing around with small children.
[If you are looking specifically for an above ground pool that is rectangular, check out this detailed guide that covers the best rectangular above ground pools.]
The frame is steel but painted with a rust-resistant layer to reduce corrosion from the sun and general use. The pool can be quickly filled and drained via a garden hose and a drain plug, which is handy when you need to drain the pool water away from the house or sensitive yard space. Assembly is also a breeze, with unpacking to full assembly taking about thirty minutes.
See also: Intex Above-Ground Swim Pools Compared — Which One is Best for You?
One of the main concerns that come with these kinds of pools is protecting against punctures, whether it's the puppy jumping up on the side of the pool or making big waves in a small pool. The Intex Small Family Frame Pools are made with a three-layer polyvinyl that is specifically designed to ward off punctures and splits.
These pools are extremely affordable, costing less than $200, making them a perfect addition to the backyard for those hot days to cool off (check Amazon for current pricing and availability).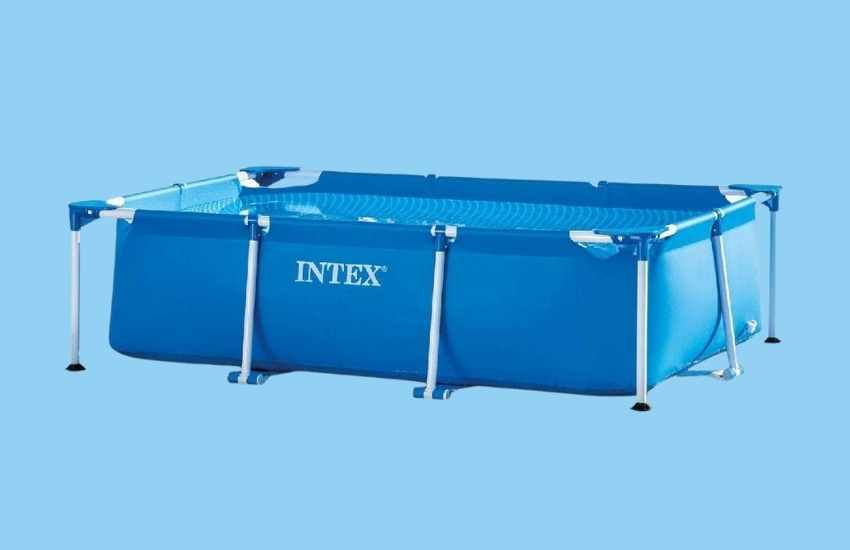 ---
Gladle Freedom Series Inflatable Backyard Pool
For those of you looking for a more temporary above ground pool, the Gladle Freedom Series Inflatable Backyard Pool gives you the best of both worlds–you get the splash and cooling off of a pool without the long or even miedium-term fixture in your backyard.
Large enough that it can fit up to 4 adults and a couple of kids, the Gladle Inflatable Pool is 118″ long, 73″ wide, and 20″ high. Made with non-toxic PVC, the highly durable material is long-lasting and thick.
The pool's "frame" is made of three separate air chambers that help you quickly find any future leaks. The way the PVC surface of the pool is cut also reduces rags along the seams. The pool comes with two repair patches.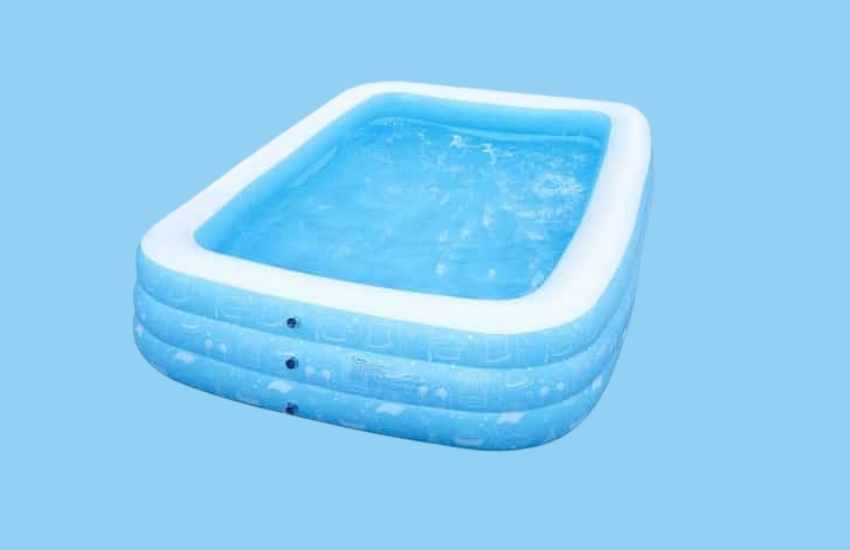 ---
Homech Inflatable Swimming Pool
Another awesome choice for a killer inflatable backyard pool is the Homech Inflatable Swim Pool. It is slightly larger than the Gladle Freedom Series pool, and is built with soft and durable napthalene and BPA-free materials.
The pool can take on a couple of adults and three to five children, it is inflated in a couple of minutes (pump not included, unfortunately), and the three separate air chambers with double intake valves keep the pool rigid and inflated during all of your summertime activities.
The Homech Pool is also extremely well rated on Amazon, with a 4.5/5 average rating from well over 5,000 reviewers.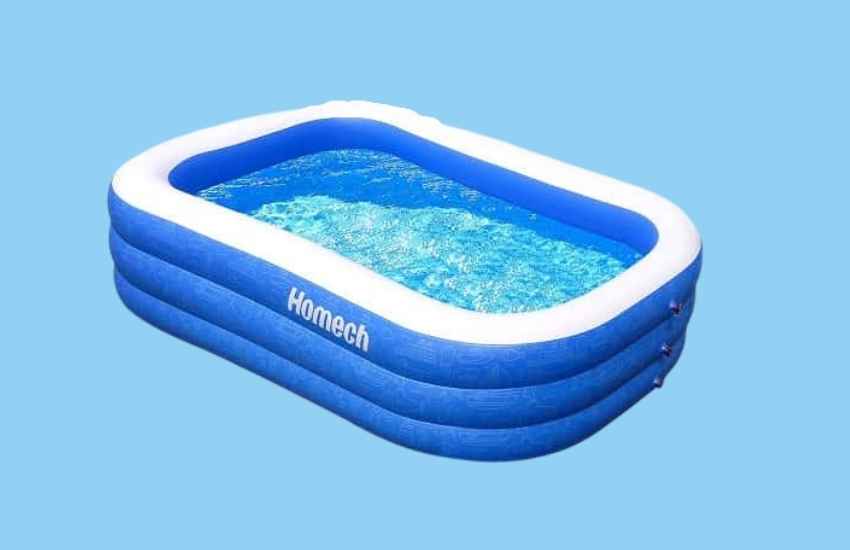 ---
Best Above-Ground Pools – FAQs Before You Buy
Got questions? We got answers!
Here is everything you ever wanted to know about choosing the best above ground pool and how to find the perfect pool for you and your family.
What are the different types of above-ground pools?
When it comes to above-ground pools, there is a surprising amount of variety when it comes to different types. They vary in shape, size, price, materials used, durability, and so on.
In fact, as you get to Googlin' the best pools on the market, you might soon find yourself overwhelmed with all of the options out there.
Fortunately, we are here to help you clear things up when it comes to the main kinds of above-ground swim pools, including pros and cons so that you can invest your cash smartly.
Here are the main kinds of above-ground swim pools:
Inflatable above-ground pools
Inflatable pools (also known as "easy set") are extremely common and are the ones you are most likely to see at your local sports and hardware stores.
Installation is straightforward: inflate the top ring of the pool, and as you pour water into the pool, the structure rises and expands to its full-size thanks to the inflated ring.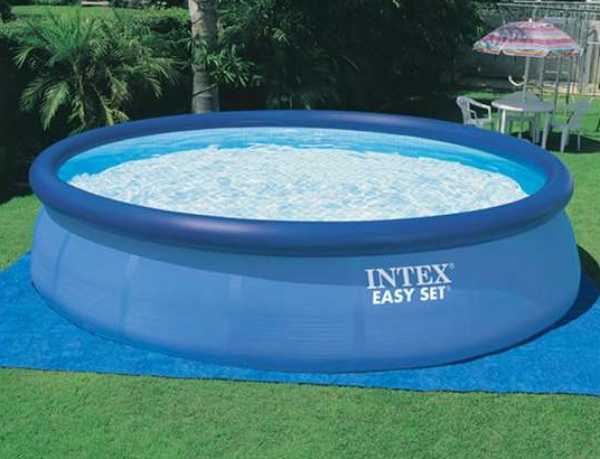 Inflatable above-ground pools are exceptionally fast to install and are best suited for short-term use.
Pros: Cheap, easy to install, ideal for short-term use and renters. Very affordable, starting at $150 and going up from there.
Cons: Harder to clean than fixed walls, more prone to leaks, not as sturdy as fixed pools.
Steel-frame above ground pool
These kinds of above-ground pools have a steel or aluminum frame, PVC liner, and are held upright with a system of posts, braces and bands.
Steel frame pools are pretty easy to install, generally taking an hour or so to fully assemble. Posts and the frame are put together without tools (for the most part) and can be snapped together. Some of the popular pools also have a wicker exterior that is aesthetically pleasing.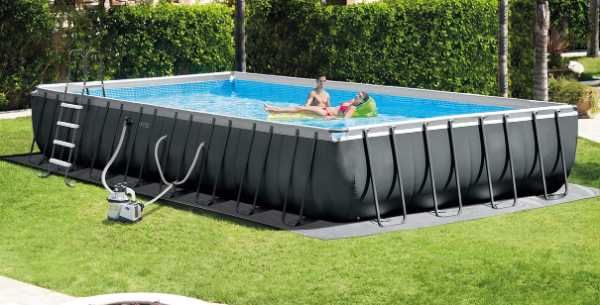 Shapes and sizes vary widely, with both round and rectangular options. Steel frame pools can be quite large, with Intex's longest model 32ft long. These pools typically include a pool filter and pump, ladder, and other accessories for cleaning and maintaining the pool.
Pros: Sturdy construction, easy to assemble, large variety in sizes and shapes, usually packaged with filter and pump, etc. Affordable, costing anywhere from $500 and up.
Cons: Need to be disassembled at the end of summer, included pumps not always the best quality
Traditional above-ground pools
Looking for a more permanent pool for your backyard? This is where steel and resin-framed above-ground pools step in. Traditional above-ground pools are built to be a long-term addition to your backyard.
These types of pools are built with a steel-frame that has been dipped in resin to prevent corrosion. Traditional above ground pools have a separate frame and pool liner (unlike the other two types of pools described earlier, which have a combo liner and pool wall).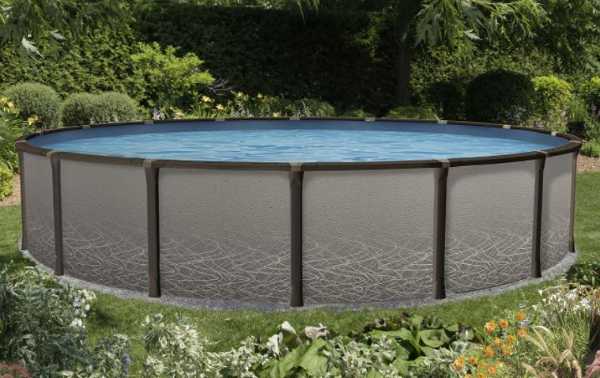 Traditional above-ground pools are designed to be a more permanent fixture of your yard. Which means no taking it down at the end of the summer. Simply drain some of the water (depending on how cold your winters are), set the pump to run each day for a few hours, and wrap it with a winter pool cover.
Due to their permanent fixture, permits may be required for setting one up in your backyard. Additionally, maintenance over the winter months is required so that you can reopen the pool in the spring smoothly.
Pros: Strongest above-ground pools, replaceable pool liner, no disassembly at the end of summer, lots of size and shape options.
Cons: Pricey (starting around $3,000 and up), may require professional installation.
---
How do I prepare my yard for installing an above-ground pool?
Okay, now that you've hopefully zeroed in on the pool you want, it's time to get things set up in the backyard for when the pool arrives.
Here are some time-tested tips for prepping for your new swim pool.
Location, location, location.
The first step is figuring out where you are going to put the pool. If you have a pump for the pool, you will want it near an electrical source.
You also want it close to a water source (a garden hose can help extend or solve this issue) and in a place where it can be drained without flooding the home or sensitive areas of your property.
Something else to consider when choosing where to put your fancy-pants new above-ground pool is what's above it. Placing a pool near trees will mean that you are going to get some debris, both with falling leaves but also with insects and bugs.
Using a cover for your above-ground pool when it's not in use will help prevent the pool from getting loaded with organic matter that can quickly turn the water cloudy and promote algae growth.
Additionally, putting the pool in a place where it gets a lot of sun over the course of the day will help keep the water temperature comfortable, especially if you use a solar pool cover and/or cover your pool at night.
In summary, when choosing where to put your pool:
Close to an electrical source
Near water source
Enough space on sides to get in and out of the pool
Use a cover if setting up the pool near trees
Make sure the pool gets lots of sunshine to limit heating costs and keep water temperature comfortable
Level the ground.
This one seems obvious, but you'd be surprised how often there are sneaky grades in your yard.
Choose where you are going to set-up the pool and make sure that it is level (or at least within an inch or so of being level).
This will prevent water from seeping out one edge of the pool, and will also reduce excess weight (of water) being pushed against one side of your new above-ground pool.
Clear and pad the area where you are going to install the pool.
Okay, now that we've got the landing pad for the pool assigned, it's time to clear the ground of any roots or rocks that can puncture or affect the liner.
Some pools ship with a cloth or tarp that can be used as a base layer—I highly recommend using something under the pool to protect the vinyl liner.
Whether that means using a basic tarp that you can pick up at Home Depot, an outdoor carpet, or even interlocking EVA foam tiles, putting a mat under your pool will extend the life of the above-ground swimming pool and make things comfortable on your feet.
Permanent above-ground pools will want a base of sand or stone dust, which can also be used for leveling.
How much maintenance is required with above-ground pools?
Pools are a lot of fun… until you realize how much work is required in keeping them properly clean and maintained.
While there is a lot of new lingo and vocabulary to learn (chlorine, phosphates, cyanuric acid, etc), and some tools that you will need to pick up to keep the pool running efficiently, once you get into a routine, maintaining your above ground pool is actually quite simple.
The primary things you need to take care of include:
Testing the pool water regularly (either with pool test strips or a digital pool tester) and adding chlorine as needed
Cleaning the pool weekly with a pool skimmer, brush, and pool vacuum (and emptying the pool filter regularly to discard organic matter clogging the filter).
Covering the pool when not in use
Those are the three biggies.
You can read this guide on maintaining your new above-ground pool if you want more information on how to get into the routine of cleaning the water and extending the shelf life of your pool.
How can I make my above-ground pool safe for kids?
Swim pools are fun but they can also be extremely dangerous. According to the US Consumer Product Safety Commission [1], nearly 400 kids drown each year in backyard pools.
Above ground pools have a distinct advantage for safety compared to inground pools as kids (and animals) are far less likely to fall in them.
That said, if the pool is set up next to a pool deck, consider getting a pool fence to prevent unsupervised and accidental use. Additionally, consider getting a ladder for your pool that has a locking gate.
There are other options out there, including pool alarms that can notify you immediately when the water has been disturbed in your swimming pool.
What are the disadvantages of above ground pools?
While there are plenty of excellent reasons to invest an above-ground pool, including affordability, relative ease of installation, and the ability to resell them, there are some disadvantages to above-ground pools.
Here are the main ones:
⭐ No added property value.
Above ground pools are generally not regarded as a permanent part of a property.
The reality is that an above-ground pool has the odd risk of potentially lowering property value.
That said, removing an above-ground pool is relatively straightforward.
⭐ Limited add-ons and features.
Due to the relatively temporary nature of above-ground pools, there is a limit to the toys and features you can add to it.
If you want a pool shape that isn't round or rectangular, or you want a diving board, you are going to have to look elsewhere.
Regardless, above-ground swim pools have come a long way in recent years, with plenty of fun things you can add to them to make the most of your pool.
⭐ Limited durability.
The lifespan of an above-ground pool varies from manufacturer to how well it is maintained.
Cared for properly, I've seen above-ground pools last well over a decade.
But compared to an inground pool, which can last for much longer, above-ground pools don't last as long.
⭐ They can look cheap.
In terms of looks, let's come right out and say it–above ground pools can look a little cheap and flimsy.
While it's not fair to compare above ground pools to inground pools, in this instance the latter is going to handily win out in the style department.
That said, there are some creative things you can do with above-ground pools, including wrap-around decks, that can increase the aesthetic appeal.
How long will a good above-ground pool last?
This is a tricky question because there are a lot of different factors at play.
Here are some guidelines for how long you can expect an above ground pool to last:
Intex and Bestway pools, with vinyl liners and metal frames can last anywhere from 4-10 years.
Inflatable above-ground pools have the shortest lifespan of the bunch, with a shelf life in the 1-5 years range.
Resin and hybrid (resin with a steel frame) pools are the sturdiest of the bunch. Because they usually require professional installation and the semi-permanent nature of these kinds of pools, they last the longest, with many pools of this type still happily chugging along after 10 years.
Obviously, these timeframes are a loose guesstimate.
A pool, poorly installed and left to defend itself in adverse weather will come apart faster than a see-through swimsuit.
How well you close the pool each winter and maintain your above ground pool will have a big influence on how long you are able to splash and sun in your pool.
---
Recommended Reading
We have put together a few guides and buyer's recommendations for products and tips to maximize the life of your above-ground pool.
Here are a few more resources for you.
6 Best Winter Pool Covers for Protecting Your Pool. Winterize your pool and protect your investment, whether you have an in-ground pool or an above-ground pool, with our selection of the best winter pool covers.
5 Best Heaters for Your Above Ground Swim Pool. Being comfortable in the water means properly heating it. Here are some of the best-reviewed and rated heaters for keeping your above ground swim pool ready to go.
7 Best Accessories for Above-Ground Swimming Pools. Outfit your backyard swimming pool with some of our favorite toys, games, floaties, and entertainment options made specifically for aquatic fun.
6 Best Variable Speed Pumps for Swim Pools. Tired of big electricity bills for your swim pool? Replace your standard pool pump with one of our favorite cost-saving variable speed pumps.
6 Best Pool Skimmers for Above Ground Swimming Pools. Keep your above ground pool crystal-clean and sparkling with our hand-picked selection of the best automatic and manual pool skimmers.