Beat the heat and beat the crowds with our favorite inflatable kiddie pools for your backyard.
Backyard pools provide an awesome escape from the warm days of summer.
Additionally, unlike your local neighborhood beach or swimming pool, your backyard pool is always open, there are no crowds to deal with, and you can sit comfortably poolside while the kids splash around.
There are plenty of options for kiddie pools.
For older children, a larger above ground swimming pool is a great option, while smaller children (and smaller backyards) can get all of their splashings in using a smaller inflatable pool.
For a detailed breakdown of our favorite above-ground swimming pools for the whole family, check out this comprehensive guide.
No matter what your budget or how much space you have in the backyard, here is our hand-picked selection of our favorite inflatable kiddie pools.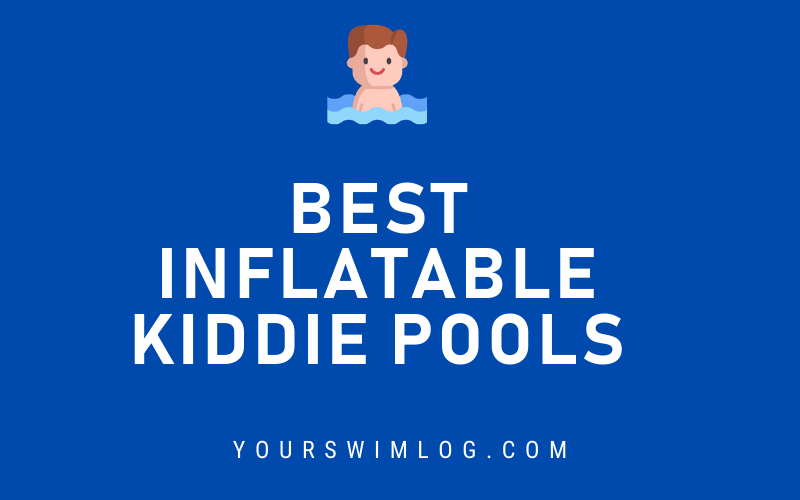 Intex Rainbow Ring Inflatable Kiddie Pool
Intex is a popular maker of backyard pools and pool gear, including pool vacuums, pool liners, pool floaties, and just about everything else you can think of.
So it is no surprise that their Rainbow Ring Kiddie Pool ranks as one of our absolute favorites.
With a water capacity of just over 75-gallons, this kids pool packs a ton of fun in a small amount of space, making it ideal for smaller yards.
Easy to inflate, a water sprayer attaches to a standard garden hose. A mini slide, wading pool, ring toss game, and a ball roller game will keep the children entertained and cool during those hot summer days.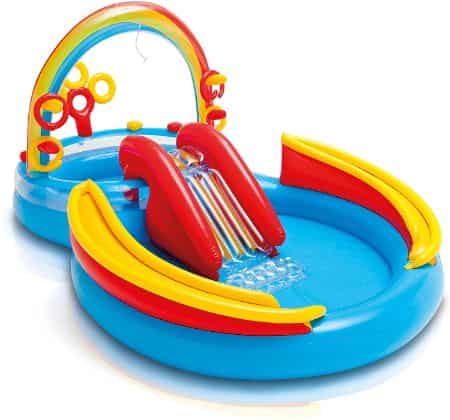 SplashEZ 3-in-1 Splash Pad and Wading Pool
The SplashEZ Splash Pad isn't just a way to cool off your little one, it's also an educational tool. The mat has the alphabet and pictures of cute animals, while the fountain sprinklers spout cold water through a connection to your garden hose.
The SplashEZ Splash Pad is a great way to introduce water to your baby. The pool is inflated with water, not air, and the pad is cushioned to protect against unexpected sit-downs.
For toddlers and babies who maybe aren't ready for the pool this is a great way to get them comfortable with the water and keep them cool on those hot sunny days.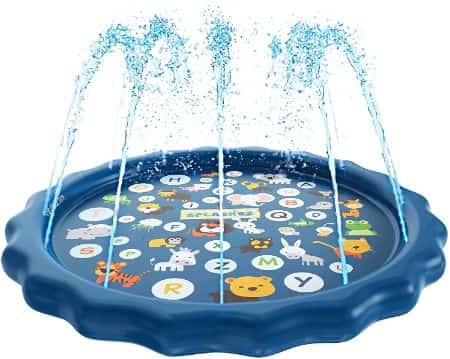 Intex Kiddie Pool
This is a no-frills kiddie pool that looks good, is super durable, and houses a decent amount of water. If you are looking for something that is more budget-friendly and simple, the Intext Kiddie Pool is the perfect no-frills option.
The tri-colored walls of the pool are a foot high and made of heavy-duty vinyl that will withstand children climbing in and out. The pool, filled up, can store just over 200 gallons of water.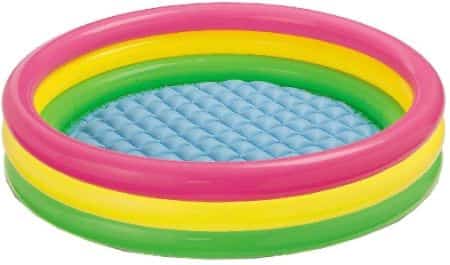 Intex Sunset Baby Inflatable Pool
Another entry by the team at Intex is a baby-sized model of their kiddie pool, the Sunset Baby Inflatable Pool. It is about a quarter of the size, holding just over 20 gallons of water.
Made with the same durable and long-lasting nylon, it has a soft inflatable floor, comes with a repair patch, and is exceptionally well-reviewed, with nearly 1,000 five-star reviews.
Numerous users found that the Sunset Baby Inflatable Pool also doubled as a small playpen or even a little bed when dry.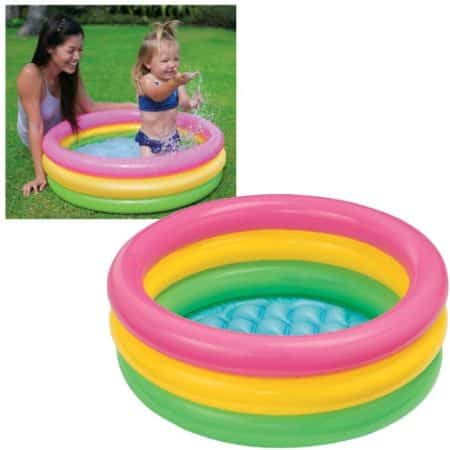 Intex Rainbow Inflatable Baby Pool
Another excellent choice for the youngest of swimmers is the Intex Rainbow Cloud Inflatable Baby Pool. The rainbow sunshade protects your baby from the sun while they splash about in up to 22-gallons of water.
Unlike the Intext Sunset Inflatable Baby Pool, the bottom of this pool does not inflate. Users found a variety of alternative uses for the kiddie pool during cooler months, including as a ball pit/playpen.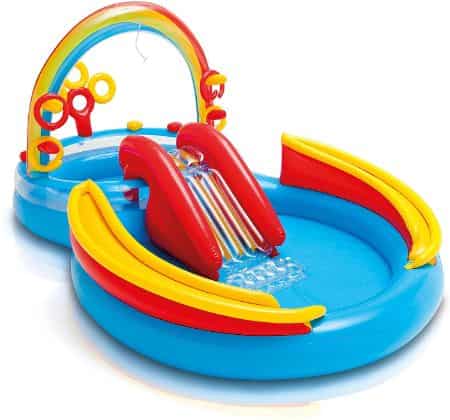 Kahuna Mega Blast Inflatable Backyard Kids Pool
Okay, this isn't really so much a kiddie pool as it is an inflatable water park.
With an extra-wide slide, three water canyons for water-blasting fun, a splash pool at the bottom of the slide, and even a climbing wall, there is an endless amount of fun to be had for kids.
The Kahuna Mega Blast Inflatable is basically a backyard water entertainment complex, and as you would expect, is not super cheap. It is, however, made of highly durable PVC and comes packed with a blower that inflates the whole thing in under five minutes.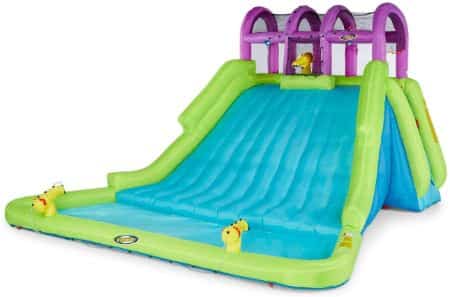 Costzon Kiddie Pool with Slide and Climbing Walls
Another kiddie pool that could probably be best classified as a backyard water park is the more budget-friendly Costzon Inflatable Kiddie Pool and Slide.
See also:
There is a lot going on with this kiddie pool, including a bounce castle, climbing walls, slide, and a large wading pool.
Mesh walls surround the top of the castle for safety, a garden hose easily connects to keep the slide slippery, and the Costzon Inflatable Kiddie Pool comes either with or without a motorized blower for quick set-up and take-down.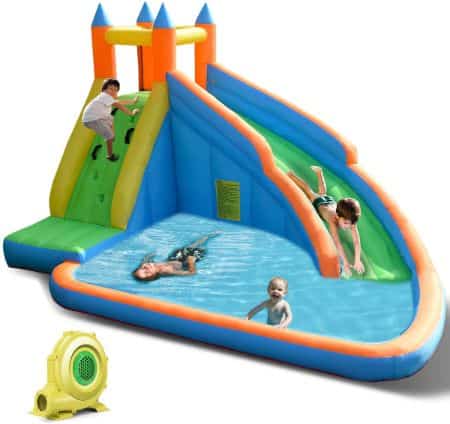 More Stuff Like This
7 Best Swim Diapers for the Pool and Beach. Ready to take your little one to the pool or beach? Here is a breakdown of what you need to know about picking out the perfect reusable or disposable swim diaper.
Best Baby Swim Gear for Water Fun and Safety. Get the most of your time in the water with your infant with our collection of the best baby swim gear for both safety and fun.