Ready to get your splash on? Here's a detailed look at the best rectangular above-ground swimming pools for every budget and taste.
Summer.
The sun is out, the tans are tanning, and it's time to throw down on some leisure time in the backyard.
One of the best ways to beat the heat and unleash summer fun is with your own rectangular backyard pool. But, but… I can hear you thinking. Sounds pricey. To which I have some good news—your own backyard pool doesn't have to break the bank.
Above-ground swimming pools have never been cheaper thanks to the surging demand (and resulting competition) for them over the past few years.
There are plenty of different types of rectangular above-ground swim pools on the market.
Some are primed for saltwater, some supported with steel, some packaged with all of the cleaning and maintenance goodies you'll need to care for it, and some that are even designed to blend in with your patio furniture.
(No jokes!)
And no need to excavate a big hole behind your house with these picks for my favorite rectangular above-ground swimming pools.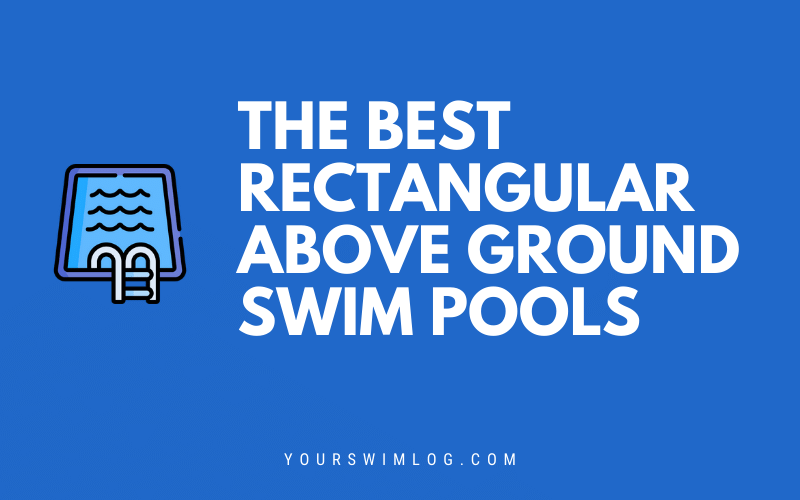 Intex Ultra XTR Rectangular Above Ground Pool
🏊 Best large rectangular above ground pool
Intex is one of the leaders when it comes to backyard swimming pools. Whether it's inflatable pools, heaters for above-ground pools, or even their line of pool loungers, Intex is an industry champion.
But they are best known for their deep roster of above-ground swimming pools.
The Ultra XTR is a perfect example of how Intex nails the basics and does so at a price that most families can afford. The Ultra XTR has built-in Hydro Aeration to help filter and circulate pool water (keeping it sparkling clean, along the way).
The Intex Ultra XTR is a complete backyard pool set, including Intex's Krsystal Clear Sand Filter Pump, a removable pool ladder, a mat to put under the pool, and even a pool cover that keeps debris out of the water between swims.
Sizing varies, with a 16ft by 4ft model as well as the King Daddy size, a whopping 32ft by 16ft. Intex also offers an optional saltwater system (saltwater chlorinators are great as they chlorinate the water without using as much chlorine, reducing the smell).
Pricing depends on the size of pool you end up choosing, but when you consider the cost savings that come with getting the full set of pool equipment versus piece-meal purchasing it all, you get an awesome combination of Intex's high quality along with a reasonable price (check Amazon for current pricing and up-to-date stock).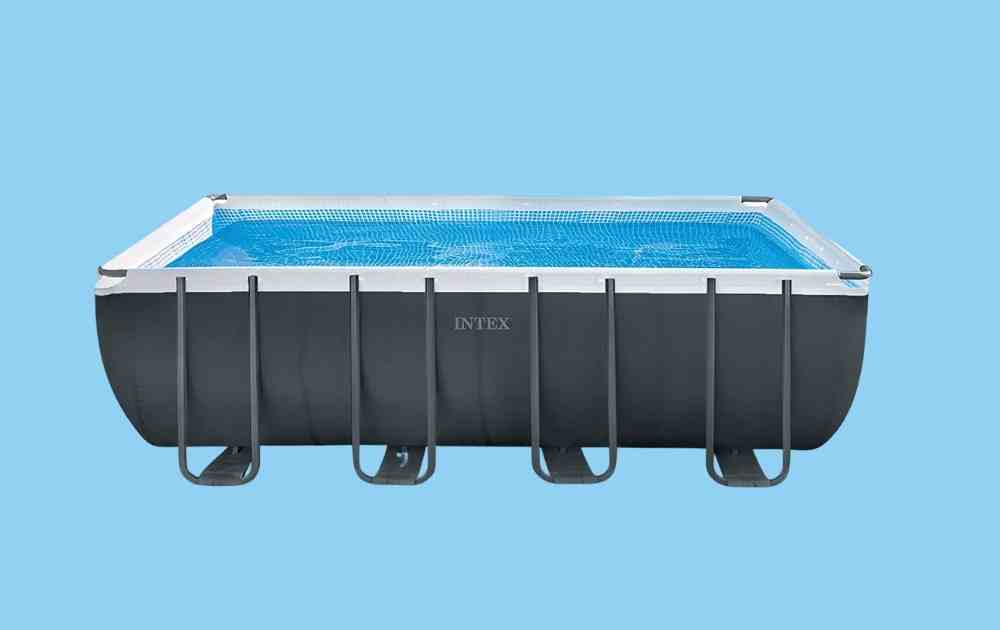 Bestway Deluxe Splash Rectangular Above Ground Pool
Bestway is another one of the biggie names for backyard pools. Built for kids and adults alike, the Deluxe Splash is an affordable rectangular above ground pool that is also durable.
The pool walls are made with a proprietary material called TriTech that is two layers of PVC nylon sandwiching polyester mesh. This kind of material is exceptionally tough and tear-resistant.
The steel frame is specially coated to avoid rusting and corrosion, and a thick PVC band lines the pool for extra stability while you are splashing around in the water.
Assembly takes about 10-15 minutes and doesn't require any specialized tools or hardware to put together—everything you need to get started is in the box.
While the Bestway Deluxe Splash Rectangular Above Ground Pool is very cheap—only around $100 the last time I checked Amazon—there are some things you will want to invest in to make the most of your new pool, including a filter pump and a cover to keep bugs, leaves and debris out of the water between swims.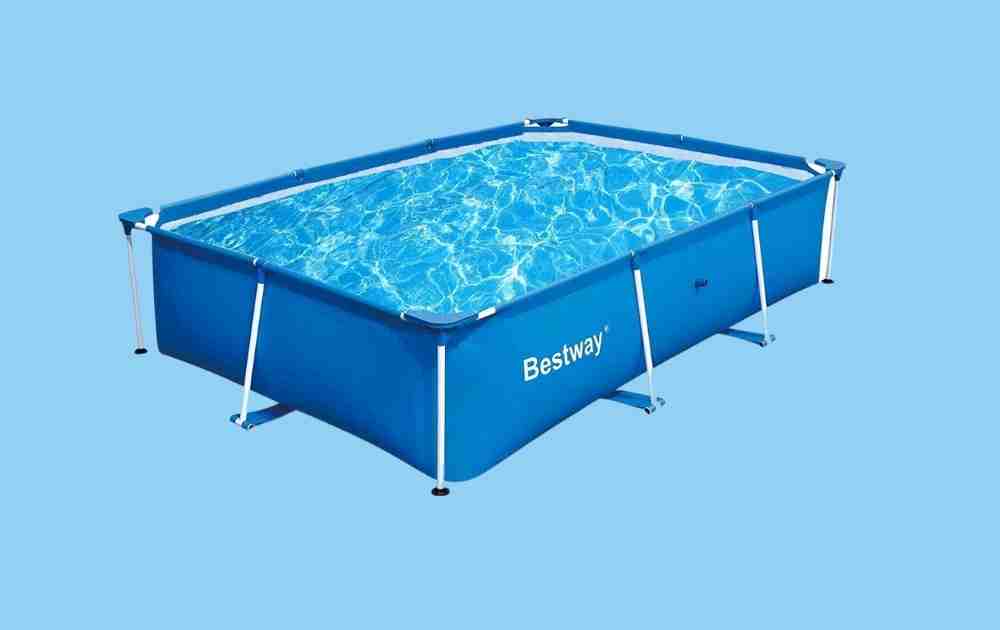 Summer Waves Rectangular Frame Above Ground Pool
🏊 Best rectangular above ground pool that looks like furniture
The Summer Waves Rectangular Above Ground Pool doesn't really look like a pool—it looks more like a piece of furniture. With an external shell that is dark gray wicker, this pool goes against the grain by being fun to swim in and a pleasure to look at.
With lots of space for all of your friends and family (okay, maybe not all), this 32-ft by 16-ft pool is constructed with a three-layer poly mesh that resists tears and framed with metal that has been coated to prevent rust and corrosion.
One of the big challenges that new pool owners face is the amount of work that is required to keep the pool water clean.
Fortunately, this pool removes some of the issues that come with uncirculated (aka dirty) pool water by shipping it with a cleaning kit (telescoping pool pole, pool brush and a pool skimmer net) and a sand filter pump, that works to circulate and clean your pool water, ensuring that the pool is ready to be enjoyed again tomorrow.
Summer Waves also ships this thing with a pool cover and a pool ladder, giving you everything you need to conquer summer and let the good times roll.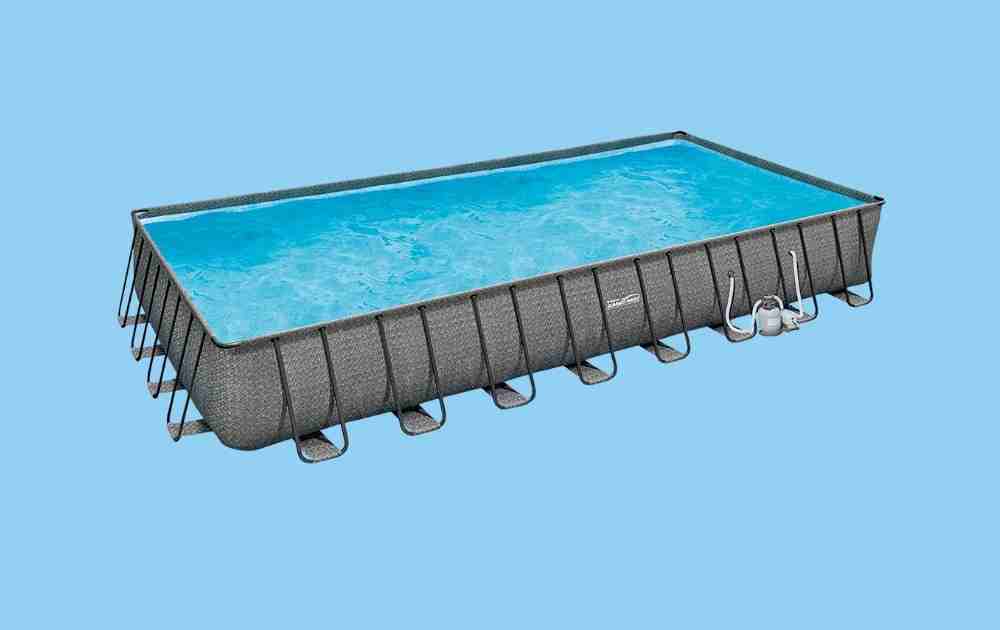 Intex Rectangular Frame Safe Splash Pool
🏊 Best rectangular above ground pool for young children
One of the best things you can do with babies and toddlers is getting them used to the water. The benefits of baby swimming are plenty and they are awesome.
And while there are plenty of excellent inflatable kiddie pools out there, your family might want something that both parents and another sibling or two can get into on those hot summer days.
Within Intex's deep list of above-ground pools is this small pool designed for little swimmers. With a water capacity of 439 gallons, an easy drain plug (that can be expelled through a hose away from the house), and a sturdy and rust-resistant steel frame, you and your little ones can splash safely under the sun.
The Intex Safe Splash is also very affordable.
The 7' x 4'11" x 2' version pictured below retails for around $100 (check Amazon for current pricing and availability). For larger children and families, Intex also offers a Safe Splash Pool that is nearly double the size.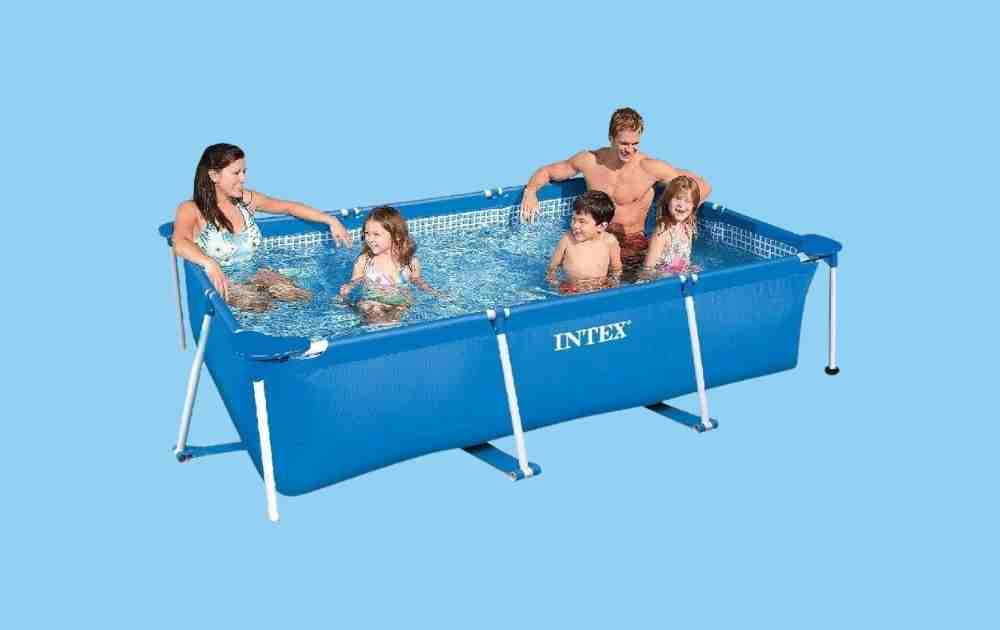 ---
More Pool Guides
The Best Solar Cover Reels for Backyard Swim Pools. Solar covers are essential for regulating water temperature and saving on water costs. Here's a look at the top solar cover reels on the market.