Handling your solar pool cover can be a real pain. Spend less time wrestling with your solar pool cover and more time enjoying the water with our top picks for the best solar cover reels for every kind of pool.
Solar pool covers are an excellent investment in your inground or above ground swimming pool.
For a simple piece of fabric, they provide a lot of value in terms of regulating the temperature of the water (saving you lots of $$$ on heating the pool).
That said, they can be a hassle to pull out of the water and store.
Solar covers for your pool, although they are basically tarps, are not immune to being torn and degrading when tossed and folded around. Rips, frays, fold marks from being balled up like a snowball—they all add up to a damaged cover that doesn't do its job effectively.
Enter the solar cover reel.
Pool solar cover reels help keep your pool area organized, protect your pool cover, and make it easier to position and store the cover.
Below is a breakdown of the best solar cover reels on the market, including key features (like price).
Read on, find the right solar cover reel for your pool, and spend more time in the water enjoying your pool than fighting with your solar cover.
Let's do this!
VINGLI Pool Cover Reel Set
⭐ Best solar pool reel for inground pools
It's not often you find that people go ga-ga over something as simple and as functional as a solar cover reel, but that's typical of pool owners who choose a VINGLI Pool Cover Reel Set.
With over five hundred five-star reviews on Amazon (click here to read them and see current pricing), the VINGLI reel sets feature a one-hand wheel crank, full solid tires, handles to make positioning the reel easier, and anti-slip legs so that you can crank the pool cover quickly and orderly.
VINGLI offers these in two different pool sizes, including 14- and 21-foot models (the 21-foot model is pictured below). The thick tires on the reel mean you can also quickly store and move the reel as necessary.
They can fit different-sized pools as well, including bean-shaped, rectangular, Oyster shaped pools, and more. The cover simply has to be cut to fit the orientation of the pool and the straps on the VINGLI reel are long enough to take care of the rest.
Well-priced, well-reviewed, and adaptable to just about any kind of inground pool shape there is, the VINGLI is our top pick for best solar pool cover reel.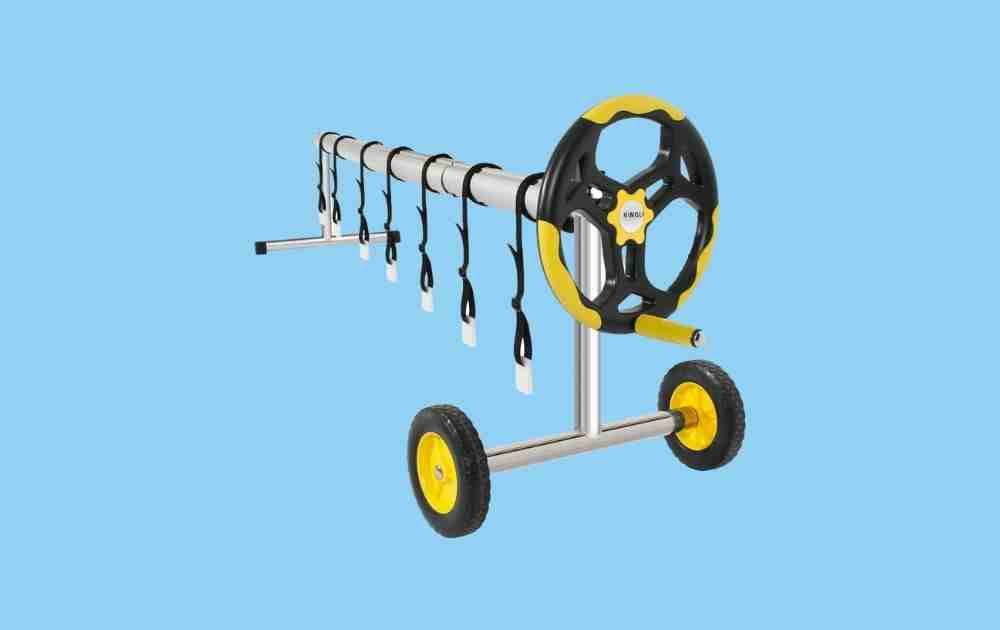 HydroTools Above Ground Pool Solar Blanket Reel
Designed specifically for above-ground swimming pools, the HydroTools reel is paired with Swimline poles (sold separately, unfortunately) that you use to create a custom-width reel set for your solar pool cover.
This reel is meant to be installed next to your pool with the attached base and crank wheel. Straps and hooks are included to hook up to your pool cover.
Although it doesn't have the same versatility as the VINGLI reel—most notably the portability—this reel is very budget-friendly, costing under $50 (check Amazon for current pricing and availability).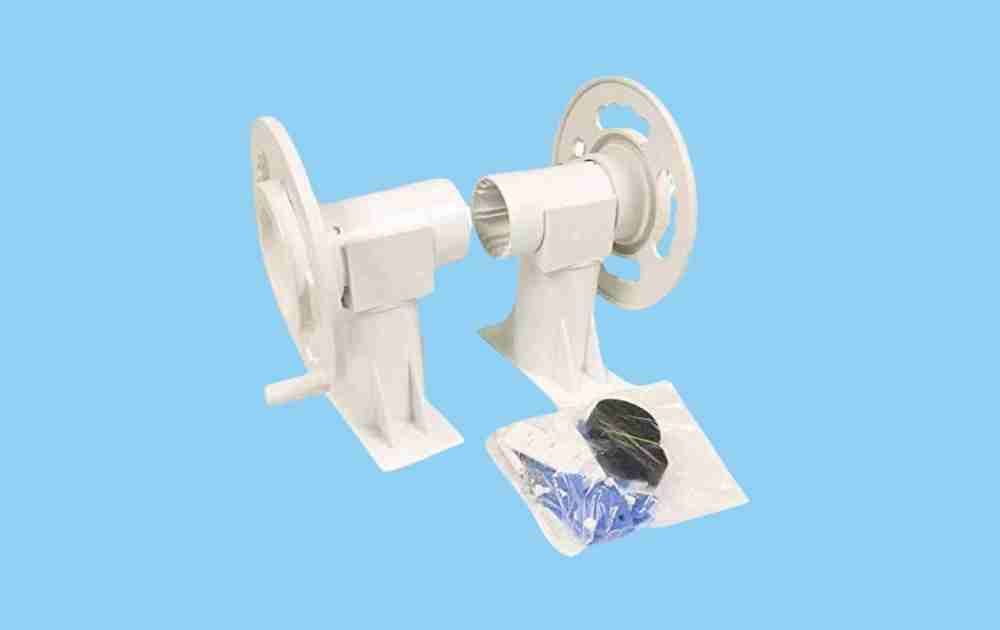 Intex Solar Cover Reel
⭐ Best solar cover reel for Intex swim pools
Intex is one of the leading names when it comes to backyard swimming pools.
They make everything for endless water-based fun, including inflatable swim pools and pool floats for adults, as well as cleaning and maintenance tools, like pool filters and pool vacuums.
The Intex Solar Cover Reel is a perfect example of a brand that knows its stuff—the reel is a breeze to install, with two clamps that are attached to one end fo of your pool. A small hand crack makes retracting the cover simple and fast.
The clamp system means it is only handy for rectangular above-ground swim pools (it's attached to the side of the pool), but is great for pools between 9' and 16' in width.
When you combine Intex's legacy in the pool biz, a tool-less installation, and a heavy-duty aluminum shaft that won't corrode or buckle, the Intex Solar Cover Reel is a no-brainer for Intex (and rectangular) pool owners.

NSdirect Pool Cover Reel
⭐ Best for larger inground swim pools
Another inground reel comes our way from the folks at NSdirect, with a reel that is heavy-duty and perfect for inground swim pools up to 22.5 feet wide.
The diameter of the shaft on the reel is a solid 3", which won't buckle or bend under the weight of your soggy pool cover. Treaded, non-slip wheels help you keep the reel steady and also mean you can store the cover away from the pool when it's in use.
These kinds of heavy-duty reels are priced reasonably, ranging in cost from $159-179 depending on the color you choose (check Amazon for current pricing and availability), and are easy to assemble out of the box.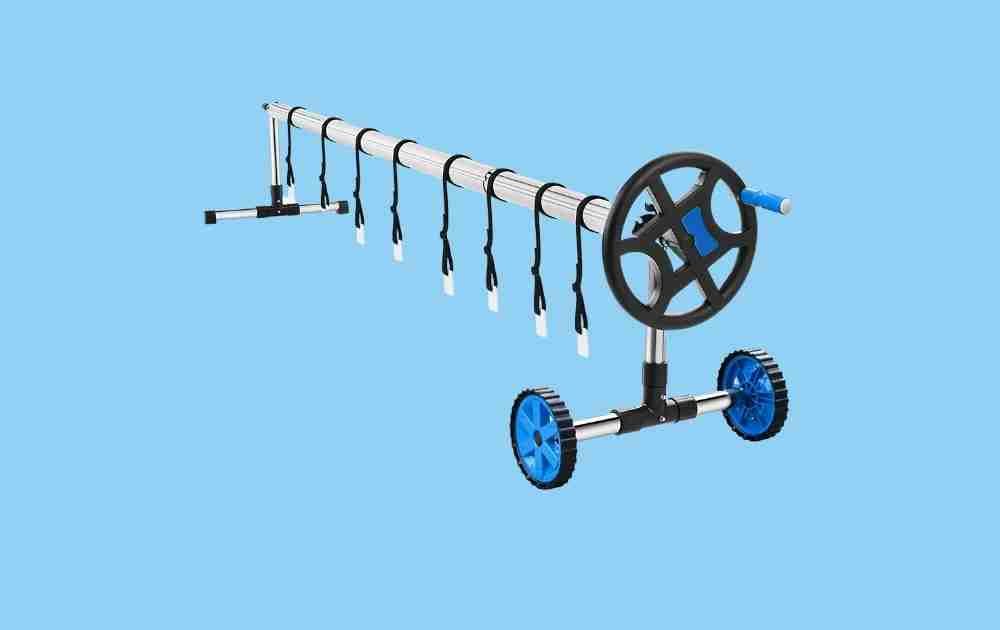 Recommended Reading
Below is a curated list of recommended resources for pool and spa owners, covering more of your pool cover and pool heating needs.
6 Best Solar Swimming Pool Covers. A solar pool cover saves energy, keeps your pool clean, and regulates the temperature of the water. Here is a breakdown of our favorite solar swim pool covers.
5 Best Pool Ladders for Above Ground Swimming Pools. Looking for the right pool ladder for your above-ground swimming pool? Here's a breakdown of the best ones on the market, including key features, price, and more.
5 Best Heaters for Above Ground Swimming Pools. Want to get more time and use from your backyard pool? Here are our hand-picked selections of the best heaters for above-ground swimming pools.
5 Best Above Ground Swim Pool Liners. Ready to fix and replace the pool liner in your above-ground swimming pool? Here is a collection of cost-effective and durable pool liners for maximizing the life of your pool.
6 Best Winter Pool Covers. Whether you have an in-ground pool or an above-ground pool, here is our selection of the best winter pool covers.