Want to get more time and use from your backyard pool? Here are our hand-picked selections of the best heaters for above-ground swimming pools.
The backyard pool is one of the staples of summer.
Splashing around under the sun and in the crystal-clear waters of your above-ground swimming pool is a great way to spend the long summer days.
One of the ways to make the most of your pool is a heater.
Having a heater for your above ground pool is important for a few reasons:
You can use the pool earlier and later in the day. Whether it's sitting around in the water under the stars or first thing in the morning for a quick workout, the heater opens up the cooler hours of the day for pool use.
Use the pool earlier and later in the year. Some spring days aren't quite hot enough to swim, while some early fall days fall under the same category of maybe being a little chilly. A good pool heater makes the water just warm enough to use during these warm-but-not-warm-enough days.
Makes it comfortable on cooler days. Summer isn't always blazing sunshine and rays. There are days where the wind is blowing a little and the clouds are out. A pool heater allows you to comfortably use your pool these days too.
Let's assume that you are properly using a cover for your above-ground swimming pool. A solar pool cover is crucial because it helps retain heat—whether the sun or your heater is doing the heating—when the pool is not in use, whether during the day or overnight. (A proper winter pool cover helps protect your above-ground pool during the colder months when the pool is not in use.)
Plus, no sense in heating up your pool and then having the wind blow the warmth off.
But where to start?
Which heater is the best for your above-ground pool?
Here is a breakdown of our hand-picked selection of the best heaters for above-ground swimming pools.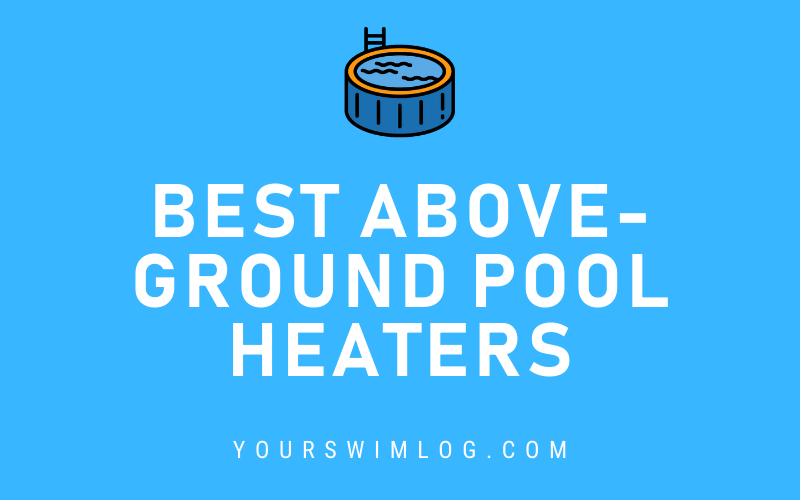 SunHeater Solar Pool Heater for Above Ground Pools
Take advantage of the long, sun-drenched days of summer by absorbing that sunshine to keep your pool at a comfortable temperature.
The Smartpool Solar Pool Heater comes with two long polypropylene panels (both 2 feet by 20 feet) that can be unfurled near your above-ground pool. The panels can be placed on the roof or in the yard, wherever the sun is beating down the most.
Reviewers note that even on cloudier days, the panels were able to soak up enough rays to warm their above-ground pool by several degrees, with several days of sunshine boosting pool temperature by 12-20 degrees.
Although some of the product shots feature a mounting rack for the panels, you will need to either lay it flat in an area where the sun is beating down (on the roof, for example) or construct a mounting platform yourself.
Installation is easy, with the heater using your existing filtration system. SunHeater also packs its heater with plumbing fixtures to ensure a quick hook-up.
Cost-wise, the SunHeater panels run for around $235 (check Amazon for current pricing and availability).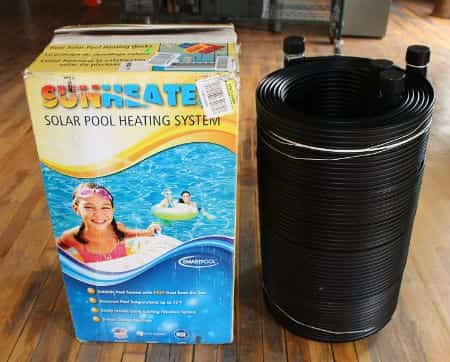 Intex Solar Heater Mat for Above Ground Swim Pool
Intex is one of the leading builders of above-ground swimming pools, so it would make sense that they also produce heaters for backyard pools.
Designed specifically to work with Intex filter pumps, the solar mat is an efficient and cheap way to keep your pool running at a comfortable temperature.
Best suited for pools up to 8,000 gallons, the mat is hooked up in a matter of moments, and multiple mats are recommended for larger pools.
Intex says that you can expect an increase of 5-9 degrees Fahrenheit depending on the amount of sun and volume of your pool.
Intex's Solar Heater Mat is easy to hook up to your pool, and priced at just around $60 (check here for current pricing on Amazon), provides a cost-effective way to keep your pool nice and comfortable this summer.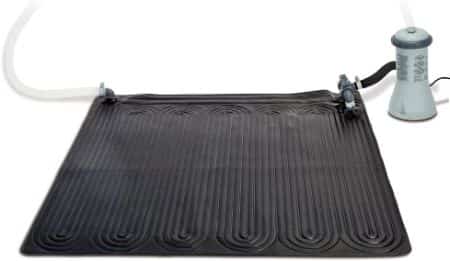 GAME SolarPro Above Ground Pool Heater
This pool heater is universal, meaning that no matter what model of pool you are rocking with, it helps warm the temperature a few degrees in a handful of days.
Designed for pools that are no larger than 8,000 gallons, the Game SolarPro soaks up the sun and transfers that heat to your pool. Reviewers found that the heater worked best when paired with a bypass kit (sold separately).
GAME's backyard pool heater and its unique design don't come cheap, with third-party sellers on Amazon selling them for between $350-400 (check here for current pricing on Amazon).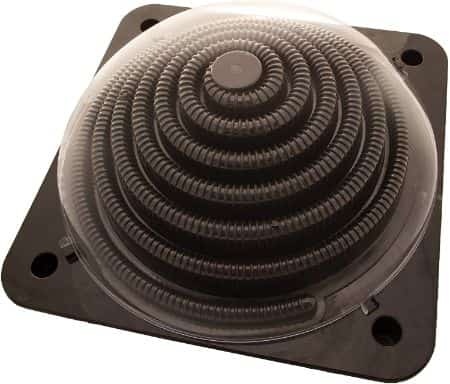 Hayward Universal H-Series Above Ground Pool Heater
If you are looking for a more robust heater for larger pools, and something that is powered by natural gas, the Hayward Universal H-Series Heaters are your go-to pick.
The heat exchanger is made of durable nickel, protecting the unit from corrosion from unbalanced pool water. The Hayward unit has a front-mounted display unit for easy access to settings and operation.
Available in a variety of BTU (a handy rule of thumb is that to maintain ideal pool temperature, you will need about 10 BTU per square foot of pool surface), from 150,000 to 400,00 BTU, accommodating a wide variety of above ground pool sizes.
Hayward makes heavyweight equipment for backyard pools, making the H-Series a solid pick for the more serious backyard pools. These units reflect this seriousness in price, with the 150,000 BTU model costing $3,475.
Check here to see the prices and availability of the full range of Hayward H-Series pool heaters at Amazon.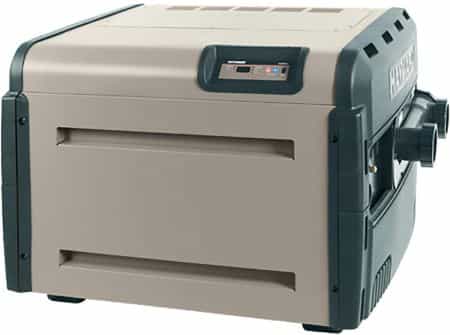 Hayward HeatPro Pool Heat Pump
For slightly smaller above-ground pools, Hayward also produces a model that is best suited for pools in the 90,000-140,000 range.
Made with a profiled fan that is engineered to be quiet, and with a corrosion-free gold fin, the Hayward Pool Heat Pump is designed to withstand the elements while also being relatively quiet.
The heat pump is efficient, but best paired with an above-ground pool cover when the pool is not in use. As one reviewer notes, leaving the pool uncovered combined with a half-decent wind quickly robs a lot of the heat being generated by the pump.
Again, Hayward's stuff isn't cheap, with the 140,000 BTU model ranging in the $9k+ price range. With the explosion in backyard pools over the past couple of years, this has meant some models don't last long in stock (check Amazon to see pricing and availability).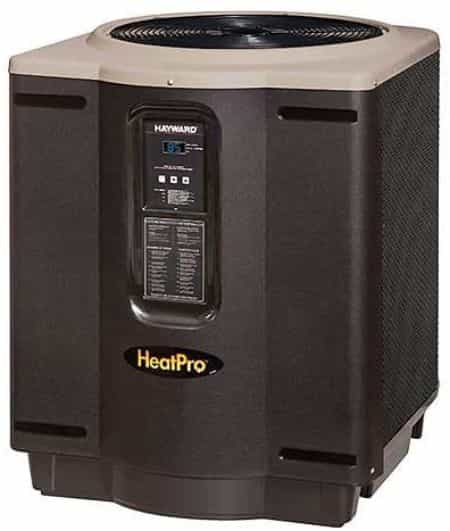 ---
More Stuff Like This
6 Best Variable Speed Pumps for Swim Pools. Frustrated with big electricity bills from your backyard pool? Replace your standard pool pump with one of our favorite cost-saving variable speed pool pumps.
5 Best Above Ground Swim Pool Liners. Ready to fix and replace the pool liner in your above-ground swimming pool? Here is a collection of cost-effective and durable pool liners for maximizing the life of your pool.
5 Best Pool Thermometers. The right pool thermometer helps keep your pool running properly and comfortably. Here's a breakdown of the best ones on the market for backyard pools and hot tubs.
The 5 Best Pool Timers (and How Much Money You Can Save Using One). An awesome tool for cutting costs on operating your backyard pool is a swimming pool timer. Here is a detailed look at the best ones on the market right now and how much money you can save by using one.