A solar pool cover saves energy, keeps your pool clean, and regulates the temperature of the water. Here is a breakdown of our favorite solar swim pool covers.
Having a backyard pool, whether an inground or an above ground swimming pool, is a great way to entertain family and friends, exercise, and cool off on a hot day.
A lot of work goes into maintaining the pool, whether it's using your favorite above ground pool vacuum to keep the pool clean, or hooking up a pool heater to warm it up for those chilly mornings and overcast afternoons.
A powerful way to keep your pool clean, maintain a comfortable pool temperature, and save energy, is to use a solar pool cover.
Although it may be tempting to pick up just any regular old swimming pool cover, solar covers are best used during the warm summer months when the pool is being used.
Unlike heavy-duty winter pool covers, which are designed for extended protection, a solar pool cover is made of light but durable material that can be quickly taken on and off the pool.
This little bit of work, especially when the pool is not in use, and overnight, keeps debris out of your pool, reduces heat loss, and you even save on pool chemicals because water isn't evaporating away.
A lot of wins for a relatively simple piece of material!
If you are on the hunt for a new solar pool cover, I've hand-picked a few of my favorites based on my 30+ years of being around swimming pools.
Here is the full rundown on the best solar pool covers for in-ground and above-ground pools.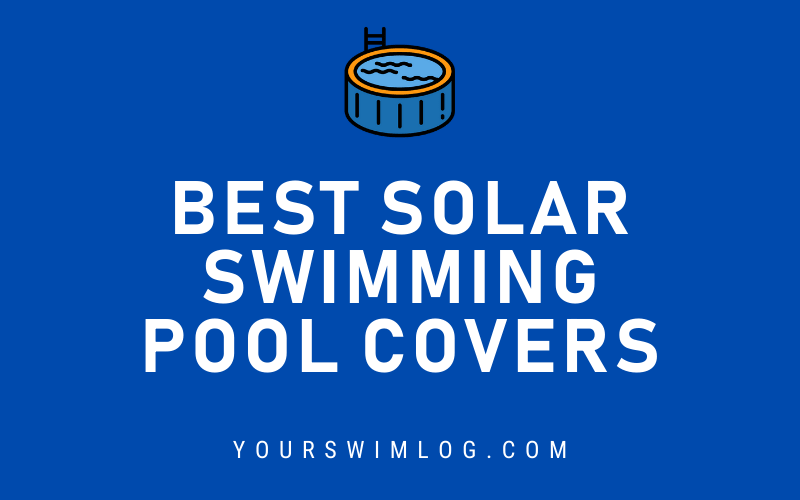 Sun2Solar Oval Solar Swimming Pool Cover
If you are thinking that this pool cover looks like a sheet of bubble wrap, then you would be completely correct. The Sun2Solar covers are made of thousands of little bubbles that keep heat in the water.
When you aren't using the pool during daytime hours, the clear material also allows the sun's rays to shine through, warming the water and reducing your dependency on a heat pump to keep the pool water at a comfortable level.
The bubble side is to be pointed at the bottom of the pool to maximize heat retention, and the Sun2Solar Oval Solar Pool Covers come in blue and clear, and in various sizes, from 10'x15' to 21' by 41.'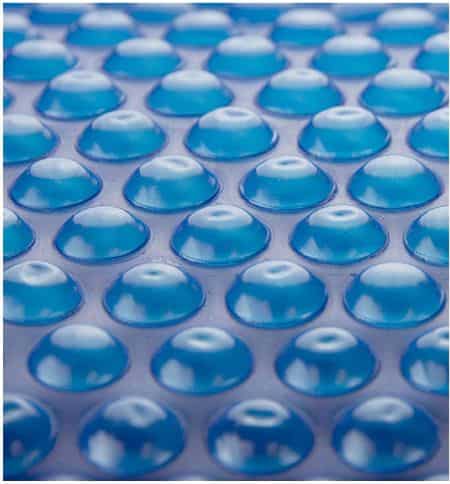 UNKN Round Solar Pool Cover
For smaller round pools, between 8' and 15', the UNKN Round Solar Pool Cover provides an economical way to keep your pool clean and warm.
Drain holes are perforated along the pool cover which prevents water from accumulating on top. Similar to the Sun2Solar pool covers, the UNKN models have an underside of bubbles with help keep warmth locked under the pool surface.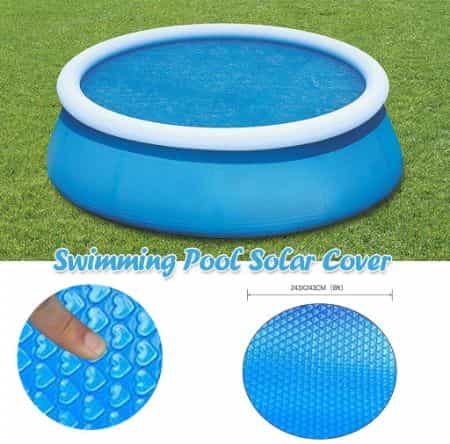 Blue Wave Rectangular Solar Cover for Swim Pools
14mil thick, the Blue Wave Solar Blanket and Pool Cover is constructed specifically to stand up to harsh pool chemicals and the unrelenting pounding the sun's rays.
The Blue Wave Rectangular Pool Covers, available in half a dozen sizes for both inground and above ground swimming pools, minimizes the loss of heat by boxing in heat with thousands of air bubbles.
Blue Wave's covers cut down water evaporation by over 90% and they back their pool covers with a six-year warranty.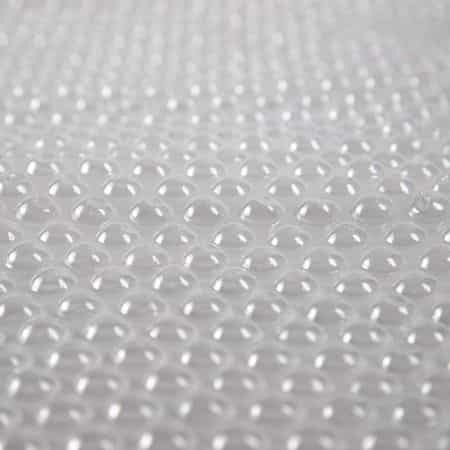 Intex Solar Pool Cover
Intex is one of the most popular manufacturers of backyard swimming pools. Although made for their line of round swim pools, the Intex Solar Cover can just as easily fit into other brands' pools.
The cover has small drainage holes in the fabric to allow water to seep through and not sink the cover in the pool. While not meant to securely fasten to the liner or ring of the pool (it's meant to float a little, so don't worry if it doesn't fit "perfectly"), it does a killer job of regulating water temperature and keeping light debris out of the pool.
A plastic carrying bag comes with this pool cover so that you can store it quickly and compactly while enjoying your pool.

Thermo-Tex Round Swimming Pool Cover
Another no-frills solar pool cover comes from the folks at Thermo-Tex. It's got the same design as the others on our list, with the underbelly lined with heat-retaining bubbles.
The Thermo-Tex Solar Pool Cover does the job when it comes to keeping the heat in the pool, debris out, and comes with a five-year warranty.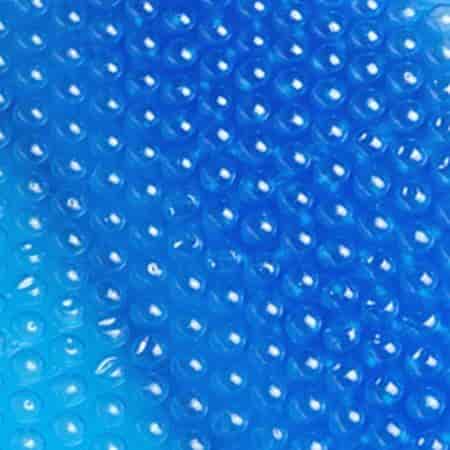 Pool Mate In-Ground Solar Pool Cover
Pool Mate's solar covers come in a pair of formats. They come in the standard round bubble underside as well as a diamond bubble (pictured below).
Pool Mates constructed their pool covers, designed specifically for in-ground pools, with a patented aluminum shield that locks heat in the pool. Because the material is also highly UV resistant, it will also last longer.
Combine that with a five-year warranty, size options from 16×32 to 20×40, and you've got yourself the ideal pool cover for your in-ground swim pool.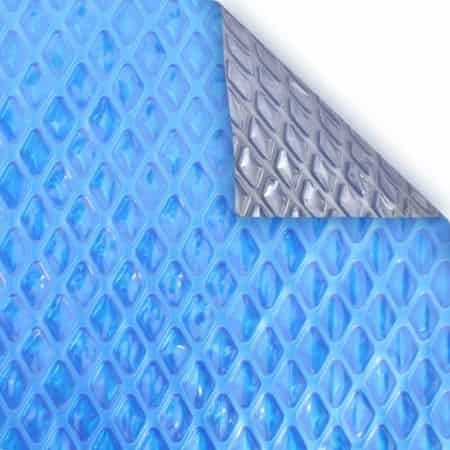 More Pool Gear Guides:
7 Best Accessories for Above Ground Swim Pools. Looking to make your backyard pool even more fun? Check out this guide to some great ways to crank up the good times.
5 Best Pool Thermometers. The right pool thermometer helps keep your pool running properly and comfortably. Here's a breakdown of the best ones on the market for backyard pools and hot tubs.