Keep your above-ground swimming pool sparkling and clean with our hand-picked selection of the best above-ground pool vacuums.
There is a lot of fun that comes with having an awesome above-ground pool. Keeping cool during the summer, getting your fitness kick (with a swim tether), and entertaining family and friends.
But keeping your pool clean is a top priority. In fact, next to keeping the pool water at a comfortable temperature with an efficient pool heater, cleanliness is right at the top of the list of things your pool requires from you.
Most new pool owners are surprised by how quickly debris can begin to accumulate in the pool: dirt, sand, leaves, hair-balls, and so on. For the daily grind of keeping the pool clean, a solid above-ground pool filter and pump keeps the water moving and mostly clean.
Along with your favorite pool brush, and a floating pool chemical dispenser, one of the classic pool cleaning pieces of equipment is leaf skimmer net—a long plastic rod with a net. But this will only help you clean debris that is at the surface or that is floating in the water.
A pool vacuum does the work that a floating pool skimmer won't do, polishing the bottom and sides of the pool, giving you that sparkling, clean water you want.
There are a few different options when it comes to picking out the best pool vacuum. While there are lots of pool vacuums on the market, not all are made for the specific needs of an above-ground swim pool.
Here's the ultimate buyer's guide to the best above-ground pool vacuums.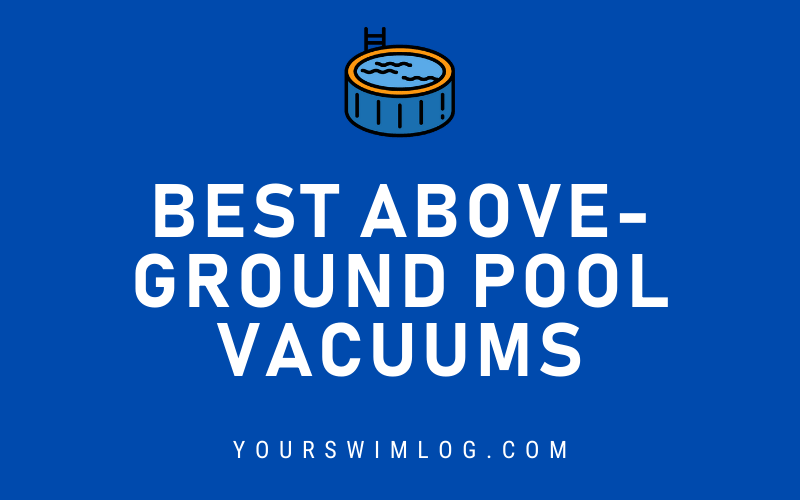 Intex Auto Pool Cleaner
Intex is a leader in the backyard pool market, with a wide selection of styles and sizes in pools that can be easily set-up. The Intex Auto Pool Cleaner is made specifically for Intex above-ground swimming pools that have a 1" to 1.5" hose fitting. The vacuum requires a filter pump that can handle a flow rate between 1,600-3,500 gallons per hour and works in pools that are 24ft and smaller.
The Intex Auto Pool Cleaner does the dirty work for you, scrolling back and forth along the floor to collect loose debris, including sand, leaves, and small sticks. For more pesky pool debris, like algae, use a brush to scrape off the sides and let the vacuum roll over it and collect it.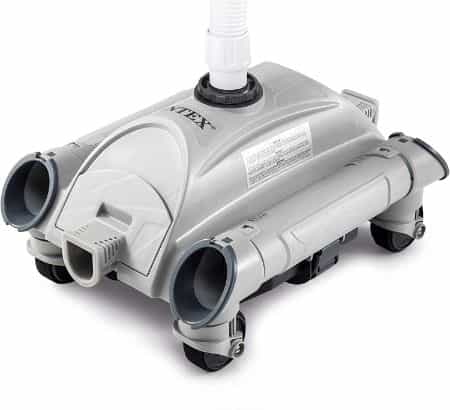 Hayward Poolvergnuegen PoolCleaner Suction Vacuum
Don't let the long name distract from the fact that this is a killer pool vacuum.
The PoolCleaner rolls along on two specifically designed tire treads that maintain a close grip to pool bottoms and climb uneven surfaces.
A roller skirt helps to maintain suction at all times, and the PoolCleaner has a series of pre-programmed steering sequences that ensure every corner and crevice of the pool is being swept for debris.
With its two-wheel suction, it is best suited for above-ground pools that are up to 16×32 feet in size. They also produce a four-wheel model that tackles larger pools that include multiple levels.
The PoolCleaner is one of the best-rated pool cleaners on Amazon, with almost a thousand reviewers giving it an average of a 4.5-star rating.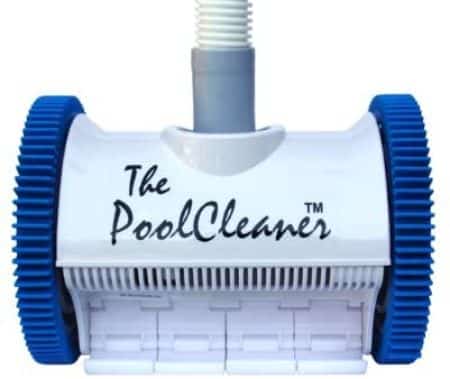 PAXCESS Handheld Suction Above-Ground Pool Vacuum
The PAXCESS vacuum is a budget-friendly automatic pool vacuum that is high in features and made specifically for above-ground pools that don't have stairs.
Best suited for above-ground pools that collect heavier debris like leaves and sticks, the PAXCESS has a unique design that sucks up dirt, dead flies, and sand from the bottom of the pool, while the softly serrated vacuum head snags leaves, clumps of hair, and small sticks.
While it is great for cleaning the bottom and sides of your pool, keep in mind that it won't handle stairs.
Quiet, backed with a 12-month guarantee, and made of soft plastic that won't chip and scratch the sides of your pool, the PAXCESS Automatic Suction Vacuum is our favorite choice for above-ground pools that get heavier amounts of debris and junk.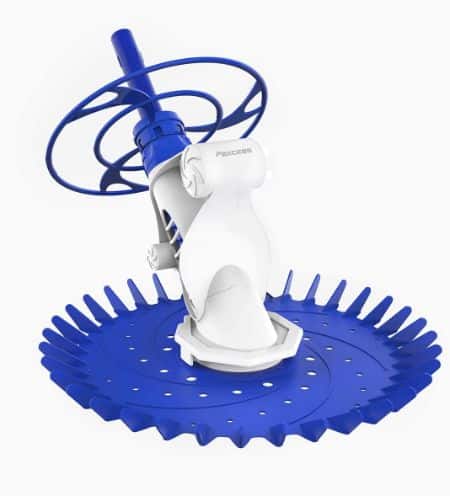 AIPER Automatic Robotic Above-Ground Pool Vacuum
The AIPER is a premium pool vacuum, and as a result, is on the higher-end of prices on our little list. But the AIPER is an absolute beast when it comes to cleaning up pool debris.
The rollers on the AIPER are its secret weapon. The PVA brushes grip tightly to pool surfaces, whether the bottom, the sides, or stairs, tornado'ing dirt, debris, hair, dead bugs, and more.
Easy to assemble, a top-loading filter basket that can be poured out and rinsed, and a painless scheduling option that makes a clean pool literally automatic.
The AIPER Pool Vacuum is best suited for larger above ground pools and for those who are thinking about perhaps transitioning to a larger in-ground pool in the future. Cleans pools up to 50".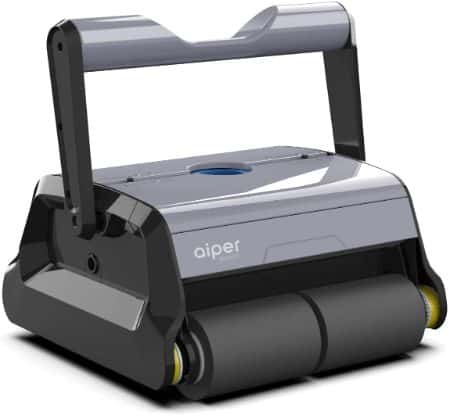 POOLWHALE Handheld Above Ground Pool Vacuum
For smaller above-ground pools, or for the do-it-yourselfer who prefers to make sure that their pool is spotless, this POOLWHALE Handheld Pool Vacuum is an excellent choice.
Attached to your standard garden hose, the mini-jet vacuum has a telescoping rod of up to 48" and an easy-to-assemble design that will have you up and cleaning your above-ground pool (or hot tub) in no time.
The nylon net collects debris and is easy to empty. A bottom bristle scrubs away dirt, knocking it loose so that it can be sucked up. Two rollers on the bottom of the head of the vacuum make it easy to roll across the pool bottom.
Compared to the automatic and robotic pool vacuums, the POOLWHALE Handheld is cheap, usually retailing for around $30-40.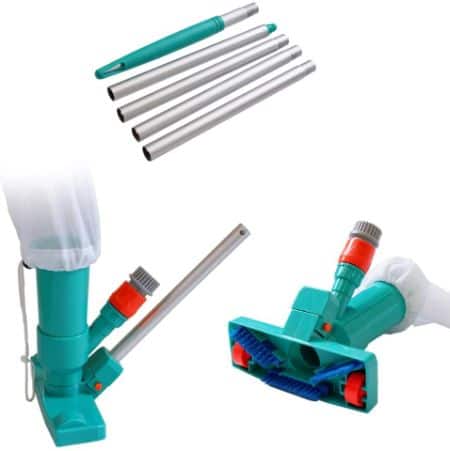 Intex Handheld Above-Ground Swim Pool Vacuum
Another pool vacuum made by Intex, this one is designed for above-ground pools that are no larger than 18 feet in length.
With a telescoping aluminum shaft (up to 94"), a rechargeable battery (charged through a USB port), and a sturdy brush and suction head that pulverizes and collects dirt, the Intext Handheld is a great selection for those who prefer to take their pool cleaning into their own hands.
The Intex Handheld unit has a waterproof switch that makes sure the unit will turn off if it is completely dropped and submerged in the water.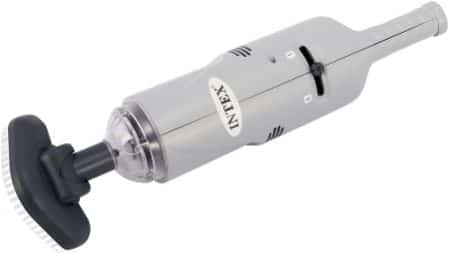 ---
Above Ground Pool Vacuums – FAQs
What are the different types of above-ground pool vacuums?
While vacuuming is nobody's idea of a great time, it is a requirement for a clean and sparkling pool.
Fortunately, pool vacuums have come a long way in recent years, with better tech and more "hands off" approaches available for backyard pool owners.
Here are the three main kinds of above-ground pool vacuums on the market:
Robotic pool vacuums.
The ultimate set it and forget it tool is a robotic pool cleaner, alternatively known as automatic pool cleaners. They are the premium option—drop it in the water (no, you won't get shocked when it enters the water)—and a couple of hours later, fish it out. Clean pool.
They have a mesh bag inside to collect gunk and are powered by electricity, not your pump, which means that a robotic pool cleaner can do the hard work of cleaning your pool while the pump and filter are off.
Think of robotic pool vacuums as an iRobot for your swim pool.
Pressure side pool vacuums.
A form of automatic pool cleaner, these bad boys look odd—there's a unit that floats on the surface while a mesh bag drags along the bottom, collecting unwanted guests—but they are an affordable way to skip the manual part of vacuuming your pool.
Pressure side pool vacuums have few moving parts (i.e. easy to troubleshoot), rely on the water pressure from your pump and filter to move around the pool, and it's kinda cool watching the unit move around the pool.
Suction side pool cleaner.
When you think about an actual vacuum, like the one that you use on carpet in your house, this is what you should have in mind when it comes to suction side pool cleaners.
They work in much the same way, pulling down onto the surface of your pool, using the water pressure from your pump and filter to move around the pool.
But unlike your dryland vacuum, you don't need to guide a suction side pool cleaner; it moves around the pool on its own.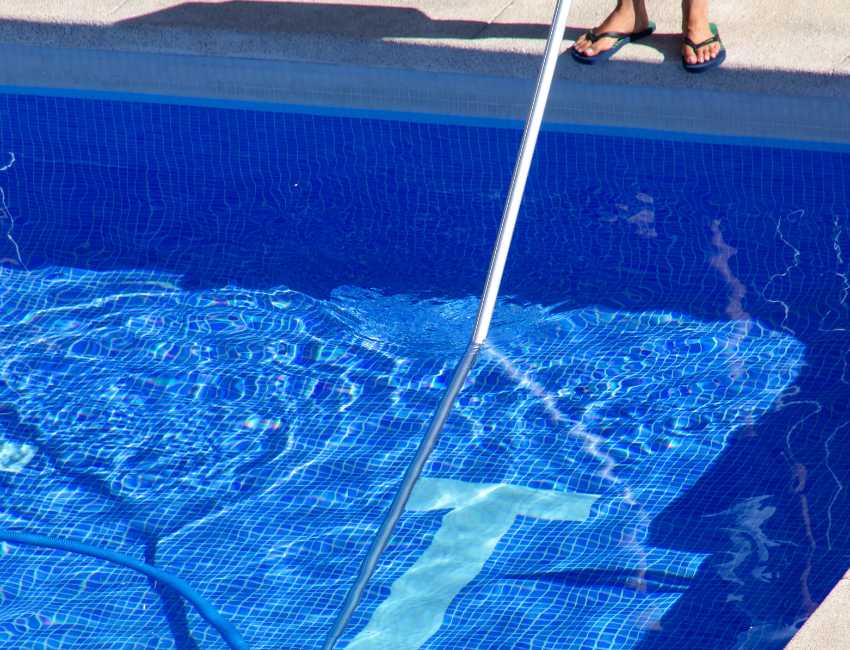 What is the best way to vacuum an above-ground pool?
Depending on the kind of vacuum you end up choosing for your above-ground pool, assembly and getting started can take a few seconds or a few minutes.
No matter what kind of vacuum you end up choosing, there are some pointers to follow:
⭐ Use the right setting for how dirty the pool is. If your vacuum attaches to the filter and pump, make sure to have the filter system set to the correct setting. For routine cleaning, set the pool filter to the filter setting. For heavy cleaning, after a big rainstorm or after extended periods of use, set it to the waste setting.
⭐ Slow and long sweeps. Moving the pool vacuum head too quickly will send debris and organic matter flying around the water, requiring more passes later on. Speeding through the passes will create a cloud of debris (the pool might be so dirty that this will happen regardless) which will require waiting an hour or two for it to settle.
⭐ Pull the vacuum out of the water. Don't leave your pool vacuum into the water when you aren't using it. Pool chemicals—and this is especially the case if you plan on shocking the water—can corrode pool equipment when exposed to extended periods of time.
⭐ Don't forget to test. Once you've completed the vacuuming, it's time to test the water. Pull out your pool test kit, whether that's your digital pool test kit or pool test strips and check to see how balanced the water is.
How often should I vacuum my above ground pool?
Your regular vacuuming schedule varies by how much your pool gets used and how well covered the pool is between uses.
For starters, consider vacuuming your above ground pool at least once a week. There will be special occasions where it's a good idea to get some vacuuming done, including when you open the pool, when you close the pool, or after heavy use and after un-awesome weather.
Properly covering your pool when it is not in use—even if you are just using a solar cover which has the bonus effect of reducing water evaporation and retaining heat—will help cut down the amount of time spent vacuuming the pool as it will help keep debris out of the water.
Do pool vacuums remove algae from the water?
Algae can be a really tough customer, especially once it's started to take hold on the pool walls, behind the steps of your above-ground pool, and so on.
Vacuuming the pool can help a little in these situations (especially when combined with a good algaecide or using your favorite pool shock), but where pool vacuums can really help is preventing algae from getting started in the first place.
By regularly vacuuming up leaves, dirt, dead insects, and other uninvited pool guests, you remove the food source and stop algae growth in its tracks.
---
More Stuff Like This
6 Awesome Variable Speed Pool Pumps. Frustrated with big electricity bills from your backyard pool? Replace your standard pool pump with one of our favorite cost-saving variable speed pool pumps.
The Best Rectangular Above-Ground Pools for Backyards. There are lots of advantages to rectangular pools, including saving space and the advantage of straight edges for aligning next to a deck. Here's a look at the top ones on the market for backyard fun and sun.