Keep your pool clean and sparkling with our hand-picked selection of the best automatic pool cleaners.
Let's get right to it: Nobody really wants to spend their time scrubbing the sides of their pool with a pool brush, watching the floating pool skimmer do its work, or constantly balancing the water.
Splashing around in the backyard pool, having drinks, playing with your favorite pool toys; that is the easy and fun part.
It's what comes after that kinda sucks—cleaning and maintaining what is usually a watery paradise. One of the staples of taking excellent care of your pool, whether it's an in-ground or above-ground pool, is keeping it clean.
There's balancing the water, covering the pool properly with a pool cover to make sure heat and expensive pool chemicals don't blow off in the wind, keeping the floating chlorine pool dispenser fill, letting the above ground pool skimmer do its thing, and there's the day-to-day grind of cleaning it of debris, sand, dead insects, and the leftover integrity of the neighbor that got a little too piled up for his own good.
Let's just come out and say it: Cleaning and maintaining the pool is the least exciting aspect of owning a pool, but it is still a very necessary one. It's not just aesthetics; you want your pool to stay in good and enjoyable condition.
Fortunately, there are plenty of options for cleaning your pool that requires a little less of a hands-on approach.
Below is our hand-picked selection of the best automatic pool cleaners.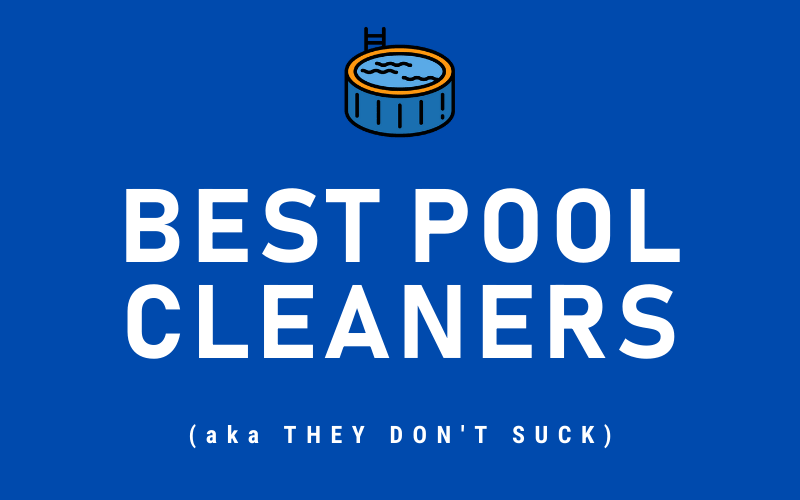 Dolphin Nautilus CC Plus Automatic Pool Cleaner
** Best in Class
The Dolphin Nautilus CC is a certified killer when it comes to scrubbing down pool bottoms, sides, and stairs. And the hilarious part is that this is the entry-level model of Dolphin Nautilus CC's.
Anyways.
Back to what we were talking about. This thing is a monster. To call it a Dolphin is a little misleading. Because it destroys gunk and algae and your cousin's smartphone that he left at the bottom of the pool. It will do just fine (thank you very much!) in pools up to 50" long, and after turning your back for just two hours will have your pool looking spiffy and clean.
A lot of automatic pool cleaners will tangle themselves, but after three decades of being in the game, Dolphin pool cleaners are able to get the job done without tying themselves into knots thanks to a tangle-free swivel cable.
Doesn't matter what your pool is surfaced with, the Nautilus CC will scrub that sucka down. The ratings on Amazon speak for how exceptional this product is. With nearly 3,000 reviews, over 2k of them are 5-star.
This pool cleaner can be scheduled to run on its own and uses twin filter cartridges to do its thing. If you are looking for an affordable pool cleaner that gets the job done without some of the fun gimmicks and frills, the Dolphin Nautilus CC Plus just became your new best friend.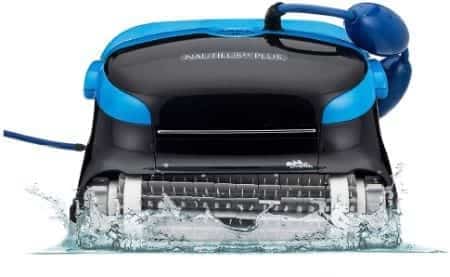 ---
Dolphin E10 Automatic Pool Cleaner
** Best automatic robotic pool cleaner for above-ground pools
Most robotic pool cleaners are designed specifically for inground swimming pools. But there are a few that are ideal for above-ground pools, and the Dolphin e10 is one such device.
Dolphin is one of the leaders in robotic pool cleaners (if you haven't guessed by my fawning over the Dolphin Nautilus), with four decades of experience building industry-leading pool vacuums.
The E10 works with above-ground swimming pools up to 30' in length and will have the floor of your pool clean in less than two hours. Debris and dirt is stored in the device, a quick-release system makes it easy to pull out of the water,
It's also extremely convenient: there are no additional hoses or booster pump required to make it work, simply plug it in and drop it into your above-ground pool and let it do it's thing.
While the Dolphin E10 is an absolute monster and tidying up the floor of your pool, it won't clean the walls (although some users note that it will go up the walls a little).
Reviewers overwhelmingly love this pool cleaner, noting that it removes a lot of the messing around with pool covers, manual pool vacuums, additional pumps and filters, and so on.
Dolphin pool cleaners aren't cheap—the E10 retails for around $500, which is often more expensive than the above-ground pools themselves—but if you want a first-rate automatic pool cleaner that will save you a ton of time and energy, the E10 is our top pick for best automatic pool cleaner for above-ground pools.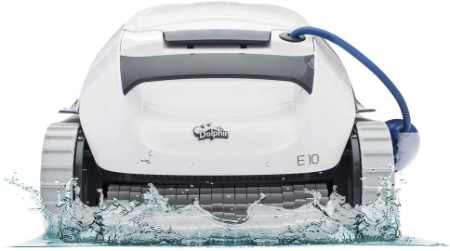 ---
Hayward Aquanaut Suction Pool Vaccum
The treading on this puppy is designed to help stick to the bottom and side of the pool. A roller shirt at the front of the old vacuum keeps it tight to the surface of the pool. It also comes in four different models; two-wheel-drive models are ideal for pools that have flatter bottoms, while the four-wheel-drive editions are better suited for pools with deep ends that have steep drop-offs.
Because we all have better things to do, the Hayward Aquanaut Suction Pool Vaccum has some pre-programmed routes to run, err, vacuum to make sure that it hits all of your pool's floor space and walls. While I wouldn't invite it to dinner, Hayward does make some pretty good-looking algae and hair-ball suckers.
The 200, best suited for smaller, flatter pools: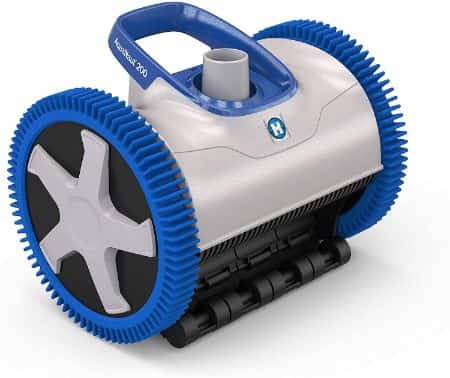 The 400, with four wheels, better suited for larger, multi-leveled pools: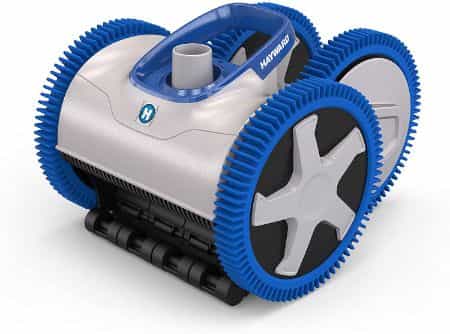 ---
PAXCESS Automatic Pool Cleaner
I am a big fan of this unit, and ranked it as one of my favorite pool vacuums for above ground swimming pools. The PAXCESS Automatic Pool Cleaner is just as functional in other types of backyard pools.
Automatic pool cleaners are awesome because you can simply let them do their thing, and the PAXCESS Pool Cleaner, once programmed with one of its three scheduling options (1, 2, or 3 hour cleans), unleashes itself on the walls and bottom of your pool. The sturdy PVA brushes stick to the surfaces of the pool and silently scrub things clean.
Ideal for pools no longer than 12-meters/50-ft in length, the PAXCESS has a swivel that keeps the cord from getting tangled up and stopping the machine, and an extra-large filtration bucket that collects dirt and debris.
Backed by a 2-year manufacturer's warranty, this highly-rated pool cleaner delivers on providing a hassle-free pool cleaning experience.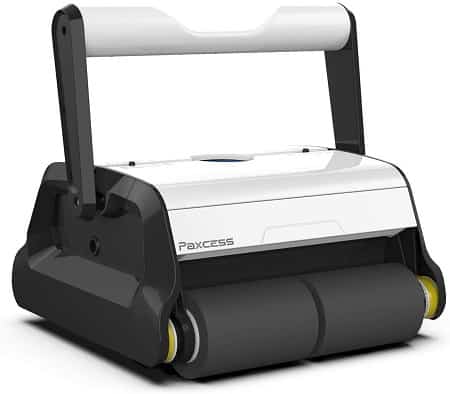 ---
Zodiac MX6 Suction Pool Cleaner
The Zodiax MX6 is a compact pool cleaner that requires less energy than other cleaners in its class. It is a suction-side vacuum that requires less energy and flow, making it best-suited for pools with variable and two-speed pumps.
The MX6 uses cyclonic suction to suck up pool dirt and debris, keeps itself running and untangled with swiveling attachment hoses. Zodiac backs the unit with a 1-year warranty, it comes with over 8m of quick-connect hose, and a flow regulator makes sure that the skimmer doesn't need to be continually adjusted.
Reviewers consistently rank the Zodiac as a durable little suction cleaner, with clear and colored instructions for setting up and running the pool cleaner. Can be used in both in-ground and above-ground swimming pools. For the budget-conscious buyer, it's also one of the cheapest pool cleaners on the market.

---
AIPER Cordless Automatic Pool Cleaner
The AIPER pool cleaner is exactly what it say that it is—a pool cleaner that can be set loose on the floor and walls of your swimming pool with cords or hoses to get tangled up.
Essentially a Roomba for your pool, the AIPER carries up to a 90-minute charge, cleans flat-bottomed pools of any size and length, and with two suction intakes and a powerful roller brush along the bottom, quietly tidies up most backyard pools (up to 860-square feet) in around an hour.
Backed with a two-year warranty (their customer service line was helpful with my questions), the AIPER Cordless Pool Cleaner is a beast when it comes to sucking up leaves, dirt, your sister's hairballs, and every other kind of pool debris.
There is only one downside to this little aquatic Roomba. If this thing dies mid-clean, guess who is diving into the deep end to pull it out?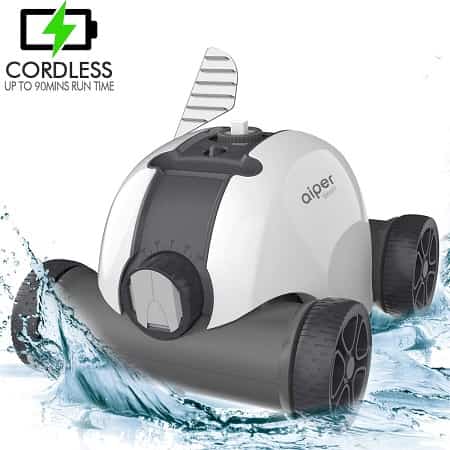 ---
PAXCESS Automatic Suction Pool Sweeper
The PAXCESS Suction Pool Cleaner is a no-frills and cheaper alternative to the other pool cleaners in our little super-guide. The PAXCESS Suction Sweeper works by hooking up to your filtration system (requires a minimum of 0.5 horsepower pump to function optimally) and attacking the floor, corners, and walls of your swimming pool.
Works on every pool surface, the Deflector Wheel helps provide stability for the Sweeper while it suctions dirt and junk. Suitable for pools up to 32-feet in length, the PAXCESS Sweeper is easy to assemble (no tools required), is backed by a 12-month warranty, and operates silently, removing debris from your pool while you sit pool-side with a cold one.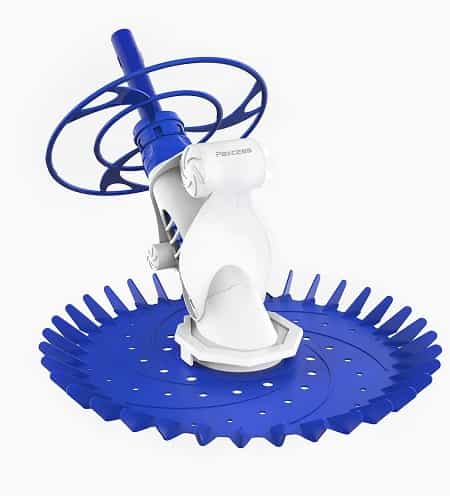 ---
Automatic Pool Cleaners – FAQs
How does an automatic pool cleaner work?
Robotic pool cleaners are your best teammate when it comes to keeping your swimming pool clean and ready for action. These bad boys, once dropped into the water, roam the floor and walls, picking up dirt, debris, leaves, and other organic matter that has found its way into the pool.
Instead of being attached to your pool pump or skimmer, they have their own power source. Plug it in, drop it in the water, and walk away.
Because they run on low voltage, they can be attached to an electrical source and then be submerged into the water. With long power cords (each automatic pool cleaner comes with a cable for the unit that is usually around 30' long), they have the ability to freely drive around the pool.
Will my automatic pool cleaner get tangled?
This used to be a very common frustration. The robot would plunge into the water, and minutes later, the cord would get tangled on the pool ladder. The whole point of an automatic pool cleaner is that you don't have to babysit it.
Automatic pool cleaners have improved markedly since those early days, with most vacuums now having a swivel and/or thick cords that significantly reduce tangling.
Can you swim when the automatic pool cleaner is in the water?
First, automatic pool cleaners use a very low amount of electricity to operate. And second, the power cords for the units are plugged into a GFCI outlet.
These types of breakers are automatically turned off when a fault or is detected, which means that you won't get shocked when the cleaner is in the water. GFCI (ground-fault circuit interrupter) outlets are used in damp and outdoor locations, including bathrooms, garages, workshops, and yup, on the side of the house.
Do automatic pool cleaners suck up a lot of energy?
This is one of the sneaky benefits of this kind of pool vacuums. They take up a shockingly low amount of energy (and correspondingly, cost little to run).
Robotic cleaners cost *usually* around a dollar per day to run (depends where you live and the price of energy, obviously), and because they are able to clean a significant amount of water, they reduce the energy and cost demands of your pool filter and pump. This cost-benefit is especially apparent with larger swimming pools.
How much do automatic pool cleaners cost?
Robotic pool vacuums are a decent chunk of change, ranging from $400-$2,000 depending on how many bells and whistles you are after.
Even though it's a bit of an upfront investment, using an automatic pool cleaner cuts down on the wear and tear of your pool filter and pump. Additionally, the time you save using this kind of pool vacuum is hard to guesstimate but adds up quickly over time.
Most pool cleaner manufacturers include a two to three year warranty on the unit, so there is a distinct peace of mind that comes with throwing down your cold hard cash on a pool vacuum.
---
More Backyard Pool Buyer's Guides
5 Best Pool Heaters for Keeping Your Above-Ground Pool Comfortable. Even though it is summer, your above-ground swimming pool will still need to be warmed up for maximum enjoyment. Here is a breakdown of our favorite pool heaters for your backyard swim pool.