Keep your above ground pool crystal-clean and sparkling with our hand-picked selection of the best automatic and manual pool skimmers.
Keeping your backyard pool clean is not an easy task. Between balancing the water, pulling the solar pool cover on and off, cleaning up after the pool toys, and vacuuming the bottom, you can quickly feel like you are spending more time cleaning it than enjoying it.
Pool skimmers are a powerful weapon in your arsenal for keeping your pool clean and extending the shelf life of your pool.
They collect the stuff that can clog your pool filter, make swimming in your pool kind of nasty (who wants dead bugs in their mouth when swimming), and does the heavy lifting when it comes to cleaning up heavier debris like twigs and leaves.
Although they don't replace the scrubbing that happens with the use of a quality pool brush, skimmers will lengthen the life of your filter and pump, keeping debris and junk from clogging the essential parts of your pool.
How does a pool skimmer work?
Pool skimmers clean the surface of the water, connecting straight to your filter and pump (or pool vacuum) and using suction to create movement in the water. Water moves through the net or strainer, and is collected and eventually removed.
This suction is barely perceptible—not enough that you would notice while in the water—but slowly works its magic, quietly pulling water in and collecting the nasties you don't want from the surface of your pool.
What kinds of pool skimmers are there?
When it comes to backyard pools and accessories for your above ground or in-ground pool, there is no shortage of options. Even with a function as simple as cleaning the surface of the pool, there are different types of pool skimmers.
Pool skimmers are typically built-in to in-ground swimming pools, acting as a drawbridge to your pool filter, collecting the bigger debris and junk. For above ground swimming pools, your pool skimmer is usually coupled to the sidewall or floats around the surface.
Automatic vs Manual Pool Skimmers
In the broadest sense, pool skimmers are placed into two camps.
There are automatic pool skimmers, which can be attached either to the side-wall of your pool or hooked up to your pool vacuum. They clean on auto-pilot, requiring only their strainer baskets to be emptied.
And then you have manual pool skimmers, which are essentially fine-mesh nets that are attached to long telescoping rods (up to four feet long) and require you to stand pool-side, fishing out debris and junk. This obviously takes more time, but manual pool skimmers are cheaper, so there is a trade-off to consider.
Which pool skimmer you end up choosing depends on the level of debris your pool faces, how well you cover the pool when it is not in use, and the overall volume of your swimming pool.
Below is our list of the best pool skimmers, both automatic and manual.
Let's do this.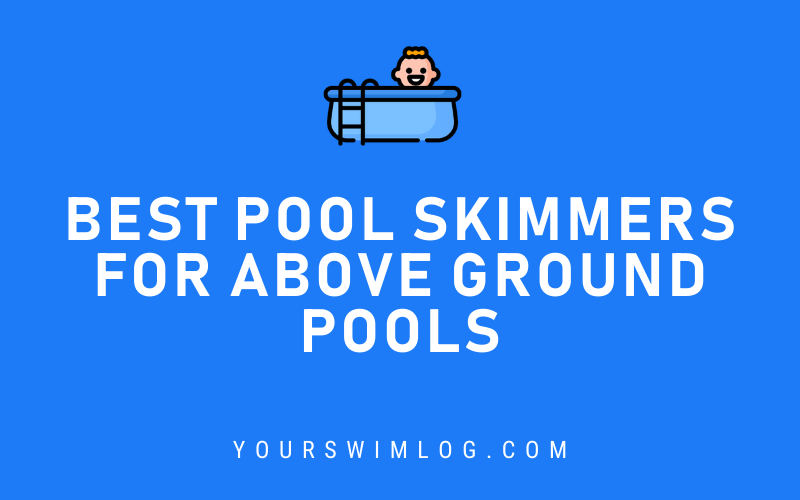 Manual Pool Skimmers
If you prefer to take a more hands-on approach with cleaning the surface of the water, a swimmer rake net is your tool of choice. This device is super simple, and its function and use should be self-explanatory. Key features to look for are width of the net and a telescoping pole so that you can hit varying depths of the pool.
IronBuddy Swim Pool Net Leaf Skimmer
Amazon rated this as one of their favorites. The skimmer net is lightweight and durable, made with a long-lasting and sturdy plastic frame and tightly-woven polypropylene mesh. With curved edges, the plastic frame won't scratch the sides and bottoms of the pool, and the skimmer can be purchased as a replacement or with a 47" pole.

Swimline Adjustable Pool Leaf Skimmer
Swimline is one of our favorite pool accessory manufacturers, putting out a wide line of gear for the backyard pool enthusiast including above ground pool liners, floating fountains for your pool, and floating pool chemical dispensers.
For the pool owner looking for a sturdy way to manually skim the water and clean debris, the Swimline Pool Leaf Skimmer includes a four-foot telescoping aluminum pole with adjustable handles.
With adjustable handles, this pool leak skimmer also includes a fine mesh net that is woven enough to pick up small debris from the bottom of your pool, including pebbles, as well as the bigger stuff like leaves, dead bugs and twigs on the surface.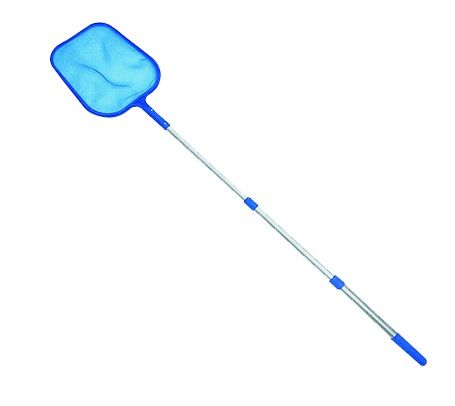 Stargoods Pool Skimmer
For a heavy-duty and higher capacity leaf skimmer, the Stargoods Leaf Catcher is an excellent choice. Easy to attach to any telescopic pool, the Stargoods Leaf Catcher has rounded edges to protect your pool lining and frame.
Exceptionally well-rated, with over a thousand five-star reviews, this pool skimmer has a deep catcher bag that effortlessly sweeps and collects debris and leaves, while the mesh is also fine enough to collect smaller debris and junk.
Lightweight and perfectly angled for maximum debris collection. Telescoping rod sold separately.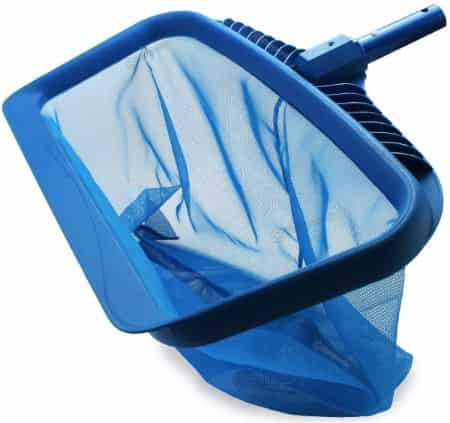 Automatic Pool Skimmers
As the name implies, automatic pool skimmers are a much more hands-off approach to keeping your above ground pool clean of surface debris. They can either be attached directly to the side-wall of your pool or hooked up to your pool vacuum, automating the collection of pool junk and debris.
Hayward DynaSkim Above-Ground Pool Skimmer (Best in Class)
Hayward makes some of our all-time favorites when it comes to pool gear. The Hayward pool filters and pumps consistently rank at the top of our best-in-class round-ups, and the DynaSkim Pool Skimmers are just as awesome.
The DynaSkim is made specifically for above-ground swimming pools. It has a large and wide basket that is attached to the sidewall of your pool and goes immediately to work cleaning the surface of the water.
With front and top-level basket access for easy debris removal, the DynaSkim is constructed of durable UV and chlorine-resistant plastic. The unit is housed into the wall of your pool, which does require some handy-manning with punching a hole into the sidewall to install.
With a nearly perfect rating on Amazon with over 2,000 reviews, the DynaSkim is the best automatic pool skimmer on the market. Backed by three decades of industry-leading knowledge and performance, the Hayward DynaSkim is our favorite automatic skimmer for backyard pools.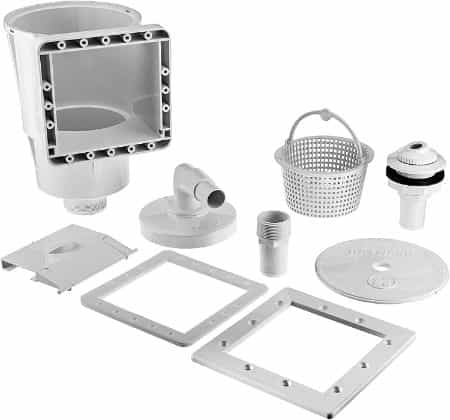 Intex Deluxe Wall Mount Pool Surface Skimmer
For backyard pool owners looking for high-performance skimming with a minimal amount of installation, the Intex Deluxe Wall Mount Pool Surface Skimmer is a fast way to start cleaning your Intex or above ground swimming pool.
Hooked up to your filtration system, the skimmer gently pulls water by, collecting leaves and debris. Intex recommends that a pump with at least 800gph flow rate is required to power the skimmer. The strainer basket, made of long-lasting polypropylene plastic (both chlorine and UV-resistant), is easy to pull out and empty.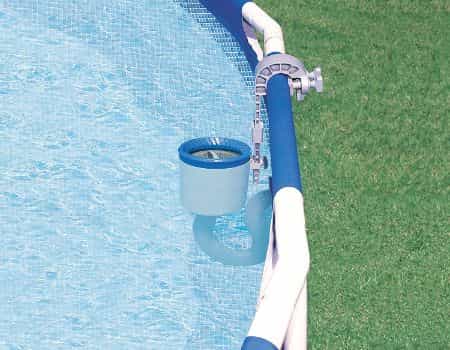 SkimmerMotion Floating Pool Skimmer
Unlike most pool skimmers, which are attached to the side of the pool and pull water in to collect debris, the SkimmerMotion attaches to your pool vacuum and floats above, cleaning the surface while your pool vacuum takes care of things downstairs. Designed specifically for smaller debris (like bugs), this device takes a few uses to really notice the effect of its patented whirlpool suction design.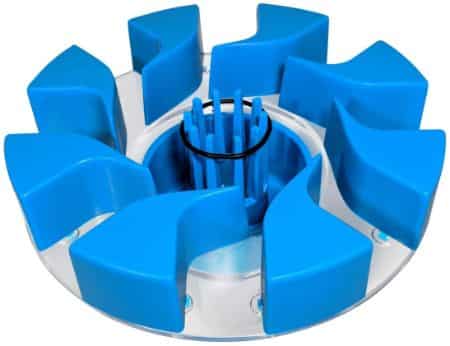 More Buyer's Guides for Above Ground Pools
5 Best Heaters for Your Above-Ground Swimming Pool. Keep the water nice and toasty so that the pool can enjoyed in the mornings and windy days. Here is a breakdown of our favorite pool heaters for above-ground swimming pools.
6 Best Floating and Waterproof Speakers for the Pool. Turn up the thump-thump with our hand-picked list of the best waterproof Bluetooth speakers for the pool.
7 Best Accessories for Swimming Pools. Crank up the fun in your swimming pool with this list of our favorite accessories for the water.