Keeping your pool water crystal-clear and sparkling is easier when you have the right tools for the job. Here is a breakdown of the best pool poles for cleaning your pool.
One of the essential tools of pool cleaning and maintenance is your basic pool pole.
Sure, your pool pumps, automatic pool vacuums, and pool skimmers get most of the attention, but sometimes you need to flex some elbow grease to collect debris and clean your pool.
That's where a can-do attitude and the right pool pole step in.
It's a tool that helps you use other tools like nets, vacuum heads, rakes, and skimmers.
In this guide, we will highlight the best pool poles for getting the most from your pool cleaning and maintenance, and show you what to look for when choosing the right pool pole for your aquatic paradise.
Read on, find the pool pole that matches your pool and budget, and let that pool water shine clearly.
Let's dive right in.
---
JED Pool Tools Professional Pool Pole
⭐ Best overall pool pole
JED Pool Tools makes commercial-grade pool cleaning equipment that is affordable for everyday pool owners.
Their line of pool poles is the thickest and strongest on the market, with tubing that has .049" thick aluminum walls, giving you the confidence to brush and clean with vigor without worrying about the shaft bending or breaking.
Other key features include a fully anodized finish to protect the shaft from oxidation and corrosion, a telescoping length of up to 16-feet, "pro" handles for better grip, and a universal attachment connector for all standard accessories.
In sum: this thing is tough, telescopes like crazy, and will work with most, if not all of your cleaning attachments.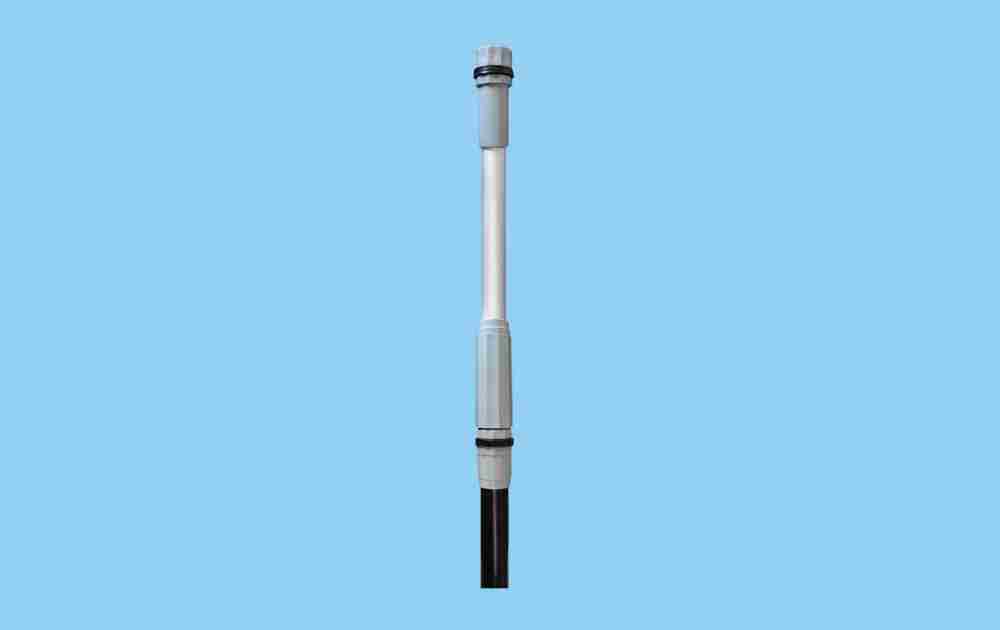 ---
Intex Telescoping Pool Pole
Intex is one of the big names in the backyard pool market, with their line of above-ground swimming pools leading the pack for quality and price. Intex also makes a long line of pool maintenance and cleaning products, including pool vacuums, above-ground pool filters, and pool brushes.
The Intex Telescoping Pool Pole has an aluminum shaft and is available with a variety of add-ons. You can pick up the shaft on its own, or with a combination of leaf rakes, wall brushes, and skimmers.
Available in two sizes (max length of 94" and 110"), the Intex pool pole has an inner diameter of 1-1/16" (double-check the sizing of your cleaning equipment—a frequent complaint is that the product listing on Amazon isn't accurate).
Intex is experienced at the backyard pool gear game, and this telescoping pool pole is an excellent addition to your cleaning arsenal.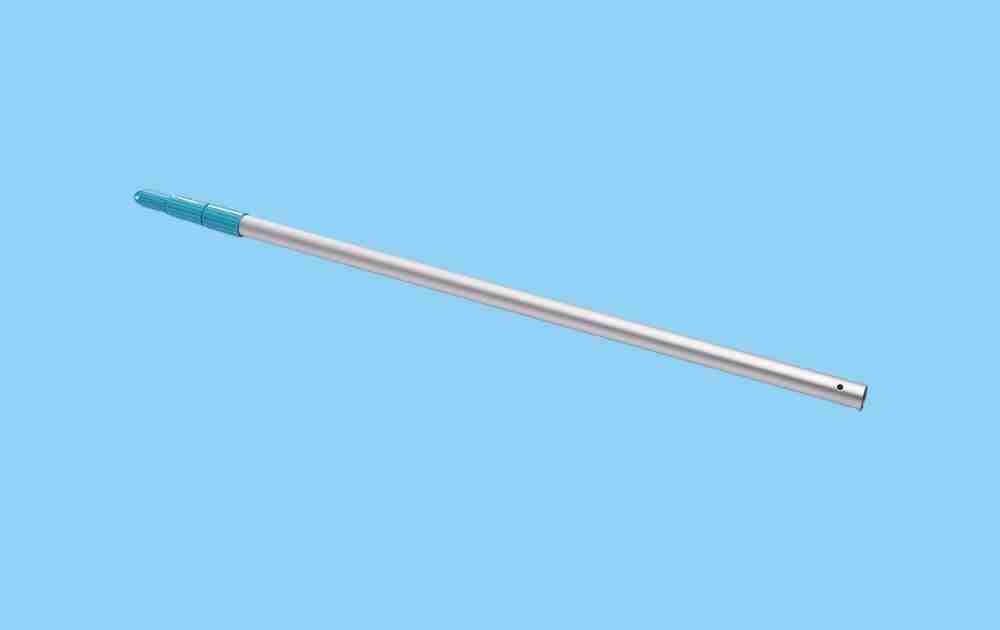 ---
U.S Pool Supply Telescopic Swimming Pole Pool
U.S. Pool Supply makes quality pool maintenance gear, including first-rate pool vacuum hoses and pool vacuum heads.
Twelve feet in length, this pool pole is made of anodized aluminum for maximum durability and resistance to corrosion to the elements and pool chemicals. The pole telescopes from 4ft all the way up to 12ft for plenty of versatility with tackling hard-to-clean spots in your pool.
What I especially like about this pole are the slip-resistant cams that make gripping the pole easier—no worrying about losing your handle while cleaning the water. The pole attaches to most nets, skimmers, rakes, brushes, and vacuum heads with its universal attachment size (1.25" diameter connector).
U.S. Pool Supply does the basics really well, and there are lots to love with this strong, highly adjustable, and universal pool pole.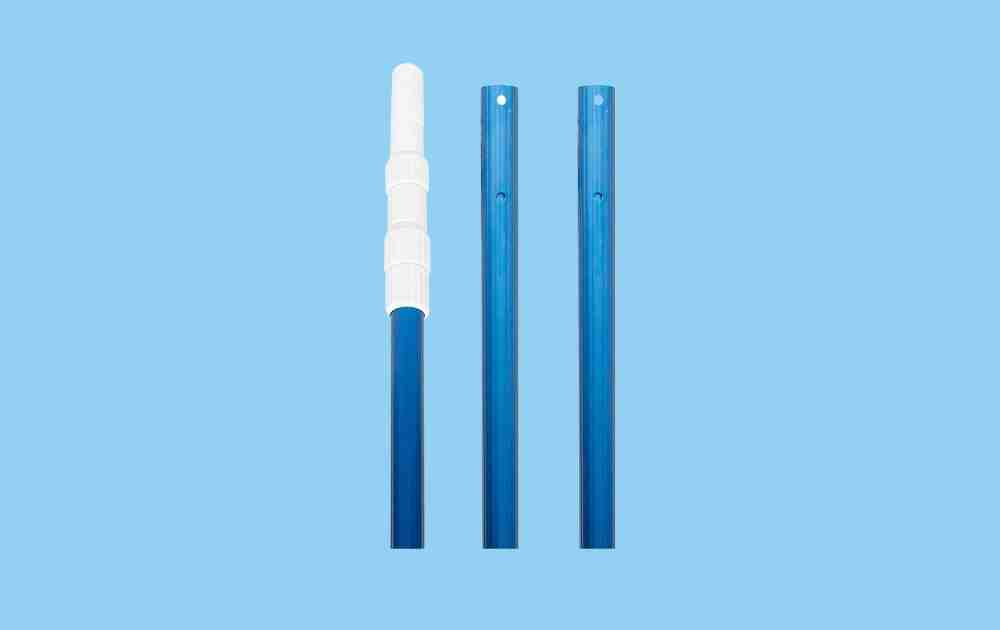 ---
SwimLine HydroTools 3-Piece Pool Pole
When it comes to getting that extra little bit of reach with your skimmer or net, the SwimLine 3-Piece Pool Pole has you covered, with a maximum length of 15'.
SwimLine, which produces a line of cleaning tools—aptly named HydroTools that also include floating chlorine dispensers and solar cover reels—finished this pool pole with a blue ionized finish to keep the pole from corroding summer after summer.
The pole is very lightweight, making it easy to maneuver in the water. That said, a few reviewers did note some durability issues (about ten percent of reviews rate the SwimLine Pool Pole with one star—click here to read all the reviews at Amazon).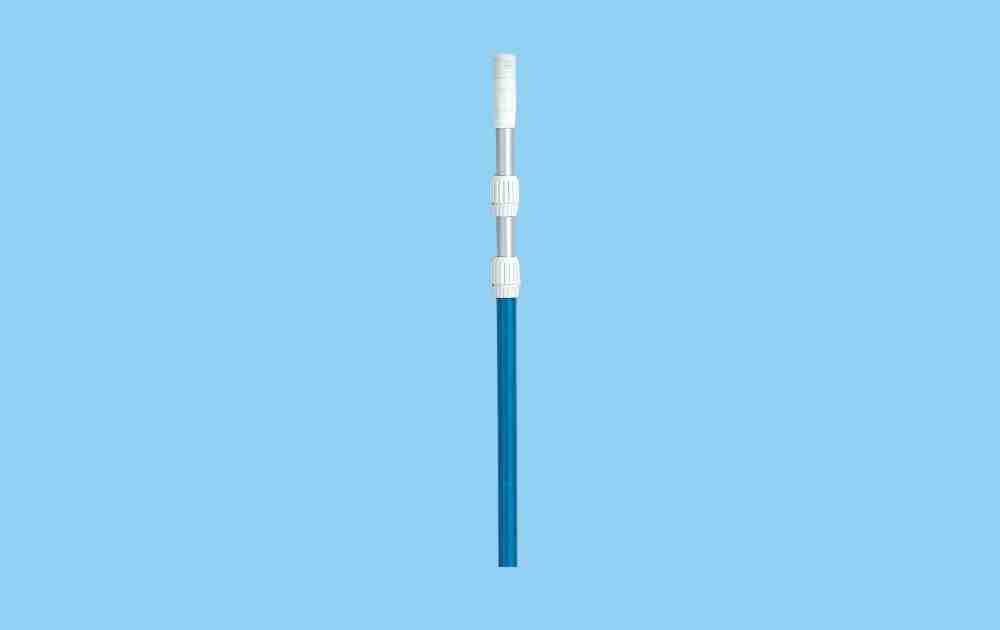 ---
Aqua Select Telescoping Pool Pole
Aqua Select's line of telescoping pool poles provides the ultimate versatility and sizing options. Whether you go with the 4'-8' model or Aqua Select's longest, the 7'-21' model (longest on our list), these poles will help you tackle the gunk and dirt in your pool like a pro.
Made of heavy-duty aluminum, the poles have cams for easy locking and operation when cleaning your pool. The universal connector is designed to fit most common cleaning attachments, whether it's your pool net or vacuum head.
Reviewers love the strength of the locking sleeve, reasonable price (check Amazon for current pricing and availability), and sturdiness of the shaft, making the Aqua Select Telescoping Pool Pole a favorite of commercial pool cleaners and backyard pool owners alike.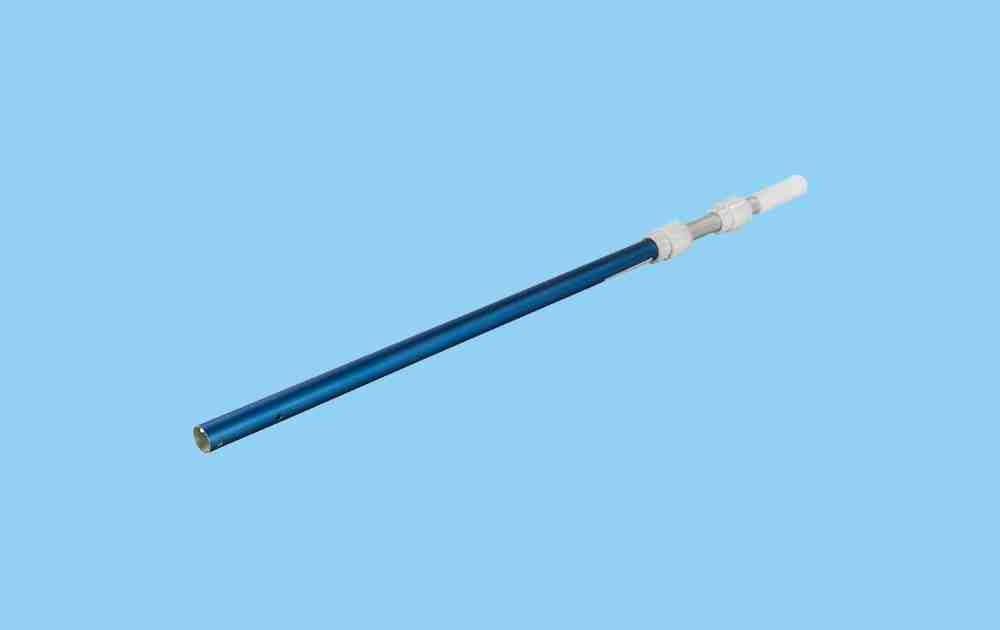 ---
Choosing the Right Pool Pole
Quality pool poles share a lot of characteristics:
Corrosion-resistant construction. Look for poles that have an aluminum shaft with an anodized finish as they are less prone to degrade from exposure to the sun and pool chemicals.
Telescoping length. For pools of varying heights, a pole that is telescoping is crucial to be able to get at every level of the pool.
Thick aluminum shaft. A lot of pressure gets applied to the pole when scrubbing, vacuuming and cleaning the pool. Look for poles that have a sturdy aluminum shaft.
Universal connector. A pool pole is useless if you can't use attachments like nets and brushes. Choose a pole that has universal connectors for all of your cleaning attachments.