Your best friend for clean and clear pool water is the pool pump. Here is a look at the best pool pumps for every kind of swimming pool.
The backyard pool is an endless source of fun and pleasure during the sunny months.
Whether it's sitting poolside with a cocktail or watching the kids burn off energy swimming and playing, your swimming pool brings a lot of value to your life.
But as a pool owner, you know that it's not all fun and games.
There's the vacuuming, testing pool chemicals, skimming the water, and so on. There's so much work, in fact, that you can quickly start to feel like you are spending more time looking after your pool than enjoying it.
One of the best "hands-off" tools at your disposal for keeping your pool water clean and ready for fun is a quality pool pump.
---
Quick Picks:
---
It's a silent assassin, circulating the pool water and chemicals, removing dead organic matter, and keeping your pool swim-ready. Further, the pool pump protects your water during the chilly off-season months, circulating water to keep the pipes and pool from cracking (moving water doesn't freeze, after all).
Ultimately, the right pool pump has a high return-to-cost ratio, both in time spent cleaning and cost of expensive repairs saved.
[A pool pump works best when paired with a pool timer for saving costs. For a deeper look at the best pool timers, check out this guide.]
Just as there is a wide variety of swimming pools, both inground and above ground, there is a deep roster of pool pumps.
Below is a breakdown of the best pool pumps on the market. Whether you have a small Intex above ground pool, a large inground swim pool, or anything in between, there's a pool pump for you.
Let's dive right in.
Hayward Super Pump Single-Speed Pool Pump
⭐ Best single speed pump
Hayward makes some of the best pool pumps on the planet. The Super Pump Single Speed is 105.HP to 2.5HP, 115V/230V pump that is as well-built as it is dependable.
Best suited for inground swimming pools, inside you will find a large leaf basket, heat-resistant ceramic seal to prevent leaks, a strainer cover to quickly check the basket, and a corrosion-proof impeller.
The list of bells and whistles goes on for about the length of an Olympic swimming pool, but here's the main thing, Hayward's motors are powerful, quiet, and highly dependable.
While not as cheap as some of the other single-speed pumps on the market, if you want something that is going to last for years, you can't go wrong with the Hayward Super Pump.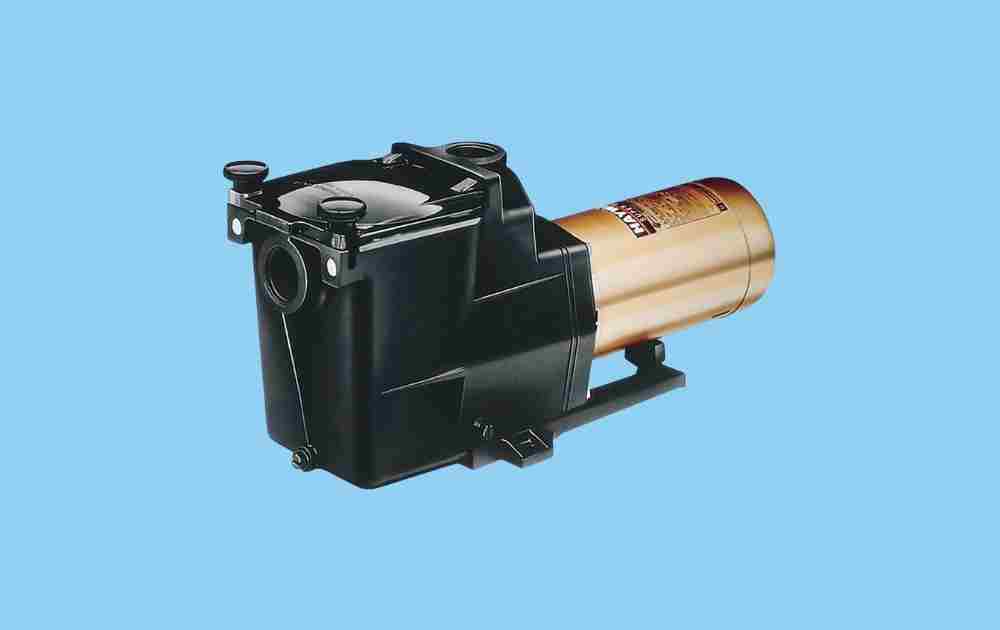 Blue Torrent 1 HP Single-Speed Pool Pump
There's nothing more discouraging than peeling back the solar pool cover on your backyard pool and seeing dirty water and dead organic matter collecting along the bottom and corners of the pool.
Fortunately, the right pool pump can help alleviate a lot of these issues by quietly circulating the water and collecting all the errant stuff that ends up in your pool. Blue Torrent's line of single-speed pool pumps is a budget-friendly way to accomplish this task.
[See also: Looking for a pump for clearing water from the top of your pool cover? Here's a detailed look at the best pool cover pumps.]
Available in 1, 1.5, and 2HP, Blue Torrent's pumps feature an enclosed motor that can circulate around 80 gallons of water per minute, all the while humming quietly enough that you barely hear it doing its thing.
While the Blue Torrent pumps require you to use the mechanical switch to turn it on and off, some reviewers on Amazon were able to hook up a timer (like the one you would use for outdoor Christmas lights, for example) to help automate the on and off of the pump.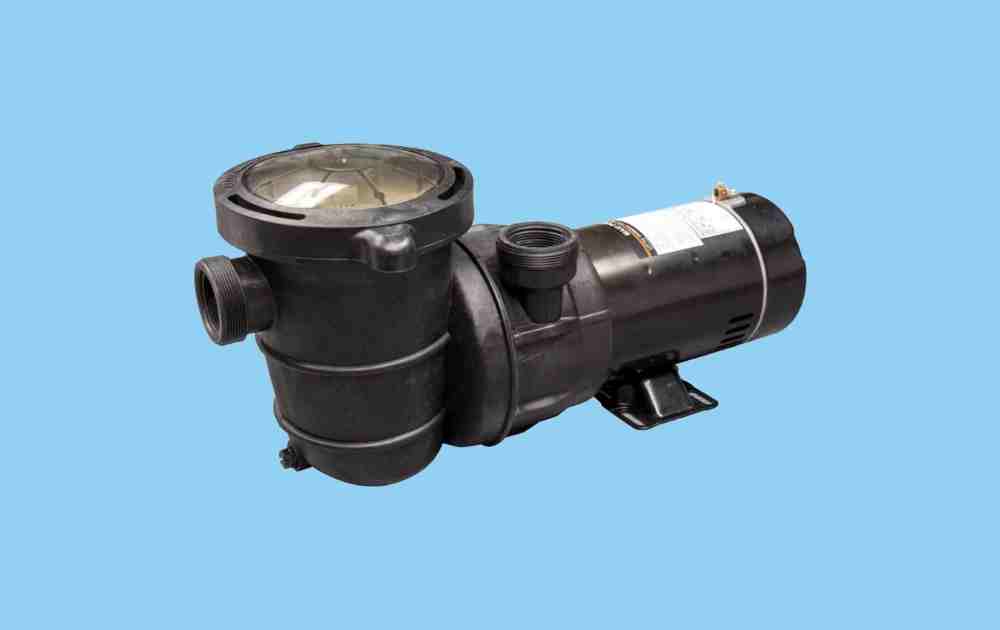 Hayward Dual-Speed Super Pump
⭐ Best dual-speed pool pump
Built like a tank. Quieter than the breeze. And a legend in every sense of the word.
Hayward makes its second appearance on this list of the best pool pumps—and not the last—with this dual-speed monster that has 2HP, super handy swing-away knobs for easy basket draining, an extra-large debris basket, and four-bolt access to the insides of the pump.
Dual-speed pool pumps such as this one work on two speeds (duh, right?). The high speed is comparable to the flow rate of a single-speed pump, while the low speed is perfect for longer run times and lowering energy costs.
Hayward's pumps are easily at the front of the pack (can you tell I am a Hayward fanboy at this point?), extremely reliable, and overbuilt to the point that they overperform.
Gotta love that.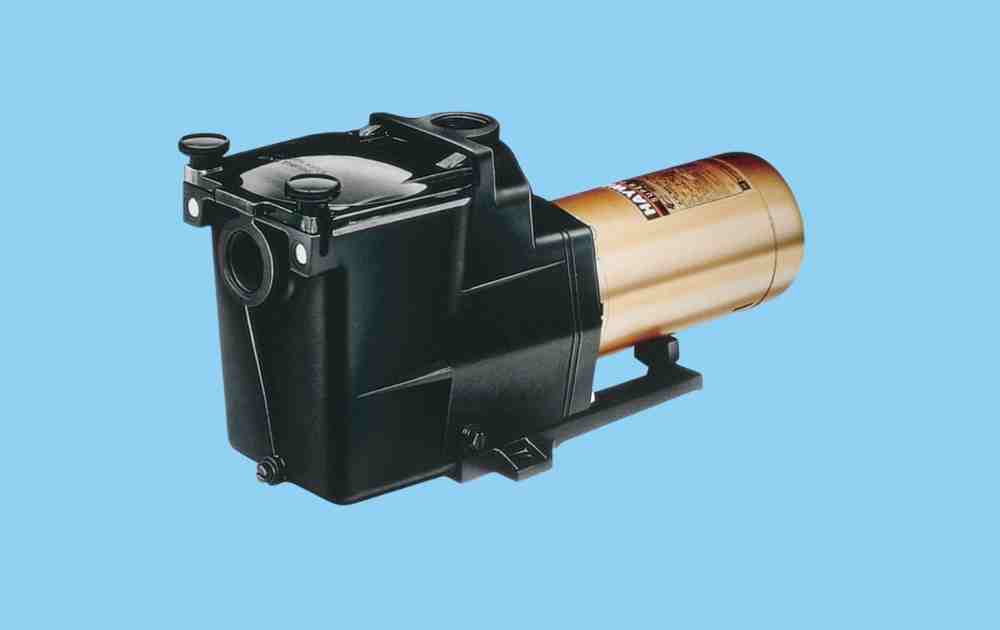 Intex Krystal Klear Filter Pump
⭐ Best pump for above ground swimming pools
Intex is the leading name when it comes to above-ground swimming pools. By every metric, they dominate the market, whether it's their best-selling line of above-ground swimming pools, or the accessories they offer, from pool heaters, pool filters to above-ground swim pool vacuums.
The Intex Krystal Klear is the best pump available for above ground swim pool, Intex or otherwise. (It's also hilariously well-reviewed—over 10,000 five-star reviews on Amazon and counting.)
Installation is a breeze, the pump circulates 1,000 gallons per hour, and the pump has an easy-to-access air release valve for fast priming. Included are a 25-foot power cord and one cartridge.
Intex's stuff is built to last, and with a price tag of just $130 (check Amazon for current pricing and availability), the Krystal Klear Filter Pump is an absolute essential for Intex and above ground pool owners.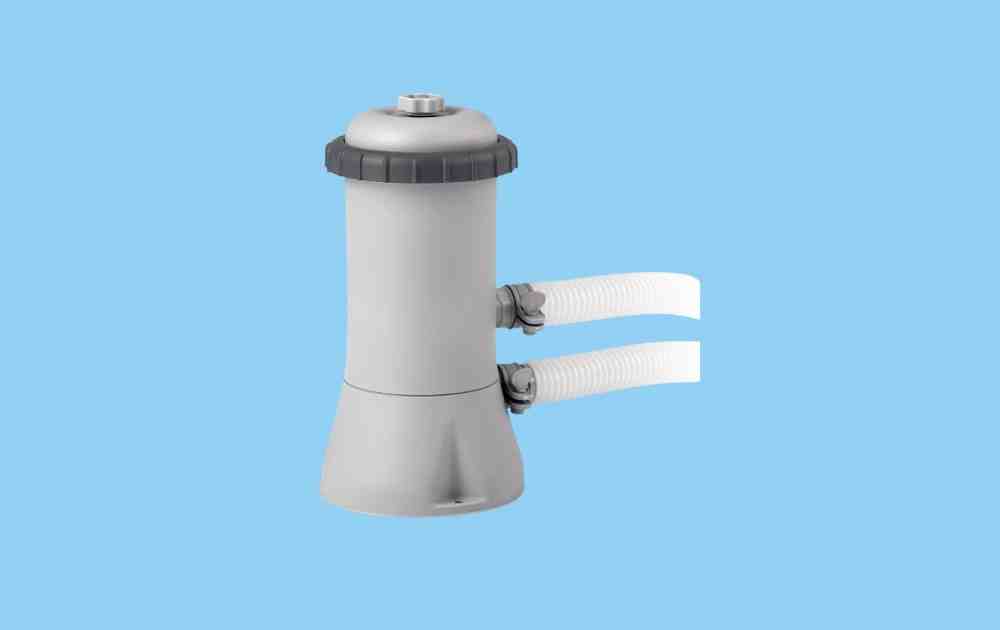 Pentair IntelliFlo Variable Speed Pool Pump
Variable speed pool pumps are flippin' awesome as they give you, the enterprising pool owner, tons of flexibility when it comes to circulating and cleaning pool water.
With the Pentair IntelliFlo Variable Speed Poop Pump, you've got tons of options at your fingertips, including eight different pre-programmed speed settings, a timer to schedule water circulation and run times to keep the pool crystal-clear and clean.
Other key features include built-in diagnostics to reduce maintenance, compatibility with many of the top of the digital pool and spa controls, and a completely enclosed motor for an extra-long life and quiet operation.
Energy-star certified, this thing is an absolute beast, combining both energy savings and a powerful motor that is extremely quiet.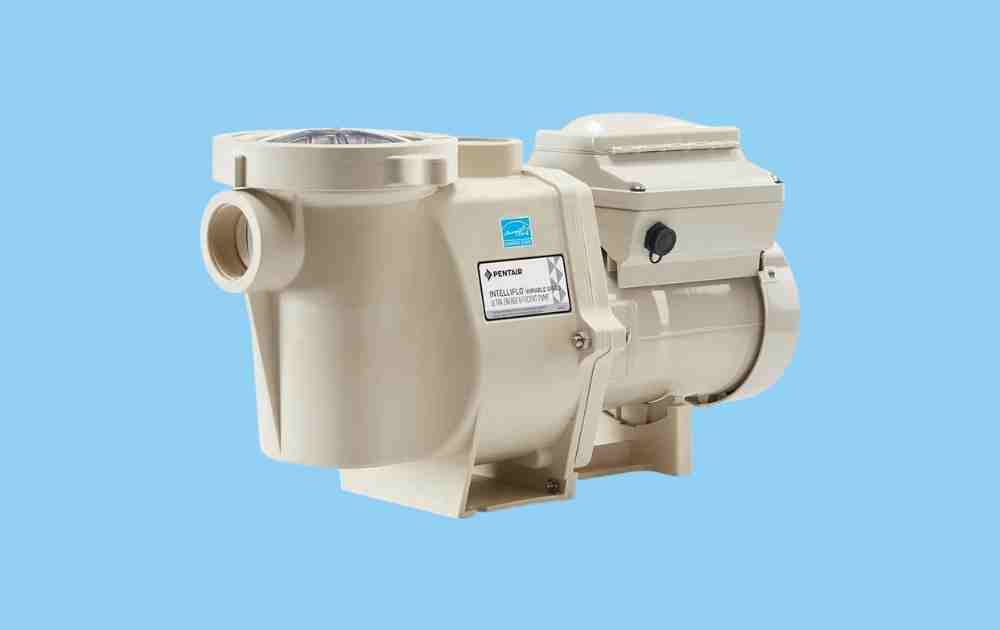 Hayward MaxFlo Variable Speed Pool Pump
⭐ Best variable-speed pool pump
Yup, you guessed it, another pool pump courtesy of the folks at Hayward. This one is the most versatile of its lineup of pumps.
Key features include being compatible with plumbing of 1.5" or 2". A built-in programmable timer and digital interface give you ultimate flexibility and control of circulation speed and run times. And a completely enclosed fan-cooled motor (TEFC) that delivers quiet and powerful performance.
Yes, variable speed pumps are pricey (the MaxFlo retails for about $1,000—check Amazon for current pricing and availability), but when you consider that you can save up to 80% in energy costs over time compared to single-speed pumps, the initial investment for a MaxFlo looks smarter and smarter.
Installation is fairly straightforward, with users on Amazon noting that by being able to configure the runtime outside of peak power hours the unit would pay for itself in about 24 months.
Quiet, powerful, and with an easy-to-use digital display to plan when the pump works hardest, the Hayward MaxFlo is your pool's secret weapon for clean water and cheaper energy bills.