Nuke bacteria and algae and keep your pool clean and sparkling with the best chlorine tablets for swimming pools. Let's do this.
There's a lot of fun and enjoyment to be had with your swimming pool.
It's tough to beat those long summer days, feet dangling in the cool water with family and friends.
Of course, along with the fun and good times that come with your swimming pool is the frequent cleaning and maintenance required.
Whether it's attending to your pool vacuum, using a robot pool cleaner to automate cleaning, or collecting leaves with a pool skimmer, keeping the pool water clear and clean can feel like a full-time job.
Chlorine tablets are a way to keep your water sparkling clean, avoiding obnoxious algae blooms and restricting yucky bacterial strains from infecting people swimming in the water. Although chlorine is an assassin when it comes to bacteria and even insects, it's safe for humans when kept at appropriate levels (1 to 3ppm) and the pool water is probably balanced.
📣 Fun fact: While other pool disinfectants exist, including bromine and iodine, chlorine is by far the most effective at killing bacteria like E. coli and strep.
Chlorine tablets are great as they dissolve slowly over time, are premeasured (no scooping), and can be added to a floating chlorine dispenser for ease of application.
In this round-up of the best chlorine tablets for backyard pools (and hot tubs), we are going to take a deeper look at the best-reviewed tablets on the market.
Read on, find the best chlorine tablets for your pool, and get back to enjoying the cool, clear water.
Clorox Pool & Spa Active Chlorinating Tablets
Clorox is synonymous with cleaning products, and this bucket of chlorine tablets (35 pounds worth!) contains enough three-inch tablets to keep your pool sparkling and shiny all summer long.
An individual tablet will disinfect a 5,000-gallon body of water and slowly melt into your pool water over time (average dissolve time is about 4 to 5 days). Clorox's chlorine tablets are individually wrapped to help protect your fingers and skin from burning.
📣 Fun fact: Chlorine tablets come in stabilized and unstabilized forms. If your pool is outdoors, use the stabilized tablets.
The trichlor tables also include a stabilizing agent that helps reduce the UV breakdown of chlorine, making it especially ideal for outdoor pools. Clorox also has a free app that you can use in conjunction with these tablets to properly assess your pool acidity and cleanliness.
Win-win!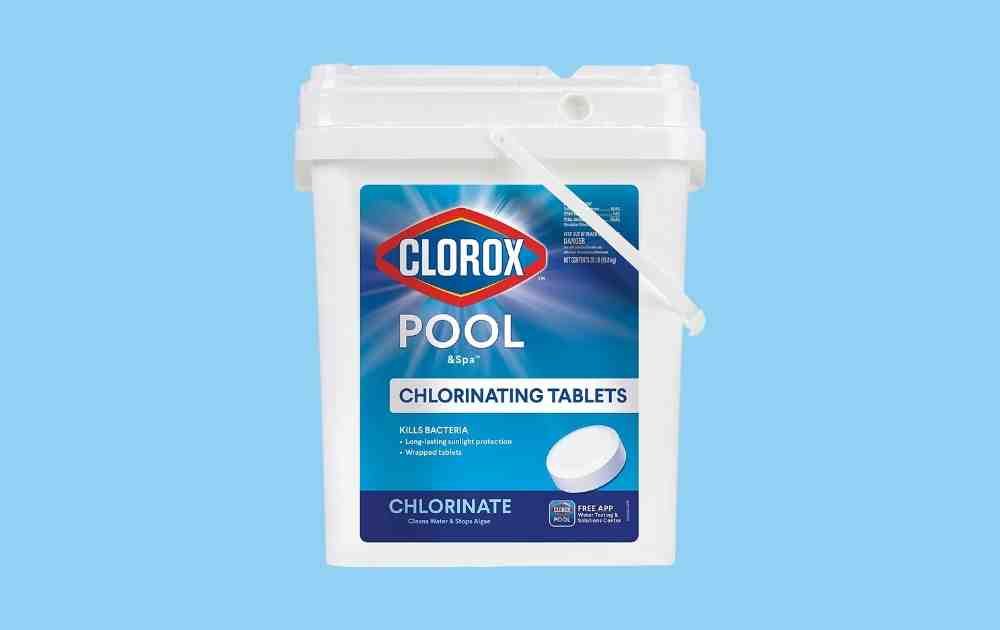 Rx Clear Chlorine Tablets
The Rx Clear Chlorine Tablets get high marks for affordability and effectiveness. While the tablets are smaller (1"), and correspondingly will have to load up your skimmer or dispenser with more of them, these stabilized chlorine tablets get the job done.
Recommended dosage is 6-7 tablets per 2,500 of water, with each dose lasting up to a full week of clean, cool swimming fun. Rx Clear notes that sometimes tablets will break over the course of shipping, but that this doesn't reduce the potency of the tablets.
📣 Fun fact: Most chlorine tablets used for private swimming pools are actually sodium hypochlorite, a mix of chlorine and sodium hydroxide.
These tablets get crazy-good reviews on Amazon, with over 1,500 five-star ratings, with owners of both pool and hot tubs noting how fast they clean and how long they last.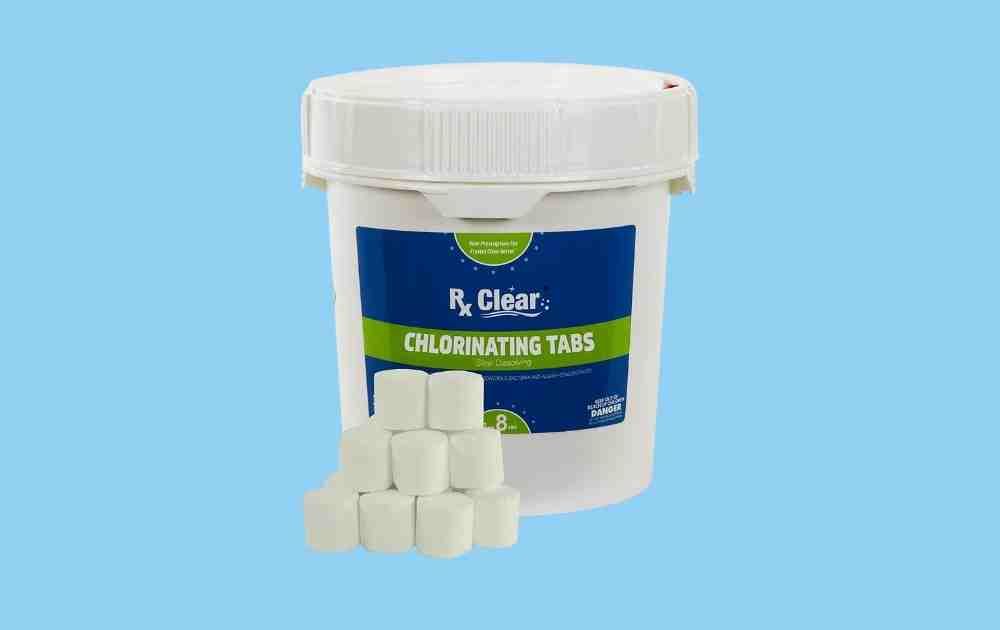 HTH Super Chlorinating Tablets
The HTH Super Chlorinating Tablets are another large tablet, at three inches. The obvious upside to this is that a 10,000-gallon pool only requires one tablet per week.
Made with cyanuric acid, these tablets dissolve slowly and prevent chlorine loss while also donkey-punching algae and bacteria. HTH markets this as part of their "pool protection" portfolio which includes an algae-specific protector, shock, and a pool test strip kit.
📣 More fun facts: The "smell" of chlorine in swimming pools isn't from chlorine, but a byproduct called chloramines that occur when chlorine mixes organic substances like sweat, pee, etc.
The 8lb container pictured below will contain around 16 tablets in it, giving you a solid four months of clean pool water (depending on pool size, obviously) and retails for around $60 per 8lb container (check Amazon for current pricing and availability).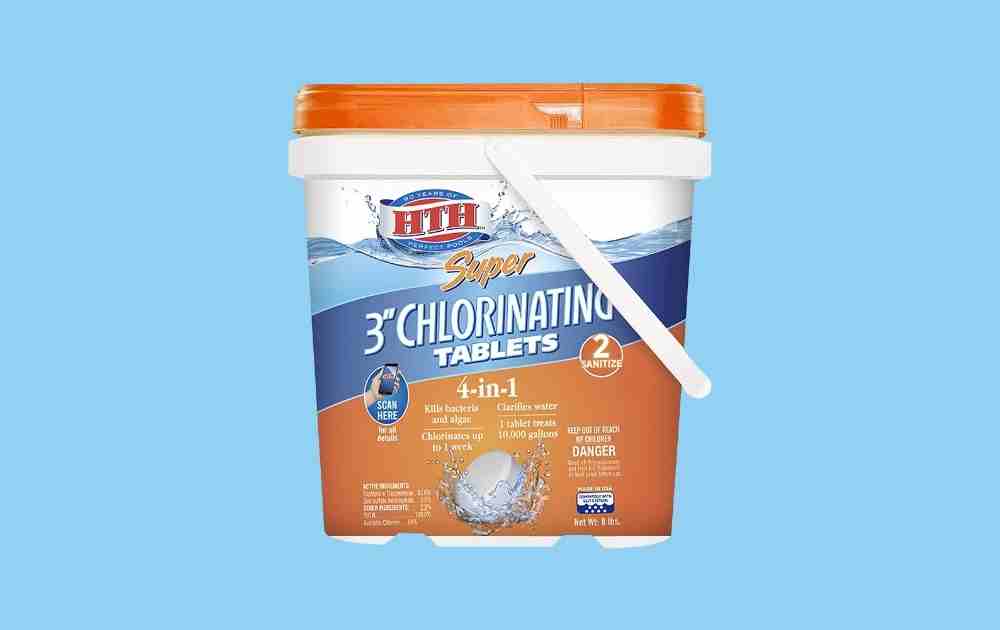 Clorox Small Pool & Spa Active Chlorinating Tablets
The chlorine tablets reviewed so far are generally designed for larger swimming pools. The Clorox Small Pool Chlorinating Tablets—as you can probably surmise from the name—are designed with smaller pools and hot tubs in mind.
Ideal for inflatable backyard pools, the 1" chlorine tablets are formulated with stabilizing agents to reduce chlorine loss. Algae and bacteria in pools up to 5,000 gallons won't know what hit them when you drop these bad boys into action. Available at Amazon—check for current pricing and shipping options.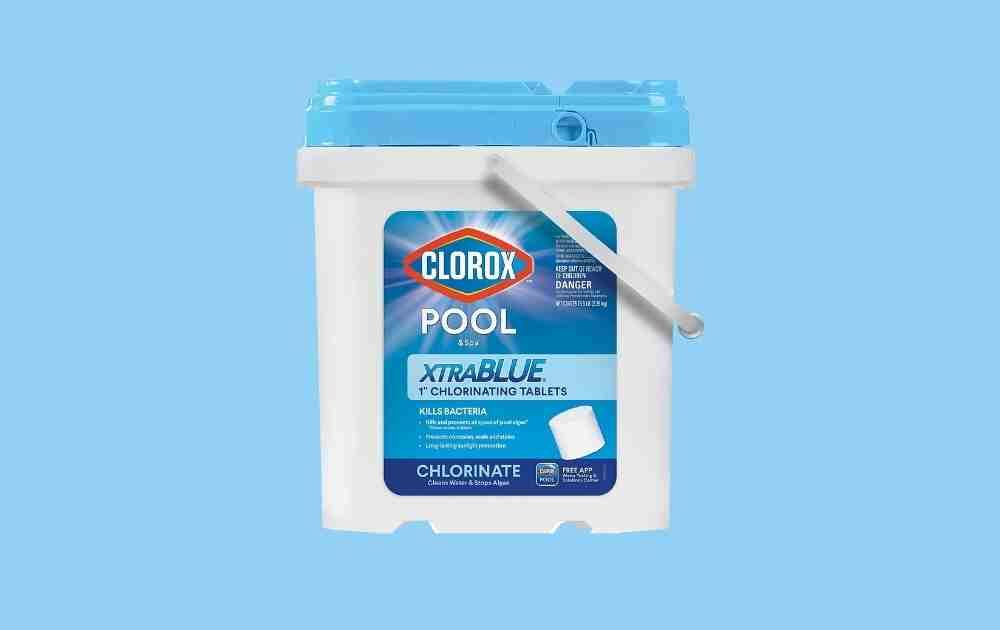 In the Swim 3-Inch Pool Chlorinating Tablets
In the Swim is a player in the pool cleaning and equipment market—I've previously reviewed their above-ground swimming pool covers and found them to be better than average.
These tablets are large and designed for larger swimming pools, with each tablet weighing in at 7oz and three inches in length.
The In the Swim Chlorinating Tablets come in the largest size in the market, each bucket 50lb and containing approximately 114 tabs. If you have a larger pool, or multiple pools, or simply don't fancy going to the pool shop over and over again for chlorine tablets, this bucket has your name all over it.