Looking for the right pool ladder for your above-ground pool? Here's a breakdown of the best ones on the market, including key features, price, and more. 
What is one of the best parts about having an above-ground swimming pool?
Cooling off? Yup, that's pretty awesome.
Fun in the sun? You know it!
Launching yourself into the water with a picture-perfect cannonball to the rapturous delight of your friends and family?
Heck yeah.
The not-so-fun part?
Hauling yourself out of the water on a wobbly ladder that feels like it could teeter over under your wet feet.
Everyone knows the feeling of a wobbly ladder, and let's be honest, the last thing you want is a ladder that is shaky and unsafe, especially in wet conditions.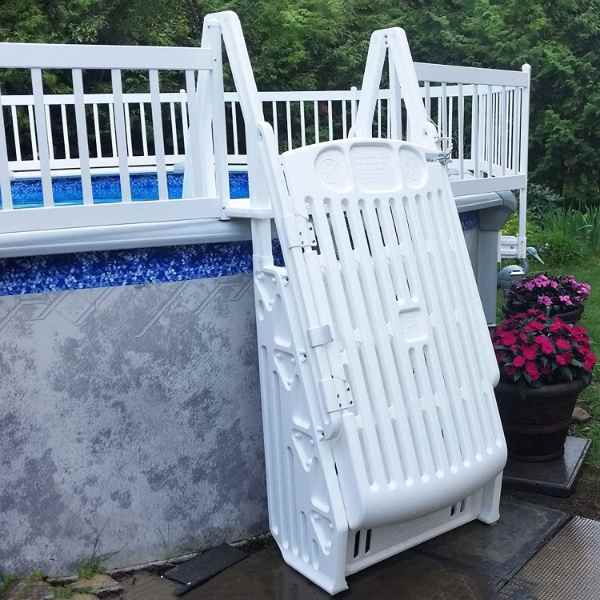 That's where the best pool ladders for above-ground swim pools come in handy (and steppy!).
Designed specifically for these kinds of swim pools, there is a variety of ladders that not only make getting in and out of the pool safer and easier, but some even have added features like gates.
Below is a breakdown of the top ladders for your swimming pool.
Read on, choose the ladder that fits your pool and environment, and spend more time perfecting your cannonball than worrying about getting out of the pool safely.
Blue Wave Pool Ladder with Safety Gate
⭐ Best pool ladder for families
The risk of drowning is not a joke. It's one of the leading causes of accidental death for young children—according to the CDC, more children ages 1-4 die from drowning compared to any other cause of death [1].
While pool ladders play an important role in making it easier to get in and out of the water, and also help prevent unnecessary pulling and tugging on the vinyl liner and structure of the pool, they can also provide a safety function. The Blue Wave Pool Ladder has a gate that can be closed and locked to prevent young swimmers from gaining access to the pool when they aren't supposed to.
Rated for a maximum weight capacity of 350lbs, and with anti-slip steps that are over 8-inches in depth, the Blue Wave Ladder has two handrails and an adjustable top platform for pools from 48-inches to 56 inches high.
Use this type of pool ladder, along with a proper pool alarm for children, to keep your backyard pool safe and secure.

---
YUEWO Steel Frame Pool Ladder
⭐ Best no-frills pool ladder
Perfect for smaller above-ground swimming pools and inflatable pools, the YUEWO is a 36-inch high steel-framed ladder that has two steps on each side, non-slip rubber feet for extra feet, and a reasonable price tag of around $140 (check Amazon for current pricing and availability).
YUEWO also makes a 53" model, but regardless of the height you end up choosing, you will appreciate the sturdy construction and easy portability (the ladder weighs just 12-pounds, making it easy to store between seasons and swims in the pool).
Assembly is straight-forward, and despite its slim stature, the YUEWO Steel Frame is all business when it comes to weight, rated to handle a maximum of a whopping 600+ pounds.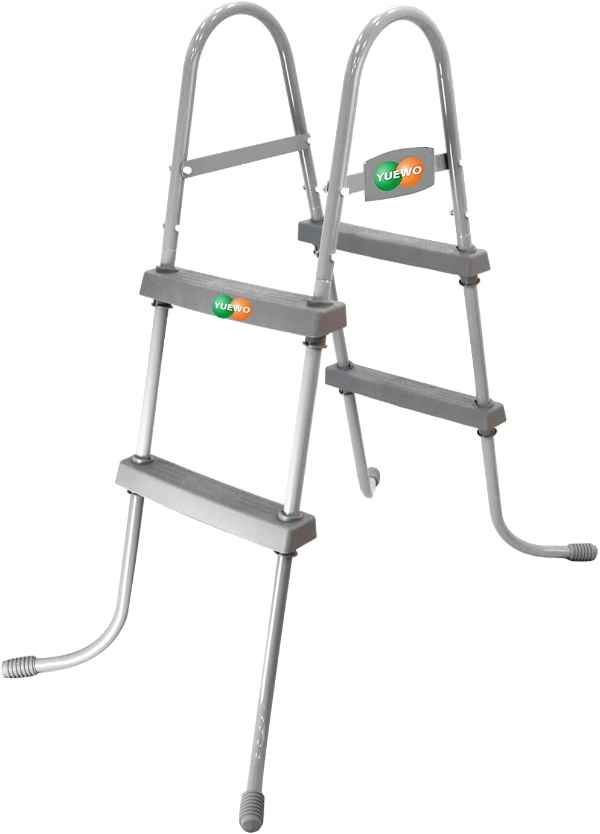 ---
Confer Plastics A-Frame Pool Ladder
Like the Blue Wave Pool Ladder reviewed earlier, the Confer Plastics A-Frame Pool Ladder has a locking mechanism at the top of the ladder that parents can use to close access to the pool between uses.
While not designed for inflatable pools, this ladder provides a surprising amount of stability. The side of the ladder which goes into the pool is designed to be filled with water, providing an extra anchor for the ladder and more stability and security when climbing in and out of the water.
Reviewers consistently love this pool ladder on Amazon, with an average rating of 4.5 stars (click here to read reviews on Amazon), and while priced a little higher than some of the ladders on this list at around $500, if you are looking for a 1-2 punch of security and stability, it's tough to beat Confer's pool ladder.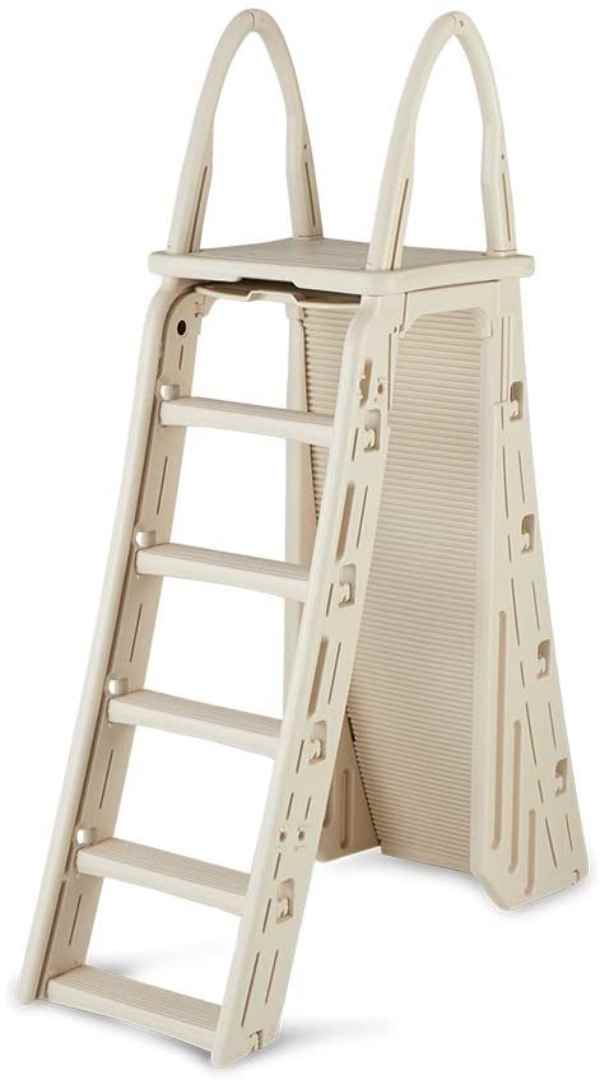 ---
Intex Deluxe Pool Ladder for Above Ground Pools
Intex makes some of the best gear for backyard swim pool enthusiasts. They pretty much make anything and everything for your backyard oasis, including solar pool covers, above-ground pool filters, pool vacuums, and much more.
While called Deluxe, this thing is pretty straightforward. No locking mechanisms or safety features for the little ones, but a simple A-frame aluminum ladder that is easy to move around and sturdy enough for adults up to 300lbs in weight. The ladder is designed to work with pools up to a height of 52 inches.
Assembling the ladder takes about 15 minutes, and reviewers note that the steps and top platform are not super wide, which means you should remember to take care when using the ladder to get in and out of your pool.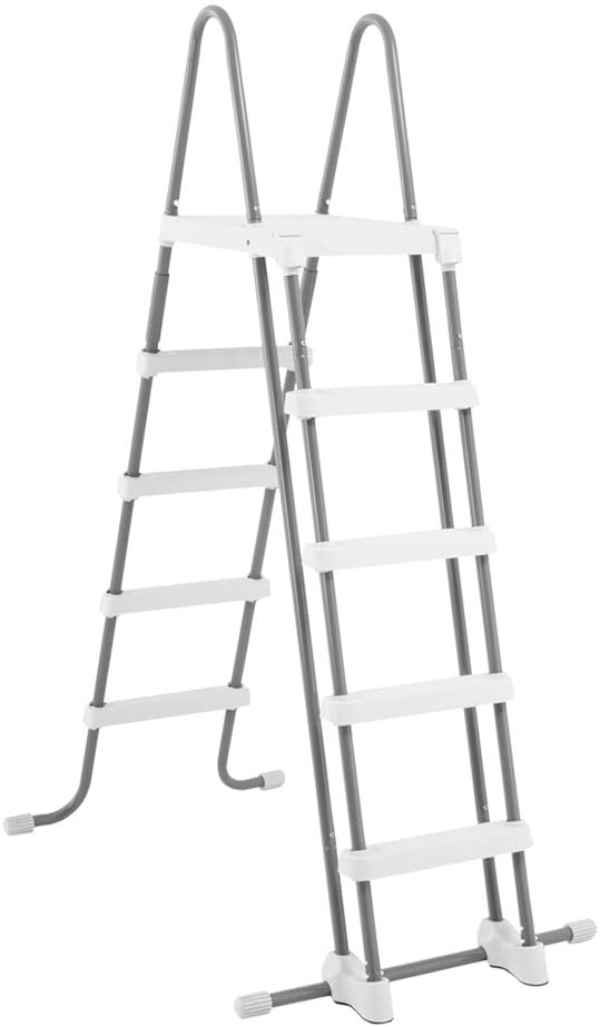 ---
Blue Wave Wedding Cake Pool Step Ladder
Okay, you might be feeling a little thrown off by the name of this ladder, which is more or less a series of steps that are designed for above-ground swimming pools that have a deck.
These steps are purely for the pool-side of the water, to give you a series of steps to ease into the water.
And yes, it's design is a wedding cake!
Key features include molding on the steps for added grip, a ventilated surface to reduce pesky algae growth, and a precision-built handrail to help you keep your balance as you step in and out of the water.
The unit is sturdy—easily able to handle up to 500lbs of weight and it doesn't require a ballast or anchor to set-up in your backyard swim pool.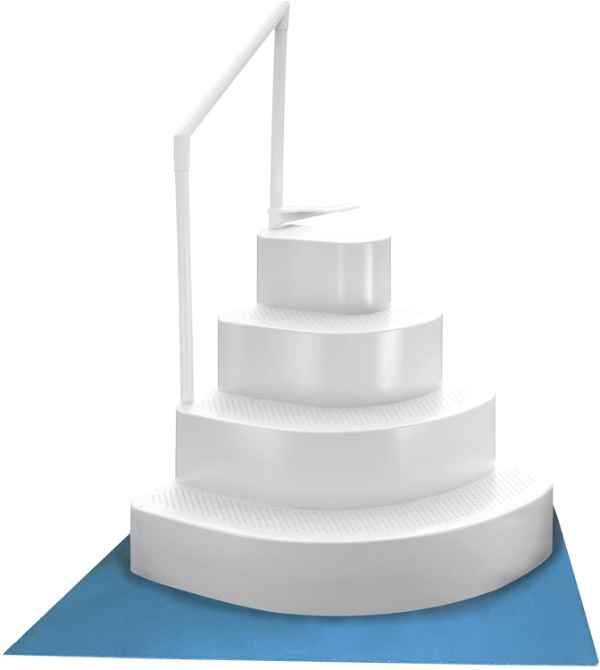 ---
Blue Wave Deluxe In-Pool Above-Ground Pool Steps
Ideal for pools that have a deck or a platform that is lined up with the top of the pool liner, the Blue Wave Deluxe In-Pool steps is a sturdy solution for pool owners looking for a reliable way to climb in and out of their swimming pools.
Rated for a maximum weight load of 300-pounds, these steps feature raised tread on the steps for secure foot placement, and with a resin construction, the steps won't corrode or fade from chlorine exposure.
The sides of the ladders, as well as the vertical panels below each step, have slits and vents that allow water to flow through the steps, which helps cut down on ladder movement and also ensures that water circulates properly.
The steps have a maximum deck height adjustment of 60-inches and the steps stick out just 22-inches from the side of the pool when sunken into the pool.
Blue Wave retails these for around $200—when they are in stock, they are a popular item—and recommend using them only in flat-bottomed above-ground pools.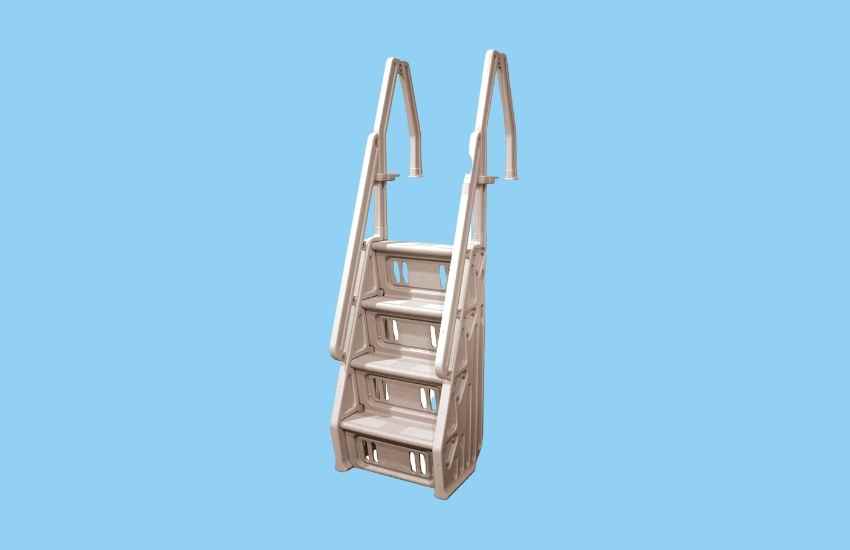 ---
Above-Ground Pool Ladders – FAQs
Pool ladders have an exceedingly simple function. Get in the pool, get out. Pretty straightforward.
But pools are all built a little differently, with varying depths, sizes, liner materials, and so on.
Ultimately, you want a pool ladder that is going to work for your pool.
Here are some quick pointers that will make things easier when figuring out if the ladder works for your specific swimming pool and needs.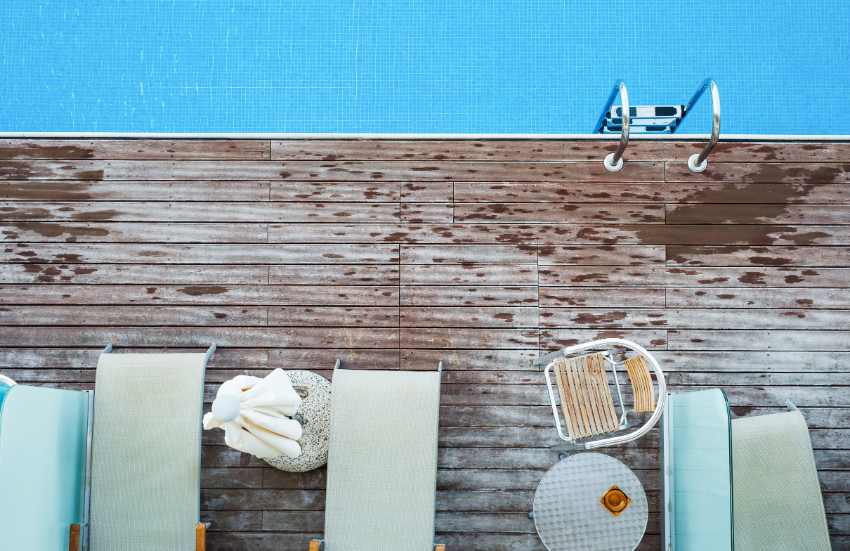 What are the different types of above-ground pool ladders?
A-frame ladders.
These are the most common types of ladders for above-ground pools. They are named after the shape the ladders take and can be easily set over the edge of the pool for a quick entrance and exit to the pool.
They can be installed easily and don't require a deck to attach. While convenient, they do have their limitations with weight capacity, with most of them maxing out around 250-lbs of recommended load.
A-frame ladders are built of materials that won't degrade or corrode from exposure to pool chemicals.
In-pool ladders.
These type of pool ladders are very similar to an A-frame ladder. In fact, if you lop off one side of the A-frame, this is essentially what you are going to have.
In-pool ladders for above-ground pools are designed to be drilled into a deck or swimming platform. The base of the ladder, usually rounded off so that it doesn't scuff or tear the pool liner, is sunken into the pool.
Most manufacturers of this type of above-ground ladder will recommend that you fill the bottom of the ladder with pea gravel (or something comparable) to anchor the ladder to the bottom of the pool and prevent it from wavering in the current and floating away.
Steps with railing.
Not as common as the A-frame, above-ground pool steps are another excellent way to make getting in and out of your swimming pool a little easier. Pool steps tend to be much sturdier as they don't have any moving or folding parts.
Steps are great for above-ground pools that are lined up next to a deck or sunken and don't require steps or a ladder on the exterior of the pool.
Pool steps, like the Blue Wave steps reviewed earlier, also tend to have a railing or handrails to remain steady when pulling yourself out of the water.
What are the benefits of an above-ground pool ladder?
A ladder can seem like an upgrade that is unnecessary, but there are some really good reasons to invest in one for your above-ground pool.
The biggies include:
Protects your pool liner.
When getting into your above-ground pool, it's preferential to not place bodyweight on the pool liner and walls of the pool. Even though steel-frame swim pools are plenty sturdy, the walls aren't designed for extended vertical pressure.
Using a pool ladder to get in and out of the pool can help protect the liner and walls of your swimming pool from warping and even potentially collapsing.
Accessibility.
The right ladder means that everyone can use the pool and reap the benefits of cooling off during the hot days of summer and joining in on the splashing and fun.
Ladders are ideal for people with mobility issues, helping everyone get in and out of the water.
Having to high-step or climb into the pool works for some people, but for everyone else, a ladder is a much more accessible solution.
Safety.
Guess what doesn't take a holiday? You guessed it—safety! Safety is the primary concern of any pool owner and the right pool ladder is a key element of keeping the pool safe for everyone.
Everyone should be able to enter the pool without stressing about slipping and tumbling. On top of making entering and exiting the pool safer, many of the pool ladders on the market have additional safety features like a locking gate to further protect pool users and owners.
Ultimately, every guest to your swimming pool should be able to get out of the water with relatively little effort.
Do above-ground pools come with a locking gate?
The first concern of every backyard pool owner is safety. Things like a pool alarm or a sturdy winter pool cover are great for securing your pool, but another way to keep the pool and your little swimmers safe is with a gate to the entrance to the pool.
Some above-ground pool ladders (like this Blue Wave Ladder with Safety Gate) feature a 1-2 punch of convenience and safety by adding a locking gate to the dry-side of the pool ladder.
How do I keep my above-ground pool ladder from floating away?
Securing the ladder is critical, not just because you don't want it dancing in the current like a weed, but also for the stability and security for pool users going in and out of the pool. Most typically, above-ground pool ladders are to be weighted down with clean gravel.
Some key ways to troubleshoot a pool ladder that is floating:
Give the ladder time to fully dissolve of air bubbles before installing it. Angle it to get all the air bubbles out. If the ladder is still floating, there is still air in it.
Properly fill the ladder ballasts with sand. Many pool ladders have ballasts designed to be loaded with sand or gravel. Make sure these are properly topped up.
Ensure the ladder has vents and slits to allow for proper water flow. Water moves in your pool, both via the pool skimmer and from pool suers splashing around. A properly anchored ladder should have means for water to move through and around it to eliminate becoming a paddle for moving water.
Do-it-yourselfers can add modified sandbags to the bottom of the ladder or steps to secure them. Fill a twist-open juice or milk jug with pea gravel, sand, and water (make sure all bubbles are out) and zip-tie to the back of the steps.
Mainly, when it comes to not having your pool steps try to float for the surface and get out, follow the directions laid out by the manufacturer.
I've heard more than a few stories of pool owners, who in their haste install the ladder without properly filling the ballasts or allowing all of the air to drain from the steps and railing.
How do I secure my pool ladder to the pool deck?
Deck pool ladders, whether we are talking about plastic/vinyl or more heavy-duty steel ladders—are shipped with the hardware required to securely attach the ladder to the pool deck.
Typically this will require some tools on your part, including a drill, socket wrench, level, and so on.
Once the holes in the deck have been drilled, lock in the handrails into the pool deck using the flanges. Tighten the screws in the flanges, and you should be in business.
What are pool ladders made of?
While most swimmers will think of the steel or aluminum ladders and steps from neighborhood pools—which hurt like a son of a gun when you swim past one and backhand the rail—most ladders for backyard swimming pools are made of vinyl, plastic or resin.
There are a lot of advantages to these materials, namely that they are lightweight and don't corrode in the face of UV exposure and pool chemicals.
The main downside to these ladders is that they aren't as stable and they require being weighed down to keep them from floating away.
If you are looking for a sturdier option for your above ground ladder, steel is an excellent option.
They can be bolted to your pool deck but can also become quite hot to the touch when exposed to the sun for extended periods of time.
How much weight can a pool ladder handle?
How much weight your above-ground pool ladder can handle varies by brand and model.
A-frame pool ladders can typically handle up to 300-or-so pounds of weight. For maximum stability, look for steps with a railing for steadying yourself.
How much weight your pool handle comes down to a lot of different factors, including method of installation (is it bolted to a pool deck, for instance?), materials, height of the ladder, and more.
Ultimately, getting the most of your pool ladder means matching its function with the configuration of your swim pool.