Looking for the right pool ladder for your above-ground swimming pool? Here's a breakdown of the best ones on the market, including key features, price, and more.
What is one of the best parts about having an above-ground swimming pool?
Cooling off? Yup, that's pretty awesome.
Fun in the sun? You know it?
Launching yourself into the water with a picture-perfect cannonball to the rapturous delight of your friends and family?
Heck yeah.
The not-so-fun part?
Hauling yourself out of the water on a wobbly ladder that feels like it could teeter over under your wet feet.
Everyone knows the feeling of a wobbly ladder, and let's be honest, the last thing you want is a ladder that is shaky and unsafe, especially in wet conditions.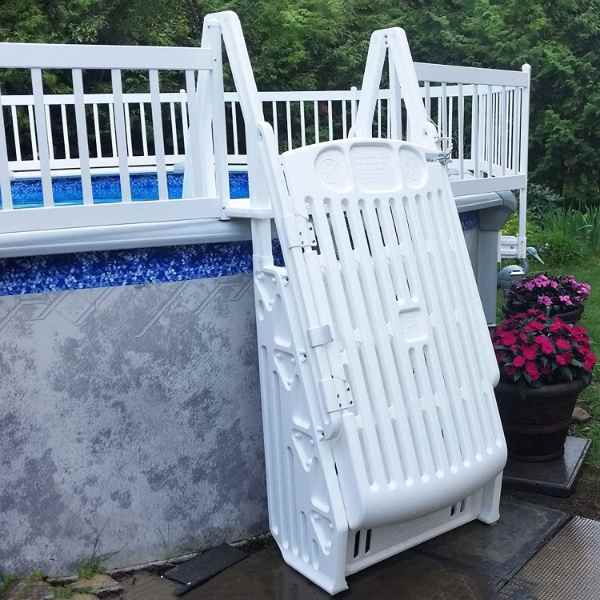 That's where the best pool ladders for above-ground swim pools come in handy (and steppy!).
Designed specifically for these kinds of swim pools, there is a variety of ladders that not only make getting in and out of the pool safer and easier, but some even have added features like gates.
Below is a breakdown of the top ladders for your swimming pool.
Read on, choose the ladder that fits your pool and environment, and spend more time perfecting your cannonball than worrying about getting out of the pool safely.
Blue Wave Pool Ladder with Safety Gate
⭐ Best pool ladder for families
The risk of drowning is not a joke. It's one of the leading causes of accidental death for young children—according to the CDC, more children ages 1-4 die from drowning compared to any other cause of death [1].
While pool ladders play an important role in making it easier to get in and out of the water, and also help prevent unnecessary pulling and tugging on the vinyl liner and structure of the pool, they can also provide a safety function. The Blue Wave Pool Ladder has a gate that can be closed and locked to prevent young swimmers from gaining access to the pool when they aren't supposed to.
Rated for a maximum weight capacity of 350lbs, and with anti-slip steps that are over 8-inches in depth, the Blue Wave Ladder has two handrails and an adjustable top platform for pools from 48-inches to 56 inches high.
Use this type of pool ladder, along with a proper pool alarm for children, to keep your backyard pool safe and secure.

YUEWO Steel Frame Pool Ladder
⭐ Best no-frills pool ladder
Perfect for smaller above-ground swimming pools and inflatable pools, the YUEWO is a 36-inch high steel-framed ladder that has two steps on each side, non-slip rubber feet for extra feet, and a reasonable price tag of around $140 (check Amazon for current pricing and availability).
YUEWO also makes a 53" model, but regardless of the height you end up choosing, you will appreciate the sturdy construction and easy portability (the ladder weighs just 12-pounds, making it easy to store between seasons and swims in the pool).
Assembly is straight-forward, and despite its slim stature, the YUEWO Steel Frame is all business when it comes to weight, rated to handle a maximum of a whopping 600+ pounds.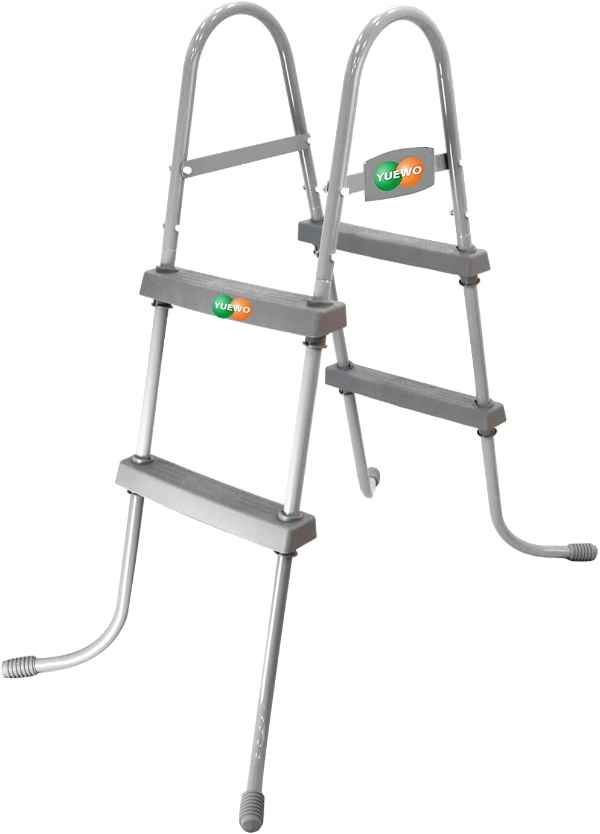 Confer Plastics A-Frame Pool Ladder
Like the Blue Wave Pool Ladder reviewed earlier, the Confer Plastics A-Frame Pool Ladder has a locking mechanism at the top of the ladder that parents can use to close access to the pool between uses.
While not designed for inflatable pools, this ladder provides a surprising amount of stability. The side of the ladder which goes into the pool is designed to be filled with water, providing an extra anchor for the ladder and more stability and security when climbing in and out of the water.
Reviewers consistently love this pool ladder on Amazon, with an average rating of 4.5 stars (click here to read reviews on Amazon), and while priced a little higher than some of the ladders on this list at around $500, if you are looking for a 1-2 punch of security and stability, it's tough to beat Confer's pool ladder.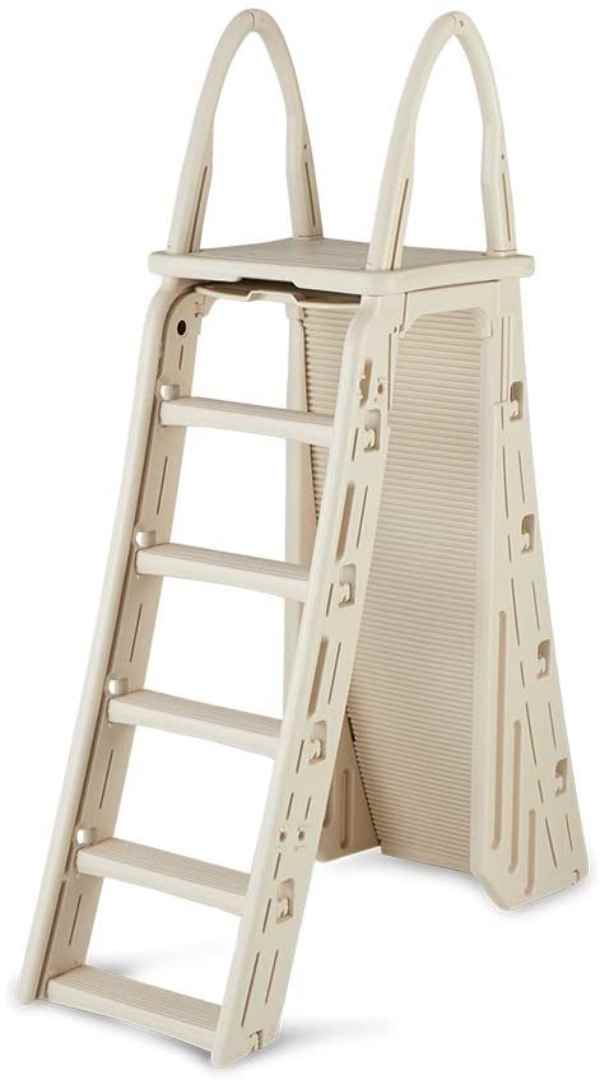 Intex Deluxe Pool Ladder for Above Ground Pools
Intex makes some of the best gear for backyard swim pool enthusiasts. They pretty much make anything and everything for your backyard oasis, including solar pool covers, above-ground pool filters, pool vacuums, and much more.
While called Deluxe, this thing is pretty straightforward. No locking mechanisms or safety features for the little ones, but a simple A-frame aluminum ladder that is easy to move around and sturdy enough for adults up to 300lbs in weight. The ladder is designed to work with pools up to a height of 52 inches.
Assembling the ladder takes about 15 minutes, and reviewers note that the steps and top platform are not super wide, which means you should remember to take care when using the ladder to get in and out of your pool.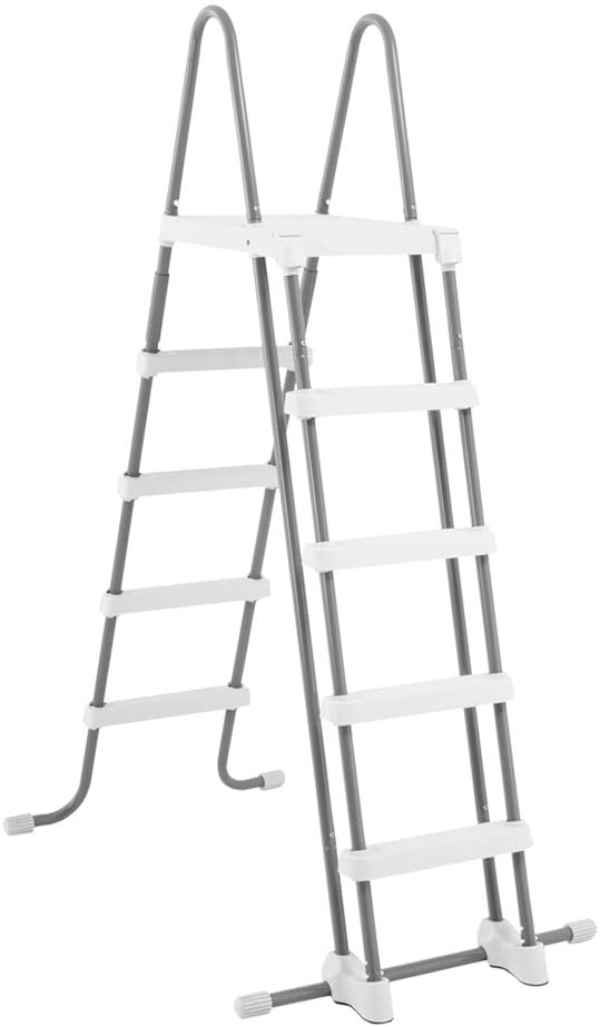 Blue Wave Wedding Cake Pool Step Ladder
Okay, you might be feeling a little thrown off by the name of this ladder, which is more or less a series of steps that are designed for above-ground swimming pools that have a deck.
These steps are purely for the pool-side of the water, to give you a series of steps to ease into the water.
And yes, it's design is a wedding cake!
Key features include molding on the steps for added grip, a ventilated surface to reduce pesky algae growth, and a precision-0built handrail to help you keep your balance as you step in and out of the water.
The unit is sturdy—easily able to handle up to 500lbs of weight and it doesn't require a ballast or anchor to set-up in your backyard swim pool.