Safety is the first priority with your backyard pool. Secure your pool and keep your kids safe with our hand-picked selection of the best swim pool alarms.
No matter how much we like to talk about all the fun stuff about owning a backyard pool, whether it's relaxing in your favorite pool lounger or enjoying your favorite pool games, the most important thing about your pool is safety.
Drowning is a significant cause of death, with the CDC noting that 20% of drowning deaths came from children 14-years of age and under, making it the second leading cause of unintentional injury death in the United State. In 2016, the WHO reported that around 320,000 people died from drowning worldwide.
While pools are designed to be all fun and games and sport, they are still a very dangerous place to be for children when left unattended.
That's where a pool alarm can be a great assistance. Like smoke detectors or carbon dioxide monitors, a pool alarm is designed to help you prevent tragedy in the home.
Pool alarms protect your children and secure your pool.
Kids and swimming pools are a natural fit. Whether you join a competitive swim team, start your child early with baby swimming lessons, or simply want to help them gain some water literacy, kids love being around the water.
The water is a fantastic way for children to develop motor skills, engage their creativity, and find ways to play. Combined with proper supervision, fencing, winterizing your pool with a sturdy pool cover, age-appropriate swimming aids, and using the right swimwear and floaties, a pool alarm is a key part of your overall plan to keep your children safe.
When you consider that two children die per day in the United States from drowning, and five times as many visit hospital emergency rooms, setting up your pool and surrounding pool area with an alarm is a quick way to help mitigate some of the risks that come with owning a backyard pool.
When it comes to pool alarms, there is a lot of options to choose from. There are wearable alarms (wristbands that detect when a child has fallen in and been submerged), alarms to place on doors and gates leading to the pool, and floating pool alarms.
Below are our hand-picked choices for the best pool alarms.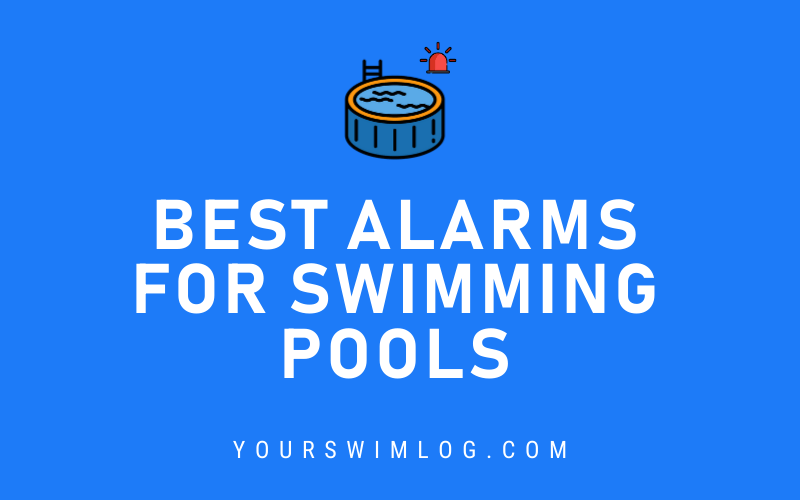 Poolguard GAPT-2 Outdoor Pool Gate Alarm
While not every pool has a fence or gate exclusively surrounding the pool, for those that do have a simple solution in the Poolguard GAPT-2 Pool Alarm. Made specifically for outdoor use, the GAPT-2 is a battery-powered alarm that goes off when someone goes through the gate without properly pressing the pass-through button.
Available in packs of 1-4, and backed by a one-year manufacturer's warranty, the Poolguard GAPT-2 blasts an 85-decibel horn that will get your attention in a hurry when someone tries to access the pool.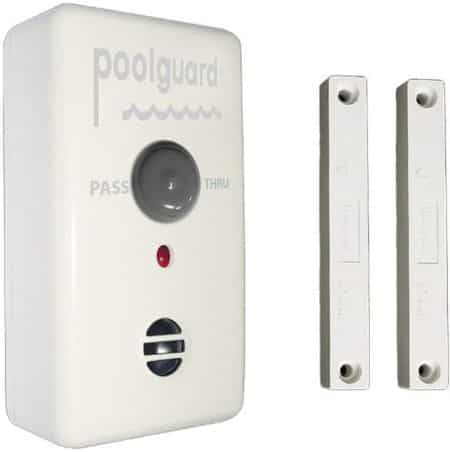 Pool Patrol Floating Pool Alarm
The Pool Patrol looks a little bit like a floating pool chemical dispenser, with its blue finish and frame, but instead of cleaning your pool, it detects water disturbances.
Powered by a replaceable 9V alkaline battery, the sensitivity of the alarm can be adjusted by rotating the top of the unit. A tether is included so that you can place the alarm without it floating away (Pool Patrol provides placement suggestions based on the shape of your swimming pool).
In the long list of disclaimers, the makers note that this product is best designed to detect sudden entry into the pool (jumping or falling in, for example), and may not go off if someone is sneaky and climbs into the water slowly.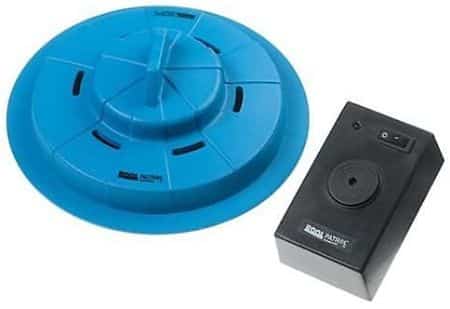 Lifebuoy Pool Alarm System
A multi-pronged approach is always best when it comes to pool safety. This is the attitude that Lifebuoy has taken with their pool alarm system, which features multiple sensors in their floating alarm to detect movement and disruption of pool water.
Designed as a "set it and forget it" system, the alarm activates after ten minutes of no movement. The alarms themselves are fully customizable from an app on your smartphone. Connecting to the floating alarm by Bluetooth, you can change the status of the alarm, how sensitive the alarm is, and even the length of the alarm when it goes off.
The Lifebuoy can be used in every kind of pool and spa, whether it's an above ground swimming pool or your hot tub. One feature that is particularly noteworthy is that the alarm is built to detect when a pool cover is removed, one of only a handful of alarms that are able to do this.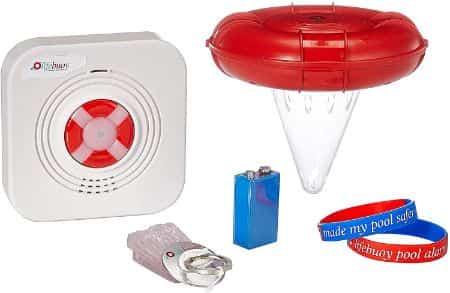 Safety Turtle Wearable Pool Alarm for Kids
Safety Turtle's wearable pool alarm for children is a wrist-based sensor that emits a large alarm from a receiver when the wearable is submerged in water.
The receiver transmits up to 200-feet away from the pool. The whole system is simple to set-up, designed as a plug-and-play alarm. Included with each set is the receiver and base station (where the alarm is blared from) and two turtle bracelets.
We love the playful design of the wearable, which kids will enjoy as well, but possibly the best feature is that this system is fully portable. You can take it with you to the lake, to a friend's house, or even on vacation.

PoolEye Immersion Pool Alarm
The way this pool alarm works is smart: Attach the device to your pool deck or ladder, and the submerged part of the unit detects abnormal waves and movement, setting off the 85-decibel alarm. Because the alarm is designed to catch sub-surface movement, it reduces the false alarms that come from strong winds, rain, or light debris falling in the pool.
Admittedly, the reviews on this product are split. Some users were not thrilled with this product, noting the lack of an auto-off feature and difficulty in getting the alarm properly calibrated.
The PoolEye Pool alarm comes in three different models, built for in-ground or above-ground swimming pools respectively.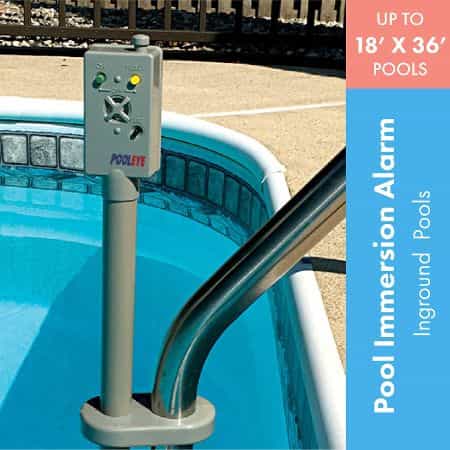 Poolguard Above Ground Swimming Pool Alarm
This Poolguard floating pool alarm is not subtle. But then again, who said pool safety had to be?
Fashioned as a floating red pylon, the Poolguard uses sub-surface detection to catch errant falls and jumps into the water. This form of alarm-tripping is more effective as things over the surface—a sudden burst of wind, hard rain, or even an object hitting the pylon—can set off false alarms.
The bright red pylon serves as a notice for neighborhood kids thinking about hopping the fence and jumping into your pool, and the alarm is designed to be tamper-proof, going off should someone try to pull it out of the water.
Specifically designed for above-ground pools that don't have ladders and hard pool-sides for installation.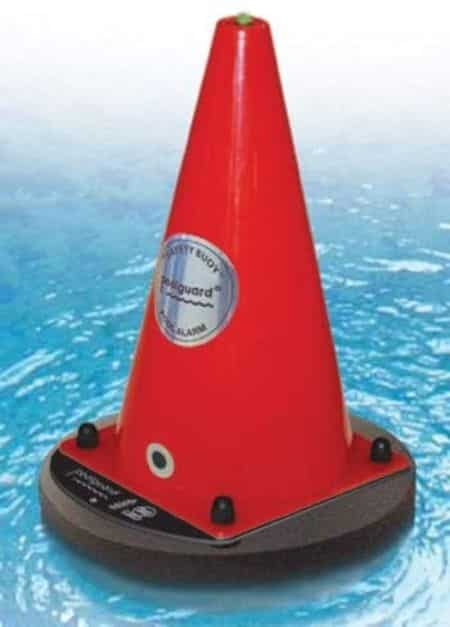 Poolguard PGRM-2 In-Ground Swim Pool Alarm
Once you install this bad boy it is always on guard. It doesn't need to be turned on or off, it is always in alarm mode. When using the pool, pull the alarm from the water and put it into sleep mode.
The unit transmits to a receiver that you can place within 200-feet of the pool and functions on a battery that lasts about a year. One of my favorite features is the Poolguard PGRM-2's ability to work even when your solar pool cover is on top of your in-ground swimming pool.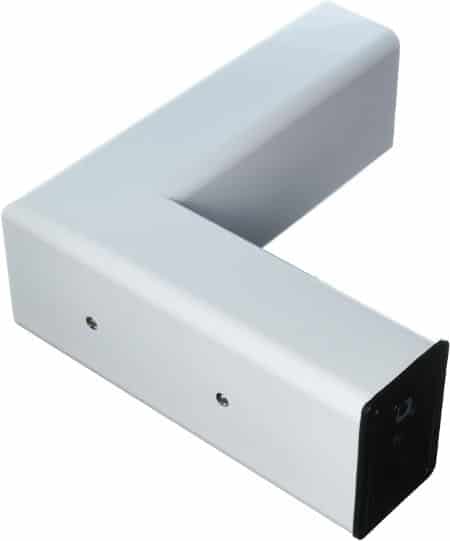 ---
More Stuff Like This
6 Waterproof Cast Covers for Swimming. Frustrated with being dry-docked with a broken arm or leg? Here's a breakdown of the best waterproof cast covers for swimming and showering.
The 7 Best Waterproof Diapers for Swimming. Keep your toddler comfortable in the water and prevent unwanted surprises from floating into the pool with this collection of the best reusable and disposable swimming diapers.
The Best Solar Cover Reels for Backyard Swim Pools. Solar covers are essential for regulating water temperature and saving on water costs. Here's a look at the top solar cover reels on the market.