Get the splashing and the fun of a backyard pool without having to build an above-ground or in-ground swimming pool. Here's a breakdown of our favorite inflatable pools for adults and families.
There are a lot of upsides to having a swimming pool in your backyard. It's a way to cool off. It's a way to get some sunshine. And it's a way to entertain yourself, your family, and your friends.
But let's be honest here…
Backyard swimming pools are expensive, and not just the up-front costs of installation and purchasing it, but the continuous cleaning and maintenance that is required. Using your pool vacuum to clean the bottoms and walls. Properly winterizing your pool for the fall and winter months. And on and on.
Inflatable swimming pools provide a nice middle-ground for those who want to be able to splash around in the backyard but don't want to install a permanent pool and deal with the hassle of year-round maintenance.
Although inflatable pools are generally thought of as being small and of low utility, there are some decent sized inflatable pools that the whole family can enjoy. Here's a breakdown of our favorite inflatable pools for your backyard.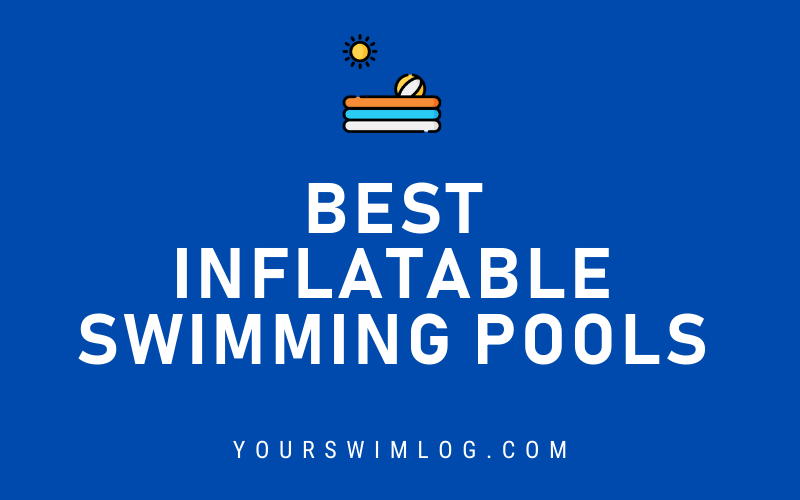 Intex Easy Set Up 10 Foot Inflatable Pool
Intex is one of our favorite pool makers. Their above ground swimming pools are consistently ranked among the best, and their wide variety of pool accessories and even pool toys are also awesome.
The Intex Easy Set Up 10-Foot Inflatable doesn't require any tools to set-up (hence the name "Easy") and takes about fifteen minutes to inflate the outer ring and fill the pool with water. The walls of the inflatable pool are constructed of two thick layers of PVC nylon, with a layer of mesh between them for extra durability.
This inflatable pool holds up to around 1,000 gallons, comes with an informative set-up guide and DVD, and requires a filter pump that is sold separately.


Bestway Fast Set Above Ground Inflatable Pool
Like all inflatable pools, you are going to want to set this bad boy up on level ground in your hard. Bestway is a major player in the backyard pool market, and their pools are always highly-reviewed.
This pool, like the Intex Easy Set-Up, is ten feet wide and 30 inches (or two and a half feet) high. Made with a lightweight and highly durable PVC material, the Bestway Fast Set Above Ground Inflatable Pool is very easy to assemble and includes a filter pump and cartridge to help keep your pool clean. (Consider adding a solar pool cover to your pool as well to keep it from collecting debris while not in use.)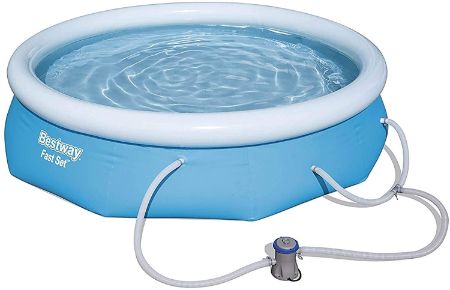 Summer Waves 15' x 26" Inflatable Swimming Pool
Another relatively easy to set up inflatable swim pool is made by Summer Waves.
With a filer pump that circulates and filters the water, a capacity of over 2,400 gallons, and a tough and durable circular sidewall designed for summer fun, the Summer Waves inflatable is a quick and easy way to start splashing around in the backyard.
Recommended for kids over 6 years of ago, after about ten minutes of setting up, the pool is ready for water. Includes a chlorinator, filter pump, and D cartridge. Water wings and floating beer pong table not included, however.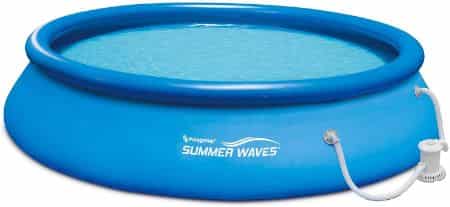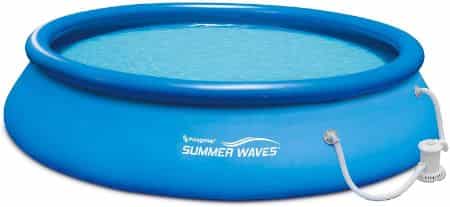 Beltway Fast Set 18" x 48" Inflatable Pool
You are looking at the granddaddy of inflatable swim pools. At 18 feet wide, and 4 feet tall, the Beltway Fast Set is your biggest option when it comes to setting up an inflatable backyard swimming pool. With a water capacity of nearly 6,000 gallons and a flow control valve for quick draining, the Beltway Fast Set comes with a pool-side ladder, ground cloth, cover for the pool, and a filter pump.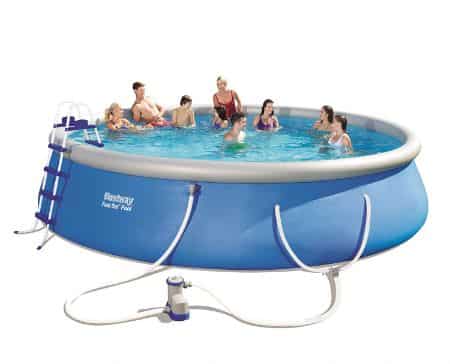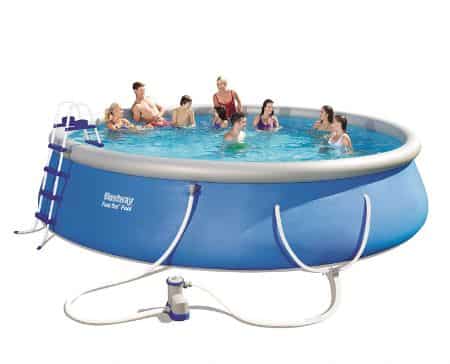 Intex Kiddie Pool
If you are looking for the best inflatable kiddie pool, Intex makes a great, no-frills, tri-colored pool that is perfect for the youngest swimmers in the household. Made by Intex, this well-priced little pool is about a foot high and the walls is constructed of heavy-duty PVC vinyl. The bottom of the pool is padded to absorb any quick toddler spills and buffer the hard ground below the pool. When filled up, the Intext Kiddie Pool can take on about two hundred gallons of water, making it the perfect little inflatable pool for toddlers.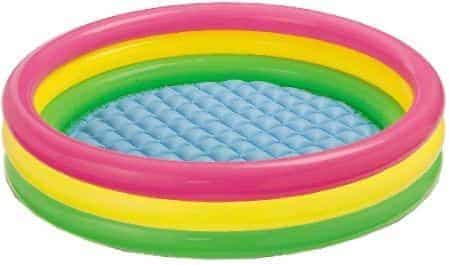 Intex Swim Center Inflatable Family Lounge Pool
I absolutely love this inflatable. It's part splashing around, part chilling, making it perfect for those lazy summer days when you just wanna lean back and kick your feet up.
With a large "deep end" for splashing around, ideal for the kiddos, a long bench and a backrest for the adults, this inflatable pool is an awesome way to enjoy the backyard and sunshine. (And yes, it has two cup-holders 😊)
Made with heavy-duty, 13-gauge vinyl, the inflatable lounge-pool has two air chambers, comes with a repair patch, and has a capacity 156 gallons. Recommended for adults and kids 3 years and up.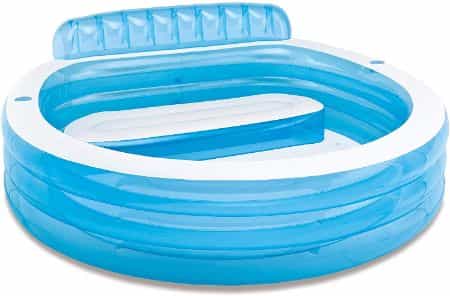 Lovinouse Inflatable Pool with Sunshade Canopy
The long days of summer also mean long days of sunshine. Soaking up the rays, even after while lathering yourself up in waterproof sunscreen, can result in fatigue and sunburns. Having a simple canopy shade on your inflatable pool is a way to protect yourself against the more harmful effects of prolonged sun exposure and extend the amount of time you spend in the water.
With the Lovinouse Inflatable Swim Pool, you get a removable sun canopy for those moments when you want to keep enjoying the water but want to take a break from the sunshine. Combine that with a three-chambered, heavy-duty PVC design, and you have a way to beat the heat and the sun.
The Lovinouse Inflatable can accommodate the whole family, features a one-button inflation feature, and a padded bottom that regulates the pool temperature and is comfortable to sit on.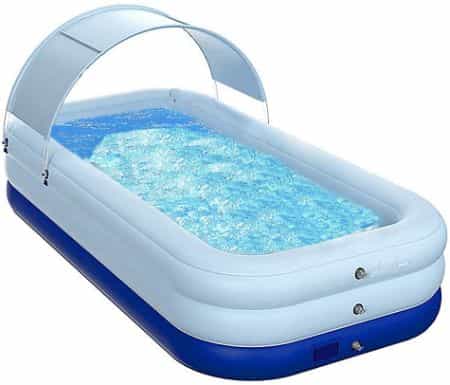 More Backyard Pool Gear Guides
7 Best Accessories for Above-Ground Swimming Pools. Outfit your backyard swimming pool with some of our favorite toys, games, floaties, and entertainment options made specifically for aquatic fun.
6 Best Inflatable Party Islands for Endless Summer Fun. Get your fun and splash on in the water with our hand-picked selection of the best floating party islands for all of the good times.
8 Best Pool and Water Shoes. Protect your feet in and out of the water with our collection of the best waterproof shoes for conquering the elements.