Kick-start the fun and bring the game of beer pong to the water with our hand-picked selection of the best pool beer pong inflatables.
Beer pong is a popular activity for those who like to consume adult beverages (and also those who don't).
Although traditionally beer pong is played on a table on dry land, during the summertime, when the sun is blazing and you need to cool off, you can bring the pong to your above-ground swimming pool with one of these inflatable pool beer pong floats.
Just as you will find variations in the rules that people play beer pong ("No redemption!"), there are some different set-ups when it comes to playing pool pong.
Here is a breakdown of our favorite floating beer pong inflatables for pools.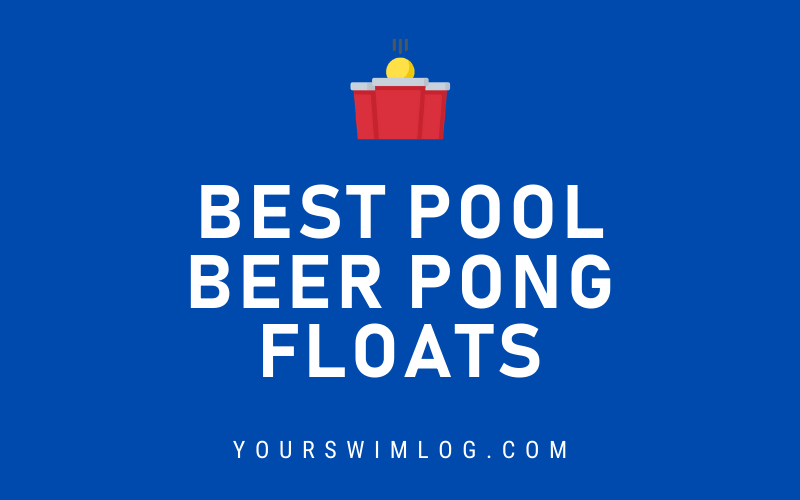 GoPong Beer Pong Inflatable White
The GoPong Beer Pong Table and Inflatable is the Grand-daddy Deluxe of pool pong tables and will be a hit no matter where you take it.
With ten cup holders aside, and at six feet long and three feet wide, the floatie is an instant conversation and party starter.
The table doubles as an inflatable, which you can stretch out on between games or on days when you are chilling in the pool solo. Between games, it also serves as a socializing table, with plenty of places to store drinks and encourage conversation.
The inflatable rolls up quickly and can be packed away tightly for travel, taking up around the same amount of space as an inflatable mattress.
Six pong balls are included, four additional cup holders line the side, and it inflates quickly (pump and cups not included).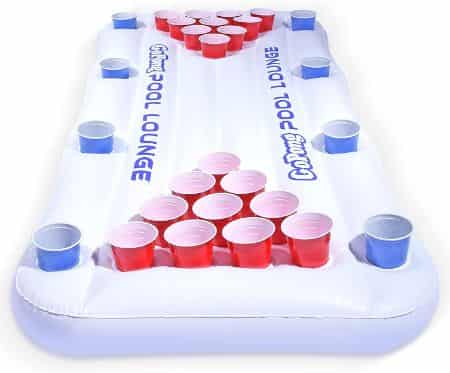 GoPong Beer Pool Pong Table
The GoPong Pool Pong Table is a no-frills version of the floatie above. It comes with the same sturdy construction, but the impossible-to-miss neon green doesn't feature the additional side cups.
Related: 6 Best Pool Basketball Hoops 
Each side of the six-foot inflatable features a ten-cup set-up. It ships at just over 3.1 pounds, making it a no-brainer for adding to your travel bag.
Easy to inflate, guaranteed to get the drinks and conversation flowing, and best paired with a floating pool beverage cooler, the GoPong Pool Table is good for endless hours of fun (and drinks!).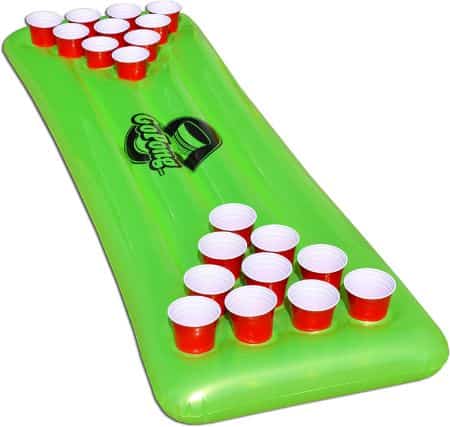 GoPong Beer Pool Pong Rack
Need an extra challenge with your pool pong? The GoPong Pool Pong Racks add an instant level of difficulty to what is usually a straight-forward and inebriated game.
A variation of the classic beer pong set-up, this floating pong set-up from GoPong uses two floating racks with six cups aside. Unlike the fixed set-up of a table, pool waves and currents will make the racks move a little bit, adding the challenge of trying to hit a moving target to your game of Pong.
Sidewalls are purposely built high to help prevent splashing water from getting into your drinks, and provide some pretty epic bounces.
Comes with three balls, two rafts, and a set of pong rules that may or may not be adhered to. Between games the pool pong rack also serves as an excellent drink holder.
With over 400 ratings of 4.6 or higher on Amazon, and at around just $20, it's not hard to see why these bad boys are such a hit in the pool.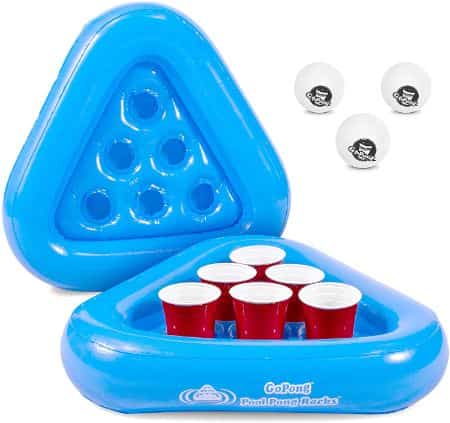 More Stuff Like This
6 Best Pool Fountains for Backyard Swimming Pools. Keep pool water cool, level up the look of the pool, and crank up the fun with our hand-picked selection of the best pool fountains for backyard pools.
7 Best Pool Loungers for Chilling and Relaxing. Stay cool and comfortable in the water with our hand-picked selection of the best pool loungers.
The Best Inflatable Kiddie Pools on the Market Right Now. Beat the heat this summer (and beat the crowds, too!) with this collection of the best kiddie swim pools for your backyard.