Get your fun and splash on in the water with our hand-picked selection of the best pool floats and inflatables for adults.
Summer and pool season means backyard pools, splashing around at the lake, and soaking up the rays.
Pool floats, one of the best pool toys out there, are a great way to spice up your time on the water. And although pool floats look pretty simple and generic, there are a surprising number of options, styles, and sizes available to adults.
For those looking to combo their inflatable with a pool party games, there is a beer pool pong floatie that can also be used as an inflatable.
Larger pool loungers help you stay relatively dry, while other floaties suspend half your body in the water to keep you cool and comfortable during particularly warm summer days.
And of course, because anytime pool float comes up someone has to mention an inflatable unicorn, we included one.
Below is a hand-picked selection of our favorite pool floats for adults. Let's get into it!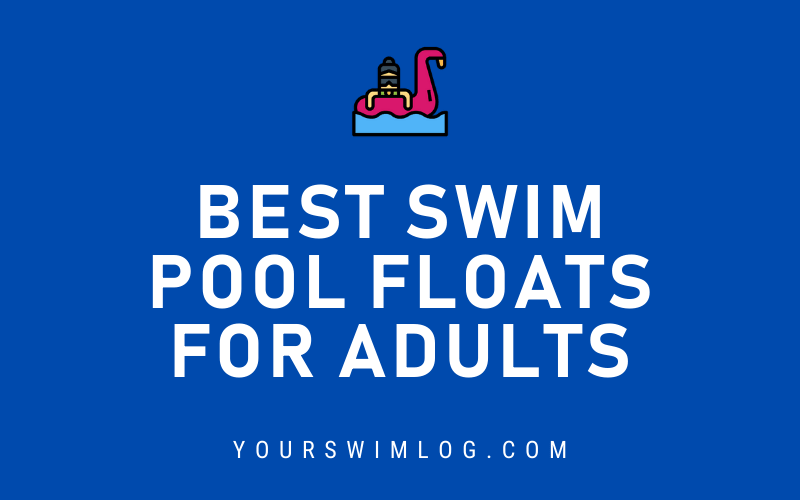 GoPong Pool Beer Pong Float
Is it a pool beer pong table? Is it an inflatable? It's both! These ultimate party-starters are a guaranteed hit when they make an appearance on the theme. With ten-cups aside, and the included six pong balls, you've got a drinking game that can be done in the water. But the cup holders along the side and six-foot-long inflatable can also be used to relax and lounge between rounds. Comfort and party? Check and mate.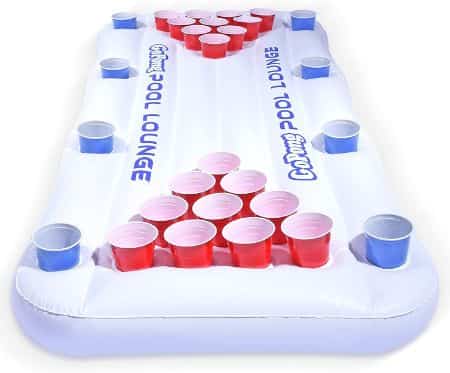 Intex Unicorn Inflatable Ride-On
Intex is a popular maker of above ground swimming pools. This colorful and fun inflatable is made of highly durable vinyl that is resistant to harsh pool chemicals and won't fade from repeated UV exposure.
Available as an individual inflatable and also available as a party island inflatable, the Intex Unicorn Ride-On is a colorful way to make a splash this summer.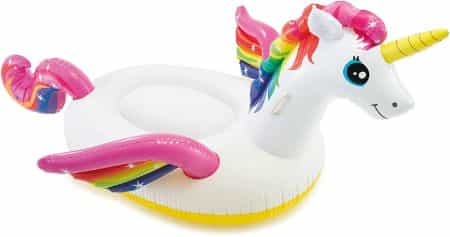 Intex Inflat-A-Bull Ride-On Float
If you are looking for something that is going to get the competitive juices flowing, the Intex Inflat-a-Bull is a guaranteed way to ratchet up the excitement at the pool.
With five heavy-duty handles, sturdy PVC vinyl construction, you will be able to grab summer fun by the…wait for it…horns.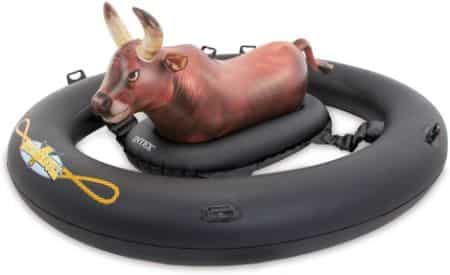 Jasonwell Pool Shark Float
Jaws will always have a special place in the (terrified) heart of swimmers. This giant shark pool float, at over four feet tall in height, is a lot more fun. Made of soft and long-lasting raft-grade material, it's also got fast valves for faster inflation and deflation.
Comfortable, durable, and almost certain to get some laughs, the Jasonwell Inflatable Pool Shark is one of our faves.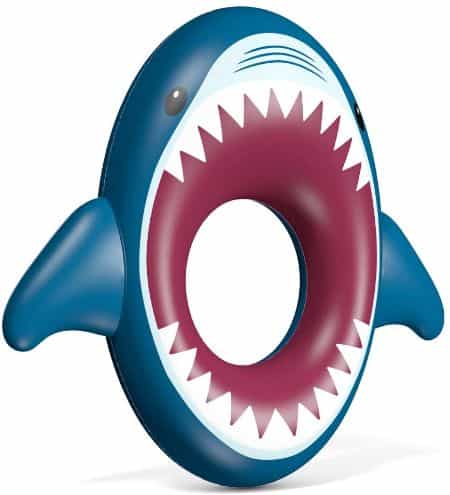 Intex King Kool Inflatable Lounge
Another choice selection from Intex, the King Kool Inflatable is perfect for chilling in the water. With a sturdy backrest, you can lean back securely and soak up the rays.
The armrests and cup holders are great for beverage-related activities, and the hole at the southern end of the inflatable means you can dip your feet in the water to cool off.
Quick to inflate, easy to store, and well-priced, King Kool is a certified star when it comes to inflatables for adults.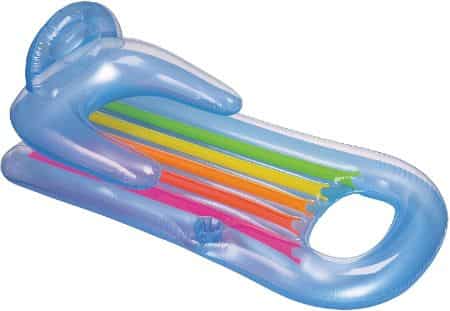 ---
Aqua Leisure 4-1 Pool Float
If it is versatility you are after when it comes to your pool float, the Aqua Leisure 4-in-1 inflatable has you covered. The floatie can be configured as a hammock, lounge chair, exercise saddle, or drifter. A pillow and footrest are inflated while the mesh fabric between keeps you comfortably suspended in the water.
Reviewers (this bad boy has over a thousand 5-star reviews on Amazon) were particularly pleased with how easy it was to get on and off the inflatable.
The seat also sits just below the waterline, making the Aqua Leisure inflatable ideal for those extra hot days at the pool.

Intex Floating Recliner
When it comes to pool inflatables that will mostly keep you dry, the Intex Floating Recliner is your ticket. Made with heavy-duty 18-gauge vinyl that is also soft, this large pool inflatable is perfect for kicking back with a couple of cold ones in the pool.
With two cup holders, sturdy heavy-duty handles for mounting and dismounting the inflatable, and over-sized armrests, this inflatable lounger is perfect for those long summer days and soaking up the rays.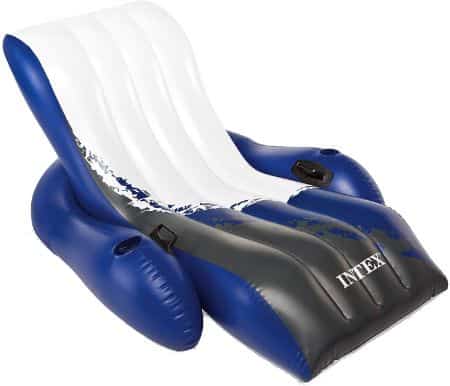 More Gear Guides Like This:
7 Best Floating Pool Lights. Light up your swimming pool with our top picks for the best floating pool lights for your water oasis.
6 Best Waterproof Bluetooth Speakers for the Pool. Hit the water, whether it's your backyard pool or the hot tub, with our favorite waterproof Bluetooth and floating pool speakers.
6 Best Swimming Pool Water Pool Fountains. Pool fountains are a great way to improve the aesthetics of your pool. Here is a break-down of our favorite pool fountains.