Light up your swimming pool with our hand-picked selection of the best floating pool lights.
One of the best accessories you can add to your pool are floating lights.
In terms of aesthetics, lighting up your above ground swimming pool is a quick and simple way to make it look great at night-time. They can accent specific elements of the pool, whether it's a waterfall or the tiling of the pool deck.
Pool lights are also excellent for safety, illuminating important parts of your pool, like the stairs, edges, and bottom.
And of course, floating pool lights, in combination with traditional lighting, make the pool usable at night.
While the functions of floating pool lights are straight-forward, when it comes to figuring out which ones to get, things can get confusing.
Here is a breakdown of our hand-picked selection of the best floating pool lights.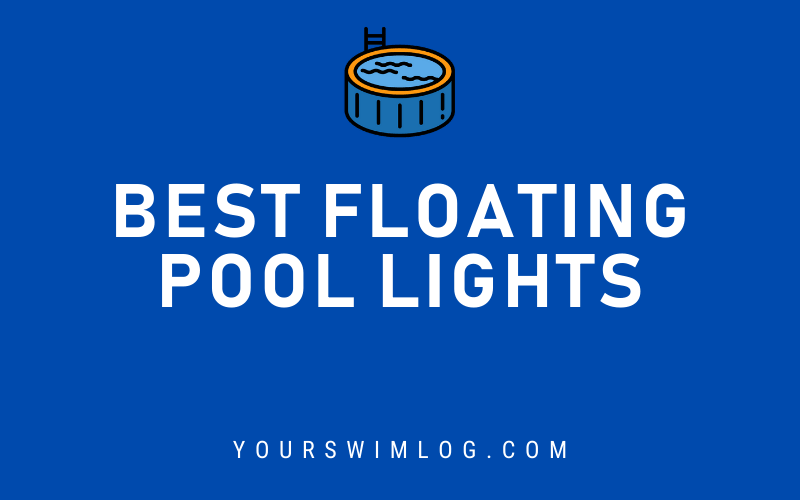 POOLMASTER Floating Waterproof Pool Light with Speaker
Best overall pick for floating pool light
The Poolmaster Floating Waterproof Pool Light is far more than just something to light up your pool—this bad boy can also hook up to your smartphone to play music through Bluetooth.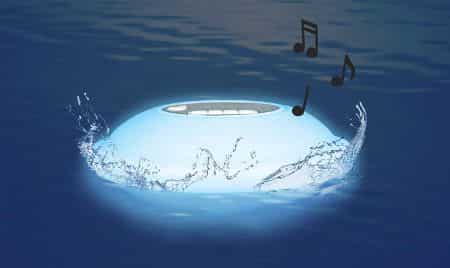 Fully waterproof (it is rated IPX7, which means it can be completely submerged into up to three feet of water for an hour), the Poolmaster has a mini-console on the light that allows you to play, pause, and skip songs, answer phone calls, and change between the different light settings.
Exceptionally rated, with a nearly five-star rating from over a hundred satisfied users, the Poolmaster Floating Pool Light and Speaker can light up and thump your pool for around ten hours before being recharged through a USB cable. An all-around awesome accessory to add to your swimming pool.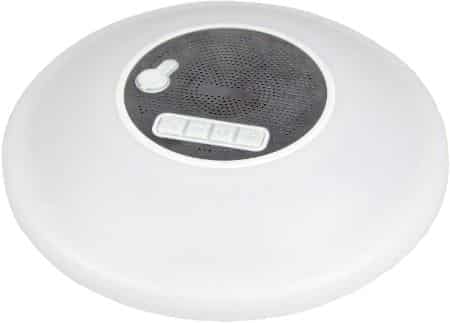 LOFTEK Led Floating Pool Light Orb
In terms of versatility, the LOFTEK LED Floating Ball Lights are really hard to beat. Not only do they look great, but they can be customized with different brightness levels, colors (16 in total), and can be run from a remote control.
Made of polyethylene, covered by a 12-month warranty, and able to carry a charge of up to 12 hours (charge takes a couple of hours), the LOFTEK Led Floating Pool Light Balls look great on the surface of the water or on the pool deck.
They are available in four sizes, from 8-inches to 20-inches.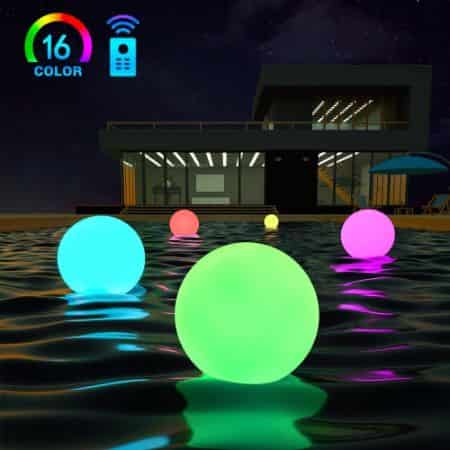 Main Access Ellipsis Waterproof Floating Pool Light
The Main Access Floating Pool Light is a 13" ball of light that can be programmed to illuminate your home pool in a variety of patterns. Including flash, stroke, fade, and smooth modes, no matter what you have going on in the pool there is a setting that will match the atmosphere.
The range of colors this floating LED pool light is capable of is its best feature, with up to 24 colors that can be set from a wireless remote control that you can use pool-side.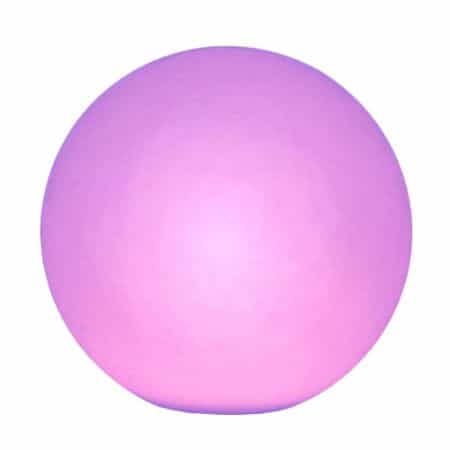 LOFTEK Floating LED Pool Lights
Smaller than the large orbs that LOFTEK makes, but equally as versatile, the 3" LOFTEK LED Floating Lights are IP67 waterproof and feature a soft silicone button that allows you to quickly program the lights before setting them loose in your pool.
Made of highly durable vinyl, and powered by two cell batteries that last around 30-70 hours, they cycle through seven colors and have two transition modes (flash and fade).
See also: Check out our breakdown of the best solar pool covers for saving electricity and keeping your pool warm overnight and during the colder days of summer.
The LOFTEK LED Floating Pool Lights are available in 1, 2, 6, and 10-packs, with the latter coming in around $40, making it an affordable and excellent way to light up your swimming pool.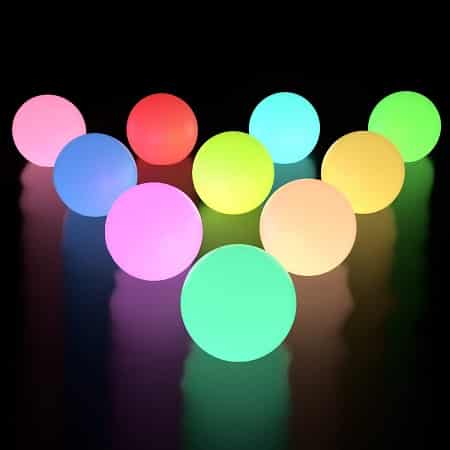 Flashing Bulb Blinky Floating LED Pool Lights
This set of floating LED pool lights are sized at 3", the smallest orb lights in our buyer's guide. Each pack contains 12 lights, making setting-up a well lit pool a breeze.
The lights are powered by replaceable low mercury batteries, are fully waterproof (duh, right?), and come pre-programmed with seven different color settings and transitions.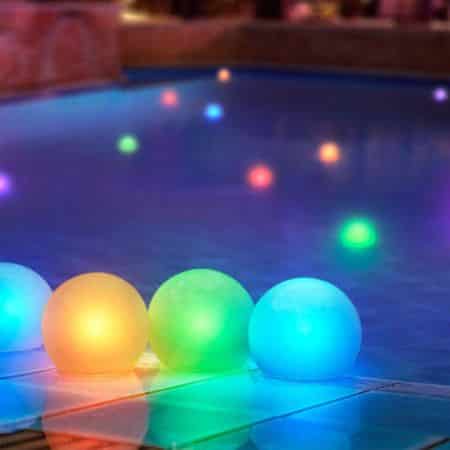 Intex Solar Powered Floating LED Pool Light
Intex is one of our favorite makers of swimming pool and swim pool accessories. We are a fan of their above-ground swim pool heater and their pool vacuum.
The Intex Solar Powered Floating Pool Light is another excellent choice for lighting up your pool.
It features two lighting modes. White light is perfect for general lighting needs. Set it in the middle of the pool and it radiates enough light to safely enjoy your swim. The changing color mode is ideal for decorative illumination.
The light shuts off automatically after two hours when set to white light mode, and five hours when in color change mode.
Powered by the little solar panel on the top of the unit, it can be programmed to turn on at night and turn off at sunrise, making it an ideal "set it and forget it" lighting solution for your pool.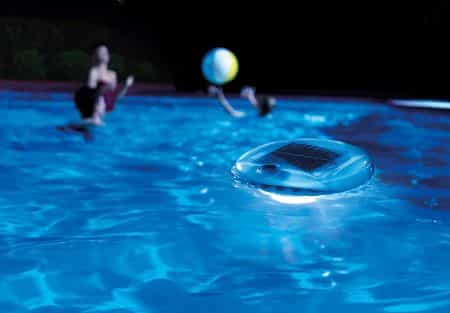 LOGUIDE Floating Pool Lights
The LOGUIDE Floating Pool lights are a patented series of lights. They come in a six-pack of lights with three different themes.
They change colors softly and add a romantic flair to your home pool. Batteries require changing out, and the lights are safe to the touch when on, making it also ideal for pools with children.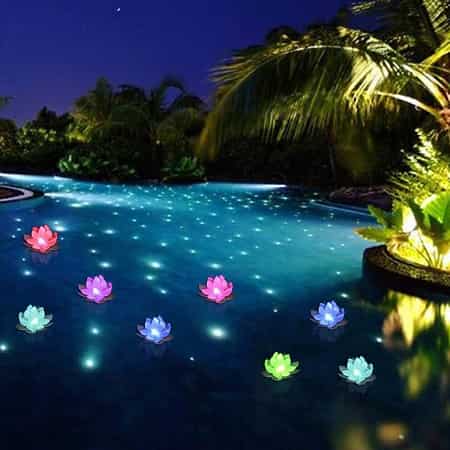 ---
More Stuff Like This
6 Best Pool Umbrellas and Accessories for Maximum Shade. Catch some shade and enjoy your backyard pool for longer with our collection of the best pool umbrellas and accessories.