Tidy up your pool by properly storing and protecting your pool toys and accessories. Here's a look at the best options for pool storage boxes and organizers.
Annoyed with your pool toys and accessories getting soggy and dirty?
Want an easy way to store all of your pool stuff so they don't get lost and damaged?
Then you have come to the right place!
We've researched some better-than-awesome pool storage boxes and bins that will help you organize your pool stuff, clear the clutter from your pool deck, and keep things tidy.
No matter what kind of pool deck you have (or even if you don't have a pool deck—we got a storage option for you too!), or how much equipment you have, there is a pool storage box for you.
Let's jump right in.
---
Essentially Yours Small Pool Organizer Bin
Best small pool storage bin
Looking for a smaller pool storage option? The Essentially Your Small Pool Organizer Bin is perfect for pool owners who don't need a ton of storage capability.
The frame of the organizer is made of high-quality PVC piping, the walls are made of breathable mesh that allows your pool toys and gear to quickly dry, and assembly is a piece of cake and doesn't require any tools.
The size of the pool float storage bin is 18" wide, 18" long and 20" high, making it ideal for storing smaller items like pool towels, sunscreens, and smaller pool toys.
The wheels have locking castors to keep the bin from rolling away and the price is impossible to beat, with Amazon retailing these for around $30 (check Amazon for current pricing and availability).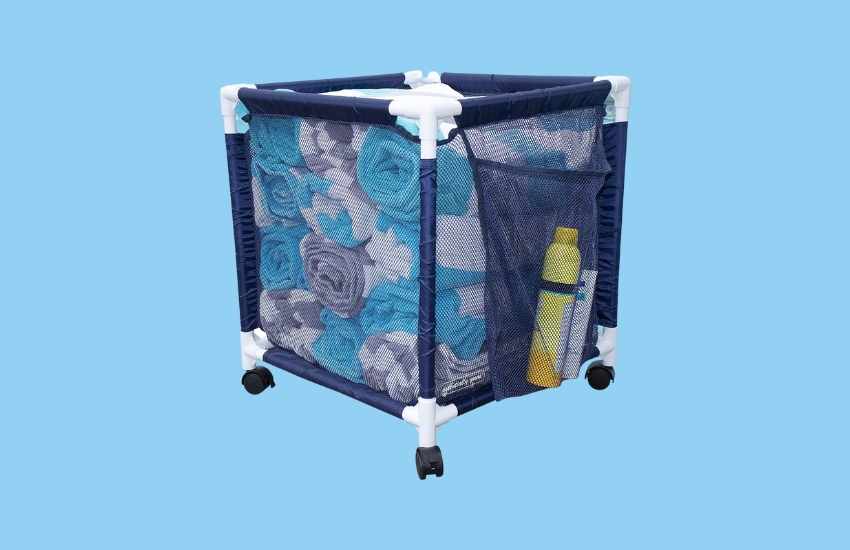 Mesh Titan Storage Bag for Pool Toys
Keeping all of your pool floats and toys in one place can become frustrating when you don't have a storage solution. For pool owners who are short on pool space, the Mesh Titan Pool Storage Bag provides a smart solution.
Constructed to be hung on a fence or even on the side of your above-ground pool (make sure it's attached properly so that it doesn't damage your pool liner!), this big mesh bag can quickly get all of your pool stuff off the ground or pool deck.
In terms of capacity, the compartment is 60" x 34" x 18", which according to the manufacturer, can store about 20 basketballs. That's a lot of gear!
The mesh bag is perfect for air-drying your floats and is available in three different colors. Includes hang straps, inner support straps, and the blue model includes an extra set of straps for hanging heavier items.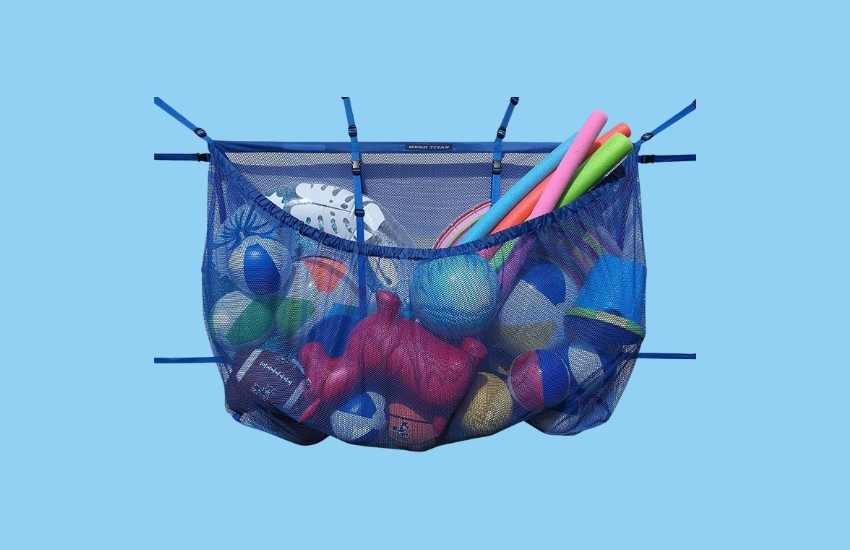 Sprint Aquatics Large Equipment Bin
Best heavy-duty pool storage bin
Are you the kind of water nut that has a ton of water equipment? (No judgment here—half my garage is full of fins, paddles, snorkels, and more.)
The Sprint Aquatics Large Equipment Bin is an industrial-grade storage box for your pool toys and floats.
The frame of the organizer is made of heavy-duty PVC. The mesh walls and bottom are breathable and allow for your floats and equipment to air dry quickly.
And with a 50" x 21" x 39" footprint, you will have plenty of room for all of your stuff.
Made in the USA, the Sprint Aquatics Storage Bin is a little more expensive than the other bins on this list (they retail for around $700—check Swim Outlet for up-to-date pricing and reviews), they make up for it in size and durability.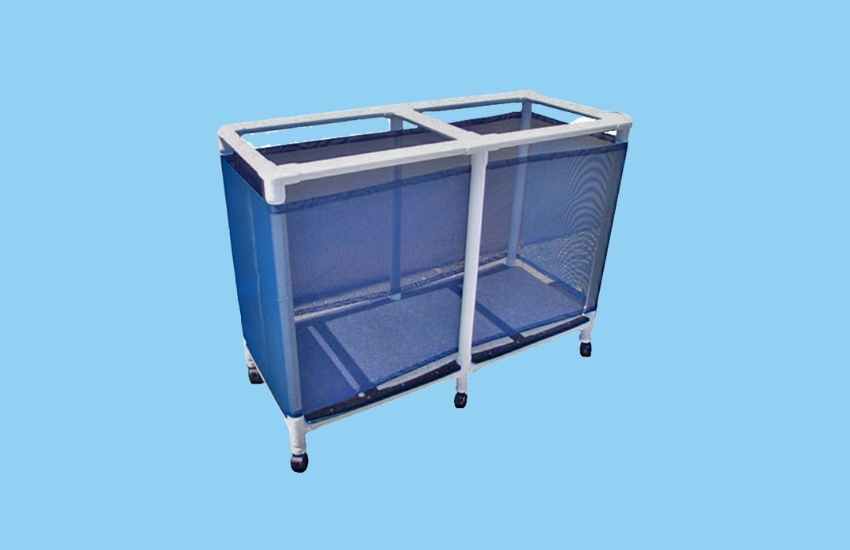 Keter Denali Large Outdoor Pool Storage Box
Best premium pool storage box
Keter is a leading name in building high-quality and extremely durable storage boxes for outdoor spaces.
The Denali is one of their biggest pool storage bins, and this thing is chock-full of features.
For starters, the box can be used as a seat bench, with a maximum weight capacity of 600lbs. The hydraulic pistons on the hinge of the box means that the box can be opened and closed softly (in other words, no jammed fingers when closing the lid). Even kids will be able to open the box.
The pool storage box can hold up to 150 gallons of floaties, swim vests, goggles, and more. The finish, a weather-proofed polypropylene that doesn't rust or corrode, also looks great when added to the furniture around your swimming pool.
(Keter offers a wide range of these types of boxes (and in sets) that are perfect for storing pool equipment, which you can view in depth here at Amazon.)
The Keter Denali is simply awesome for outdoor pool storage, and has a clasp for placing a lock to secure your pool floats and equipment when not in use.
Exceptionally well-reviewed on Amazon, users love the good looks, functionality, and reasonable price point, with the Denali retailing for around $200 (click here for reviews and current pricing on Amazon).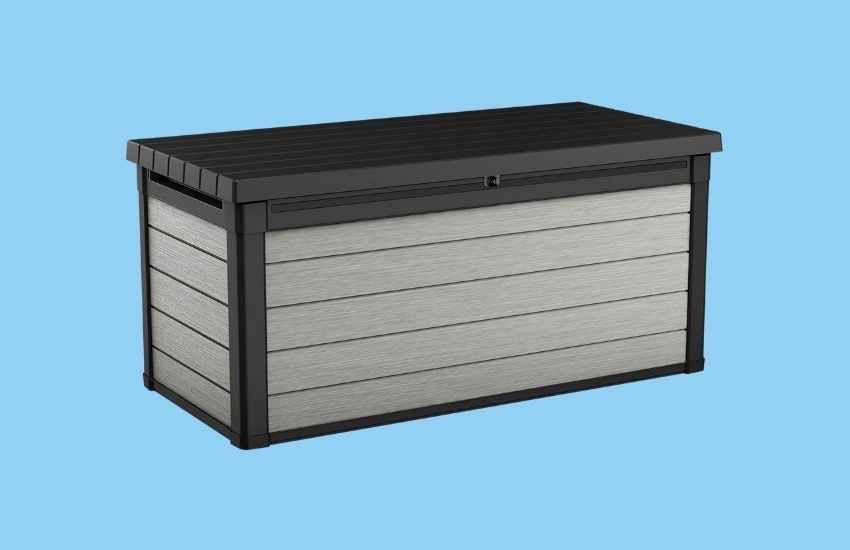 Essentially Yours Rolling Pool Storage Bin
When it comes to simplicity, the Essentially Yours Rolling Pool Storage Bin nails it. Made of non-corroding PVC pipe, and with walls and bottom of heavy-duty mesh,  this storage bin will help keep all of your pool equipment organized and stored.
The mesh paneling will help your swim stuff to "breathe" and air dry naturally while keeping it from cluttering the pool deck.
Assembling the storage bin is super easy—no additional tools are required.
Takes about ten minutes to fully assemble it and you are on your way to a more tidy pool deck (the ease of assembly is one of the reasons I added this pool storage bin to my list of the best gifts for pool owners).
Essentially Yours offers the bin in two different colors (brown or blue), and the bin has four wheels (two of them locking) to wheel your floats and toys closer to the pool for easy access.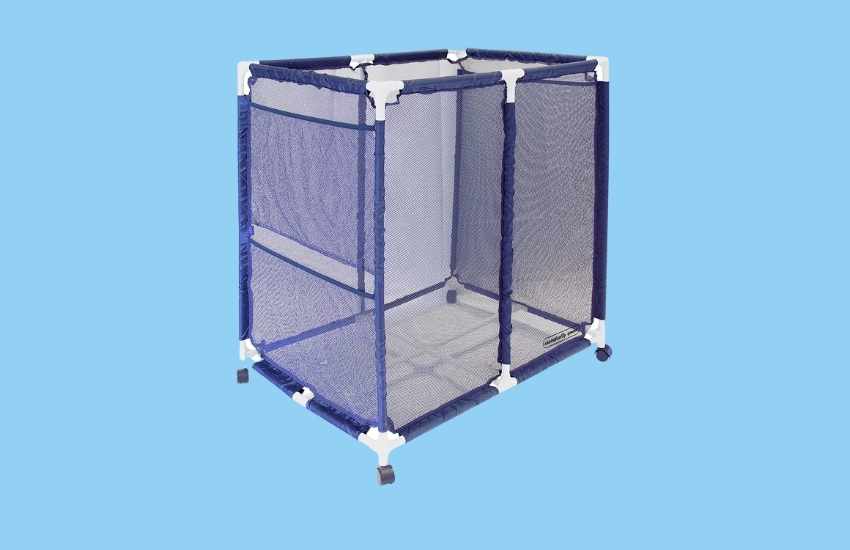 Crosley Furniture Palm Harbor Rolling Pool Caddy
Storing your pool equipment doesn't always have to mean stuffing everything into a bin or box. There are other solutions on the market, including this good-looking pool equipment storage caddy from the folks at Crosley Furniture.
Made with weather-proofed wicker that won't fade or corrode from UV exposure, the caddy is perfect for storing larger items like pool loungers and pool noodles. The front basket holds smaller items like your swim goggles and pull buoy, while floaties can be cleanly stacked in the two vertical shelves.
Four wheels (two with locks to keep the caddy in park when necessary) also mean that you can roll the caddy to wherever you are chilling or playing for easy access.
Crosley Furniture offers the caddy in three different colors (brown, grey, or tan) and they are available via Amazon for around $250 (check Amazon for current pricing and shipping options).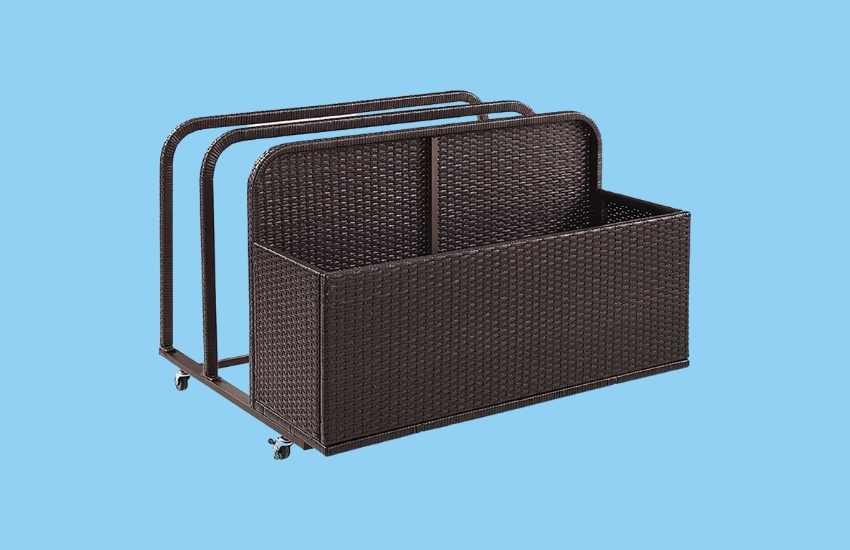 Keter Eden Pool Storage Bench Deck
Another Keter bench/pool storage option is this great-looking option, the Eden Deck Bench.
With a 70-gallon storage bucket under the bench, this durable and weather-proof bench is perfect for poolside storage. The compartment has plenty of room for pool towels, patio furniture, pool toys, accessories, and more.
Constructed of resin, which is an excellent material for outdoor furniture, the bench has two armrests, a back rest, and a lock for standard padlocks.
The weight capacity of the bench is 770lbs and Keter offers them in three different colors, including gray, off-white, and brown. Price-wise, these bad boys are extremely reasonable at around $240 depending on the color you want.