Hit the pool and shower with this hand-picked collection of the best waterproof Bluetooth and floating pool speakers.
Whether you are looking to add music to your swim workouts, want to add tunes to your pool-side fiesta, or just want to hop on your favorite pool float for adults and have a quiet jam session, there is a floating and waterproof speaker out there for you.
For those who are working out in the pool, one option is rocking out with a pair of waterproof headphones. But if you want to bring the music and the party to everyone else, a floating pool speaker is the way to go.
There are a lot of options out there, but there are some key things you should look for:
Durability. Whether you are swimming in your backyard above ground pool or at the local aquatic center, pool chemicals and the general rough-and-tumble of being in the water means durability is paramount.
Waterproof rating. Look for floating speakers that are IPX7 rated. This means they are waterproof and can be completely submerged for three feet for up to 30 minutes.
Battery life. Bluetooth speakers are powered by rechargeable lithium batteries. Length of the charge depends on features and speaker wattage.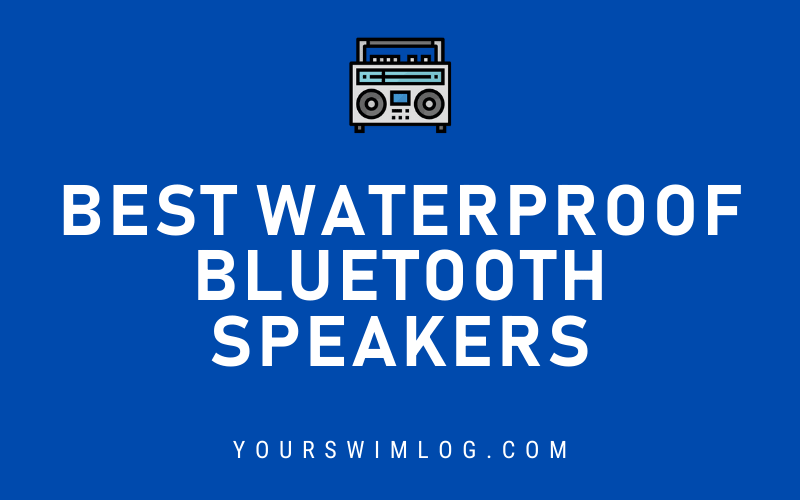 JBL Charge 4 Waterproof Bluetooth Speaker
JBL is well-known for making excellent and high-quality gear for audiophiles, and to be honest, the JBL Charge 4 absolutely thumps. Made with a durable and rugged exterior, the Charge 4 is JBL's premium waterproof Bluetooth speaker.
One of the sneaky-awesome features of the JBL Charge 4 is that you can buy two of them and set them up for two-channels, for a surround sound experience.
See also: How to Listen to Music While Swimming (5 Best Options)
Charges through a USB connection (it doesn't come with wall adapter—you will need to charge through a USB power bar or port), and you can expect around 20 hours of playback on a charge.
Rated IPX7 waterproof
Comes in ten different colors
Connects wirelessly and quickly through Bluetooth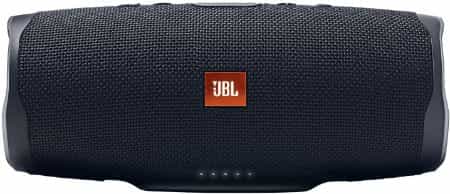 BluFree Waterproof Floatable Bluetooth Speaker
With a 50-foot range, a bright LED light-show popping out the bottom of the speaker, and rated IPX7 waterproof, it's no wonder this floating Bluetooth speaker is a favorite of reviewers and Amazon editors.
With crystal-clear sound and hands-free calling, the BluFree thumps away for up to 8-hours after a full charge. The LED light has seven different color settings and programs, from a softer, slower transition to a high-energy stroke, err, strobe.
Quickly syncs up to your favorite devices, and available in five different colors, the BluFree Waterproof Floatable Bluetooth Speaker will keep the party rocking.

JBL Pulse 4 Waterproof Bluetooth Speaker
What do you get when you take JBL's industry leading sound and combine it with a customized light show? Party-time, that's what. The Pulse 4 packs great sound and a 360-degree LED light show, making it ideal for those days that stretch into nights at the backyard pool.
With a dozen hours of playback/light-show on a full charge, the
Rated IPX7 waterproof
Available in black and white
Charged via USB (no wall adapter included)
By far the priciest on our list of speakers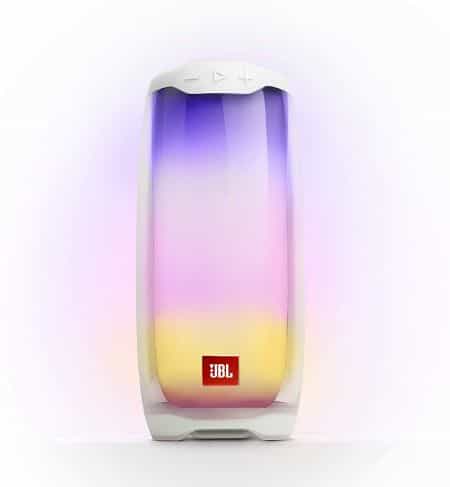 COWIN IPX7 Floating Pool Speaker
Want something that is a little on the cheaper side that has all the functionality?
The COWIN IPX7 Waterproof Floating Pool Speaker is worth a look. A durable, rubberized exterior is designed to take on the elements. Sound comes out a 10-watt speaker that hooks up via Bluetooth to your smartphone.
The top of the floating speaker has 32-color LED light that illuminates the pool with five different color modes that can be programmed at the touch of a button.
With a 12-month manufacturer's warranty, and killer price-point (it's on the low end of cost on our list), the COWIN IPX7 is exceptionally well-reviewed and a great sound and light option for your pool.

Altec Lansing Mini H2O Waterproof Bluetooth Speaker
Altec Lansing is another popular audio manufacturer that has jumped into the floating speaker market. The Mini H2O comes in half a dozen color combinations, is certified IPX7 waterproof, and has a six-hour battery life.
Despite Altec Lansing being one of the more well-known speaker makers, the Mini H2O is exceedingly affordable and punches up in terms of cost and performance.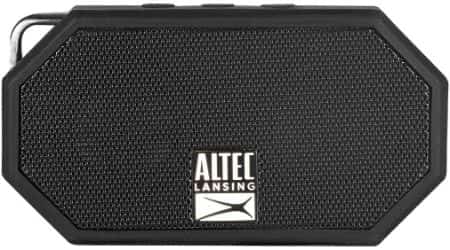 Anker Soundcore Motion+ Waterproof Bluetooth Speaker
A lesser-known name, Anker delivers on uncompromising sound quality and waterproofing with the Soundcore Motion+.
Cased with an IPX7 waterproof exterior, this speaker absolutely levels the room, blasting 30W of sound from two mini subwoofers. Two tweeters and passive radiators help flush out a rich and surround-sound-like, uh, sound.
With one of the longest playbacks of any of our reviewed waterproof speakers, the Anker Soundcore Motion+ stealthily delivers massive sound for almost half the price of more premium speakers.

More Stuff Like This
5 Best Pieces of Swim Pool Exercise Equipment. Get in shape in the comfort of your backyard pool (or the local aquatic center) with our collection of the best pieces of pool exercise equipment.
6 Best Above Ground Pool Fountains. Cool off, drown out neighborhood noise, and level up the look of your backyard swim pool with our favorite pool fountains.