In this ultimate guide to the best exercise equipment for the water and pool, we take a look at some of the essentials to making the most of your aquatic workouts.
There are a heap of benefits to working out at your local pool.
For starters, the low-impact nature of the water means that you can still get a solid sweat-on-your-brow workout without having to put undue strain on your joints.
The pool temperature keeps you nice and cool, and there is all the variety you can think of, from swimming laps, to water jogging, to water aerobics.
Whether you are looking to get in shape solo at the pool or you are joining a class, here are our must-have pieces of water exercise equipment.
Let's go!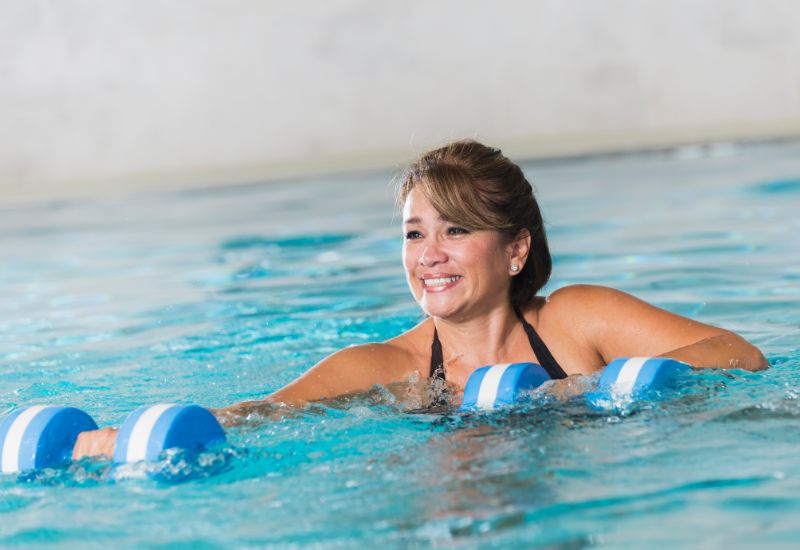 Best Water Aerobics Equipment for Awesome Workouts in the Pool
1. Aqua Dumbbells
Unlike the typical dumbbells you would find in the gym, water dumbbells are super light, made of foam, and exceptionally buoyant. So instead of trying to pick them up, you usually find yourself having to push them down and work to keep them submerged.
The twist on the conventional dumbbell is harder than it sounds: the weight of the water dumbbell hides how challenging it is to keep them submerged and also moving.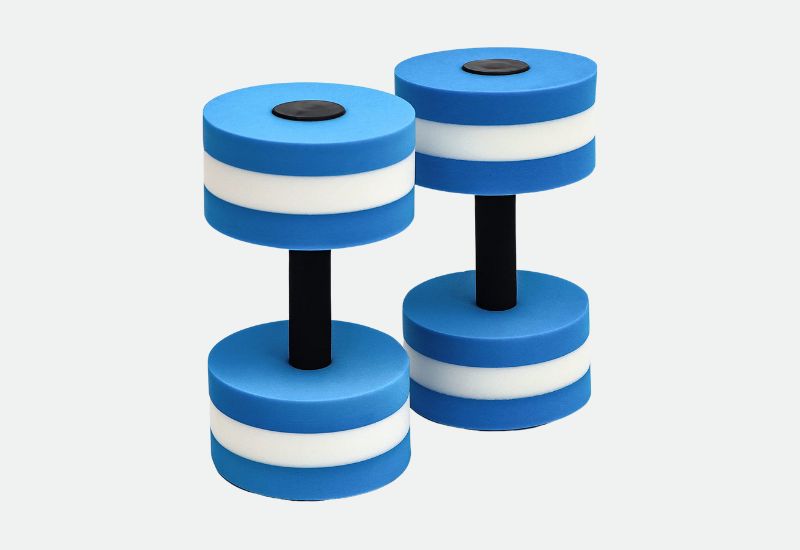 Traditional jumping jacks, shoulder raises, tricep push-downs, and even the classic bicep curl are just some of the water exercises that you can unleash on your body.
Our favorite set?
The simple two-toned aquatic dumbbells made by Trademark Innovations. Made with closed-cell EVA foam, 11" long and 6" wide, these water dumbbells come in eight different color combos.
(Here's a fun safety announcement: Once you submerge these bad boys, fight the urge to release them. They will shoot out of the water like a submarine!)
---
2. Water Jogging Belt.
Want the aerobic benefits of running without the jarring impact on your knees and hips? Water jogging is your ticket.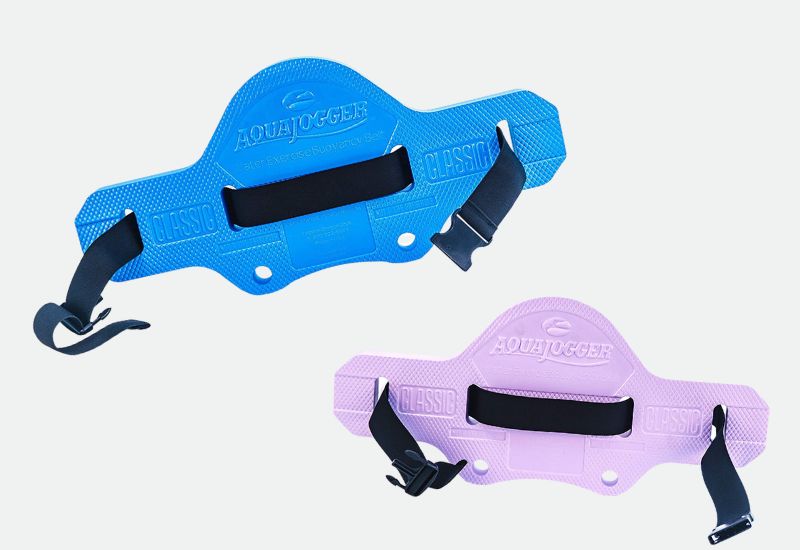 The benefits of aqua jogging are extensive, with studies (Reilly et al, 2003) even showing that runners who train in the deep end of the pool can get a better cardiovascular workout compared to treadmill running when training at low to moderate intensities.
To give yourself a measure of buoyancy while you are pumping away with your legs, wrap a championship belt, err, aqua jogging belt around your waist.
Our favorite water jogging belt is the AquaJogger Classic, and its big brother, the AquaJogger Plus. The latter is designed for heavier people (hence why I use and love it) as it has 2″ thick EVA foam versus the 1.5″ thickness on the AquaJogger Classic.
Both belts are made of a thick, long-lasting foam that doesn't chafe your back, or ride upwards as you are working out, whether it's in the deep end or when doing water aerobics.
---
3. Pool Noodle
Pool noodles can play just about any role you can think of in the water.
It's a toy for kids to play with (and usually slap each other silly with), it's a great swimming aid for kids who are getting comfortable in the water, and it's also a flotation and resistance device for adults who are doing water exercise.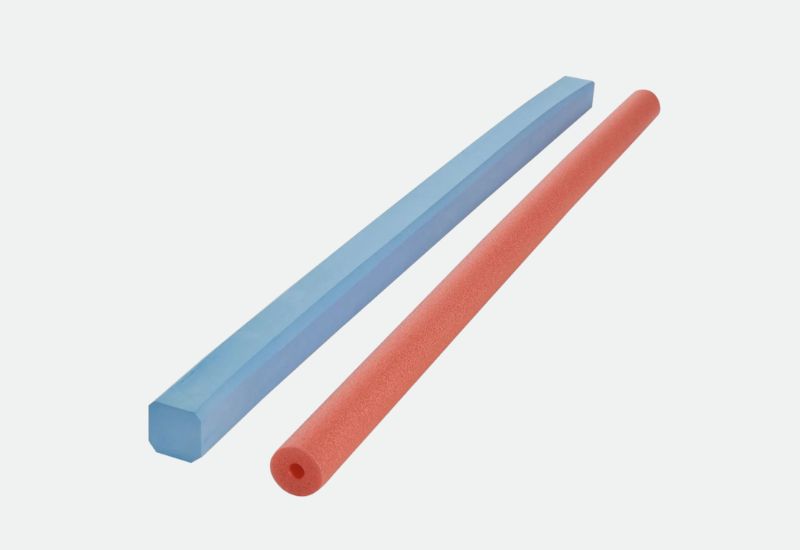 The exercises you can perform while using it are endless. From noodle tucks to noodle twists, grabbing your best pool noodle and hopping into the water will give you a workout that is only limited by your imagination.
Sporti Fitness makes an awesome two-pack of pool noodles that are made of EVA foam. The circular noodle is 60″ long, with a hollowed-out core that is flexible and easy to bend, while the square noodle provides more buoyancy.
---
4. Swim training gloves
While more seasoned swimmers will recognize these as a variation of the classic swim paddle, aquatic webbed gloves are a great way to increase resistance while water jogging, doing water aerobics, or performing whatever other kinds of aquatic exercise you can think up.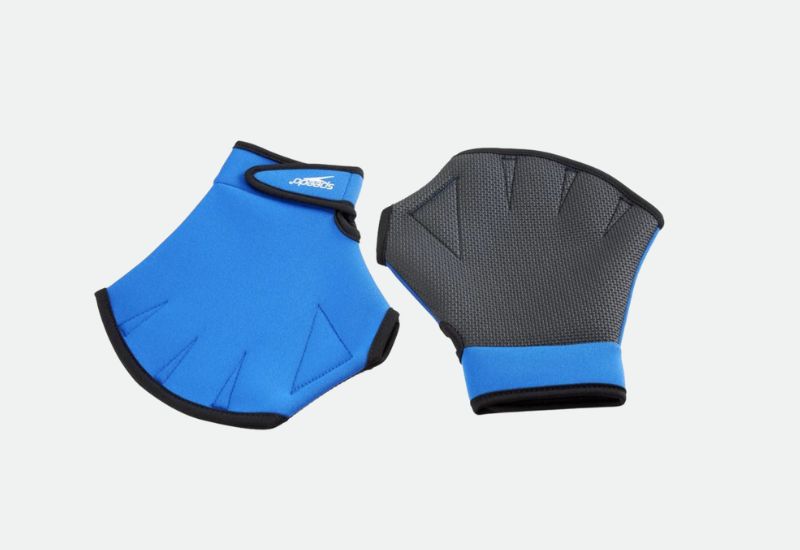 When choosing the right swim gloves for you, there are a few different things to consider, including whether you can tuck it into your wet-suit (helpful for chilly pools or working out in a river, lake, or ocean), open or closed fingertips, and adjustable wrist straps for a secure fit.
Our top pick for swim training gloves is the ones made by Speedo, which come in four different colors, four sizes, and a Velcro wrist strap that is a cinch to zap on and off.
---
5. All-in-one Water Exercise Equipment Bundle
Looking for an all-in-one water exercise equipment bundle?
TYR, one of the leading companies when it comes to making apparel and gear for swimmers and water sport athletes, has you covered with a set of gloves, dumbbells, and aqua jogging belt combo kit.
The dumbbells have a uniquely hexagonal shape, with flat edges, which is perfect for the more experienced aqua exercise enthusiast.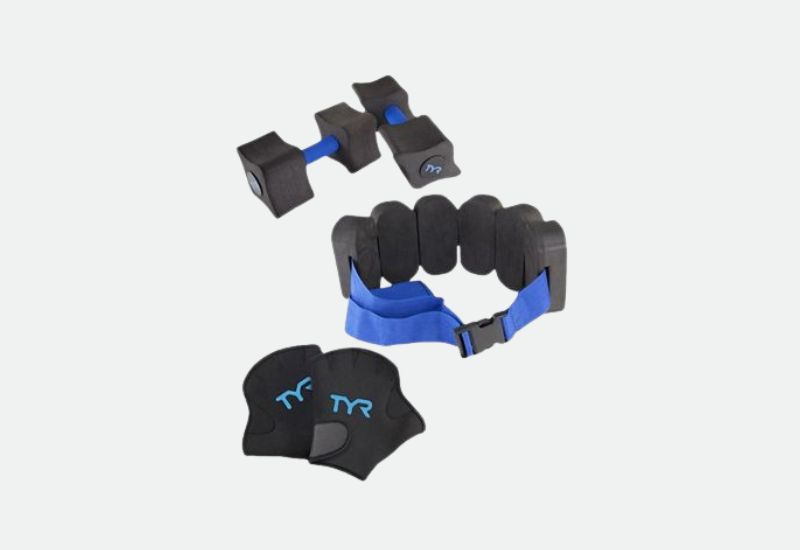 The floatation belt uses a series of foam pads instead of a one-piece foam panel (like the AquaJoggers) which some users find more comfortable as you get a more comfy fit.
And the gloves (sized medium, FYI) have a Velcro strap to quickly secure them onto your hand and a webbed design for pushing and pulling more water.
While the dumbbells and belt are made with closed-cell EVA foam that won't soak up water, it's always a good idea to rinse them off with fresh water after use in chlorinated water to extend their lifespan.
---
6. Water ankle weights
Ankle weights in the water are another great way to crank up the difficulty (and calorie burn!) of your pool workouts.
Water ankle weights work by creating more resistance in the water and are specially designed to simulate added weight on the feet.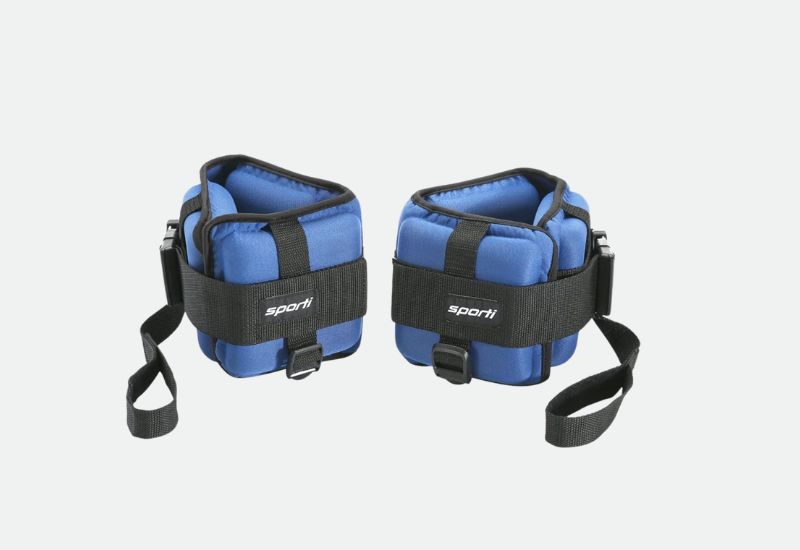 Sporti makes an excellent set of Buoyancy Aqua Cuffs in two resistance levels, medium and hard.
They are made with foam, wrapped with neoprene and have adjustable straps to get that secure fit on your ankles.
Tip: Strap them under the bottom of your feet to keep them from riding up your leg when working out in the pool.
Sporti offers them in pairs, and the medium aqua cuffs (pictured above) give you the sensation of wearing 5-10lb ankle weights on your feet in the water.
Guaranteed to increase the intensity of your workouts!
---
Pool Exercise Equipment – FAQs
What is the best way to exercise in a pool?
Swimming laps is the best way to get exercise in the water, mainly because of the pulmonary benefits. Swimming requires you to do controlled breathing, which increases respiratory strength and capacity1.
But for those of us who don't want to get our head wet, or aren't quite comfortable stringing together 20 or 30 laps in the pool, water aerobics and aqua jogging are two excellent options.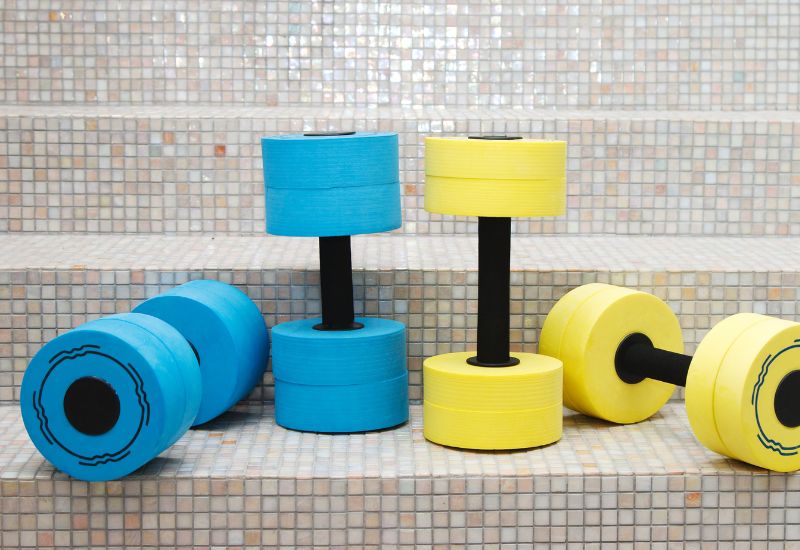 Water aerobics is a truly full-body workout that is a mix of resistance training (particularly when using dumbbells and aqua cuffs) and cardiovascular exercise.
Aqua jogging is an excellent option for people who want a great lower body workout in the water that is very comparable to treadmill running in cardiovascular benefit, without the high-impact of foot strikes.
The best way to exercise in a pool ultimately comes down to your current fitness level—choose the one that is where you are at right now and make the most of it.
Can you lose weight with pool aerobics?
Pool aerobics are an excellent way to lose weight. Pool aerobics are low-impact, making them safe and an ideal option for older trainees and people looking to avoid high-impact exercise that can be painful to joints and muscles.
Because pool aerobics is done in the water, you can also do these kind of classes more often, further expanding your calorie-burning availability.
Additionally, exercising in a slightly chilly pool can actually burn more calories compared to warm-weather training2.
The Bottom Line
The pool is one of the best places you can go for excellent workouts, whether your goals are calorie-burning, strength-building, or working your way back from injury.
With the right pool exercise equipment, you can make the time you spend in the water even more effective.
Choose the best water exercise equipment for you, head down to your local pool (or your backyard pool), and get your swim on!
---
More Stuff Like This
7 Best Water Shoes for Women. Whatever kind of aquatic activity you are into, here are our favorite water shoes for women.
7 Best Outdoor Pool Storage Boxes and Organizers for Pool Toys. Tidy up your pool by properly storing and protecting your pool toys and accessories. Here's a look at the best options for pool storage boxes and organizers.