Ready to take your workouts in the pool to the next level? Here's a breakdown of the best aquatic ankle weights for cranking things up in the water.
Exercising in the water is simply awesome.
Whether it's in the comfort of your backyard above ground pool or at the neighborhood pool, you get the benefit of minimal load on the joints, the cooling benefits of being in the water, and plenty of variety with forms of exercise, whether you are water jogging or doing a class.
One of the ways to increase the difficulty of your workouts in the water is adding resistance by using ankle weights.
There are a couple of different ways you can do this:
⭐ Waterproof ankle weights. Usually wrapped in neoprene, ankle weights designed for the water have weighted pellets (or something similar) that weigh your feet down.
⭐ Foam ankle cuffs. Foam cuffs work by increasing the surface area of your feet, taking advantage of the drag properties of water (nearly 800x denser than air) to create extra resistance and workload.
Whatever tool you use, there is a waterproof ankle weight or foam cuff for you.
Below is a breakdown of the best water ankle weights, including key features, pricing, and more.
Let's hop on in.
Kiefer Aquatic Ankle Weights
Kiefer is one of the legendary names in the world of swim gear and aquatic equipment. They make kickboards, open water swim buoys, briefcases specifically designed for swim coaches, and those big lane ropes you see in the pool. In other words, Kiefer knows what they are doing when it comes to quality stuff for exercising and training in the water.
The Kiefer Aquatic Ankle Weights are made with a very supple neoprene (the same material you would find on a triathlon wetsuit, for instance) that is soft on the skin and doesn't cause undue chafing and blistering.
Sturdy plastic and Velcro buckles keep the ankle weights in place while exercising and are available in a range of weight options and colors, from 1lb up to 5lb each.
Sold in a pair, they retail for around $30 for a 5lb pair (check Amazon for current pricing and availability) and will have you leveling up your workouts in the pool in comfort.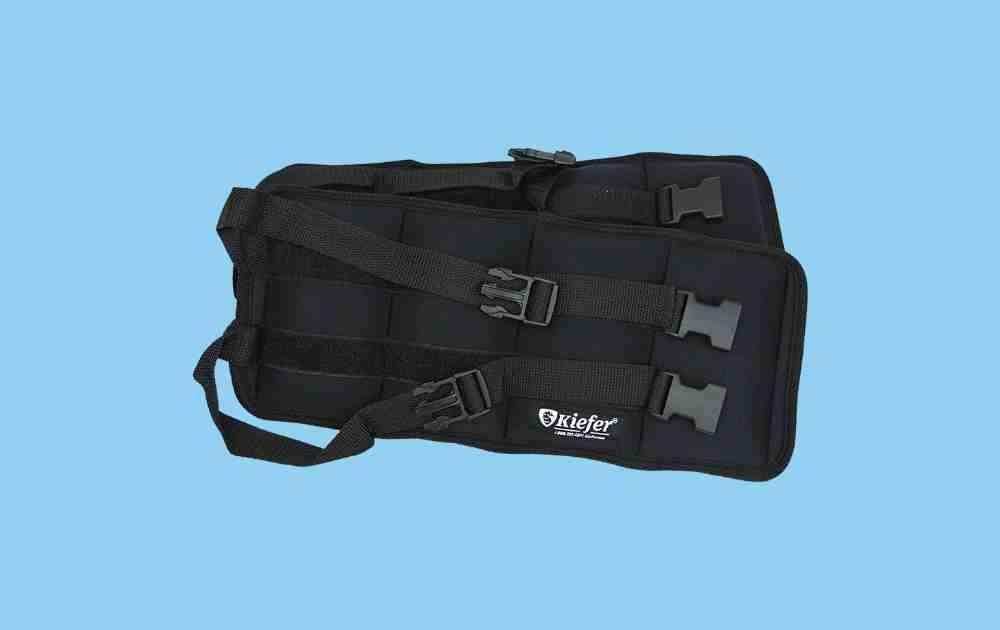 Sporti Fitness Water Ankle Weights
The Sporti Fitness Water Ankle Weights—as you can guess—are made for water enthusiasts wanting to take things to the next level.
The weight pellets are wrapped in a comfortable neoprene that cuts down on pesky chafing of the skin. The weights are secured with a customized fit via two hook and loop Velcro clasps. The Sporti aquatic ankle weights pictured below are 10lb (or 5lb per ankle) but are offered in 1lb and 3lb weights as well.
Ideal for combining with water gloves for water jogging, walking on dry land, or cranking up the resistance at your next water aerobics class, the Sporti Water Ankle Weights are well made, comfortable, and reasonably priced at about $30 through the folks at SwimOutlet.com.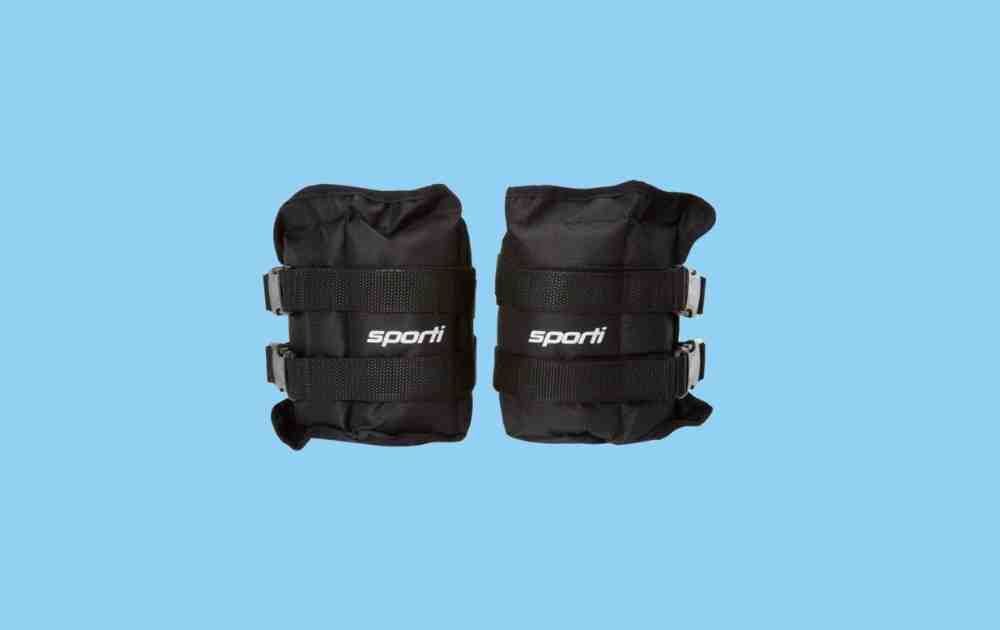 GYMNEIST Waterproof Ankle Weights
I've had experience with GYMNEIST before, having test-driven one of their ab roller wheels (which I quite liked, by the way), and appreciate their quality gear at low prices.
The GYMNEIST Waterproof Ankle Weights delivers as well, with an extraordinarily comfortable and slim profile that holds a weighted gel pad. The weights stay in place through a tough Velcro hook-and-loop system that is also to adjust on the fly.
Whether you are swimming laps, taking a spin class, or simply want to walk around with them, the GYMNEIST Waterproof Ankle Weights are comfy and do the job.
The ankle weights do take a few hours to dry out after use, so remember to hang dry between uses. They are also very reasonably priced, with a 6lb pair (so, 3lb each) costing just around $16 (check Amazon for current pricing and availability).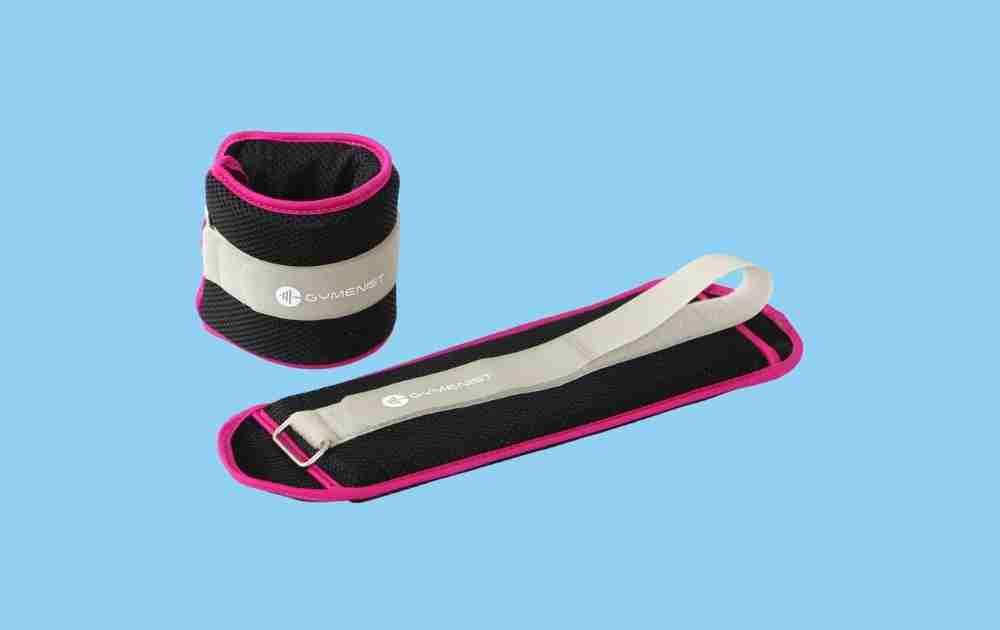 YUIOP Foam Ankle Cuffs
While these aren't technically ankle weights, they do provide a degree of resistance in the water. They are very similar to how aquatic dumbbells work when exercising in the water—the added surface area makes it more challenging to move around in the water, increasing resistance.
Ideal for hydrotherapy, water aerobics, and water jogging, the YUIOP Foam Ankle Cuffs are made of a soft closed-cell foam (the same material as water jogging belts, for example) and are an inexpensive way to make your workouts tougher in the pool.
The downside with these particular foam ankle cuffs is that the straps tend to be difficult to adjust and keep secured to the foam. Reviewers note that you can do some MacGyvering with glue and Velcro to fix this, but it's something you should keep in mind before you head down to the water for the first time with them.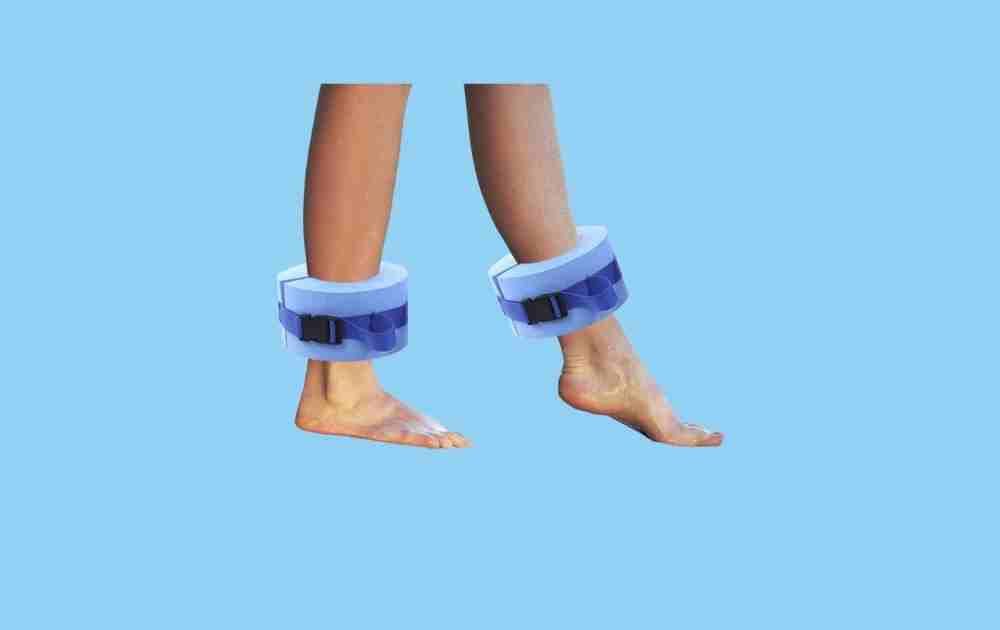 AquaJogger X-Cuff Aqua Resistance Exercise Cuffs
AquaJogger is one of the leading names in water aerobics and water jogging products, with their water jogging belt consistently ranking at the top.
The AquaJogger X-Cuff Water Weights aren't strictly an ankle weight but can be used on your wrists as well. Made of chlorine-resistant EVA foam, they provide the same benefits of the ankle cuffs we just looked at—increasing resistance in the water to help you get stronger and more fit.
Users love these as a way to boost the difficulty of their water aerobics classes, are super lightweight, and can be used on the ankles or wrists as you see fit. Available for about $27 (check Amazon for current pricing and availability), the AquaJogger X-Cuffs is perfect for those looking to get more from their time exercising in the water.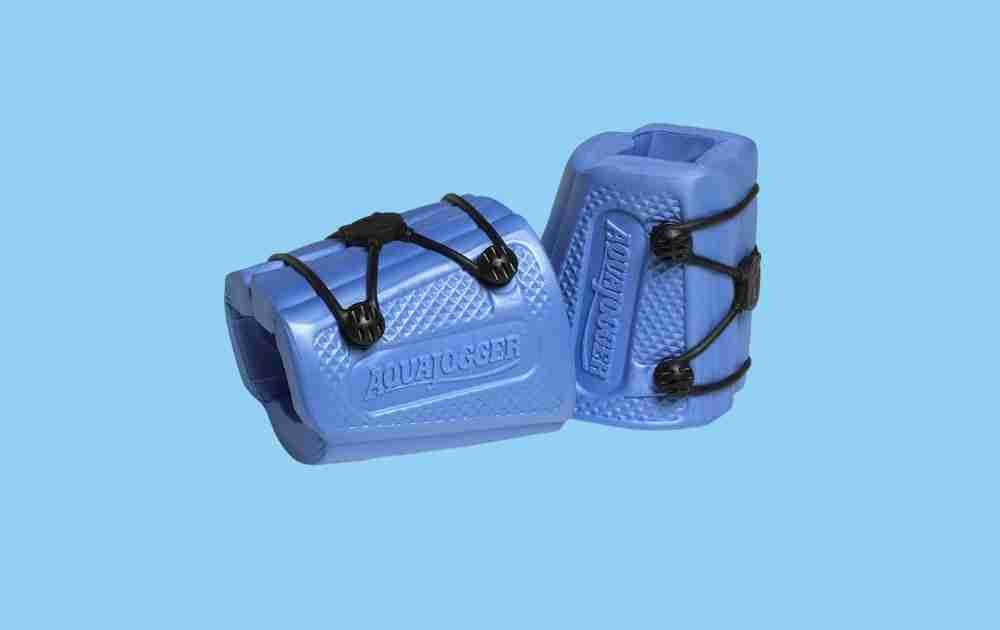 ---
Related Reading
We've covered tons of water exercise equipment here in the past. Below are some recommended resources that you might enjoy.
5 Best Aqua Jogger Belts. The form and function of aqua belts, flotation belts, or water jogging belts—whatever ya wanna call them—haven't changed much over time, but that doesn't necessarily mean that choosing the best aqua belt for jogging is all that simple.
7 Best Water Dumbbells for Water Aerobics. Ready to boost your water aerobic classes with a pair of water dumbbells? Here's a quick breakdown of why they are so effective, as well as a list of the best water and aquatic dumbbells for working out in the pool.
5 Pieces of Exercise Equipment for Crushing Your Pool Workouts. Take your water workouts—whether it's jogging, water aerobics, or any other water exercise class—to the next level with these essential pieces of water exercise equipment.