The form and function of aqua belts, flotation belts, or water jogging belts—whatever ya wanna call them—haven't changed much over time, but that doesn't necessarily mean that choosing the best aqua belt for jogging is all that simple.
That said, the general task of a water jogging belt is straight-forward: Wrap this piece of water exercise equipment around your waist like a championship belt, head on over to the deep end, and engage in some aqua jogging.
The flotation and buoyancy keep you upright so that you can focus on blasting away with your legs, while also keeping your head dry above water (making it ideal to lug along a waterproof music player to the pool, as well). Combined with your favorite pair of water dumbbells you can get a surprisingly thorough workout in the pool.
There are a few different things to consider when picking out the right flotation belt for you:
The level of buoyancy. The amount of flotation needed will vary by your body composition.
How much support the belt provides your back.
The material of the belt.
Overall shape of the belt—is it easy to travel with and carry around?
And of course, general comfort. If you are spending 20-30 minutes jogging with it on, it had better be comfortable!
With decades of experience at the pool, including a sizable amount of time in the deep end using aqua jogging thanks to nagging shoulder injuries from swimming, here are my tips and recommendations for choosing the right aqua jogging belt for you.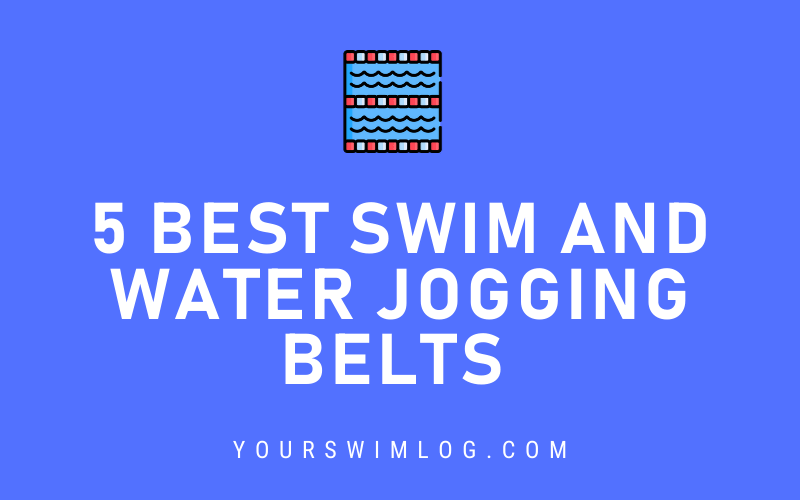 Aquajogger Buoyancy Belt (Best Overall)
The most popular belt of water joggers, the Aquajogger Classic is the O.G. Whether you are doing water aerobics or running, this belt provides lots of lumbar support to keep you upright and focused on crushing your workout. The belt doesn't ride up when you are working out (provided you size it correctly, obviously) and is adjustable.
The Aquajogger Classic fits up to a 48" waist (straps up to 60" are also available separately), has a thickness of 1.5" (compared to the 2" for the Pro Plus below) and is recommended for women and lightweight men.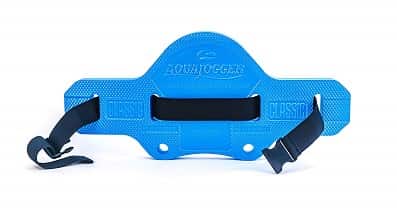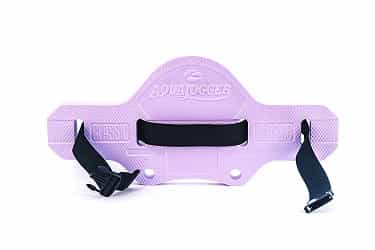 Aquajogger Pro Plus Belt (Best Choice for "Sinkers")
The Pro Plus provides additional buoyancy (50% more than the Classic Aquajogger belt), making it ideal for people who have large, muscular frames. Not all of us have the ability to float easily in the water, and the Aquajogger Pro Plus is ideal for those among us who are more likely to sink than float when they hop into the pool.
The Aquajogger Pro Plus accommodates up to a 48" waist, is two inches thick, with the "buckle" approximately two feet wide.
As someone who is 6'4" and very top heavy, this belt is my go-to pick as it gives him that extra little bit of flotation required to stay focused on churning my legs versus worrying about keeping my mouth out of the water.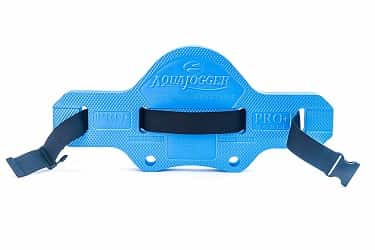 Speedo Aqua Jog Water Training Belt
Speedo is one of the power players when it comes to making anything that has to do with aquatic sports. From goggles to racing suits, Speedo has their chlorinated hands in everything. So, it should be no surprise that they also have their own flotation belt for the water.
The Speedo Aqua Jog training belt comes in two sizes. The small/medium belt is adjustable within a waist size of 25-48 inches, while the large/x-large can fit between 25-56".
In terms of flotation, you are going to get about the same amount of "bounce" as the Aquajogger Classic (the foam thickness is the same for both at 1.5") and the foam is chlorine-resistant. The belt is ready to go out of the box, all you gotta do is tighten it appropriately and off you go.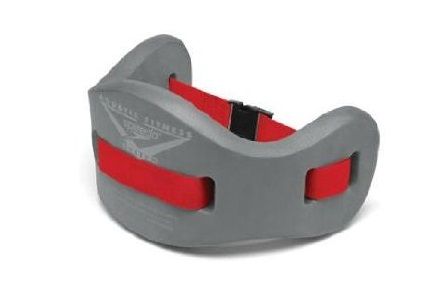 Aqua Sphere Aqua x GT Water Jogging Belt
The name is a mouthful, but the maker of Michael Phelps' line of swim equipment, Aqua Sphere, produces a mean water jogging belt. Unlike the other belts on our little list the foam is segmented, which I find gives a more natural
The design is a little more fancy-pants, with the neon green interior lining, compared to the other jogging belts. Made of neoprene (the same stuff that open water swim caps and wet-suits are made of)le it is super comfortable, this belt is not recommended for people who are naturally "sinkers."