Level up your above ground swimming pool with our favorite accessories for maximum fun and utility.
Once the shine and novelty of your new pool begin to wane, the cleaning and maintenance can begin to feel like a chore. The chlorine tablets, the vacuuming, covering the pool, and on and on. I get it. Owning a pool can start to get old.
Fortunately, there are some awesome pool accessories that you can add to your above ground swim pool to ramp up the enjoyment and pleasure.
Whatever kind of above ground pool you have, there is a little something for everyone on this list.
Sunshade to protect from the sun? Sounds reasonable. How about a waterproof speaker that also lights up? Fun and functionality. You get the idea.
Assuming that you already have the basic necessities, including a pool vacuum , an efficient above-ground pool heater , a small pool filter and a winter pool cover, here are some of our favorite accessories for getting more from your pool.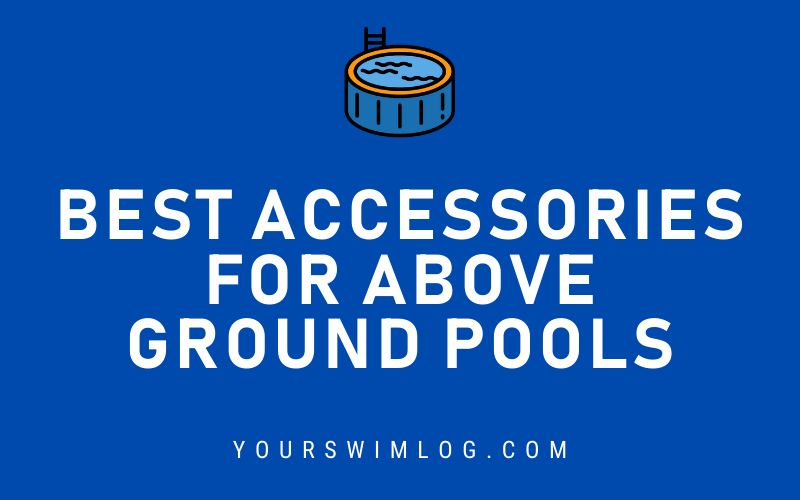 1. Canopy Shade
Our favorite: AquaCabana Floating Pool Shade
Summer is awesome, no doubt about that. But you know what's not awesome? Sunburns.
While the proper application of a good waterproof sunscreen can help, and pool umbrellas are helpful when you are near the pool, putting up a sunshade over your above-ground pool is a guaranteed way to cut down on those pesky day-ending sunburns.
AquaCabana smartly figured out a solution to those of us who can't sit in the sun for eight hours at a time without looking like an overcooked hot dog. Lightweight, made of 22-gauge PVC, and with cup-holders for your drinks of choice, this bad boy protects you from the sun and helps you spend more time in the pool and less time hiding from the sun.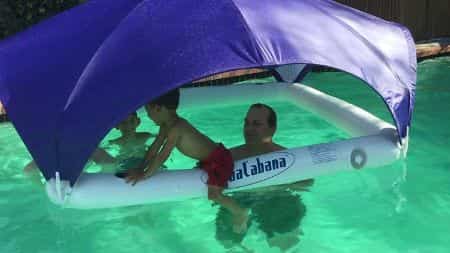 2. Waterproof Bluetooth speaker.
Our favorite: Anker Soundcore Motion+ Waterproof Bluetooth Speaker
Let's be honest, having tunes at the pool instantly makes things better. (Unless your tone-deaf cousin Eddie is at the controls.)
Luckily, you don't need to spend big money on an underwater speaker system for your pool. You can bring big sound to the water with pint-sized waterproof Bluetooth speakers that hook up wirelessly to your smartphone.
Our favorite is the Anker Soundcore Motion+ Waterproof Bluetooth Speaker, which positively thumps. It bangs out 30w of power from two mini-subs at around half the cost of the premium waterproof speakers.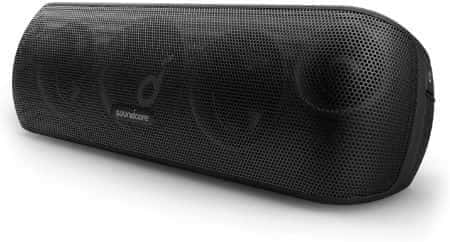 3. Floating LED Lights
Our favorite: LOFTEK Floating LED Pool Orbs
On nights where you have friends over, and you want to dress up your above ground pool for the occasion, through a bunch of floating pool LED lights into the water to light up your backyard.
LOFTEK makes a bunch of them, from small 3" floating LED balls to basketball-sized 20" light balls. Programmable from a remote control, they cycle through a series of color patterns or can be set to solid colors.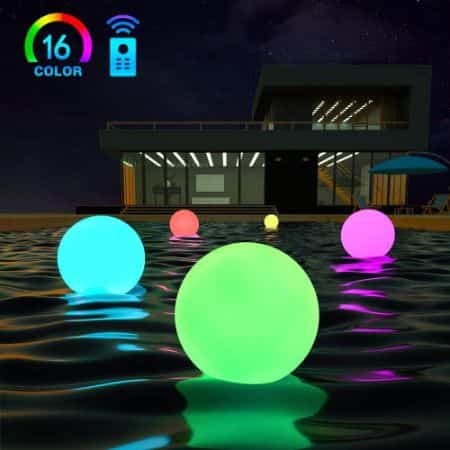 4. Water fountain
Our favorite: Magic Pool Fountain
Part cosmetics, part cooling-off device, you can set-up a water fountain to the side of your above ground pool. The white noise is great for taking a leisurely nap on your pool floatie, and when you catch yourself getting a little too toasty, float under the fountain for a refreshing and energizing blast of cold water.
The Magic Pool Fountain can be installed without any tools and is powered by your pool's pump. At night, bright LED lights create a dazzling light show. Won't quite rival the fountain at the Bellagio in Vegas, but it will do just fine for your backyard pool.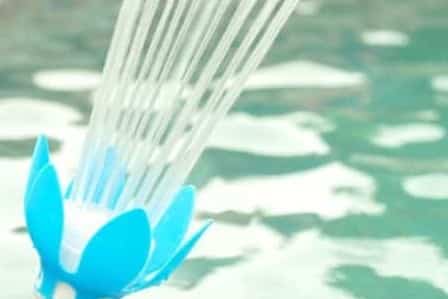 5. Party Island
Our favorite: Bestway CoolerZ Floating Island
Swimming in the backyard pool is best done as a social activity, and nothing quite cranks up the social like an inflatable party island. Made for up to 6-8 adults, with cup holders, sun shades, and a cooler to keep your drinks chilled, a floating party island is a great addition to your backyard pool.
Our favorite party float is made by the folks over at Bestway, who make top-rated pool gear from covers to pool liner. The CoolerZ Floating Party Island inflates in about 15-minutes, has a sun canopy for those extra sunny days, and with extra wide backrests and a removable cooler, you might just find yourself spending the whole day on the water.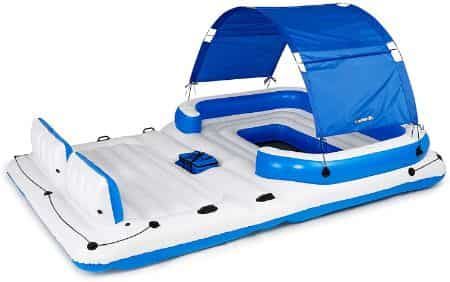 6. Pool Footbath
Our top pick: ObboMed Portable Foot Basin
As you know, keeping your pool clean often feels like a full-time job during the summer. It's not enough to contend with the debris and leaves that nature throws at you, there are the dirty feet of the pool users themselves.
There isn't much more frustrating than spending all morning cleaning out the pool and then watching someone walk across the lawn, dirty feet and all, and hop into the pool.
A pool-side footbath is a great way to mitigate this problem and reduce the amount of dirt, grass, and other assorted ground-goodies from getting into your above-ground swim pool.
Our favorite is the ObboMed Portable Foot Basin. Although designed more for therapeutic uses (soaking your feet at the end of a long day), this puppy does equally a great job as a foot rinsing station. Just fill it up and put it beside the ladder to the pool and away you go—cleaner water and less cleaning coming right tup.

7. Drink holders
Our favorite: GoPong Beer Pool Pong Racks
A lot of above-ground swimming pools have one startling limitation—nowhere pool-side to put your drinks. Keeping everyone properly lubricated is a key way to keep everyone happy and enjoying the backyard pool. But where to store your beverage when you are splashing around?
On your GoPong Beer Pool Pong Racks, that's where. Having a pool beer pong inflatable is not only a great way to level up the competitive fun in the water, but when not going back and forth in epic battles of pong, these inflatable racks are perfect for holding your drinks.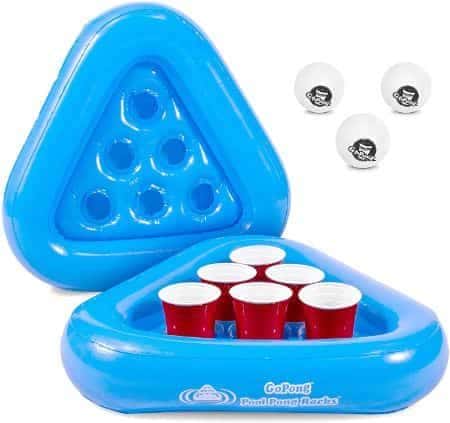 ---
More Stuff Like This
6 Best Floating Pool Chemical Dispensers. Keep your swimming pool and hot tub crystal clear and clean with our favorite picks for the top pool chemical dispensers.
8 Best Pool and Water Shoes. Protect your feet in and out of the water with our collection of the best waterproof shoes for conquering the elements.
5 Best Above-Ground Swim Pool Liners. Ready to fix and replace the pool liner in your above-ground swimming pool? Here is a collection of cost-effective and durable pool liners for maximizing the life of your pool.
6 Best Solar Swimming Pool Covers. A solar pool cover saves energy, keeps your pool clean, and regulates the temperature of the water. Here is a breakdown of our favorite solar swim pool covers.