The Intex Ultra XTR is one of the—if not the—best above-ground pool for most families. Here's a deeper look and review of the Intex Ultra XTR swim pool, key features, and whether or not it's the right pool for you.
There are some key features of summer that we can all agree are awesome: longer days, ice cream trucks, and days lounging by the water catching rays.
Fortunately, we don't need to go down to the river or the local aquatic center to get our splash on—the Intex Ultra XTR pool set gives you a lot of the perks of your favorite watering holes with the convenience of being able to step out into your backyard.
Affordable, extremely well-built, and including just about everything you need to get splashin', the Intex Ultra pools come without the expense of additional labor and excavation that comes with an inground swim pool. It's also the best Intex above-ground pool in terms of features, size, and functionality.
Here's a deeper look and review of the Intex Ultra above-ground swim pool.
Let's jump right in.
The Ultra XTR – Intex's Top of the Line Backyard Pool
Intex is one of the leading manufacturers of backyard pools.
Whether we are talking about inflatable kiddie pools, above-ground pool accessories, or pool slides, if it's wet and fun, Intex has something for you (?  "Intex gonna give it to ya" ?).
The Intex Ultra XTR is their top-of-the-line above-ground swimming pool. It has the most features, sizes, and shape options of all of their backyard pools.
Compared to the Intex Easy Set, Metal Frame, and Prism Frame pools, the Ultra XTR is built to last with a three-ply liner and a sturdy frame made of galvanized steel.
As you can probably guess, it's also their priciest pool, but as you will see, with all of the included equipment and goodies, it's actually also your best value.
Let's take a deeper look at what sets the Intex Ultra XTR apart from the rest.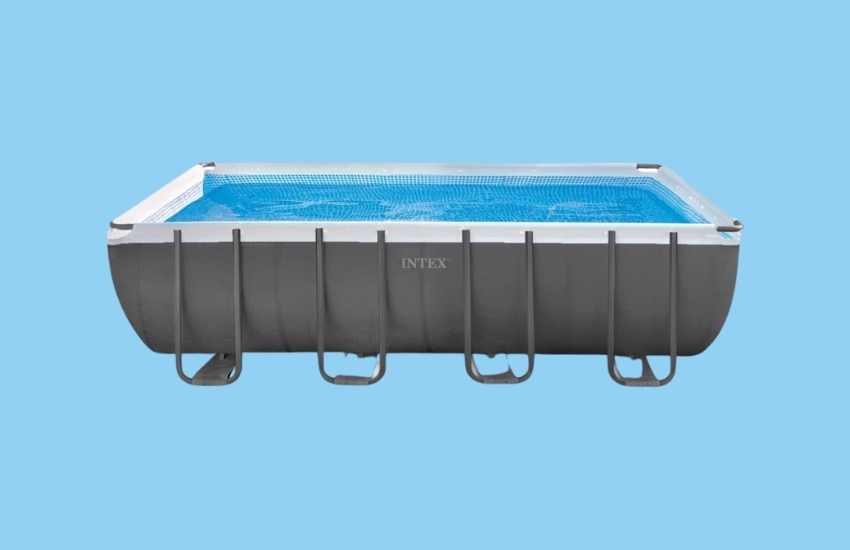 Intex Ultra XTR Pools – Reasons to Buy
There is a lot to love about these pools.
Here are some of the highlights:
Available in both round and rectangular shapes.
The Ultra XTR is among the largest above-ground pools on the market, with a maximum length/diameter of 32ft. The pools start at 16ft in diameter or length.
Size ranges: 18, 20, 24 diameter for round pools; 18, 24, 32 length for rectangular pools.
Pool cleaning is made easy with the included pool pump.
Each Ultra XTR ships with the Intex Krystal Klear pool pump and filter to automate a lot of the pool cleaning and maintenance.
The pump is 110-120V with a flow rate of 2,100 gallons per hour. The Krystal Klear also has a patented aeration feature that makes pump maintenance easier.
While a pool pump doesn't do everything, it does help considerably with cleaning and cycling pool water so that you can spend more time enjoying the pool and less time cleaning it.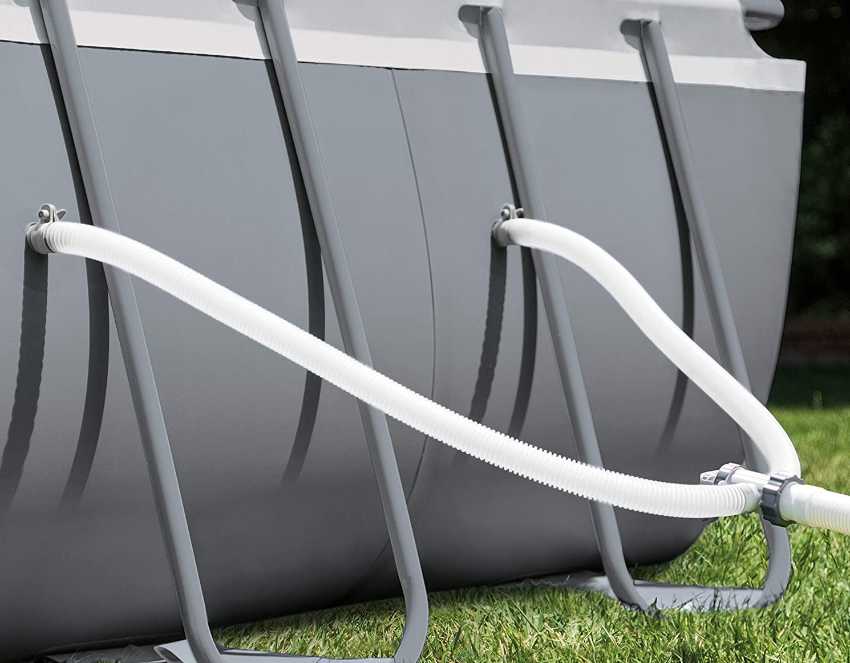 No tools are required for setup.
Doesn't require additional tools—the snap and lock system uses push-button connectors to lock in the supports and walls of the pool. The steel frame evenly distributes weight so that it has a degree of flexion in the walls and frame (which is a good thing—a little "give" means it can absorb use).
The liner of the pool is exceptionally tough.
The liner is a three-ply material that is highly resistant to both rips and punctures. Composed of a blend of polyester mesh and extra-thick PVC nylon, it's designed to take a ripping. A ground cloth is also included to further protect the liner on the bottom of the pool.
Stunningly durable.
Above-ground pools don't always have a reputation for sturdiness. A three-ply liner pool liner and a steel frame can withstand moderate to heavy use over the course of multiple summers. The frame is constructed of a series of steel tubes that have been galvanized in and out to eliminate rusting and corrosion, extending the lifespan and strength of the pool frame.
Easy on the eyes.
The backyard pool can quickly dominate the visual space of a backyard. For this reason, it's nice to have an above-ground pool that is not only sturdy and provides lots of fun, but doesn't stick out like a blue thumb. The Ultra XTR looks good, with a flat gray exterior that matches most yards.
Two-year warranty on the liner, frame, and pool pump.
Durability is always a concern when it comes to these types of swimming pools, but Intex stands behind their pools with a two-year warranty on the main parts of the pool, including the pool liner, steel frame, and pool pump.
Peace of mind matters when investing in a swim pool, and unlike some of the cheapo brands that populate Amazon and other online retailers, Intex stands behind their pools.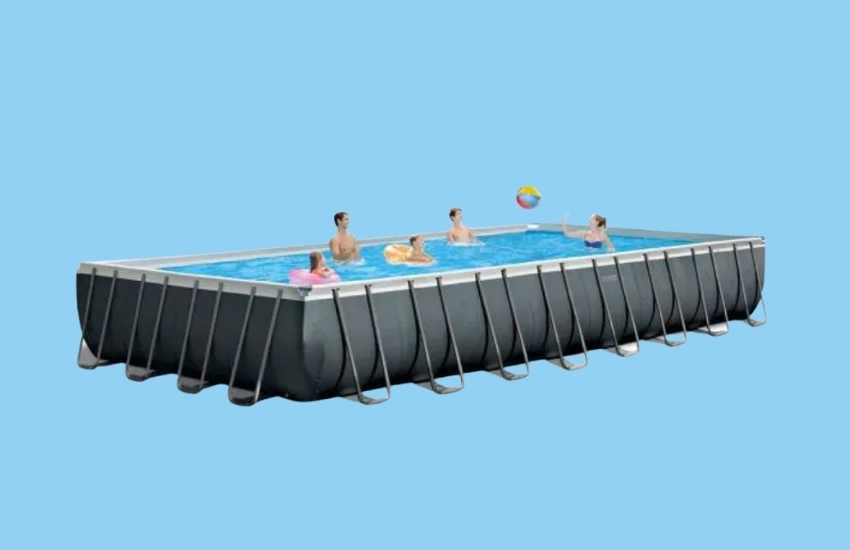 The Intex Ultra XTR Comes with (Almost) Everything to Get Started
The Intex Ultra XTR Pool Set is designed to be exactly that—a set.
Included with each above-ground pool:
Ladder to help you get in and out of the pool (you may want to upgrade this—the pool ladder does wobble a little for adults).
Ground cloth for installation. The cloth helps protect the bottom of the pool against any accidental tears and rips from rocks, roots, etc.
A pool cover to keep debris from entering the pool and pool chemicals from blowing off. The cover also helps keep the water temperature comfortable overnight.
Krystal Klear Sand Filter and Pump. One of my favorite pool filters on the market, the Krystal Klear can be programmed to run to keep the pool water clean and ready for action all summer.
That said, there are some things you will need to get in order to maintain the pool.
How the Intex Ultra XTR Pools Could Be Better
The Intex Ultra XTR is a great pool.
No doubt about that.
But to truly make it an ultra pool there are some things they could do to improve upon.
For starters, an easy upgrade to make cleaning the pool easier is a basic cleaning kit.
These cleaning kits aren't that expensive (around $50—here's a link to a pool cleaning kit that Intex makes that is designed to work with the Ultra XTR), and would seem like a no-brainer to include with the pool.
Additionally, the pool ladder is a little wobbly for adults. Children and young adults should be fine to climb up and down on it, but for adults, there is definitely a wobble to it. Make sure to set the ladder on solid, level ground.
Intex Ultra XTR – Final Verdict
Ultimately, the Ultra XTR (see what I did there?) is an amazing pool.
For families who want a sturdy pool for summertime fun. For swimmers who want to do casual (albeit short) laps in the backyard.
It's tougher and sturdier than the other above-ground pools on the market. Gives you a full range of size and shape options. And each pool includes a solid amount of cleaning and maintenance equipment to keep your pool running optimally.
Pick up your own Intex Ultra pool at Amazon and crank up the backyard fun this year. Click here to check Amazon for current availability and pricing.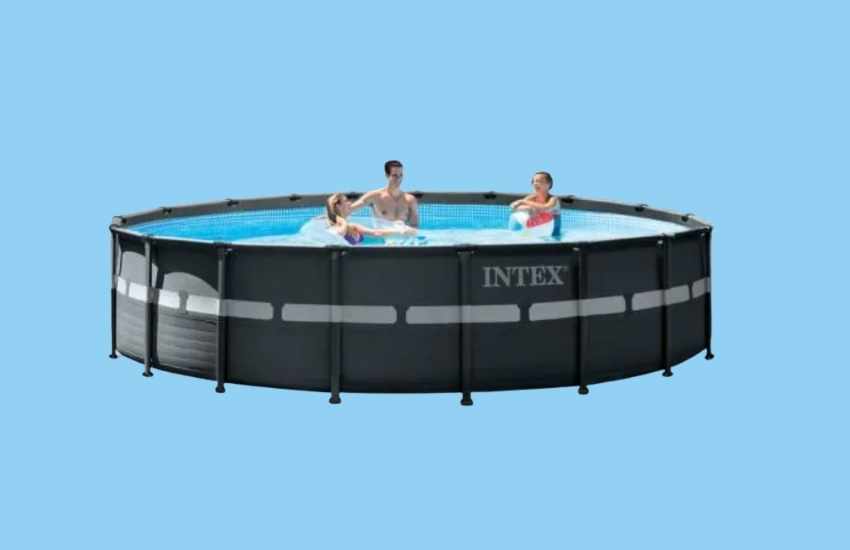 ---
More Pool Buying Guides
6 Best Above-Ground Pools for Every Budget and Backyard. Looking to pick up a new above-ground swimming pool? Here is your ultimate buyer's guide to the best above-ground swim pools.
The Best Above-Ground Rectangular Swimming Pools for Endless Summer Fun. Ready to get your splash on? Here's a detailed look at the best rectangular above-ground swimming pools for every budget and taste.
7 Best Inflatable Pools for Adults and Families. Get the splashing and the fun of a backyard pool without having to build an above-ground or in-ground swimming pool. Here's a breakdown of our favorite inflatable pools for adults and families.
7 Best Accessories for Above-Ground Swimming Pools. Outfit your backyard swimming pool with some of our favorite toys, games, floaties, and entertainment options made specifically for aquatic fun.