Looking for a 12-and-under tech suit for your kiddo? Here's a look at the best U12 racing suits for swimming fast on race day.
Racing suits, or tech suits, are a part of every swimmer's race day plan for crushing those personal best times.
And since September 2020, USA Swimming has restricted the types of racing suits that 12-and-under swimmers can use in competition.
But although 12-and-under swimmers don't get the bonded seams and increased water-repellant fabric of "regular" tech suits, these suits are still plenty fast.
Over the years, I've had a chance to try and review just about every one of them.
The top pick for the best 12-and-under tech suit is the Arena Powerskin ST 2.0 thanks to its durability, vast color choices, and superior compression.
In this guide to the best 12-and-under tech suits, we will highlight the best racing suits on the market, including pros and cons, and illustrate the differences between "regular" tech suits and U12 tech suits so you can buy with confidence.
By the end, you will have a crystal-clear idea of which U12-compliant tech suit is right for your kiddo's swimming.
Let's dive right in.
The Best 12-and-Under Eligible Racing Suits
Arena Powerskin ST 2.0
⭐ Best overall 12-and-under tech suit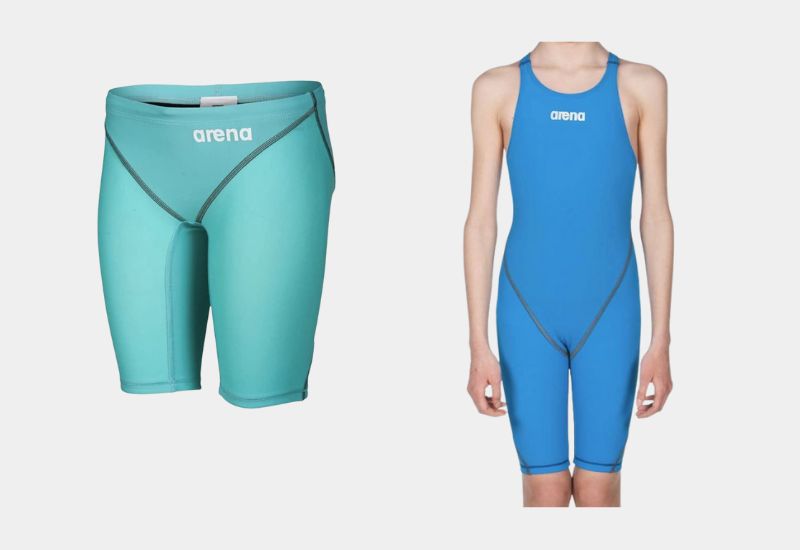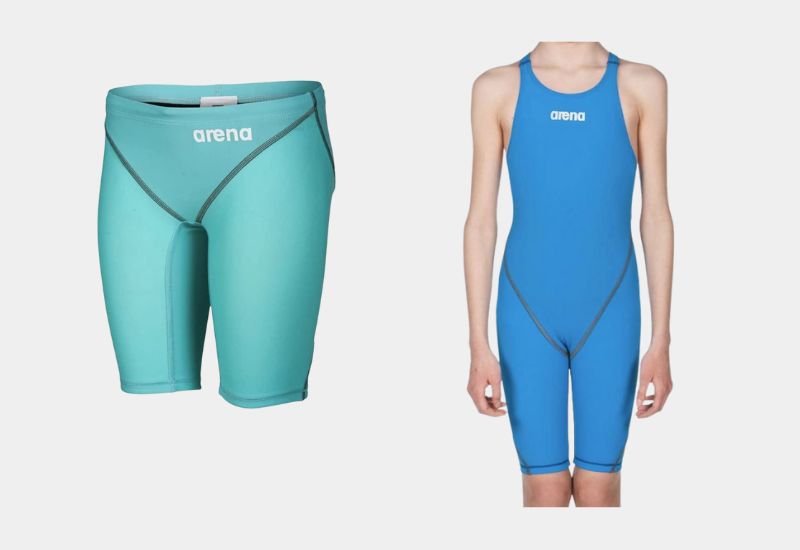 Key specs:
Fabric: 71% polyamide, 29% elastane
12-and-under eligible and FINA compliant
Arena's most long-lasting race suit
Tons of color options
Boys sizes: 22-28
Girls sizes: 22-28
I've long been a fan of Arena tech suits, and the Powerskin ST 2.0 has consistently been my favorite non-super-expensive tech suit over the years.
It's been my tech suit of choice for a few years on practice day suit-up sessions as well as for swim meets that aren't championship meets thanks to the durability, low price point, and excellent fit.
The suit is made of 71% polyamide and 29% elastane (which is the "tech" material in tech suits), has paneling for excellent compression, particularly along the hips, and it comes in a huge array of colors and patterns.
Note: The Arena Powerskin ST 2.0 also topped our list of the best budget tech suits for 12-and-overs.
The Powerskin ST 2.0 gets top marks for its durable construction (you will get more than a few swim meets of use from this suit), the speed-boosting compression, and the vast number of options for colors.
Suit sizes range from boys and girls 22 to 28, and the tech suit is eligible for 12-and-unders and is FINA compliant.
The suit is also very inexpensive, with Swim Outlet often running deals on this suit for $75-100, which is a massive price cut compared to top tier tech suits, which can cost as much as $599.
| | |
| --- | --- |
| ✅ PROS | ❌ CONS |
| Budget-friendly pricing | No closed back kneeskin for girls |
| Tons of color options | |
| Excellent compression | |
| Long-lasting fabric blend | |
---
FINIS FUSE Jr Racing Suit
⭐ Easiest U12 tech suit to put on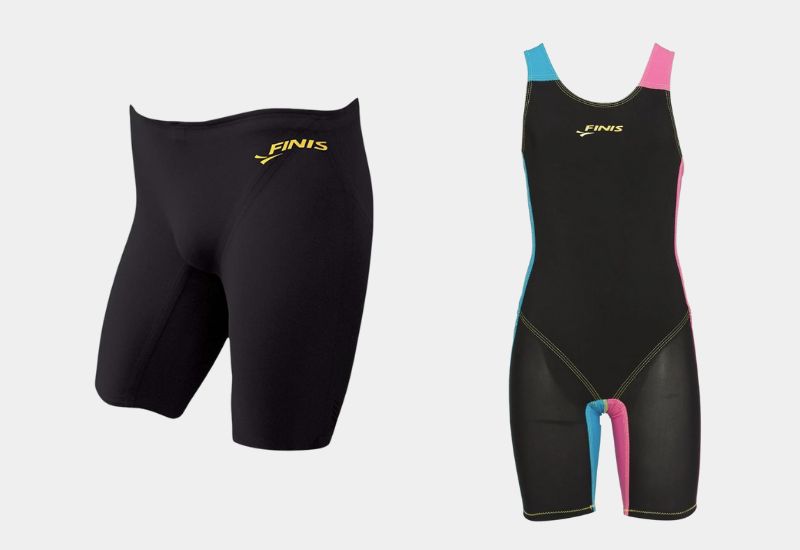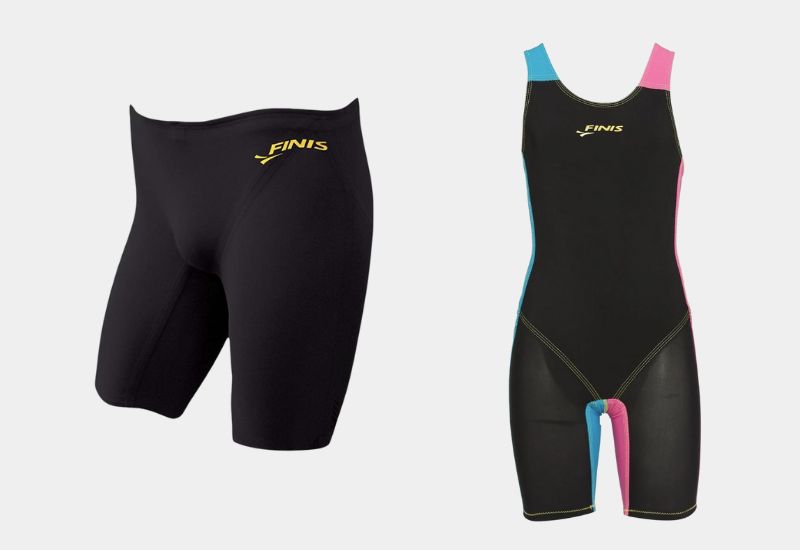 Key specs:
Material: 71% polyamide, 29% elastane
U12 Compliant
Girls sizes: 6-14
Boys sizes: 6-14
FINIS tech suits may not be as popular as the big dogs like Speedo and Arena, but make no mistake, FINIS rocks when it comes to making suits and gear for competitive swimmers.
Whether it's the swimmer's snorkel or the FINIS Duo (the best waterproof headphones on the market), FINIS brings it for the chlorinated athlete.
The Fuse Jr is FINIS' U12 compliant racing suit, available in both a jammer and a kneeskin. It features a 29% elastane/79% polyamide fabric blend, a water-repellant exterior shell, and an inner lining for privacy.
Although the FINIS Fuse Jr doesn't come in a ton of colors (flat black or black with blue and pink accents), it's a quality suit that is relatively easy to slide into with the silicone grips at the bottom of the leg holes that also reduce suit rips.
Like most of the other 12-and-under racing suits on this list, the FUSE Jr is priced to win, with the jammer costing around $70 and the kneeskin retailing for $84.
| | |
| --- | --- |
| ✅ PROS | ❌ CONS |
| Water-repellant fabric (29% elastane) | Limited colors |
| Excellent compression through hips | |
| Silicone leg grips to reduce suit rips | |
---
Speedo Vanquisher Racing Suit
⭐ Most durable 12-and-under racing suit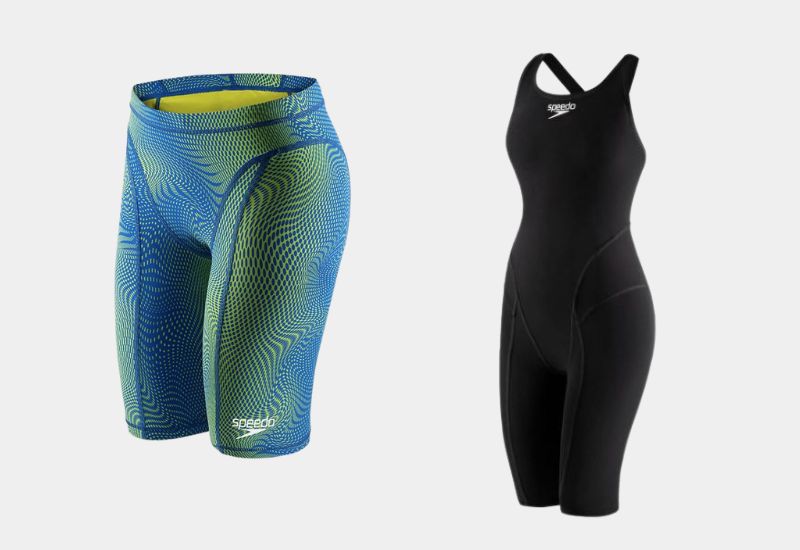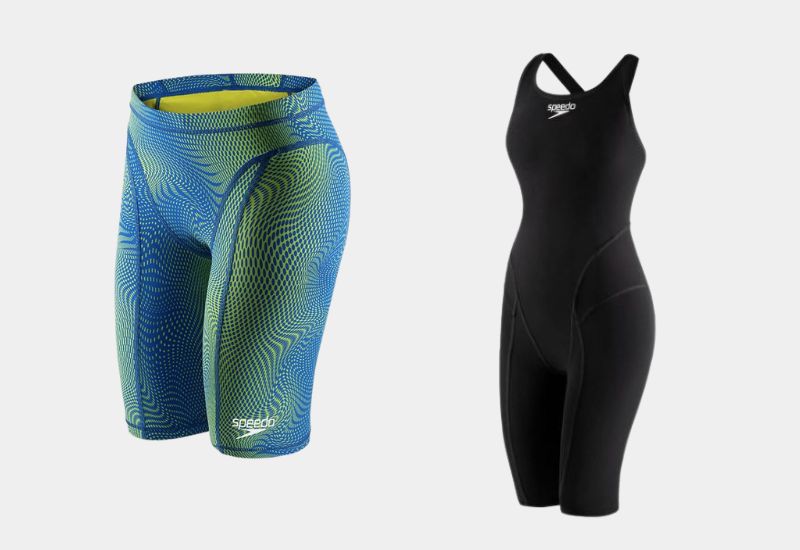 Key specs:
Fabric: 21% elastane, 79% nylon
Boys sizes: 16-36
Girls sizes: 16-36
Not to be confused with one of the best swim goggles on the pool deck, the Speedo Vanquisher 2.0, the Speedo Vanquisher Racing Suit is a budget-friendly and high-performance racing suit made by the most well-known swim brands on the pool deck.
The Vanquisher isn't quite as "techy" as the other suits on this list, with 21% elastane (compared to 29% for the Fuse, Thresher, and Powerskin ST), but the increased nylon means that it will last longer compared to the other racing suits on this list.
The Vanquisher also comes in a massive array of colors and color patterns, giving you lots of flexibility in finding a racing suit that matches your team colors.
The Speedo Vanquisher Tech Suits are on the higher end of the spectrum when it comes to price, with the kneeskin costing approximately $140 and the jammer retailing for $100.
| | |
| --- | --- |
| ✅ PROS | ❌ CONS |
| Most durable U12 racing suit | Not as "techy" as the others on this list |
| Largest range of sizes | |
| Tons of color and pattern choices | |
---
TYR Thresher Tech Suit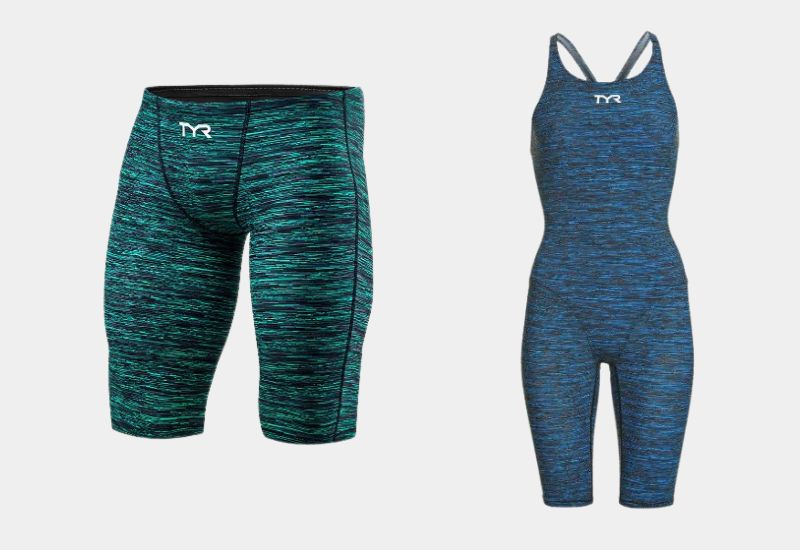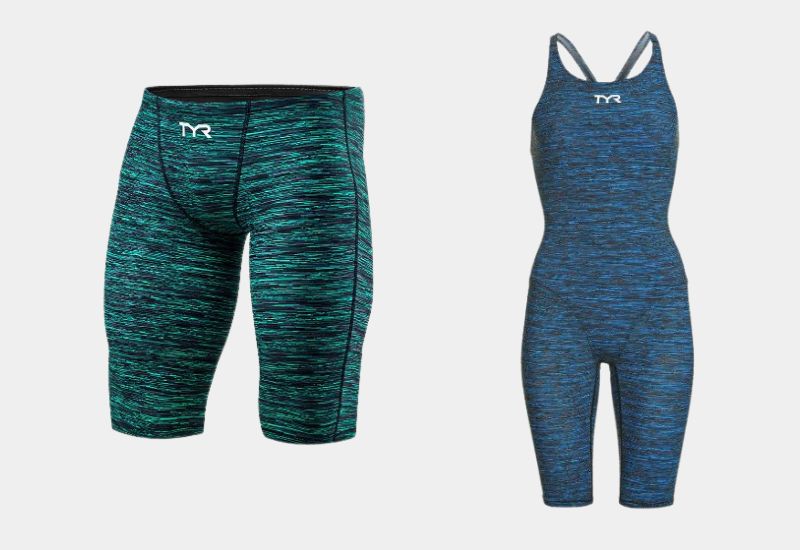 Key specs:
Fabric composition: 71% nylon, 29% Lycra spandex
12-and-under compliant
Girls sizes: 18-36
Boys sized: 18-36
The TYR Thresher has nearly the exact same composition as the Powerskin ST 2.0, with 71% nylon and 29% Lycra making up the tech suit.
The paneling on the Thresher provides generous compression, and the water-repellent embedded fiber helps to cut down on water absorption while racing up and down the pool.
The TYR Thresher is 12-and-under compliant, comes in four different colored patterns, and the fabric is designed to stretch in every direction, giving you a comfortable fit that won't choke off the legs.
The Thresher is also slightly more expensive than the Powerskin ST 2.0, with the kneeskin retailing for $199 and the jammer costing $149.
| | |
| --- | --- |
| ✅ PROS | ❌ CONS |
| Four-way stretch material for a custom fit | More expensive than the ST 2.0 |
| Hydrophobic fiber to stop water absorption | |
| Huge array of sizing options | |
---
Arena Powerskin R-EVO
⭐ Best "classic" racing suits for 12-and-unders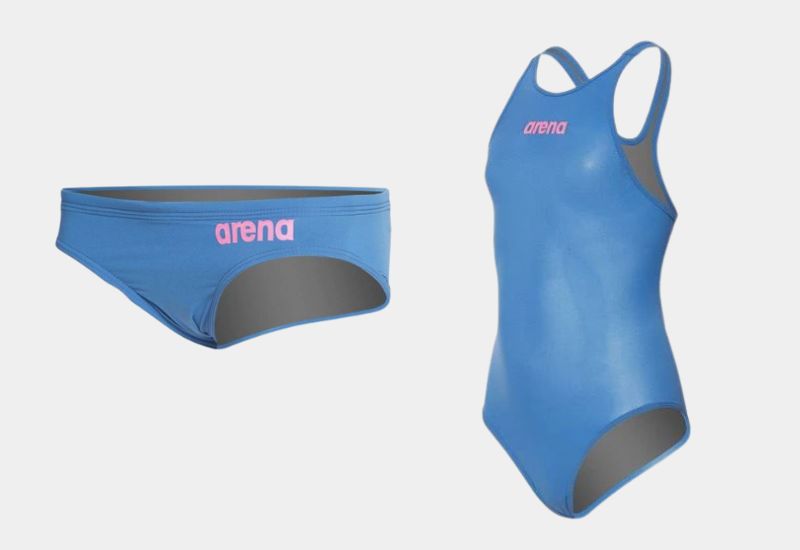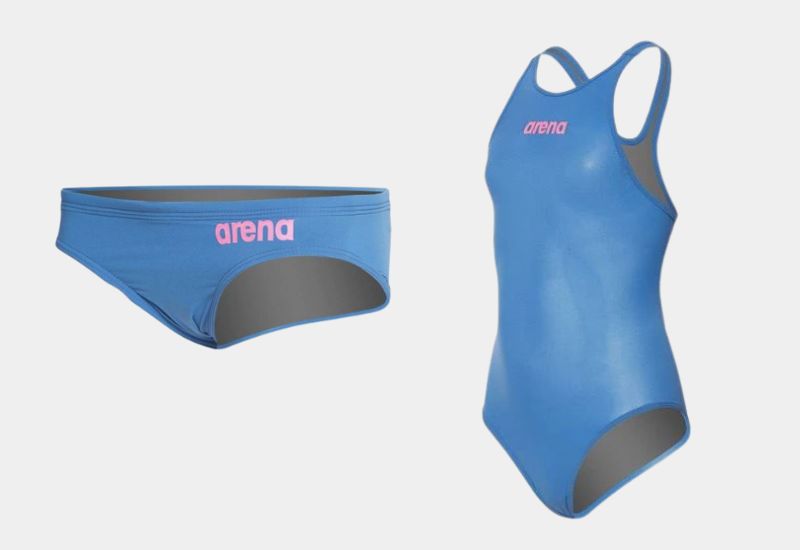 Arena appears again in our list of the best racing suits that are 12-and-under compliant with the R-EVO, which have the classic brief and one-piece swimsuit design for swimmers who don't want a jammer or kneeskin on race day.
The R-EVO comes in just one color combination (blue with a pink embroidered Arena logo), but has 22% elastane in its construction for that "techy" feel typical of racing suits.
Both the R-EVO boys brief and girls one-piece are 12-and-under compliant and FINA approved for competition.
As you can guess with the reduced overall fabric, the Powerskin R-EVO is a more budget-friendly option compared to the other swimsuits on this list, with the brief retailing for just $33 and the one-piece costing $75.
The main drawbacks of this suit include a relatively thin inner liner, which can lead to some, ahem, modesty issues when it is wet. Also, there are very slim pickings when it comes to size availability for these suits.
| | |
| --- | --- |
| ✅ PROS | ❌ CONS |
| Inexpensive | Only one option for colors |
| Perfect for swimmers who want a "classic" racing suit | Thin inner lining |
| 22% elastane; repels water like a boss | Limited size choices |
---
How do I choose the right 12-and-under tech suit?
The key things to look for when searching for the right racing suit include:
Approved suit.
An easy to way to check if the suit is good-to-go for 12-and-unders is by checking to see if it has a FINA logo on the back. No logo, no problem.
Some suits, however, have the FINA approved logo and are approved for 12-and-unders (like the Powerskin ST 2.0, for example).
(USA Swimming also posts an updated list of approved racing suits on their website that you can view here.)
Fabric blend.
Racing swimsuits are made with two types of fabrics:
First, the durability fabrics. They extend the lifespan of the suit and is resistant to both chlorine and UV exposure. These materials include polyester and nylon. The more of this type of fabric, the more durable (but stiff and slower as they absorb water) the swimsuit.
Training swimsuits are made of almost completely of polyester or nylon because they are built to last.
Second is the speed and flexibility fabric, which is water-repellant and stretchy. Lycra Spandex and elastane are the "speed" material in the suit.
They also stretch and thin out quickly, so the more of this material you see in the product description, the shorter the lifespan of the swimsuit.
Most 12-and-under racing suits have a blend of 70% polyester/nylon and 30% elastane to give you the best of both worlds.
Ease of wear.
One of the joys (sarcasm) of tech suits is trying to wrestle into them. For some swimmers, this can take up 30 minutes, which is energy and time better spent preparing for their race.
Tech suit companies have wisened up to this struggle by adding silicone grips and handles on the inside of the openings of the suit.
Look for swimsuits that have these as they will help you roll the swimsuit up your thighs without tearing the suit and without having to spend half the finals session trying to hop, jump and wrestle into it. The FINIS Fuse Jr is the only suit on this list that has this feature, which is typically reserved for more expensive racing suits.
Budget.
One of the reasons that USA Swimming instituted the tech suit ban on youth swimmers was the prohibitive cost of the suits.
When you consider that tech suits can cost upwards of $600 for a swimsuit that lasts 1-2 swim meets, the cost of an already expensive sport gets out of control pretty quick.
Fortunately, 12-and-under swimsuits are significantly less expensive than regular tech suits, costing anywhere from $50 to $199.
How long do 12 and under tech suits last?
12-and-under tech suits, and other budget-friendly tech suits that use woven fabric and sewn seams, last significantly longer than your typical, $400 tech suit.
The main reason for this is that tech suits are made of lots of elastane and Lycra Spandex, which stretches and thins out quickly from chlorine exposure and wear. Because 12-and-under tech suits have more polyester or nylon, they last way longer.
I've had suits like the Powerskin ST 2.0 that I even used as a daily training suit (2+ hours a day, 6x a week) for months. With even a bare minimum of care—rinse the suit with fresh water after wear—these suits can last a long time!
What's the difference between U12 tech suits and regular tech suits?
The main differences between the suits that are designed for U12 swimmers and older swimmers include different seams, different fabrics, and price.
The seams on regular tech suits are sealed to reduce friction and drag while U12 suits have more typical seams that show the stitching on the exterior of the swimsuit.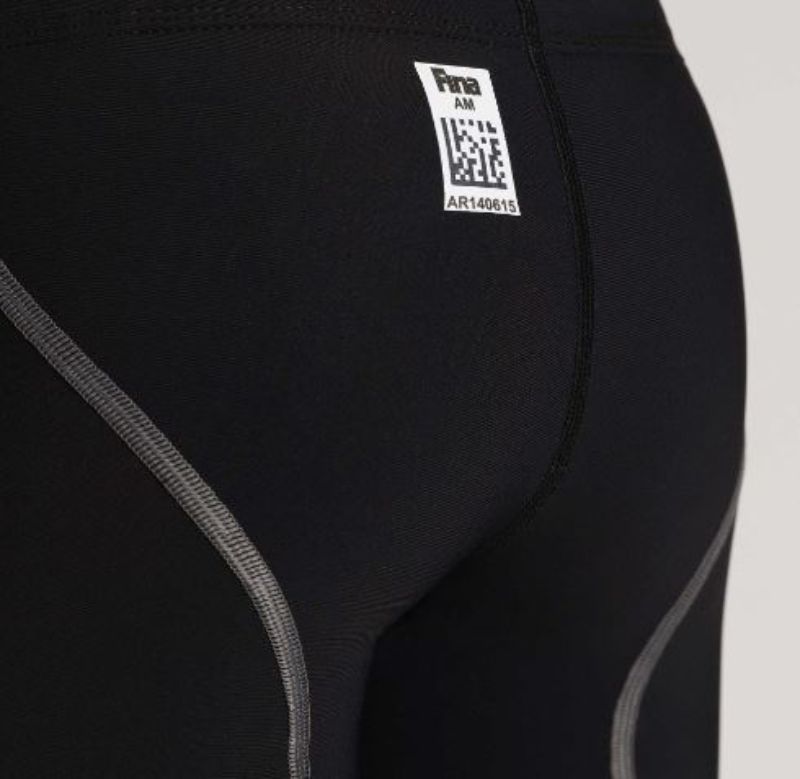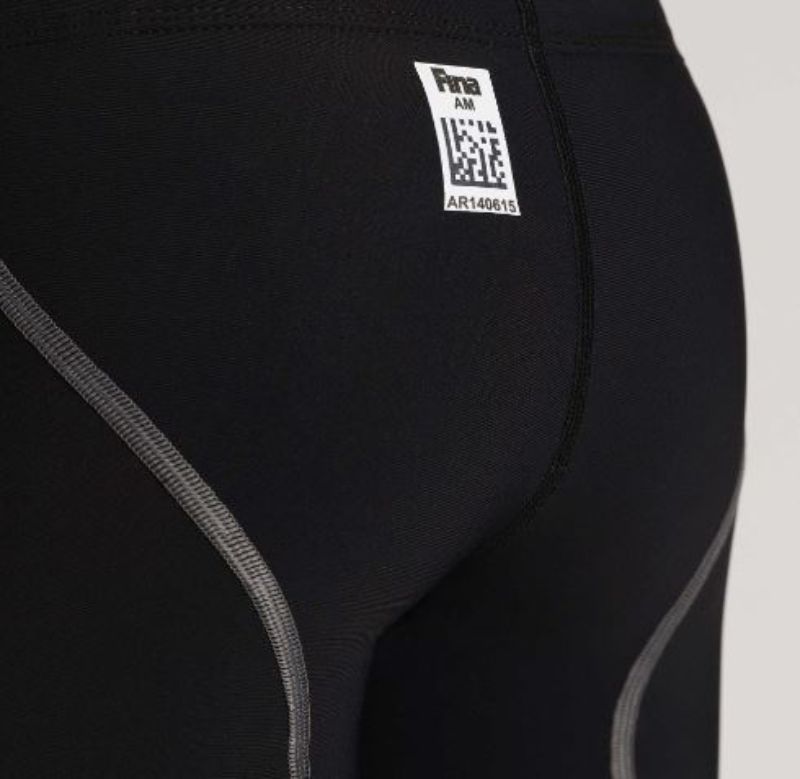 Regular tech suits are made with textile and tend to have a higher degree of elastane of Lycra Spandex, which is the particularly pricey component of racing swimsuits.
Because there is more polyester or nylon in U12 racing suits, they are actually much more durable compared to their pricier siblings.
| | | |
| --- | --- | --- |
|   | Elite Tech Suits | U12 Tech Suits |
| Seams | Bonded seams | Sewn seams |
| Fabric | Woven fabric | Textile fabric |
| FINA Logo | Yes | No* |
| Price | $100-$600 | $50-$199 |
*There are some 12-and-under suits that have the FINA logo and are U12 compliant. If the suit has a green checkmark beside the FINA logo, then it is 12-and-under compliant.
What's the best U12 racing suit?
The Arena Powerskin St 2.0 is the best 12-and-under racing suit due to its excellent compression, durable fabric, and heaps of color choices.
For swimmers that want the ultimate in durability, the increased amount of nylon in the Speedo Vanquisher Racing Suit makes it your top choice for maximum use.
The Bottom Line
There is a lot that goes into swimming fast on race day.
The early morning practices. The distance workouts. And those soul-breaking test sets that never seem to end.
But when it comes to finding the best U12 compliant racing suit, the choices are pretty clear.
Grab the swimsuit that matches your needs, strap it on, and unleash some new personal best times when you hit the water!
---
More Tech Suit Reviews and Guides
What is a Tech Suit? (And Do You Need One?). Tech suits are racing suits for competitive swimmers. Here's a look at what makes a tech suit so "techy", why swimmers wear them, and how they differ from regular swimsuits.
How to Put a Tech Suit On. Here are some best practices for getting into your new tech suit is a little easier, while also protecting the suit from accidental tears and rips.
How Much Do Tech Suits Cost? (67 Tech Suits Compared by Price). Wondering how much tech suits cost? Here's a detailed look at all of the tech suits on the market right now, broken down by price.