Swimmers invest a lot of time and energy into swimming their fastest on race day. One of the ways that we can ensure that our hard work shows up on race day is by having the right tech suit for donkey-kicking the competition and our personal best times.
The technology and fabrics in men's tech suits have developed quickly over recent years, with biomechanical engineers and fluid mechanic experts pairing with suit manufacturers to create the fastest tech suits to hit the water.
There are plenty of excellent tech suits for men and boys on the market nowadays, with a suit to match every stroke, specialty, and budget.
In this guide to the top competitive swimwear for men, we are going to break down the best of the best when it comes to men's tech suits.
Let's jump right in.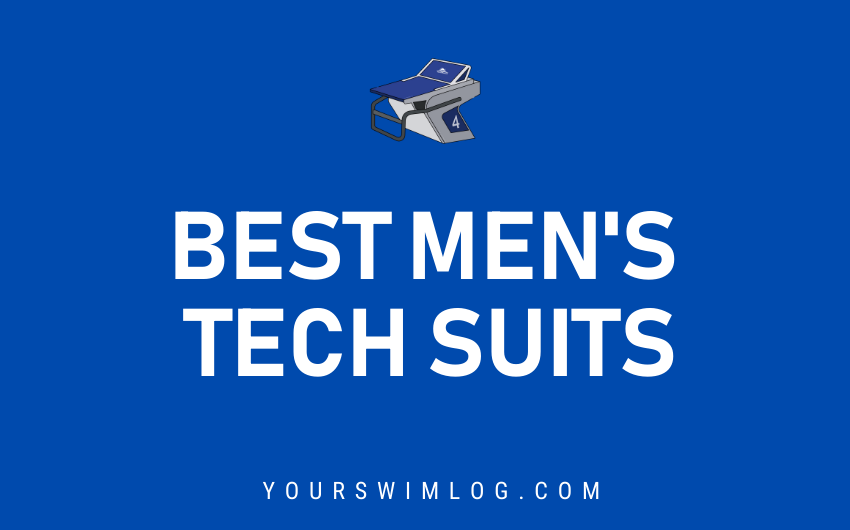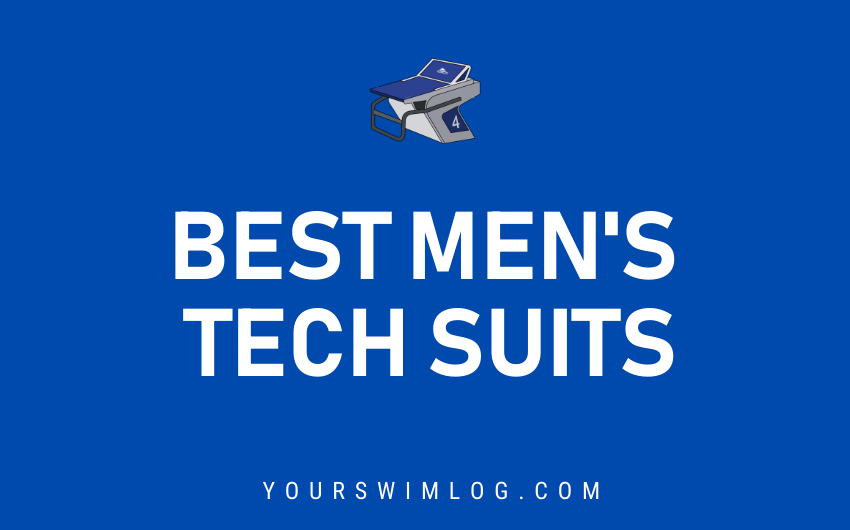 Speedo Fastskin LZR Pure Intent Men's Tech Suit
Built for maximum speed and compression, the LZR Fastskin Pure Intent Tech Suit, one of Speedo's top-tier racing suits for men, is one of the fastest suits in the pool.
Speedo has a long history with making racing suits, with the FastSkin and LZR suits having dominated the final and medal podium at the Olympics for decades.
One of the latest iterations of their long-running racing suits is the Pure Intent, constructed with two layers of fabric that maximize compression, comfort, and of course, speed.
The seams of the suit are bonded to reduce friction and this suit has a slick drawstring closure that reduces any water from seeping into the suit while splashing and dashing towards smashing that personal best time in the mouth.
This suit is definitely a premium tech suit, with the Pure Intent retailing for around $350-400. It comes in a range of color combinations and features a paneled band around the thighs designed to help you power up the kicking motion.
The Pure Intent men's tech suits are best suited for shorter events, making it an ideal racing suit for sprinters, although plenty of my swimmer pals report this suit being just as awesome with stroke events.
Key features:
Best for shorter events
Bonded seams for reduced drag and increased flexibility
Suit construction: 35% Lycra Spandex, 65% Nylon
Specialized waistband and drawstring to reduce water from entering the suit
Available in size 20-30
High waist and standard waist options
FINA-approved
Not suitable for 12-and-under swimmers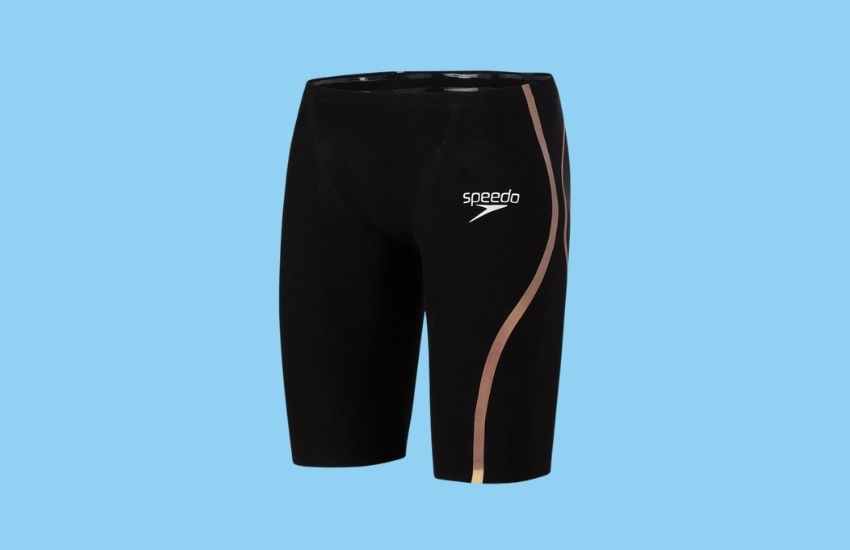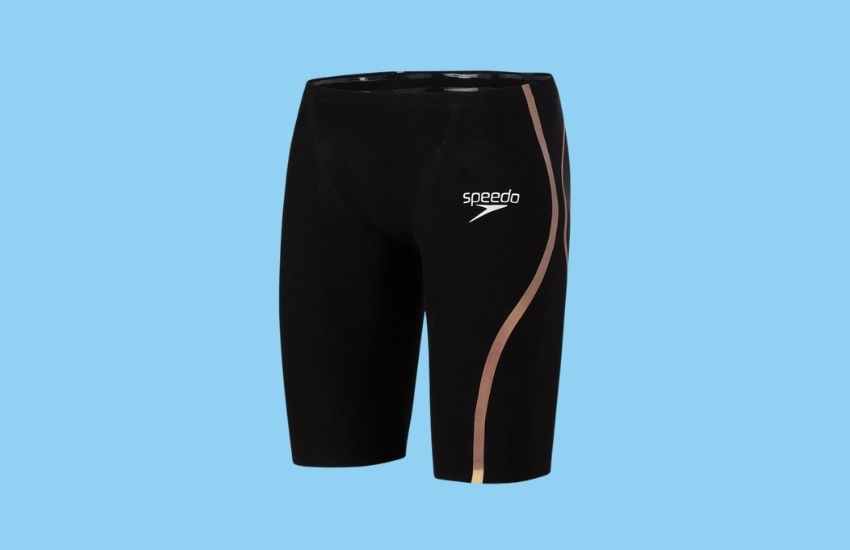 ---
Mizuno Men's GX-Sonic V Multi Racer Tech Suit
Mizuno is better known for making other sports equipment, including baseball and tennis equipment, but their racing suits took the swimming world by storm when swimmers like Caeleb Dressel, Joe Schooling and others wore them at NCAA championships and the FINA World Aquatic Championships in 2016-2018.
Seemingly overnight, these suits were in high demand.
One of two elite tech suits that Mizuno makes for men, the GX-Sonic V Multi Racer is built with hip flexibility in mind, making them perfect for stroke swimmers.
Compression panels line the thighs, provide excellent on both the downward and upward phases of the kick. Made with water-repellency in mind, these suits are in such high demand for a reason: they are blazing fast.
While pricey (the GX-Sonic V Multi Racer retails for around $400, making it one of the most expensive men's tech suits on the market), these suits are comfortable, intuitively compressive, and designed to help you dominate the water in competition.
Another thing I really like about these racing suits is that they aren't as low rise as most tech suits. For swimmers whose butt crack tends to fall out of the back of their racing suit, this slightly more high-waisted design is a bonus.
The only downside is that these suits do fade faster than your typical premium racing suit.
Key features:
Suit composition: 65% nylon, 35% spandex
Sizes range from Xtra-small to Xtra-large
Best for stroke and distance events (choose the Mizuno GX-Sonic ST if you want a pure sprinting tech suit)
FINA approved
Not suitable for 12-and-under swimmers
Available in flat black (pictured below) and vibrant blue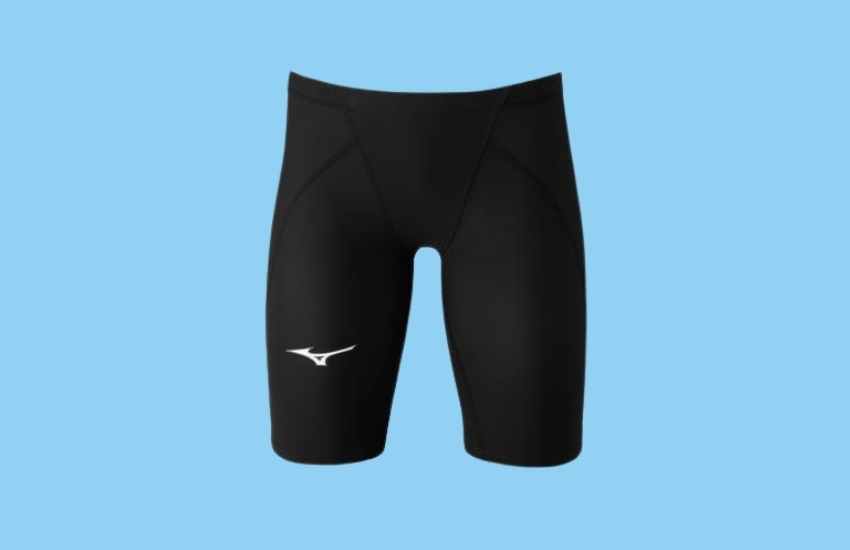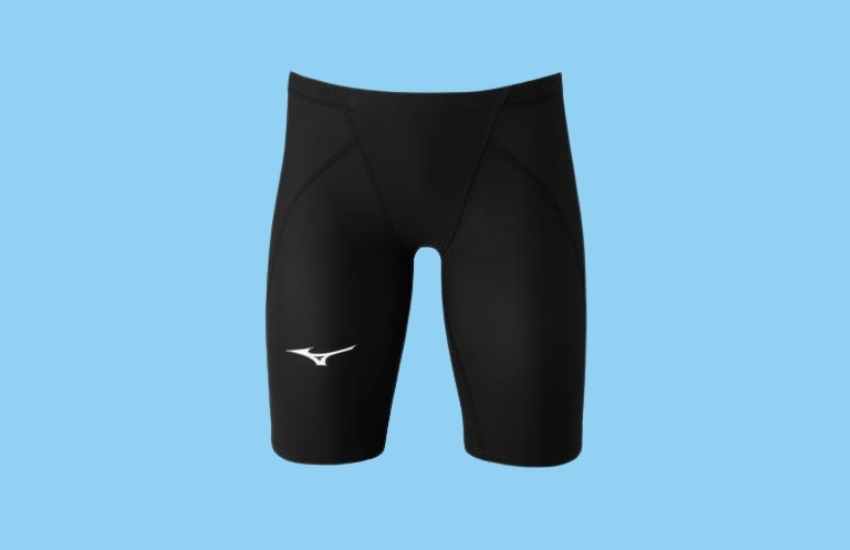 ---
TYR Venzo Genesis Men's Tech Suit
Best tech suit for breaststrokers
Best tech suit for larger men
The TYR Venzo Genesis Tech Suit is the latest premium racing suit by TYR and the successor to their popular Avictor suits.
Improvements include a more hydrodynamic fabric and surface that generates less resistance compared to its predecessor. The exterior of the suit is seamless, removing another source of drag.
The Venzo is a high-compression suit. Compression is done via the Endo Cage which specifically targets your quads and glutes, helping you get more from your legs at the end of your races.
As a larger fella, finding a tech suit that I can squeeze into has always been a bit of a challenge. The Venzo, which comes in a huge range of sizes, from 20-36, is one of the few tech suits on the market that has sizes for larger men.
[The TYR Venzo is also my current #1 for best tech suit for breaststrokers.]
The Venzo is a bright tech suit. No getting around that. With colorful sharkskin, hex-shaped, and even a USA flag print, if you want to swim fast and inject some vibrant colors into your racing, the Venzo is an excellent choice.
Being a top-tier racing suit, the Venzo is not a budget tech suit, with the jammer retailing for $350-400 (check Swim Outlet for current pricing and deals).
Key features:
70% nylon, 30% spandex.
Available in high and standard waists
Comes in a wide range of colors and prints
FINA approved
Not 12-and-under compliant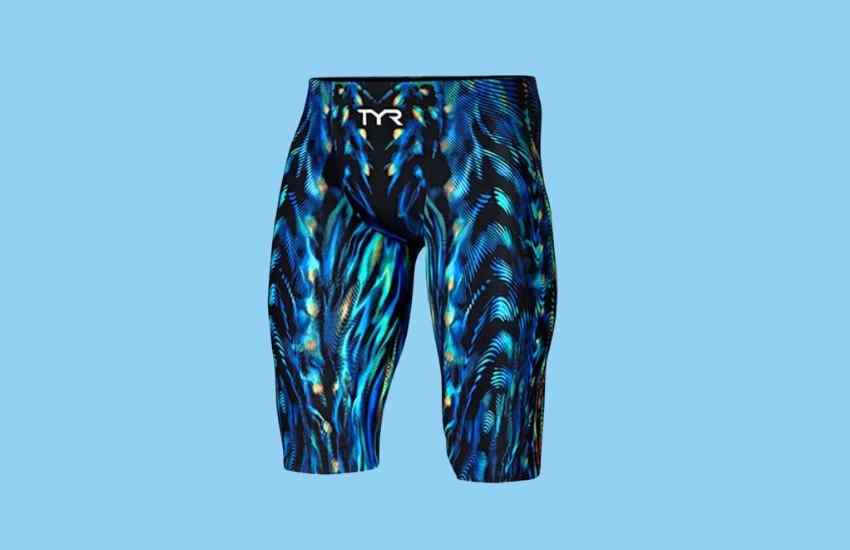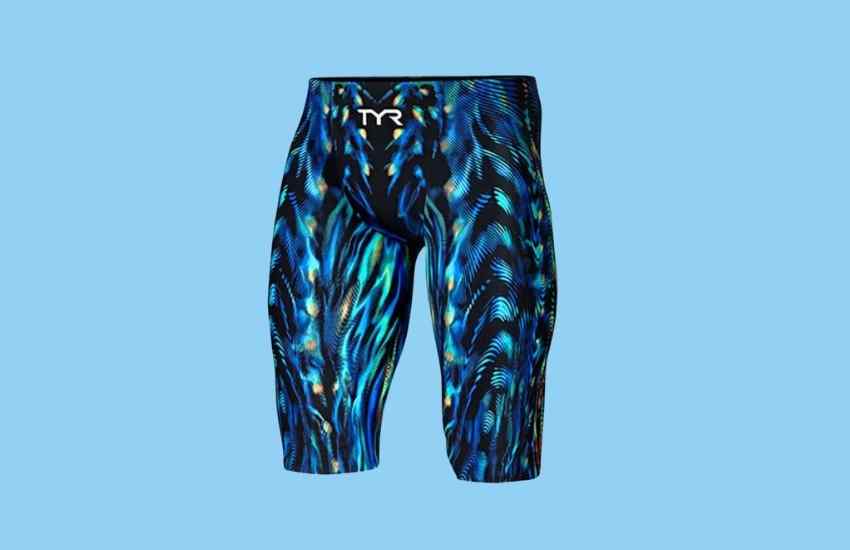 ---
Arena Powerskin Carbon Air2 Men's Jammer
Arena makes some of the fastest tech suits for men on the planet, and the Carbon Air2 is an excellent example of a suit that is fast, comfortable, and has all the advanced features you want from an elite racing suit.
Let's start with the lightness of the suit (it is called the Air2 for a reason, after all). By using carbon fiber in the suit to create both vertical and horizontal compression, the Air2 is both high in compression and one of the easiest tech suits for men to squeeze into.
The Carbon Air2 is a sleek, simple-looking suit that is fast and comfortable. While maybe not suited for breaststrokers (gotta give the Venzo the nod for best tech suit for breaststrokers), the Arena Carbon Air2 is a killer multi-event swimsuit that works for sprinters, most stroke swimmers, and medley specialists.
Price-wise, the Carbon Air2 is an upper/mid-range tech suit, priced at around $200-300 (check Swim Outlet for current pricing and deals).
Key features:
Suit composition: 65% polyamide, 34% elastane, 1% carbon fiber
Available in size 22-34
FINA approved
Not suitable for 12-and-under swimmers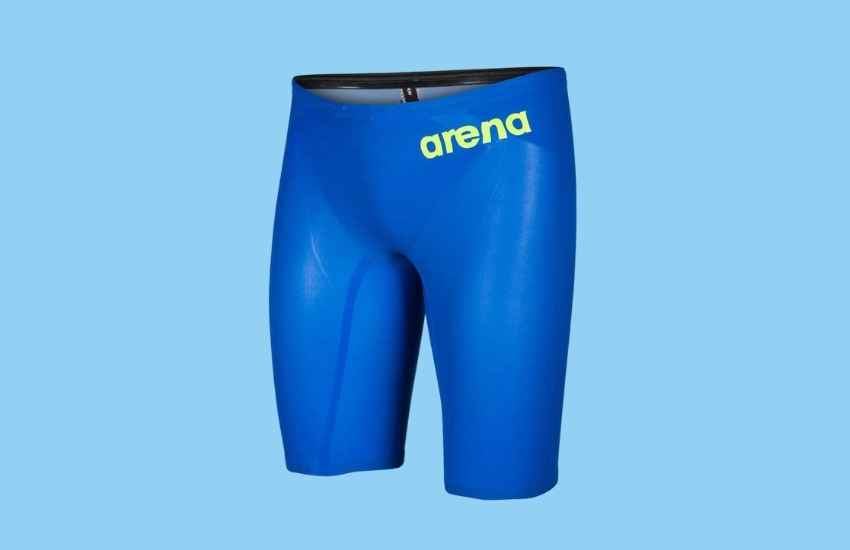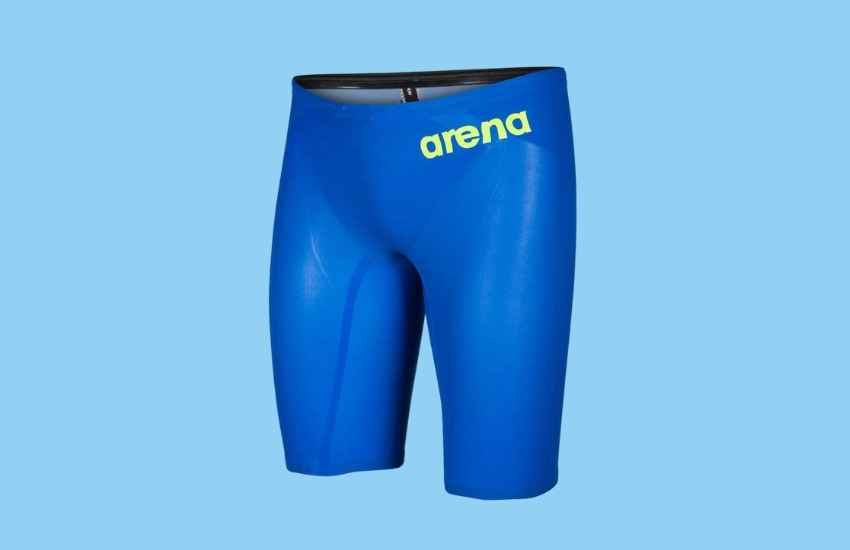 ---
FINIS Vapor Pro
FINIS makes some of my all-time favorite swim gear.
The company, whose co-founders include Olympic gold medalist and former 100m butterfly world record holder Pablo Morales, pioneered the swimmer's snorkel (still the best snorkel for swimming laps) as well as giving swimmers the ability to properly listen to music in the pool with the FINIS Duo, a waterproof MP3 player that blasts music via bone conduction.
The FINIS Vapor Pro, their lightest and fastest racing suit, is one of my favorite men's tech suits of all-time. It's comfortable, extremely fast, and priced reasonably.
A dual-layered suit, the Vapor Pro is made of 80% polyamide and 20% elastane. Silicone edges along the sides and around the holes of the suit help create a water-tight fit (nothing worse than your racing suit taking on water when racing, after all).
With double paneling on the back of the thighs and glutes for maximum compression, you will notice that your body feels naturally higher in the water.
The FINIS Vapor Pro Men's Tech Suit is a mid-range suit when it comes to price, retailing for around $200-250 (check Swim Outlet for current prices and deals).
Like the Venzo, it's also one of the few men's tech suits that go into the larger sizes (up to a size 36) and FINIS offers this particular jammer in only solid black.
Key features
Silicone edges to eliminate water absorption
Available in size 20-36
Midrange in price
FINA approved
Not compliant for 12-and-under swimmers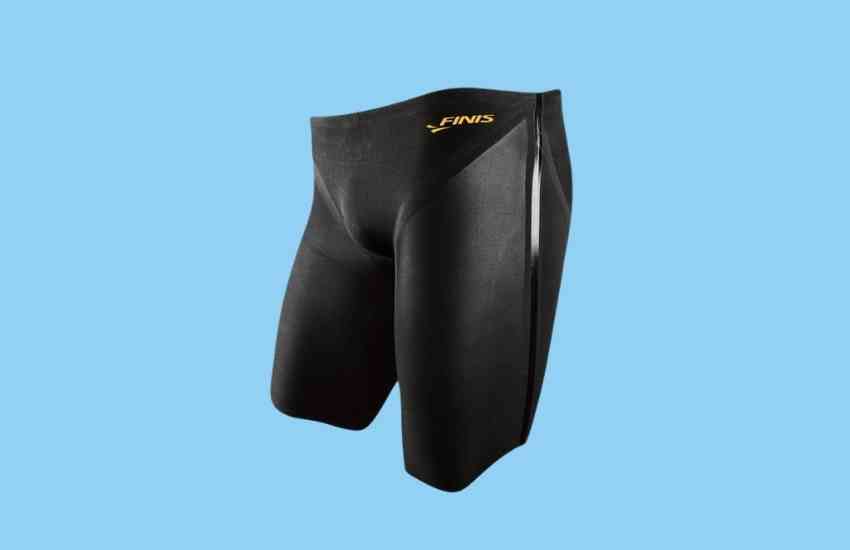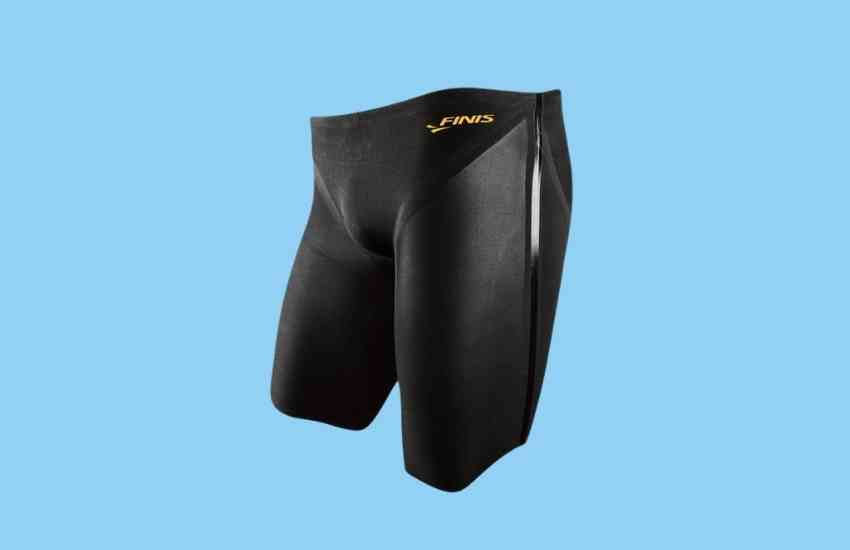 ---
Men's Tech Suits – Budget
Want a high-performance racing suit without breaking the bank?
Fortunately, there is a solid line-up of racing suits for men that are very affordable, with many of them coming in at less than $100.
Here are the best budget men's tech suits on the market.
Arena Powerskin ST 2.0
⭐ Best budget tech suit for men
I really, really like these suits. I've been wearing them for a few years now for swim meets and time trials.
The Arena Powerskin ST combines a lot of awesomeness in one suit: excellent compression, increased durability, and plenty of colors and patterns to choose from.
While these tech suits don't have the same amount of elastane as the top-tier suits, it's still a very fast suit and provides excellent compression.
More of a low-rise swimsuit, the Powerskin ST 2.0 has a paneled construction and flat-lock seams that hug your body comfortably.
Oh, and they are also very low-cost, typically retailing for less than $100.
Key features:
Low-rise waistline
Available in a wide range of colors and patterns
Suit construction: 71% polyamide, 29% elastane
Available in size 22-34
12 & under compliant
FINA approved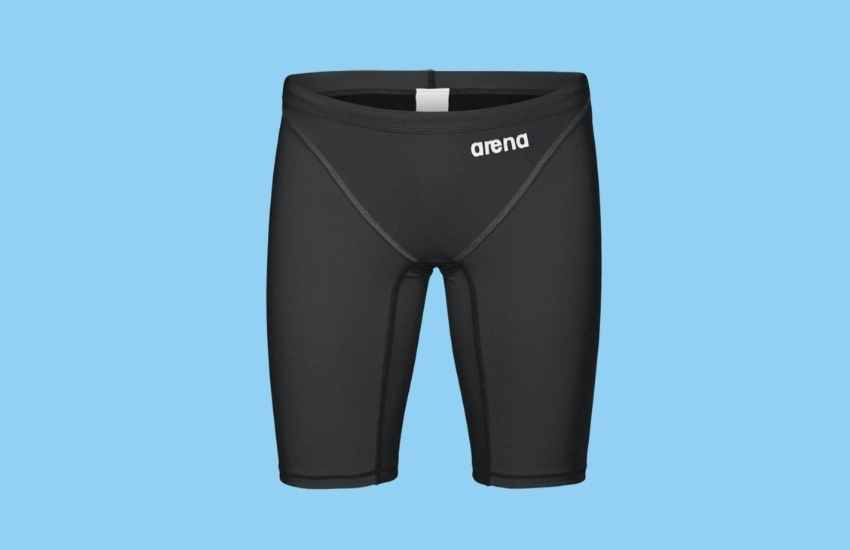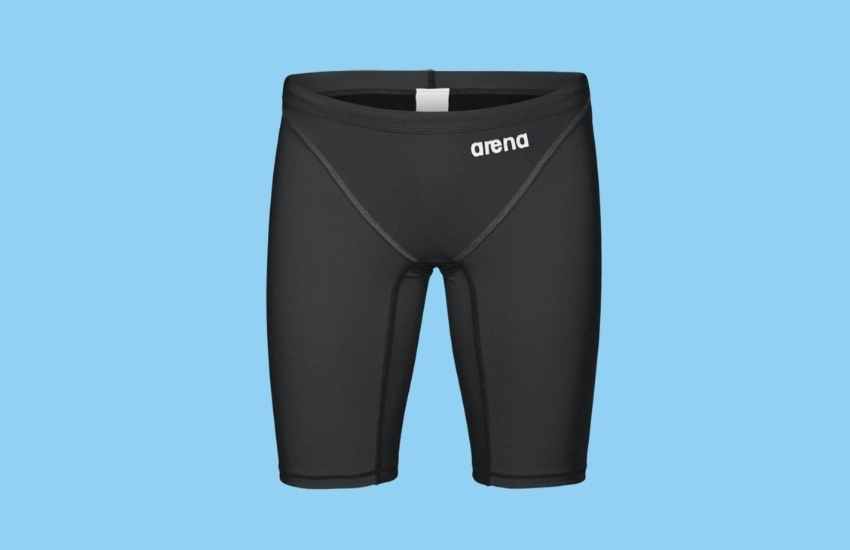 ---
Speedo Men's Aquablade Jammer Tech Suit
You know the name. The brand Speedo has been around as long as competitive swimming.
Tons of Olympic gold medalists have rocked out their racing apparel in competition, and the good news is that you don't have to spend an Olympic amount of money to get a quality and fast racing suit.
The Aquablade Jammer is a cost-friendly jammer that is faster than bare skin, has a slightly longer length for added coverage, and provides excellent compression for its price point.
This jammer has the usual bells and whistles men should expect from this kind of swimsuit, including a drawstring to keep the suit secure, a chlorine-resistant blend of nylon, and Lycra Spandex, and of course, the suit is FINA approved for competition.
Low-rise racing suit
Comes in three different solid colors
Suit construction: 20% Lycra, 80% polyester
FINA approved
12-and under compliant
Available in size 22-36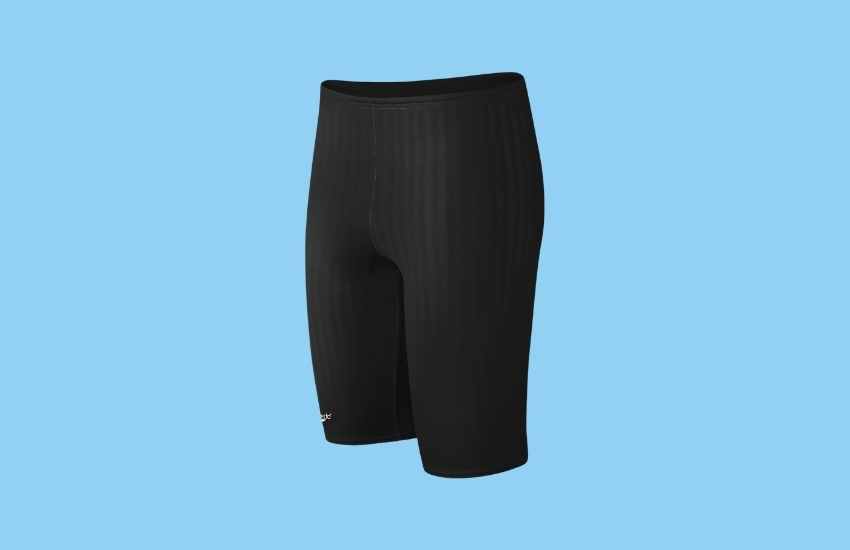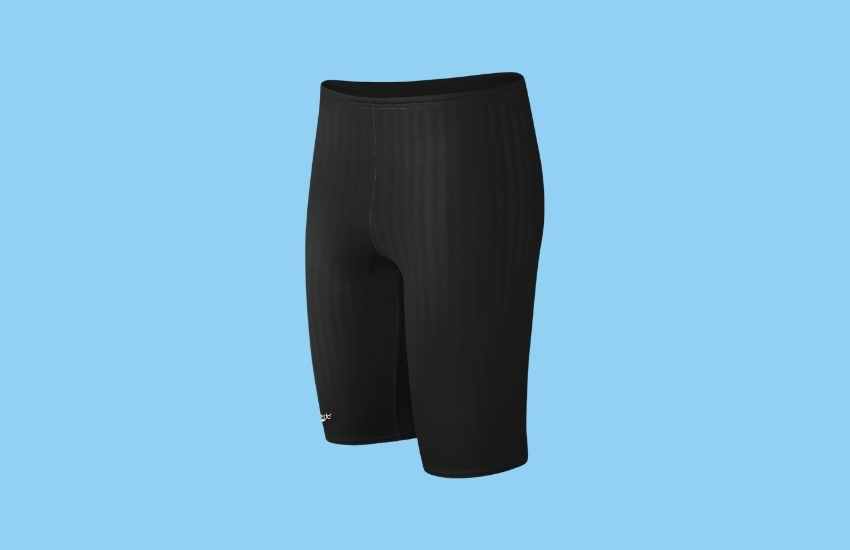 ---
Choosing the Right Men's Tech Suit for Racing
Men's tech suits have evolved significantly over the past twenty years. At the 1996 Olympics in Atlanta, we started to see some of the longer suits, with racing suits extending all the way to the wrists and ankles.
Things continued to get more rubbery from there, with Ian Thorpe of Australia sporting a racing suit that looked more like a full-length wetsuit at the Sydney Olympics in 2000.
After the world-record-breaking spree that happened at the 2009 World Championships in Rome—where almost every world record on the books was rewritten—FINA cracked down on suit material and tech suit cuts.
The standardization has been good in terms of evening out the playing field and cutting down the factors when choosing racing swimwear for men.
That said, there is quite a bit of variety when it comes to the tech suits out there for men.
Here are the main things to look for when purchasing your next racing suit.
Suit fabric.
Racing suits are typically made of two types of fabric: polyester, which is a durable fabric that is highly resistant to chlorine, and elastane (Lycra and spandex fall under this fabric) which is stretchy and water-repellant.
Racing suits for men have a blend of these two, balancing durability with blinding speed. Swimsuits that are higher in elastane, while "faster," will also fade faster. Tech suits high in polyester last longer but stretch less and aren't as hydrodynamic and compressive.
Other swimsuit materials include polyamide and nylon, which will sub in for polyester.
High waist vs Regular waist.
One of the key differences in the cut of men's racing suits is where on the waist the top of the suit rests. High-waist jammers sit about 1" to 1.5" higher than regular waisted swimsuits and are designed to sit above the hips. A high waist jammer is ideal for swimmers who find that regular suits leave the top of their butt-crack feeling a little exposed.
While tech suit makers claim that a higher waist also boosts core stability, in my experience wearing them I haven't really noticed a difference. Ultimately, the choice between high waist and regular comes down to what you are most comfortable with and your body shape.
Budget.
There are three tiers of pricing when it comes to men's tech suits. Budget tech suits cost around $100 (sometimes less), mid-range suits are in the $200-300 neighborhood, and the top-tier racing suits cost $300 and up.
How much you plan on spending for your tech suit is down to your unique situation, obviously, but a simple rule of thumb is that for your season-end swim meet, feel free to splurge a little.
Mid-season meets, or preliminaries where you know you will advance to finals, are ideal for the cheaper, more durable tech suits.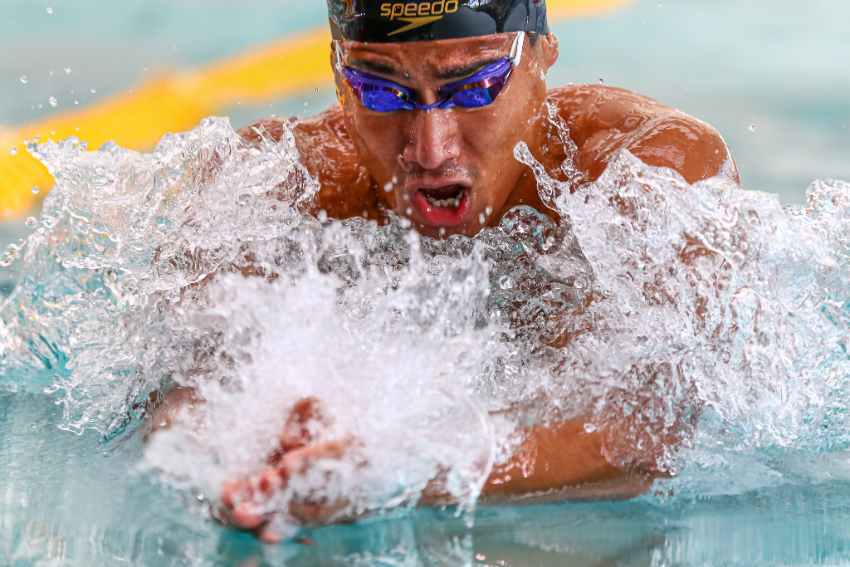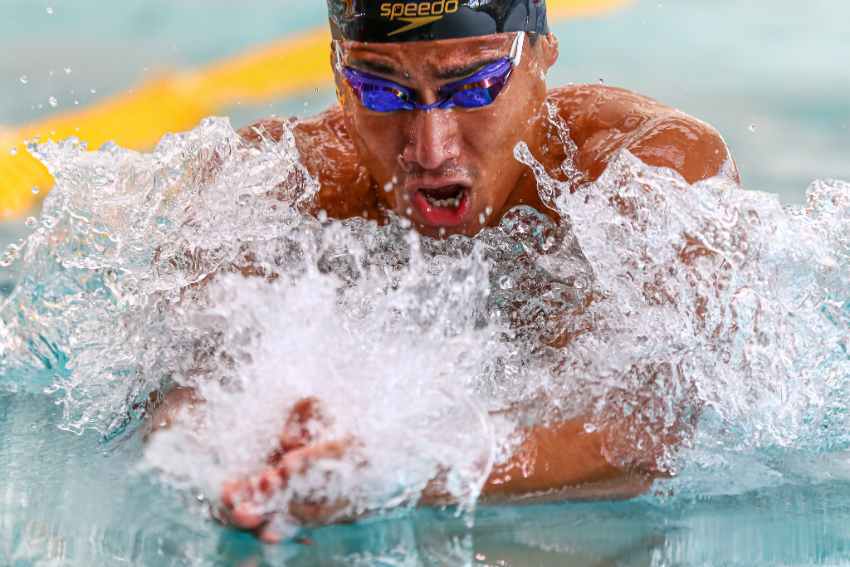 How to Care for Your Men's Tech Suit
This kind of swimsuit is expensive.
When you are spending upwards of $400 for a new racing suit you want to make sure that you get the most of your investment.
The good news is that there are some easy and simple things you can do to extend the life of your racing suits.
Here are some quick tips for getting more PB's from your tech suits:
Avoid needlessly wearing them. Seems obvious, but the more you wear your swimsuit, the faster it's going to fade, thin, and stretch out. You might feel like a speed demon wearing it to swim practice, or wearing a $400 racing suit to a swim meet where you aer unshaved, untapered, and unrested, but you drastically cut down the lifespan of the suit this way. Save your pricey tech suits for the big races and big meets of the year.
Rinse with fresh water. After your big race, or at the end of the session, rinse the suit with freshwater, either in the shower or in the sink in the locker room. Additionally, most soaps and shampoos will speed up the corrosion process of the delicate fabric in your suit, so stick to rinsing them solely with water.
Avoid the dryer. Your racing suits are made of extremely delicate fabric. Subjecting them to the high heat of a dryer will quickly wreck the suit. Throwing it in the dryer is unnecessary, anyway, after all, your swimsuit is made of water-repellant fabric, which means that it will dry quickly when left out to air-dry.
Store properly. After removing your tech suit, and rinsing it with cool, non-chlorinated water, lay it flat to dry. Once dry, store your swimsuit in a cool, dry environment to help extend the life of the suit and get more uses from it.
---
More Tech Suit Guides and Articles:
9 Best Tech Suits for Crushing Your Best Times on Race Day. Competitive swimmers are always looking for the best tech suit to swim faster and more efficiently. Here is a detailed look at the top tech suits on the market that will help you demolish your PBs and the competition!
The Best Tech Suits for Sprinters. Looking for a tech suit that will unleash serious speed on race day? Here is a detailed look at the best tech suits for sprinters to dominate the competition.