Get your aqua fit and water aerobics on in comfort and style with our hand-picked selection of the best women's swimsuits for water aerobics.
Water aerobics is a great way to get into shape in a social setting at your local pool. While the types of classes vary, from high-intensity jazzcercise-type workouts to water jogging, the importance of having the right swimwear remains the same.
Swimsuits for women that combine performance, comfort, and range of motion are key for every kind of activity in the water. Unlike a beach swimsuit, swimsuits for water aerobics combine support and performance.
After all, if you are going to be jumping, twisting, and bobbing in the water, you want a swimsuit that is going to provide support and coverage.
Whether you are picking up a set of water dumbbells and working out in your above ground pool or joining a water aerobics class, there is a swimsuit for you.
Here is a breakdown of the six best swimsuits for aqua fitness and water aerobics.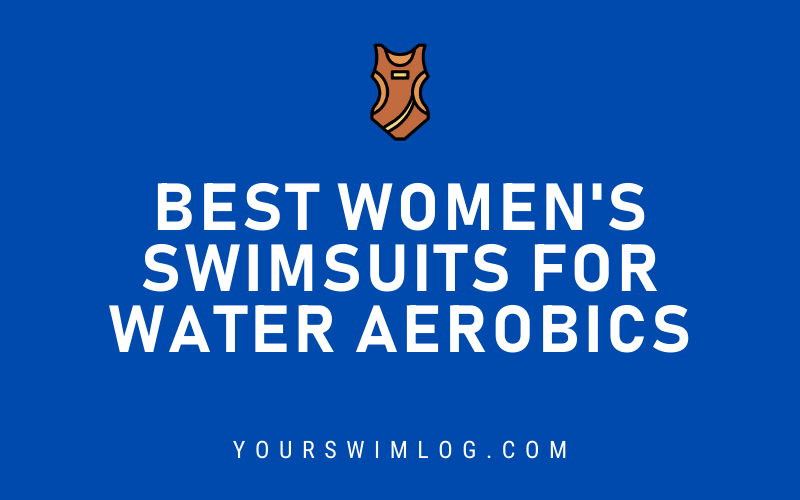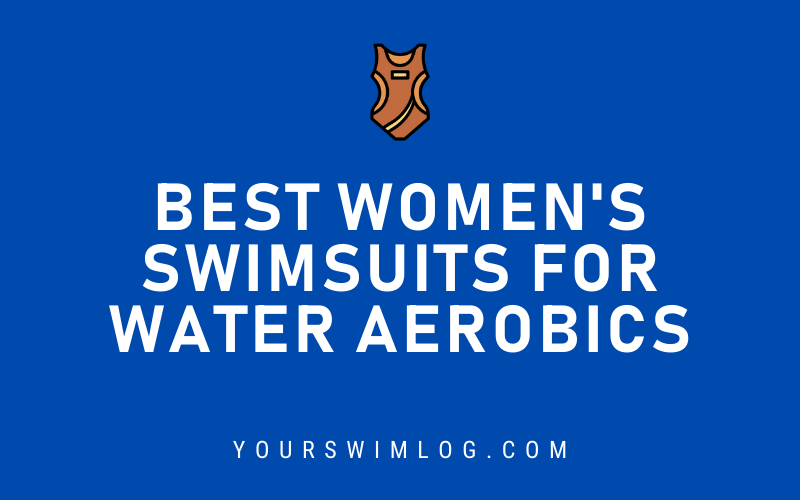 Speedo Women's Powerflex Ultraback Solid
Speedo is one of our favorite swimsuit makers, and although Speedo may be more synonymous with high-performance swimming gear, from elite racing swimming goggles to water-repellant competition kneeskins, they make tons of excellent gear for those looking to get their fitness kick in at the pool.
The Powerflex Ultraback is an excellent choice for your aqua fitness classes. Made of 74% nylon and 26% lycra, the swimsuit provides a comfortable balance of durability and stretchiness. Available in four different colors and a variety of sizes and lengths, the Powerflex combines coverage, performance, and comfort, making it our favorite swimsuit for water aerobics.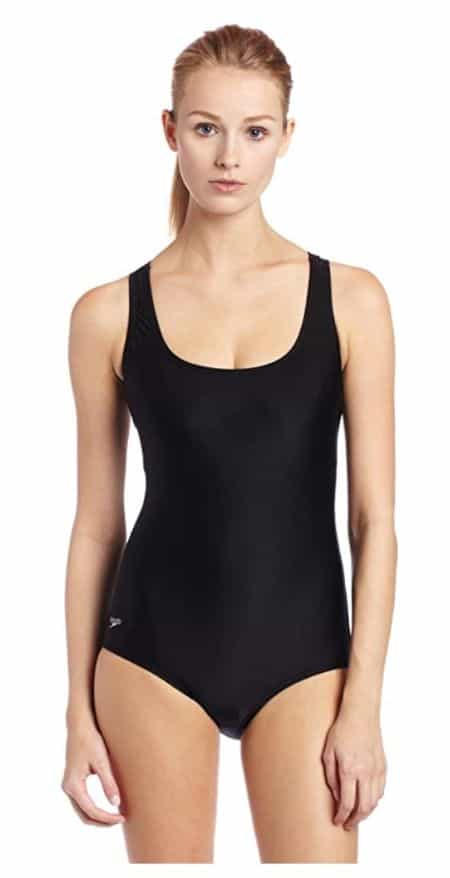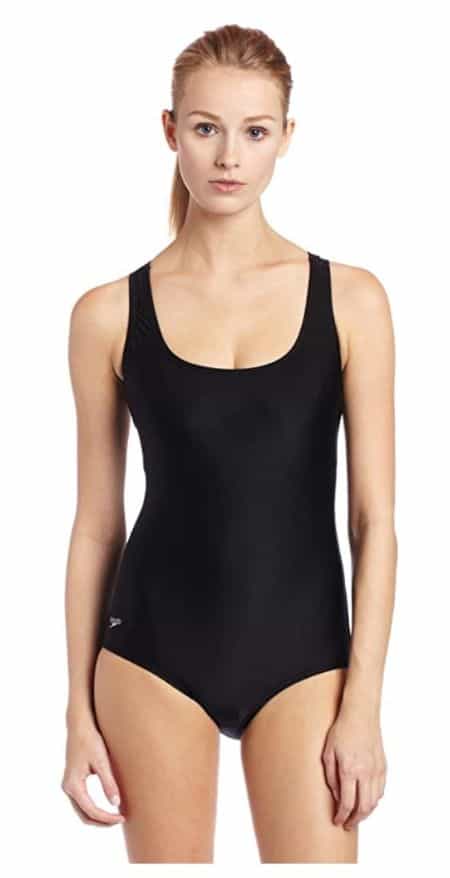 ---
Dolfin Aquashape One Piece Swimsuit
Dolfin is one of the lesser-talked about brands when it comes to outfitting the chlorinated athlete, but they make exceptional gear at a very reasonable price. The Aquashape One Piece Swimsuit is ideal for water aerobics and fitness activities in the pool.
Made with 100% polyester, this suit is chlorine-resistant and designed to withstand fading from sun exposure. The Dolfin Aquashape Swimsuit is fully lined and has a shelf bra with cups that are sewn into the suit. Available in sizes up to 22, the suit will help you conquer those water jogging and aqua fitness classes in comfort and confidence.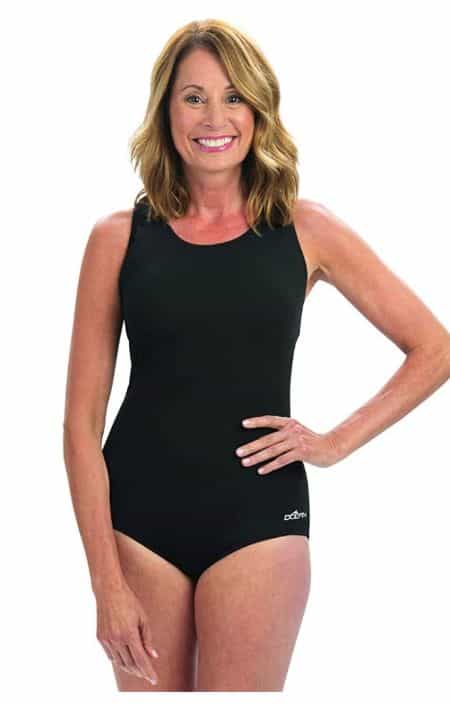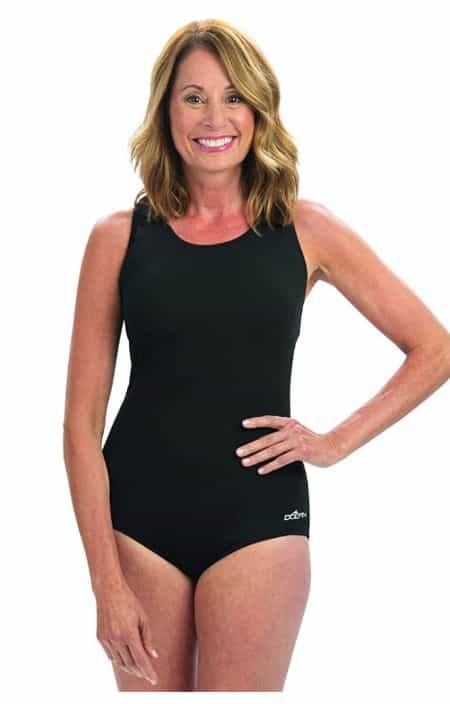 ---
Arena BODYLIFT Aqua Fitness Swimsuit
Looking for a swimsuit that provides a little more stretch? The Arena BODYLIFT Aqua Fitness Swimsuit is constructed of 68% polyamide and 32% Elastane, the latter of which gives the suit a lot of stretch. Available in six different color patterns, the suit fabric dries quickly and lasts a long time in the water against harsh pool chemicals.
With adjustable straps, a seamed cup, and a modest leg height, the Arena BODYLIFT Aqua Fitness suit delivers on performance and coverage when it comes to working out in the water.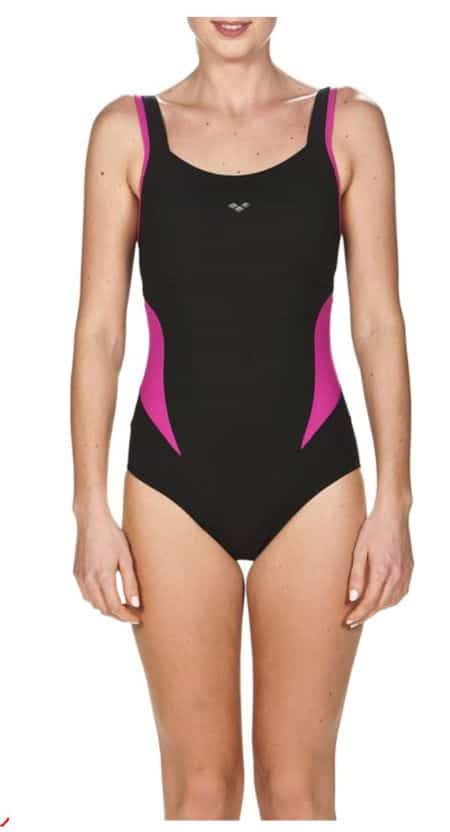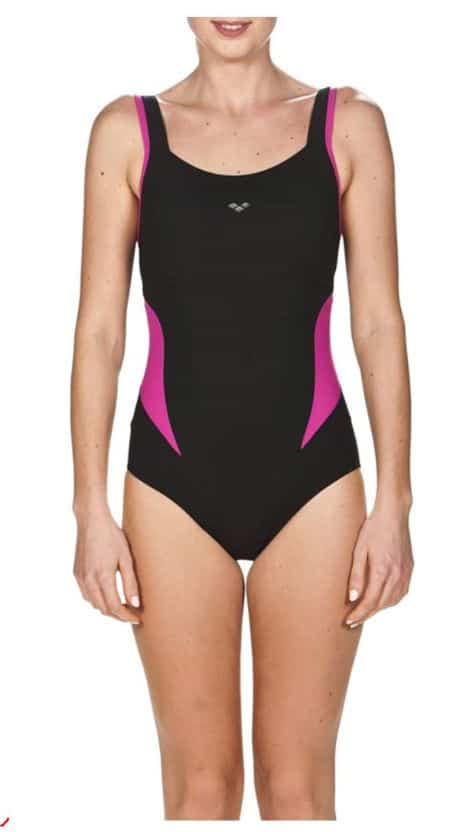 ---
Nike Women's Victory Powerback Swimsuit
The Nike Swim Victory Color Block Powerback is designed specifically for women who like to get active in the water.
Made with a moderate back and high chest coverage, the suit delivers on comfort and coverage while also allowing for plenty of range of motion. No matter how intense your water aerobics class gets, the shoulder straps, made with flat seams, will keep chafing to a minimum.
The suit is also fully lined for maximum privacy while you are crushing it in the water. The Nike Women's Victory Powerback is available in a wide variety of color combos and sizes (up to size 40).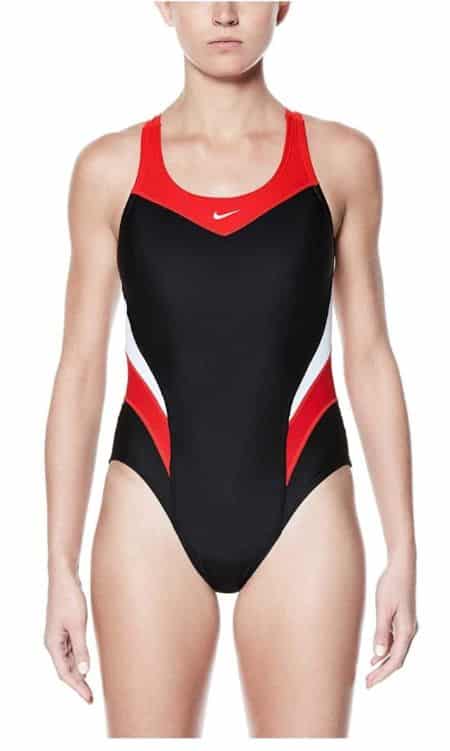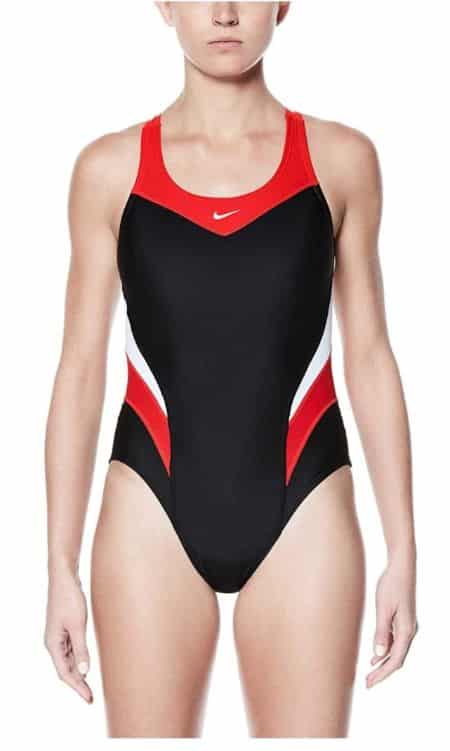 ---
TYR Women's Aqua Controlfit Swimsuit for Water Aerobics
You take your fitness in the pool seriously, and you want a swimsuit that is going to match your ambition in the water. The TYR Aqua Controlfit Swimsuit is a combination of optimal coverage and performance.
Made with 94% long-lasting polyester and 6% Spandex, the Aqua Controlfit is fully lined with removable cups for excellent support and durability.
With a classic leg cut, straps that won't give up on you, and a chlorine and sun-resistant fabric, the TYR Women's Aqua Controlfit will help you more confidently and comfortably through your workouts in the water.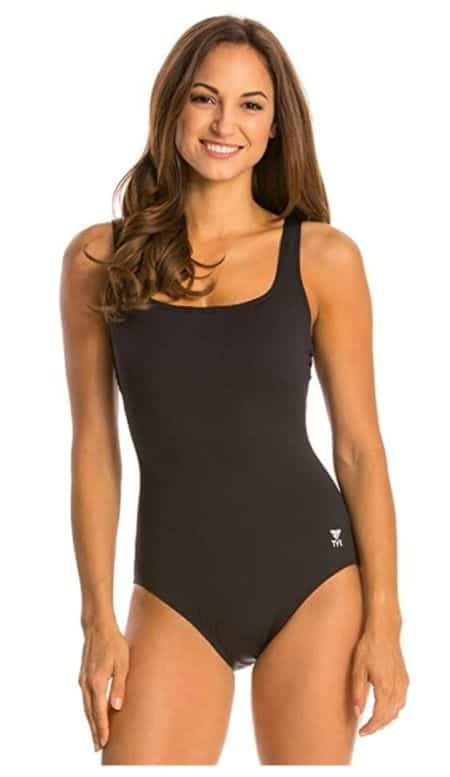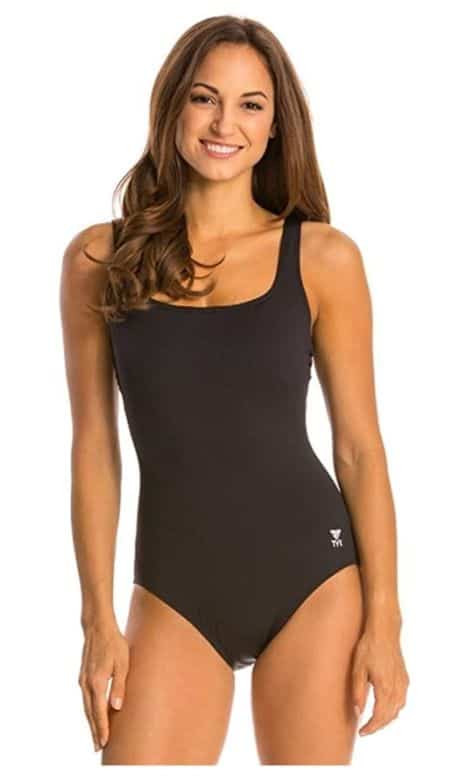 ---
Speedo Women's High Neck Swimsuit for Water Exercise
Another entry by Speedo is their high-neck swimsuit for women. The suit provides additional coverage and support on the front of the suit, which makes it ideal for those water fitness classes where there is a lot of jumping around.
The swimsuit comes with Speedo's Hydrobra, which is a full support bra that is made of mesh, elastic, and removable cups, giving you flexibility with how secure you would like your bust while engaging in those high-energy aqua fit sessions.
Reviewers note that this swimsuit is ideal for bigger-chested women and will keep the girls in place whether you are water jogging, swimming laps, or doing water aerobics.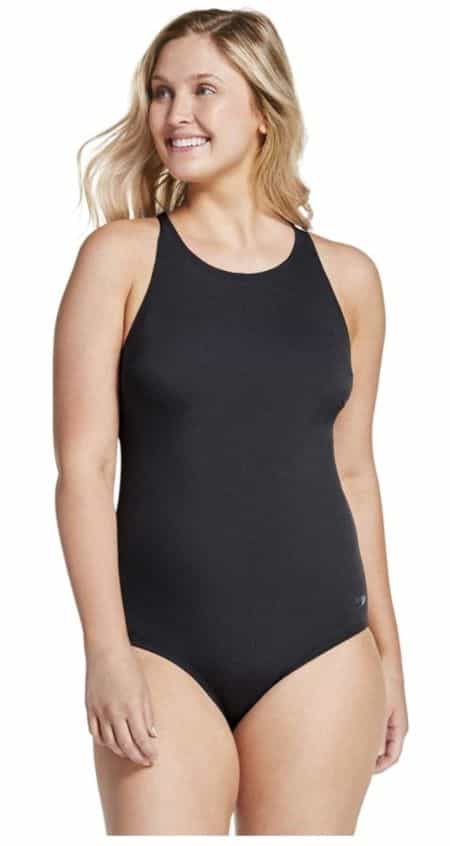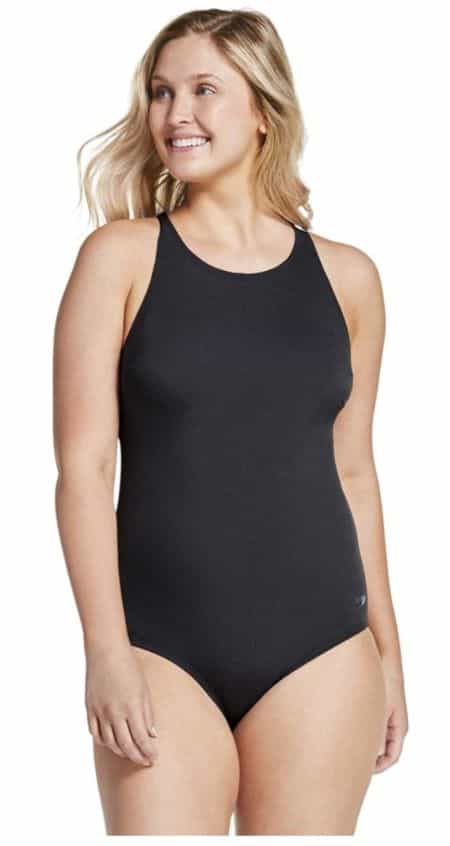 ---
More Stuff Like This
7 Best Rash Guards and Swim Shirts for Women. Protect yourself from the sun and water with our collection of our favorite rash guards and swim shirts for women.
Best Swim Gloves for Aquafit and Open Water Swimming. Whether you want to keep your hands warm in open water or want to add some resistance to your pool workouts, here are your best choices for swim training gloves.