Looking for a new suit to crush your laps with? Here's your guide to the best men's training and lap swimming suits.
The swim-suit is one of the core pieces of swim equipment you need when hitting the pool. Combined with your favorite pair of swim goggles and towel, your training suit is part of the swimmer's "uniform."
Although its primary function is simple (cover up your you-know-what's), the type of swimsuit you end up choosing depends on a variety of things.
In this complete guide to training suits for swimming we are going to look at the four types of training suits, including briefs ("Speedos"), square-leg training suits, jammers, and drag suits.
We will take a look at fabric composition, cut, level of resistance, style options, as well as list our top picks for each kind of training and lap swimming suit.
And here we go:
Briefs (aka "Speedos)
When non-swimmers think of the suits we wear, this is what they have in mind.
The swim brief—more commonly known as the "Speedo"—is the most common suit swimmers wear in practice and during lap swimming.
They provide a high range of freedom, are cheap, and because they are almost always made of polyester, last a long time.
(Check out our full breakdown of all of our favorite swim briefs for men in this guide.)
Speedo PowerFLEX Swim Brief
⭐ Best overall men's training swim brief
Of course we would have to lead off the list of best swim briefs with Speedo's offering. Their most popular training brief, PowerFLEX is made of recycled nylon and 22% XTRA LIFE lycra.
The result is a suit that is resilient to the harsh chemicals in the pool while also providing a comfortable fit. Available in sizes 30-40, the PowerFLEX brief comes in about half a dozen different colors.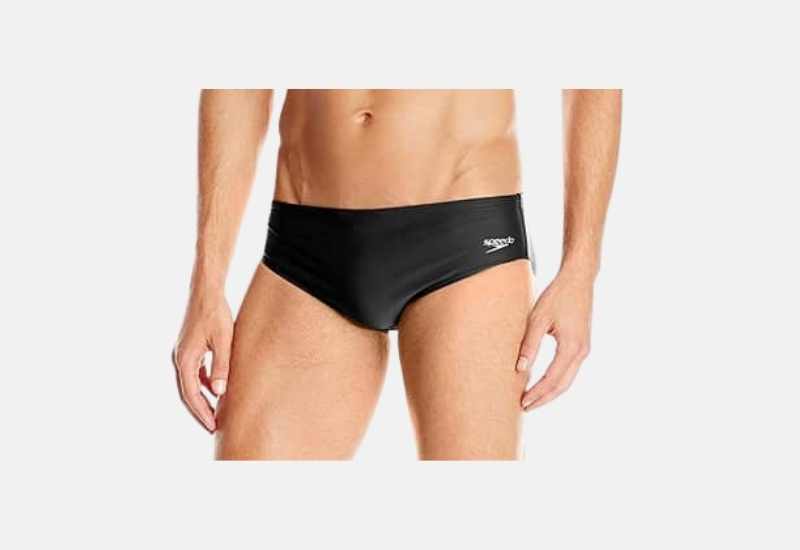 FINIS AquaTuff solid Swim Brief
FINIS is one of my fav swim gear companies. Their brief is simple (what's there to complicate?), form-fitting, and holds up well against long bouts of training in chlorinated water.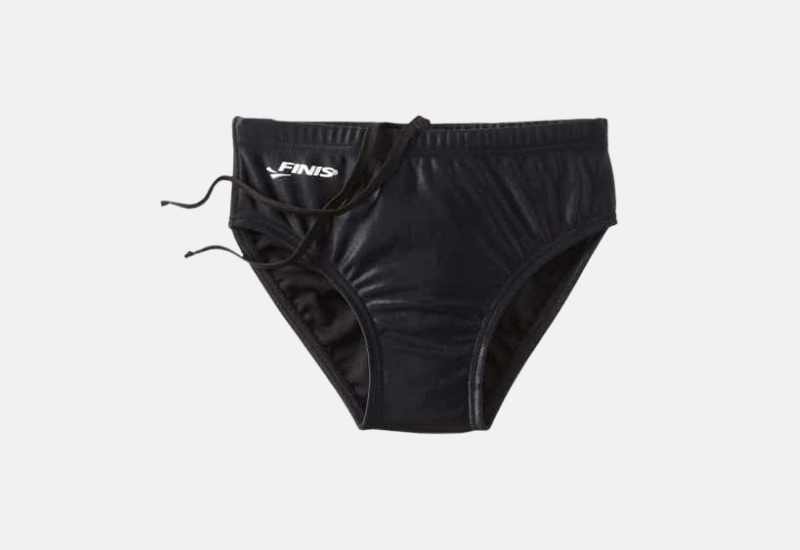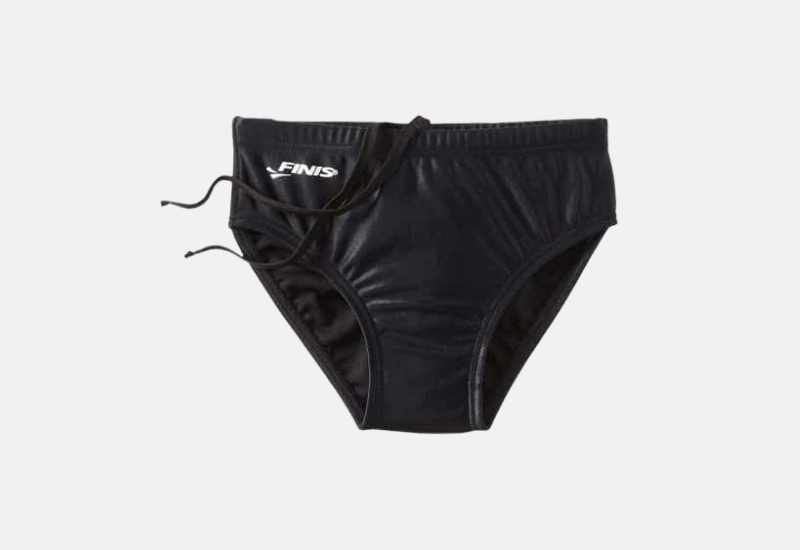 Arena Carbonite Swim Brief
Mostly polyester, and build with their MaxLife fabric, Arena's Carbonite briefs are resistant to chlorine and sunlight.
They are available with a range of different colored patterns on the hips.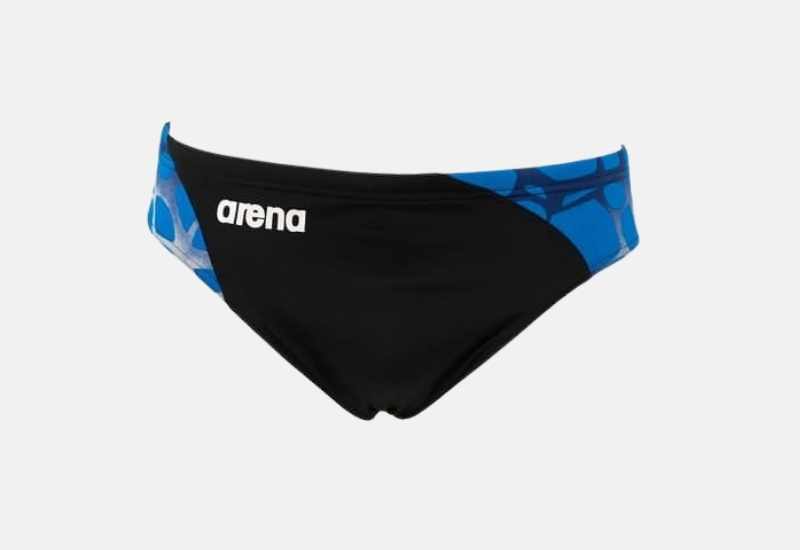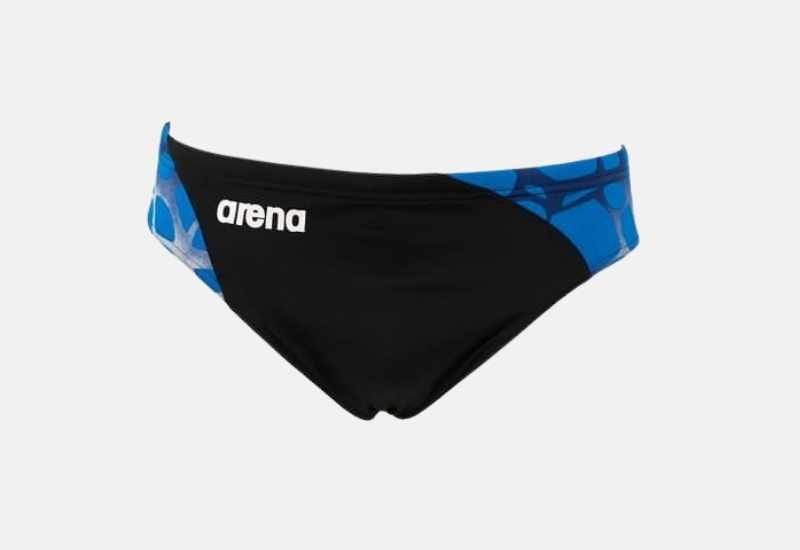 Nike Far Out Poly Brief
Spicing things up when it comes to patterns and colors is Nike's brief offering. While Nike isn't traditionally known as a powerhouse when it comes to producing high-end swim gear, the few things they do manufacture stand out.
The Far Out poly brief is made of 92% polyester and 8% Spandex.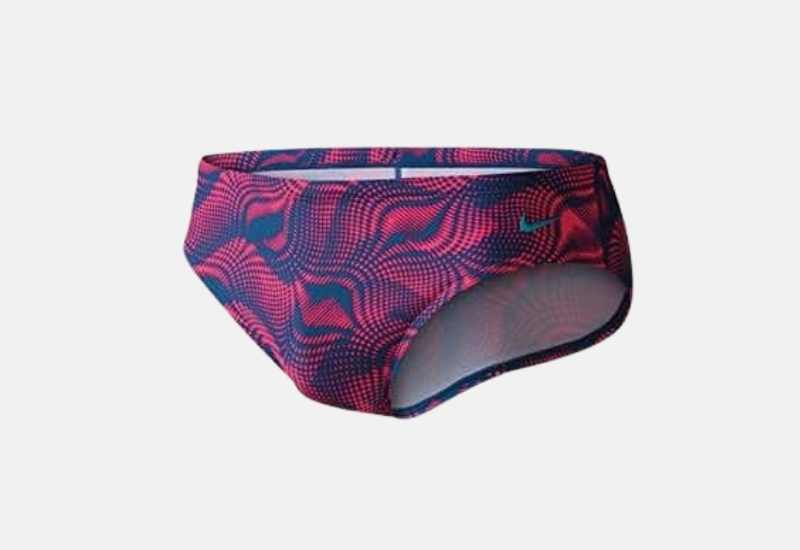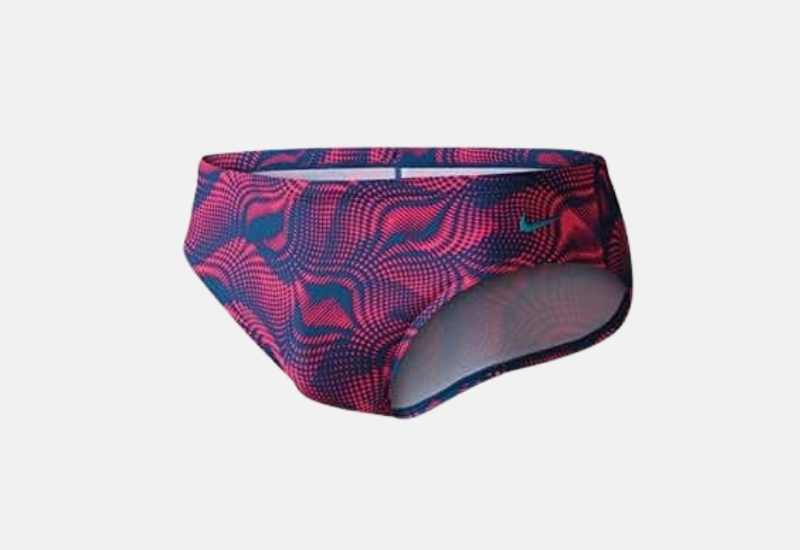 Square-leg training suits
The square-leg cut gives slightly more coverage than the briefs, but still provides a good degree of mobility.
While they provide the same coverage as some of the drag suits that we will cover later, they are "faster" in the water because of their snug fit.
Speedo Men's Endurance Polyester Square Leg Suit
Made of long-lasting polyester, Speedo's square-leg cut training suit also features 50+ UV protection, a drawstring on the inside of the suit, dries quickly and has a comfortable, body-hugging cut.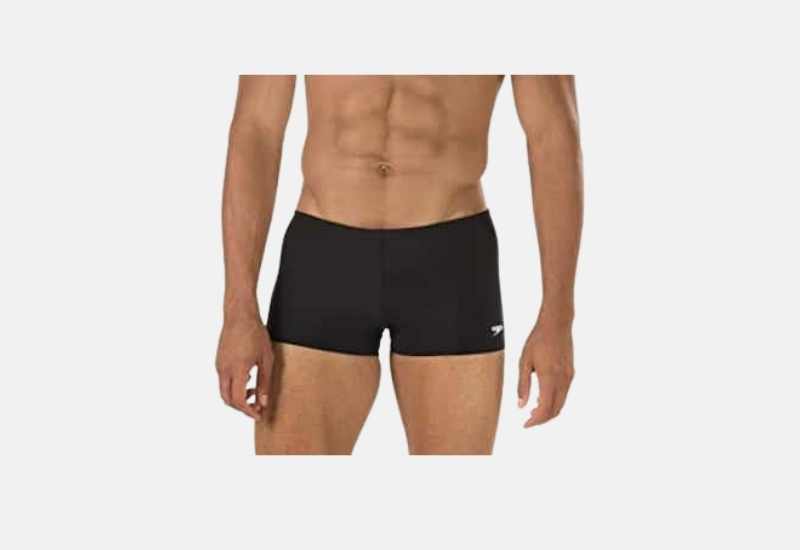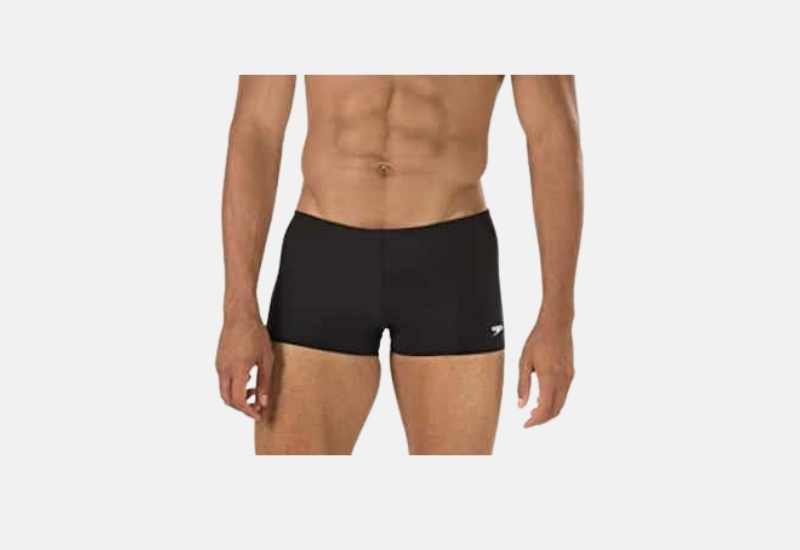 TYR Sport Square Leg Training Suit
The TYR Sport square leg training suit is one of the most popular at my local pools. I have gone through a few of these suits myself, and generally like them for their comfort and durability. The suits are made of 80% polyester, 20% spandex.
While not as resilient as some of the other suits (mine began to fade badly after around three months of daily use), these suits fit well.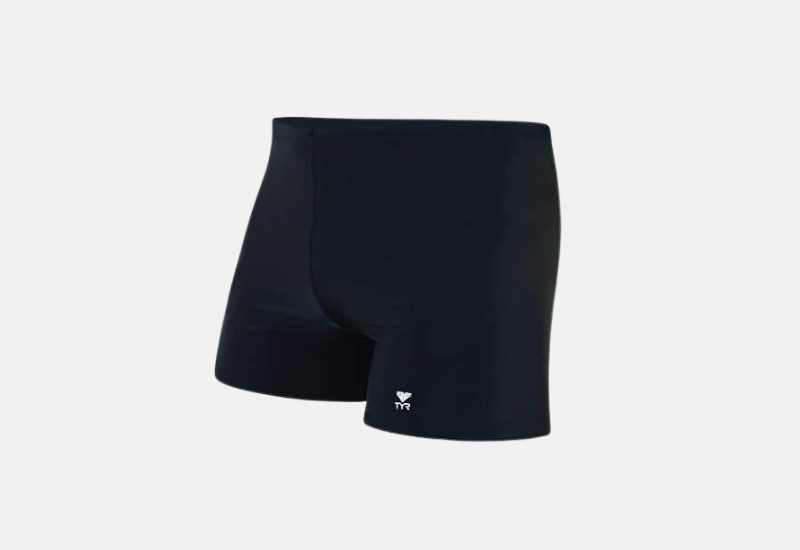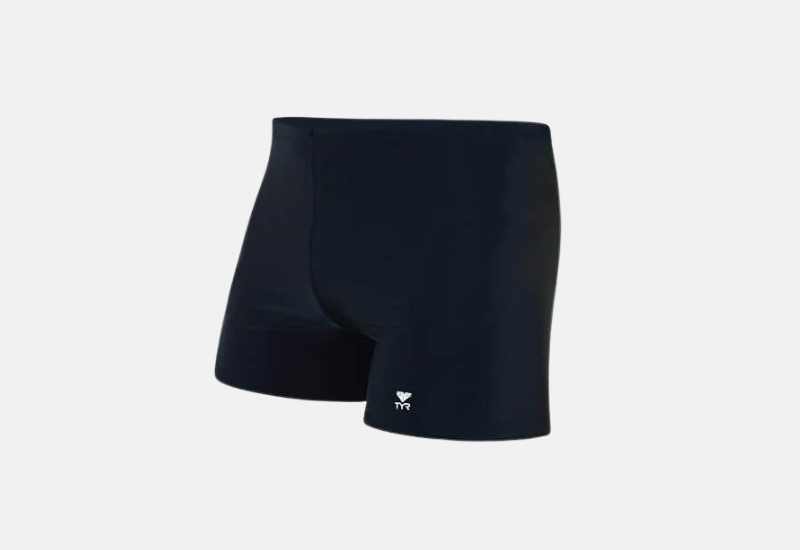 Nike Men's Team Poly Square Leg Suit
Another offering from Nike, this one a two-toned square-leg cut that is clean, comfortable and good to go for some epic training.
I love the clean lines on this suit, the slightly thicker waist band (the material that holds the drawstring is often the first to go when it comes to degradation), and the suit is made of 100% polyester, giving the suit maximum life in those chlorine-infested waters.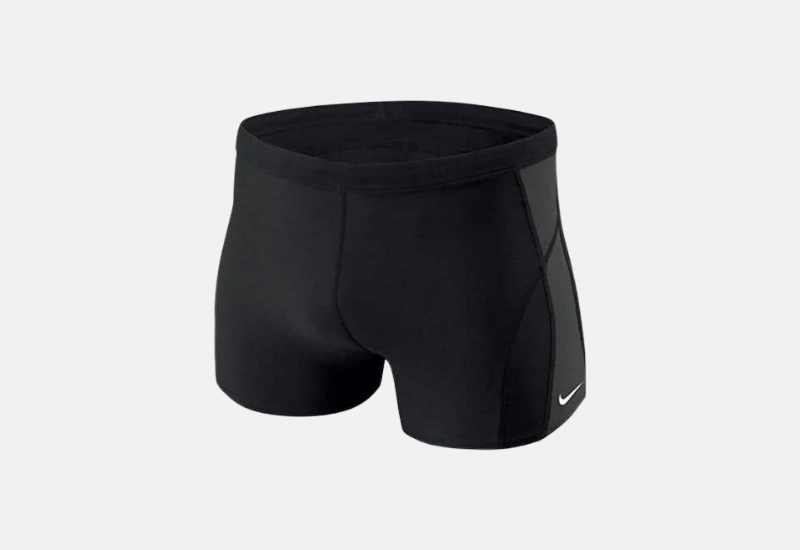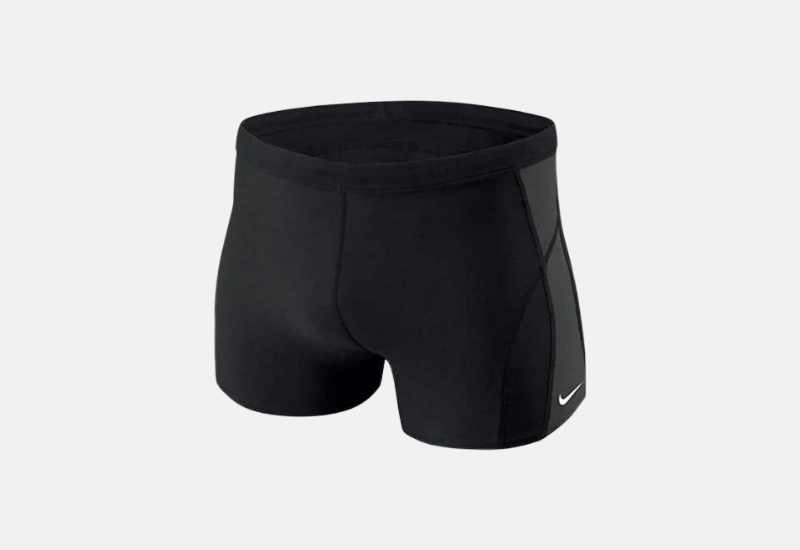 Jammers
Jammers are a relatively new addition to the line-up of training suits for the dudes. For the first decades of the sport it was all about the brief and the square-leg cut.
Jammers are great for a variety of reasons, not the least of which it will get you used to training with this type of suit (racing suits are almost all exclusively jammers), they are a little more modest, and can be an easy intro suit for people new to the sport that are uncomfortable going straight for the more revealing Speedo brief.
While we have a few favorite swim jammers for training and lap swimming, here are our top picks.
Speedo Endurance Training Jammer
⭐ Best long-lasting swim jammer
Made of polyester, this jammer is designed to be comfortable, fast-drying, and durable against both chlorine and sunlight.
Due to the slight compression and tighter fit, Speedo recommends that you size up with this particular suit. This suit comes in a wide variety of sizes (Amazon carries them up to a 42" waist) and colors.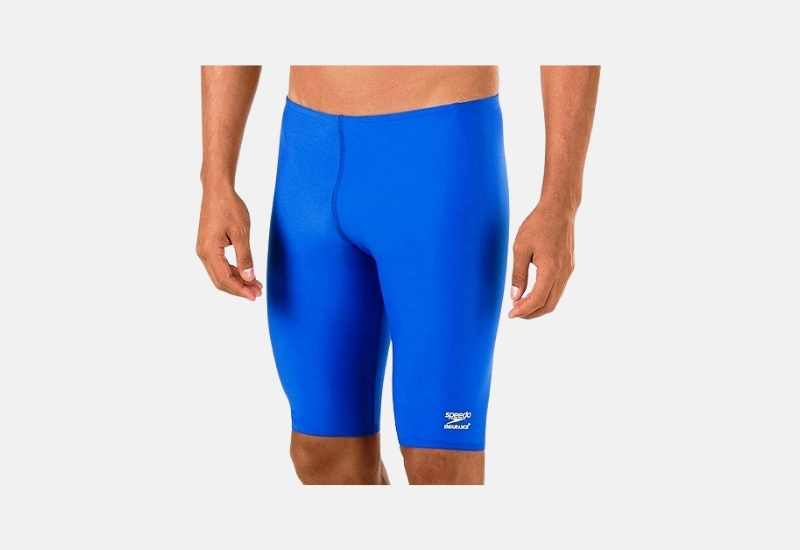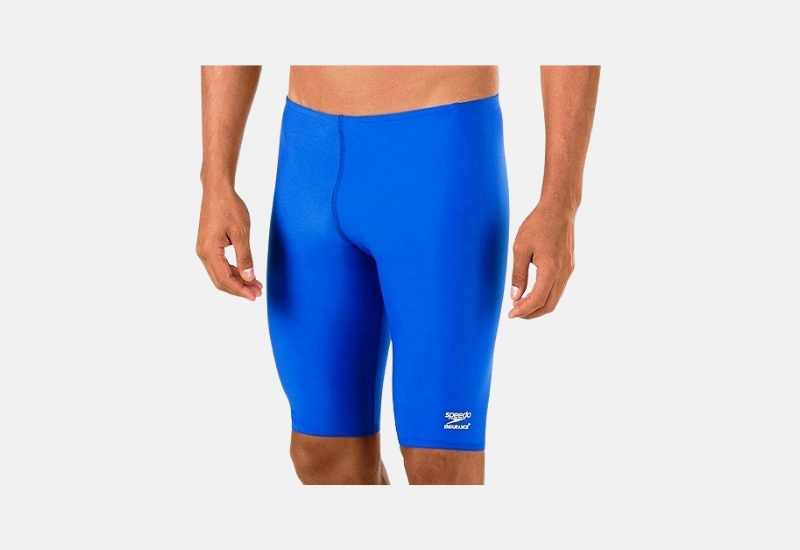 Sporti Catalyst Jammer Swimsuit
⭐ Most comfortable jammer for training
The Sporti Catalyst is one of my favorite jammers for swimming laps. It's one of the lightest suits I've ever worn.
Compared to a 100% polyester swimsuit, this suit feels like a racing suit.
The lightness is paired with 20% Lycra, which gives it a decent amount of stretch, ensuring a comfortable and custom fit every time you get in the water. The rest of the suit is made of nylon for durability.
Sporti offers the jammer in six different vibrant color patterns, in sizes 28 all the way up to 40, and a polyester front lining provides coverage.
Sporti is a budget-friendly brand for swimmers, and as a result, the Catalyst Jammer is priced accordingly at less than $30.
The only downside is that this is more of a compression training suit, and the increased Lycra in the suit (Lycra is an alternative to Elastane or Spandex) means that it will stretch out and thin faster compared to pure polyester or nylon swimsuits.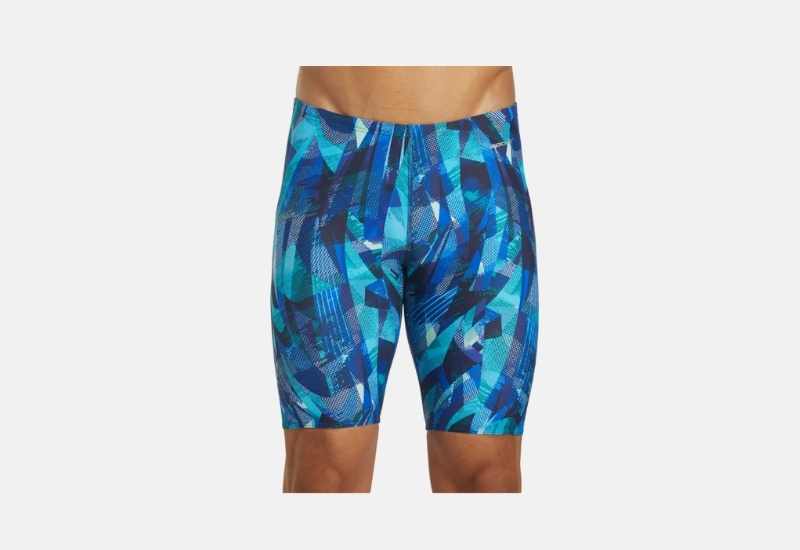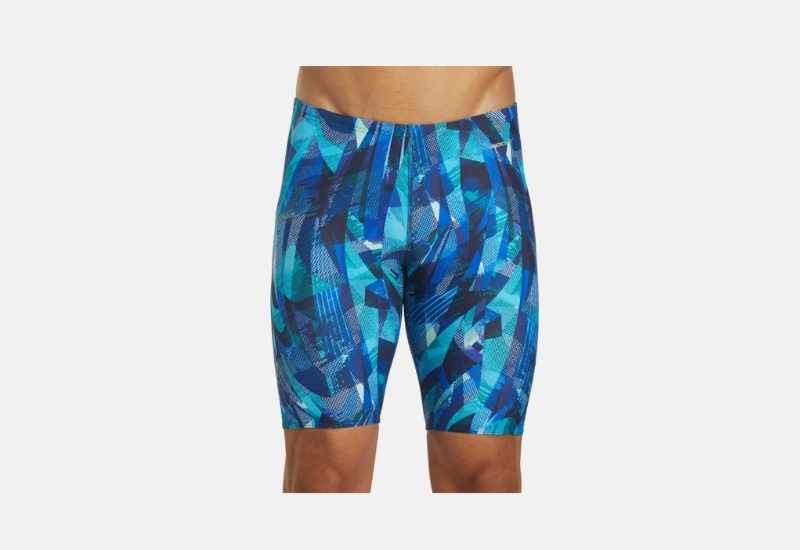 Arena Polycarbonate II MaxLife Jammer
The Arena Polycarbonate II jammers give you the racing suit look with a training suit. Made of two kinds of polyester, they are durable.
Just how durable? According to Arena, you can expect to get about 300 uses out of a set of these bad boys.
They come in six different color combos, giving you plenty of style options.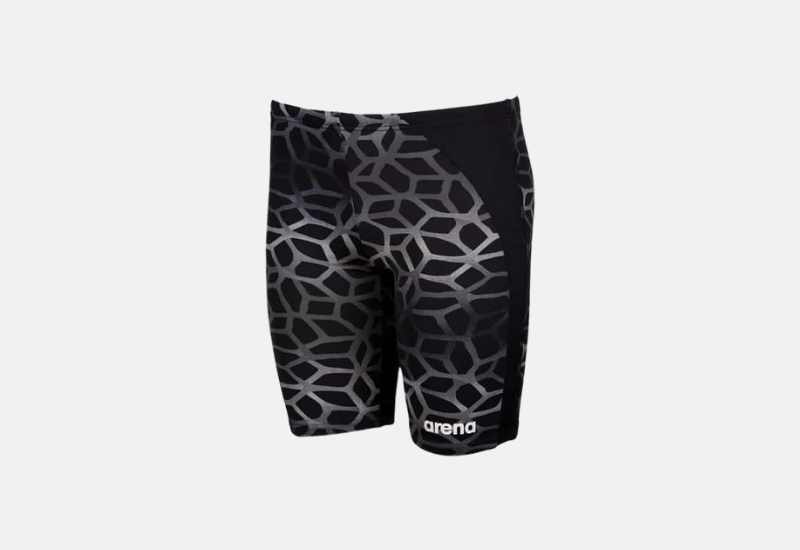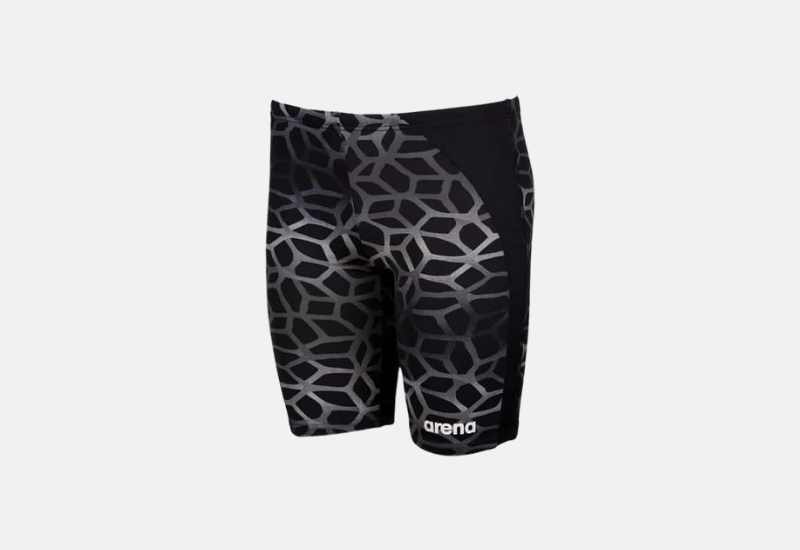 FINIS Jammer Training Suit
The FINIS jammer is a simple, no-frills training suit. Made of 100% polyester, this suit also includes a compression element in the upper leg area, generating a comfortable fit.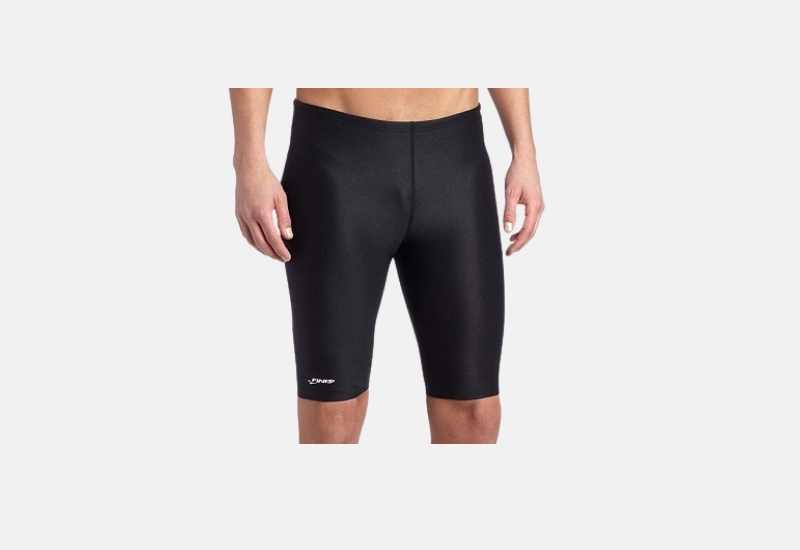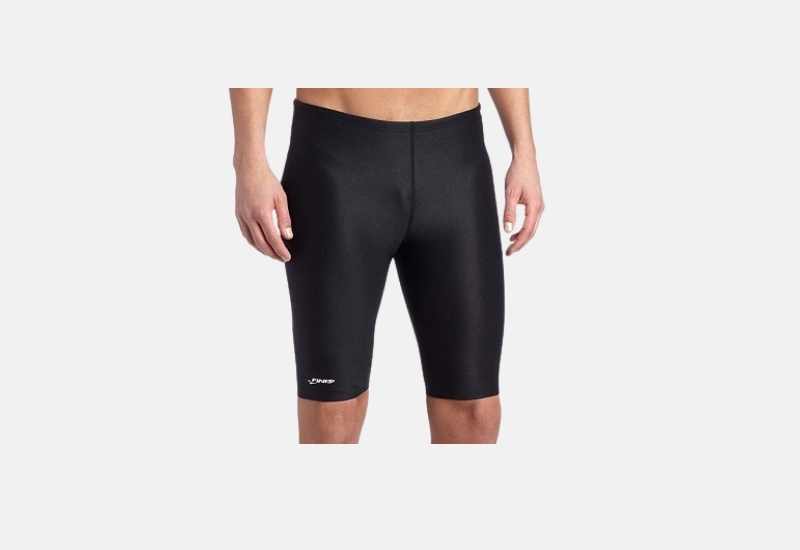 ---
Drag suits
These suits are designed specifically to create extra resistance in the water.
They are typically made of water-absorbent material that will make it a little more challenging for you to pull yourself across the water.
The extra drag can be achieved with pockets (as is the case with FINIS' drag suit), or with a polyester mesh that catches water, making the suit feel heavier.
When training with drag suits, it's important to remember the effect that they have on your stroke. The goal is to add enough resistance to challenge you, but not so much that it changes your stroke tempo and stroke rate.
(Check out this guide for more information and research on when it is best to train with a drag suit in the water.)
Speedo Poly Mesh Drag Suit
This is one of the most popular drag suits around, with high level athletes like backstroke world record holder and Olympic gold medalist Ryan Murphy swearing by it in swim practice.
The suit has an interior lining for support, a drawstring to help keep it snugly around your waist, and a loose fit to increase drag and resistance in the water, helping to make you a stronger swimmer in the pool.
The Speedo poly mesh suit is also available in a wide variety of colors and patterns.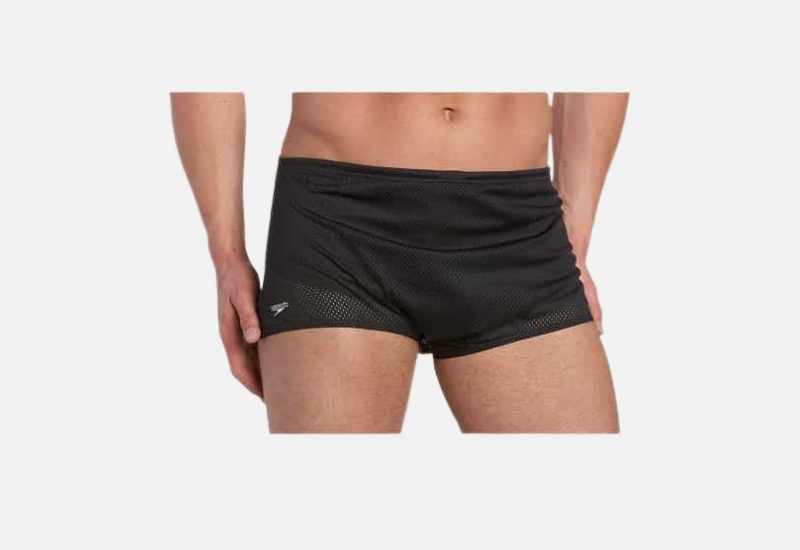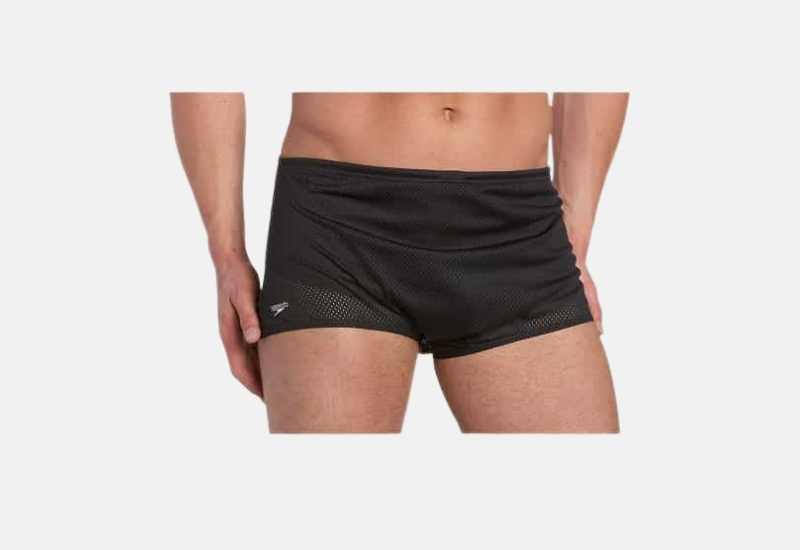 TYR Sport Men's Poly Mesh Training Suit
Made in California, TYR's mesh drag suit is made of 100% polyester and features a comfortable fit.
The suit has a drawstring on the inside and an inner layer that is more form-fitting that helps keep everything where it should be.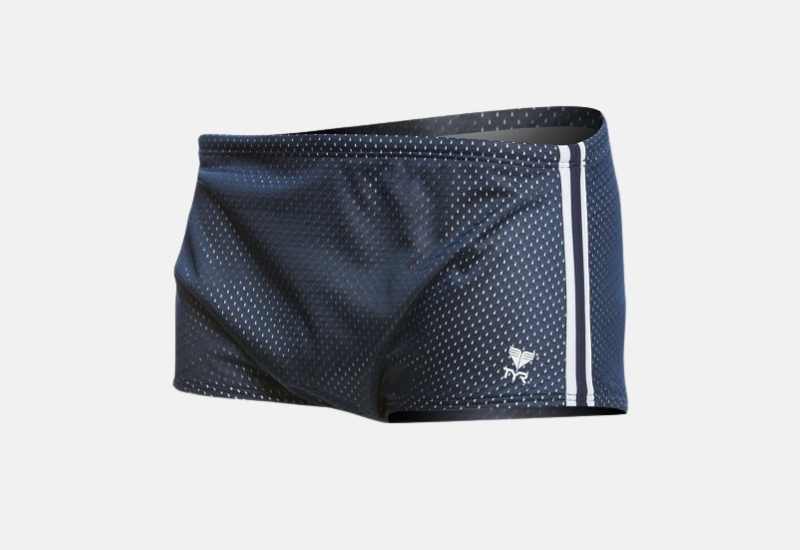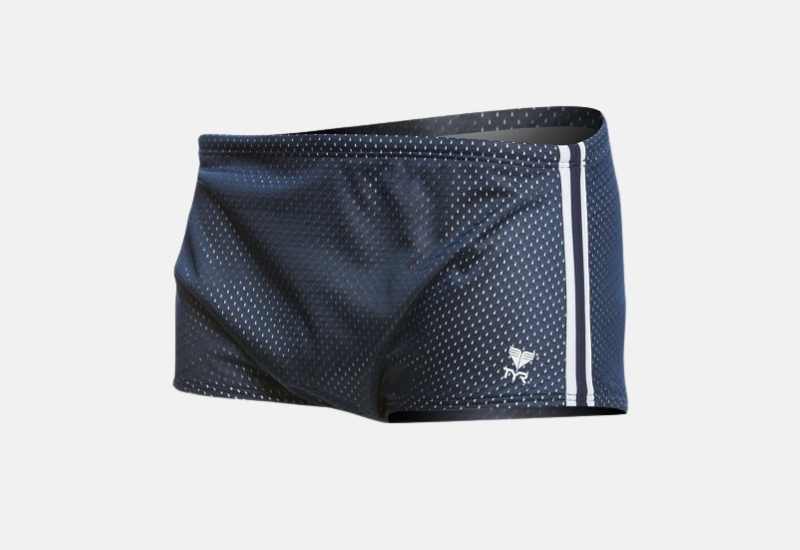 FINIS Drag Suit
Best men's training swimsuit for increasing power in the water
Looking to add some serious resistance to your swim training?
The FINIS drag suit has got you covered, with a series of drag cups around the waist that will catch and ball up the water as you swim.
Just slide it on over your regular suit (works for both men and women) and ramp up the resistance.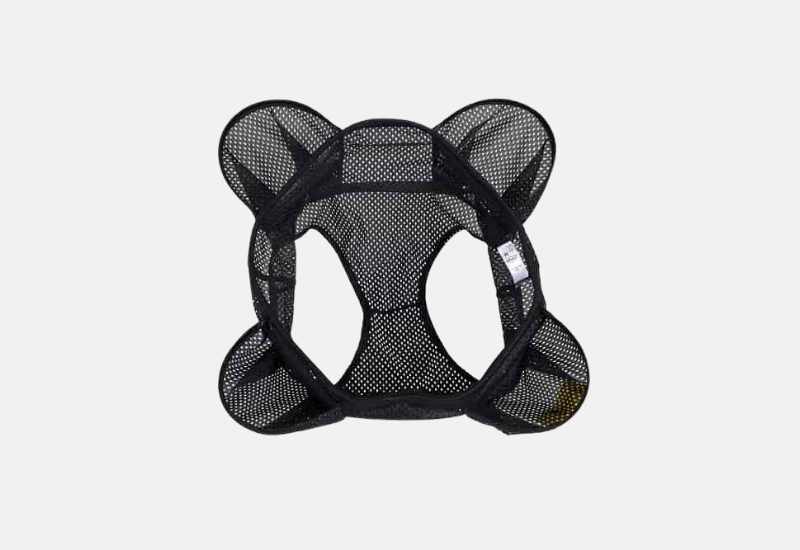 ---
Men's Swimming Training Suits — FAQs
What should men wear to swim laps?
Swimming efficiently requires wearing a swimsuit that is form fitting and comfortable.
You can definitely swim laps with board shorts, but they are not meant for swimming.
Board shorts create a ton of drag and will weigh down a swimmer, making those laps much harder and slower than necessary.
While "Speedos" are not for everyone, there are plenty of hydrodynamic swimsuits for lap swimming like trunks, square cut suits, and jammers, that provide lots of coverage.
Should I size up or down for swimsuits?
Training swimsuits are designed to fit "true to size", unlike tech suits, which can vary wildly in terms of fit and sizing.
Measure the widest point of the hips and the narrowest part of the torso to properly size yourself for a new swimsuit.
What is the fastest men's swimsuit?
Swimsuits are made of nylon, polyester, or elastane (Spandex or Lycra), with many suits being made with a blend of these fabrics.
Swimsuits made of polyester or nylon are the most durable swimsuit, as they won't stretch or fade over time. Polyester and nylon don't stretch, however, so they can make for a stiffer fit.
They also don't repel water, making them a "slow" swimsuit.
Elastane (Spandex) is a thinner, stretchier, and lighter fabric, making it faster. This added speed comes with a shorter lifespan, however, as the suits degrade quicker compared to nylon/polyester swimsuits/
Look for a swimsuit that is around 80-85% polyester/nylon with 15-20% elastane for maximum speed and durability in the water.
Elite swimmers will want to look at this list of the best men's tech suits for competitive purposes.
How do I protect my swimsuit from chlorine?
Swimming pools use chlorine to sanitize and disinfect the water, preventing pools from becoming overrun with bacteria and algae.
Chlorine breaks down organic matter (like bugs, hair, etc) and over time can also degrade swim gear like goggles and swimsuits.
To extend the life of your swimsuit, rinse it out with fresh water after swimming and hang it to dry.
A quick rinse with water after your swim will significantly extend the lifespan of your swimsuit, particularly the ones made with elastane or Spandex, as this fabric deteriorates quickly compared to other common swimsuit materials like polyester and nylon.
The Final Lap
Lap swimming is one of the best things you can do for both your body and for your mind.
Jumping in the water, churning out a bunch of laps, burns calories and reduces stress.
Fortunately, no matter your body type of how serious your swimming aspirations are, there is a lap swimming suit for you and your frame.
Didn't find the swimsuit you like?
SwimOutlet has the largest collection of men's swimsuits on the interwebs.
From jammers to board shorts to briefs to racing suits for competitive swimmers, they have it all.
Click here to see SwimOutlet's full selection of lap swimsuits for men.
---
More Stuff Like This
8 Best Men's Swim Trunks. Hit the pool and beach in style with our collection of the best swim trunks for every activity, body type, and budget.
7 Best Swimming Briefs for Boys. Looking to hit the pool in style and comfort? Here's a breakdown of the top boys swim briefs on the market.