Ready to boost your water aerobic classes with a pair of water dumbbells? Here's a quick breakdown of why they are so effective, as well as a list of the best water weights and aquatic dumbbells for working out in the pool.
Water aerobics is a low-impact and vigorous way to get a workout under your belt.
Classes are held at local pools at various intensities, to high-intensity music or low, quiet tunes, in big and small groups. Putting on your favorite swimsuit for water aerobics and heading down to the local pool gives you an opportunity to exercise in a low-impact environment, without the jarring impact that can be harsh on joints.
Although all you truly need is a swimsuit to hop into the water, there are some effective pieces of water exercise equipment that you can use to boost the efficacy and enjoyment of your workouts.
In addition to the versatility of your standard pool noodle, or a buoyancy belt for water jogging, one of our favorites is the simple-looking, but surprisingly difficult to use, water dumbbells.
In this guide, we will look at the best water dumbbells and pool weights for taking your low-impact workouts to the next level.
Let's jump right in.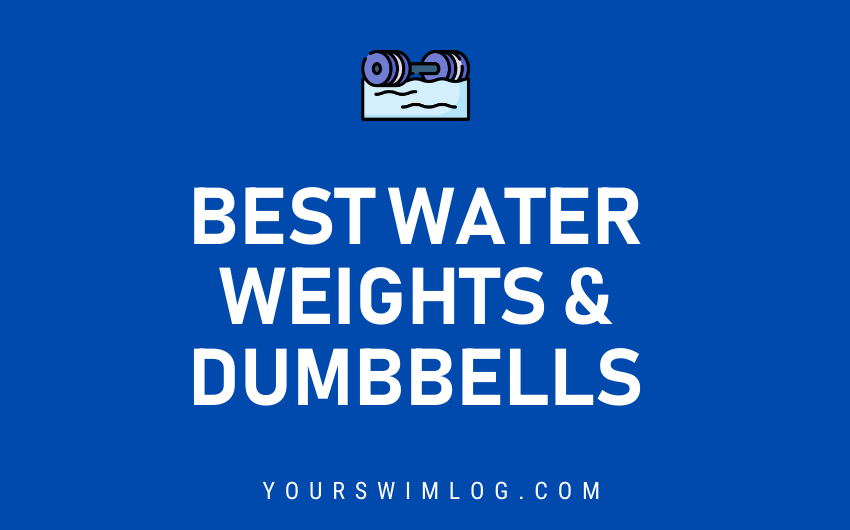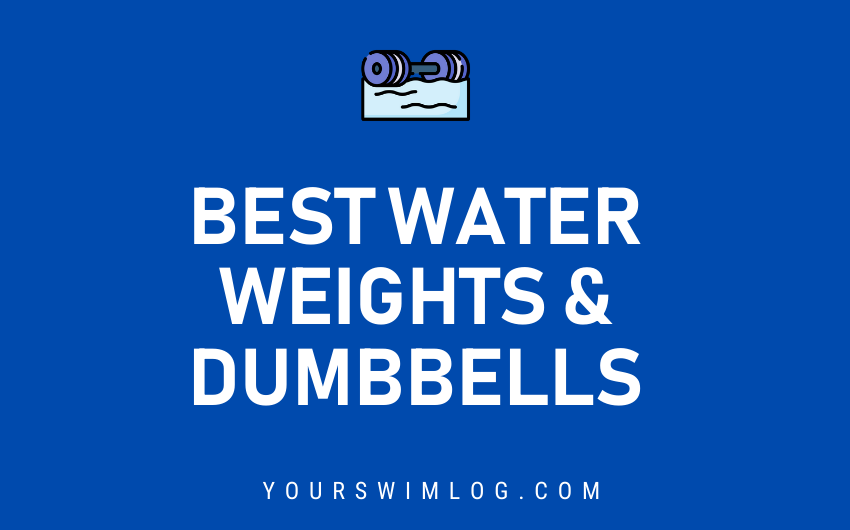 Best Water Weights and Dumbbells
Trademark Innovations Aquatic Exercise Dumbbells
⭐ Best overall water dumbbells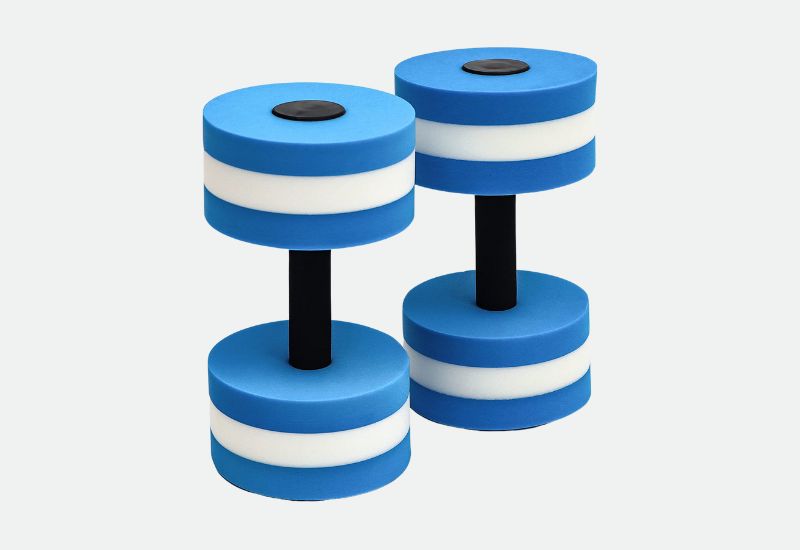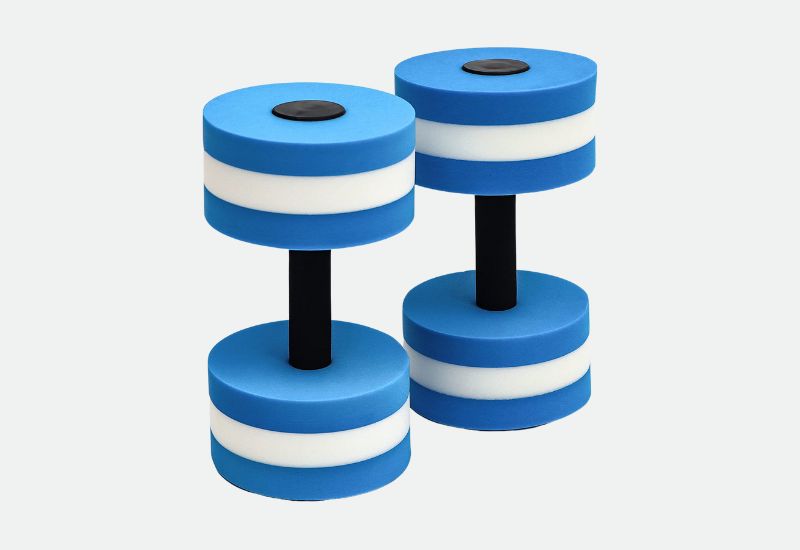 Well-priced, simple, and highly effective for crushing it in the water, the Trademark Innovations Aquatic Exercise Dumbbells take the top spot in our little list of best water dumbbells.
They are made of a long-lasting EVA foam that dries quickly between uses. They are 11" long, 6" wide, and come in a whole bunch of colors (8 different colors last time we checked!).
The foam is closed-cell, which means that it won't soak up water and drag you down while working out in the pool (also means they will dry fast when you are done).
The handles on these water weights are thick enough to help you lock in your grip and Amazon retails these for less than $20 (check Amazon for current pricing and availability on different colors).
---
Theraband Water Weights
⭐ Runner-up for best water dumbbells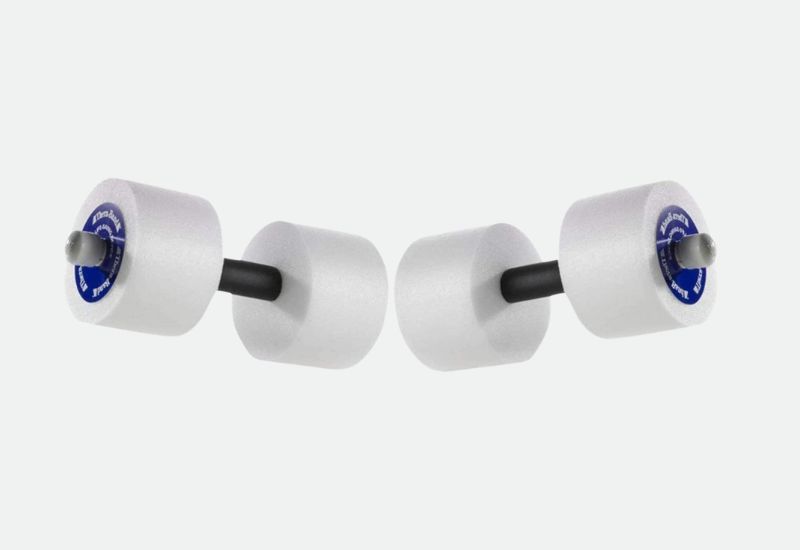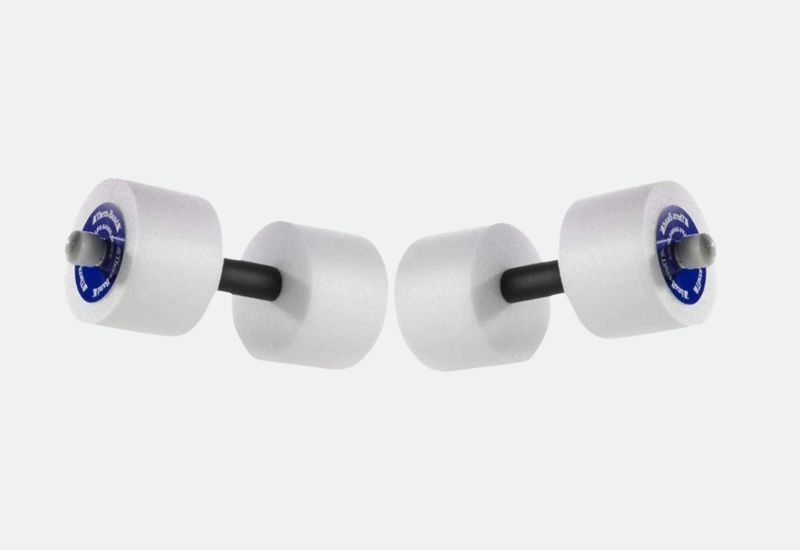 You may be familiar with Theraband for its resistance bands and therapy tools. Turns out, they make a killer pair of water dumbbells too!
Popular with both water aerobics enthusiasts and physical therapists, these water weights provide enough resistance without running the risk of injury or overloading joints and muscles. Made with closed-cell foam, the dumbbells don't absorb water and dry quickly when taken out of the water.
[See also: Looking for an organizer or box to store your pool equipment? Check out this guide to the best pool toy and accessory storage bins.]
The Theraband Water Weights come in three different sizes, from small to large, with the biggest one (blue) being 15" in length, giving you lots of flexibility in the degree of resistance and effort you want to create while at the pool. They are sold in pairs.
Whether you are looking for a set of water dumbbells for bouncing back from injury or you want to take your pool exercises to the next level, the Theraband Water Weights are an excellent option.
---
Trademark Innovations Triangular Aquatic Dumbbells
⭐ Best water dumbbells for intermediate users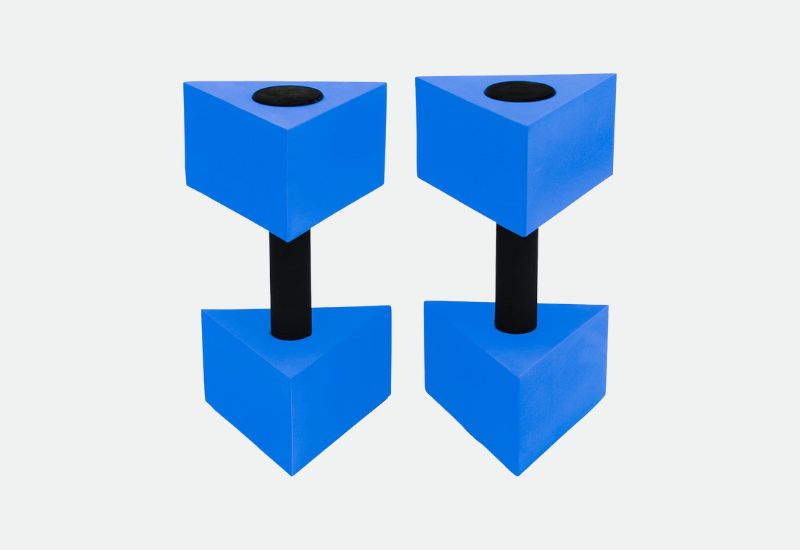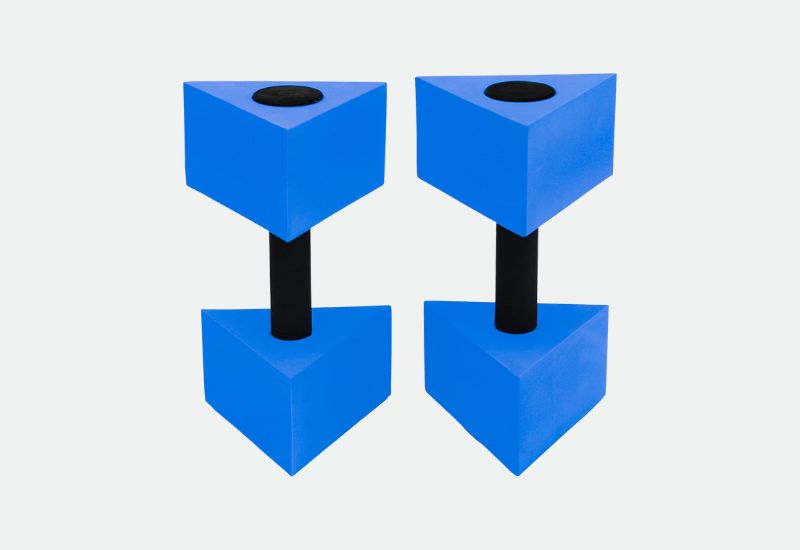 Another set of aquatic dumbbells by Trademark Innovations, the distinctive shape of the Triangular Aquatic Dumbbells makes them easily stackable. Like their circular cousins, they are made of the same long-lasting and quick-drying EVA foam that holds up well with consistent use in chlorinated pools.
The shape also gives you a different sensation of resistance when moving them under the water, which helps target your upper body and core. The flatter edges make the pool dumbbells harder to use in the water, making them an excellent option for the intermediate or advanced water aerobics trainee looking for added resistance.
Each dumbbell is 12″ long and 6″ wide, and their closed-cell foam construction means that they dry quickly when not in use.
Trademark Innovations sells these in pairs and are available over at Amazon (check here for current pricing and availability).
---
Sporti Aquatic Fitness Heavy Water Weights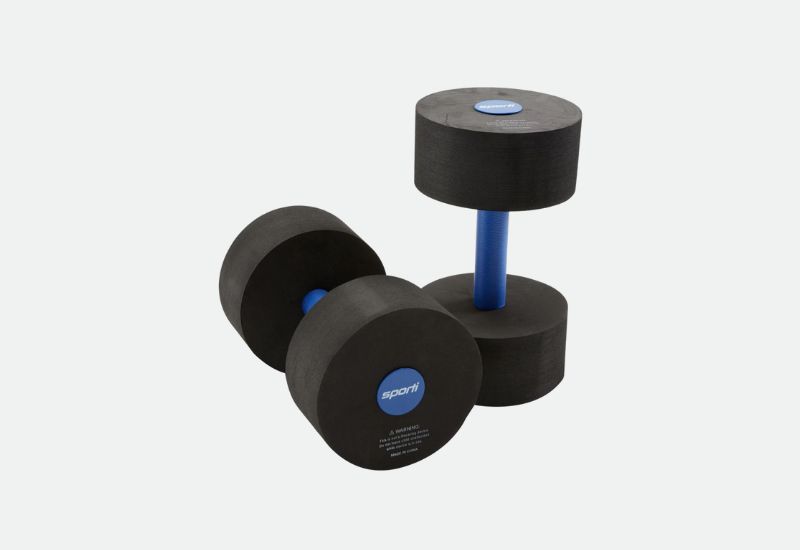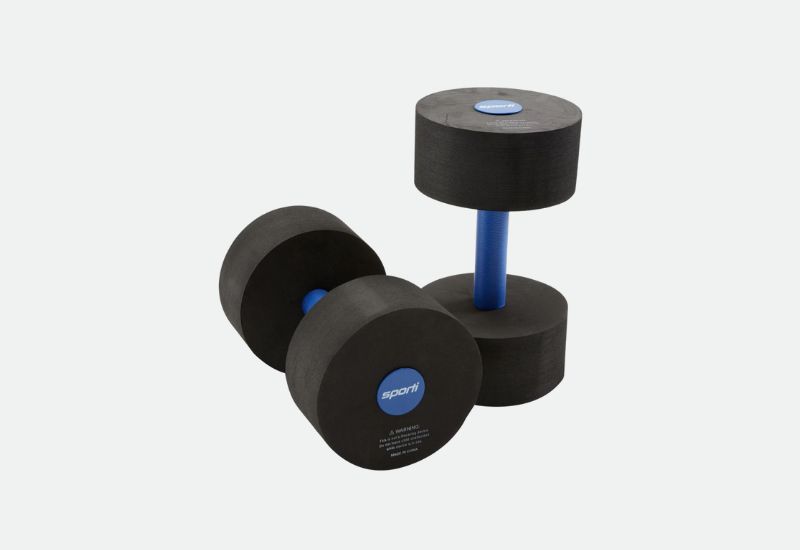 Looking for more of a challenge in the water when doing your workouts? The Sporti Aquatic Fitness Heavy Water Weights are large, provide a heap of resistance, and have comfortable handles for extended use.
The closed-cell EVA foam is highly resistant to chlorine and degradation (the foam is the same you see in most swim kickboards). The foam also doesn't soak up water, giving you a killer workout in the pool without absorbing a ton of water.
Also available in lighter resistances (check Swim Outlet for their full line of water weights here), these water weights for pool dry quickly, come in a pair, and are excellent for blasting away at your upper body and core during your water workouts.
Available exclusively at Swim Outlet and in a range of colors.
---
AquaJogger DeltaBells Pro Pool Water Weights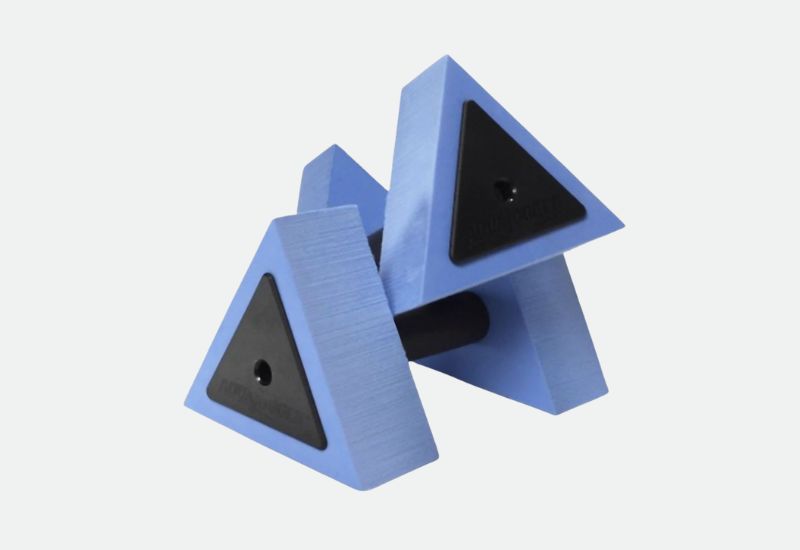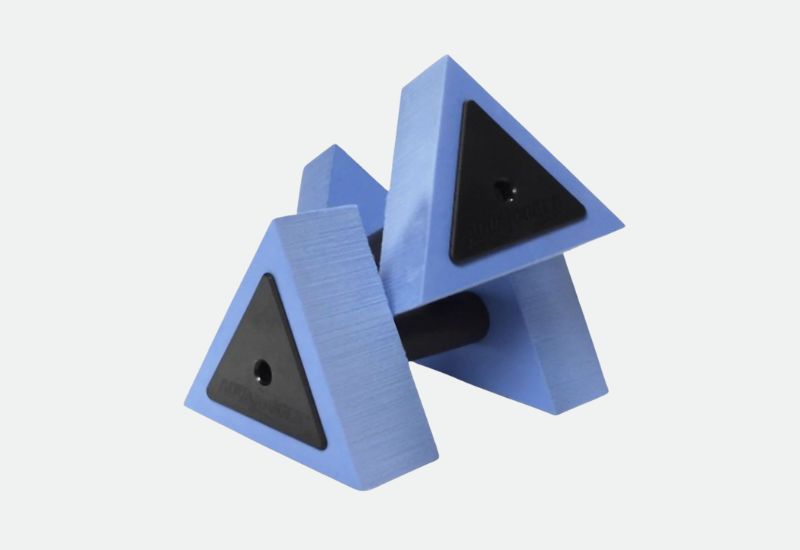 AquaJogger is best known for their best-selling line of water jogging belts, but they also make a great set of water dumbbells for exercising at the pool.
These dumbbells have a triangular shape that provides a flat wall of resistance in the water. By turning the dumbbells in the water you can also adjust the resistance to make things easier or more challenging.
The bells are made of high-quality EVA foam that won't fall apart and crumble in the face of unrelenting chlorine, and the thick padded handle makes gripping the dumbbells easy on the wrist and fingers.
AquaJogger sells two versions of these water weights, the ActiveBells provide a lighter amount of resistance, while the DeltaBells (which are pictured below) crank up the resistance by 25% in the water.
Designed to last, and ready for all of your water training, the AquaJogger Water Weights are an excellent addition to your workout routines. These water dumbbells also include a workout guide with plenty of exercise ideas.
You can shop all the different sizes of the AquaJogger weights—and in different colors—exclusively at Swim Outlet.
---
TYR Aquatic Fitness Kit
⭐ Best all-in-one water weights kit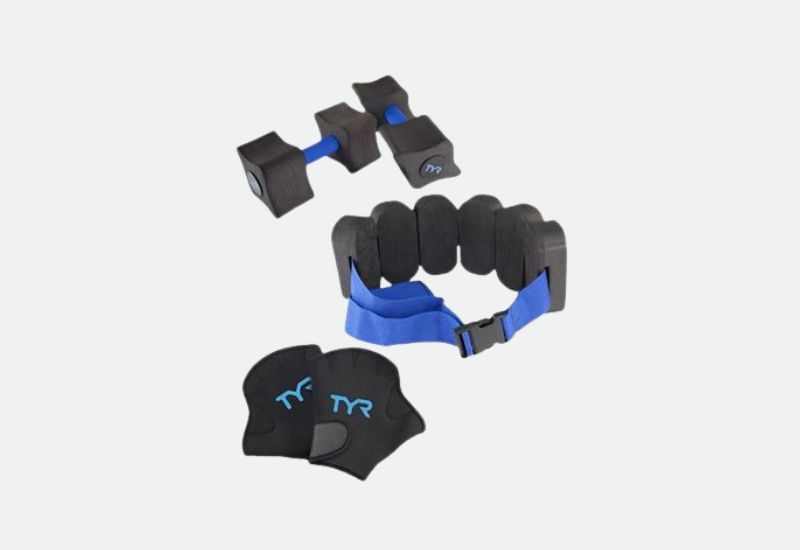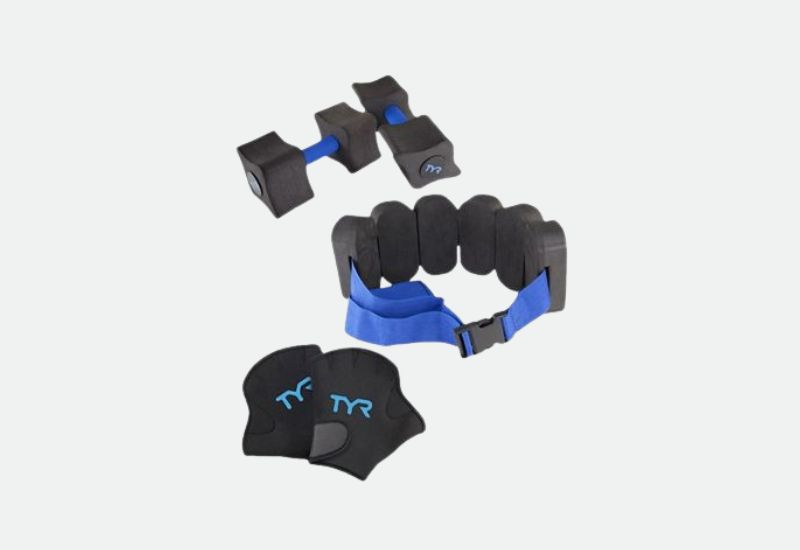 Looking for a full kit of workout gear for your water workouts? The TYR Aquatic Fitness Kit has everything you need to kick all of the butts in the pool (well, your own, at least!).
Included with each is a set of medium-resistance water gloves that are webbed for an added challenge in the water. Made with long-lasting neoprene, these gloves are easy to adjust and will fit the hands of most exercisers.
The water weights that come with this kit are flat and four-sided, which is handy for outdoor pools so that the dumbbells don't roll/blow away between sets and workouts. The pool weights are made with closed-cell EVA foam that won't fade from repeated chlorine exposure.
And lastly, the aquatic floatation belt that is perfect for water jogging or simply keeping you afloat while doing a water aerobics class. The belt is customizable to your waist size and the foam inserts can be removed to provide an optimal level of buoyancy.
The TYR Aquatic Fitness Kit gives you everything you need to get started with water aerobics in the pool and when bundled up together can save you some cashola when compared to buying each item individually.
Available for around $55 from the folks over at Swim Outlet (check here for current pricing and availability).
---
KEMP Aquatic Bar Float
⭐ Best aquatic barbell pool weight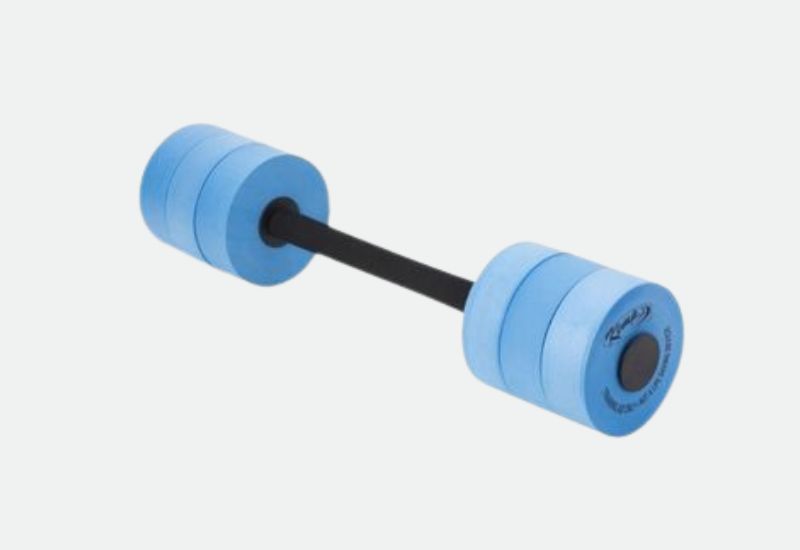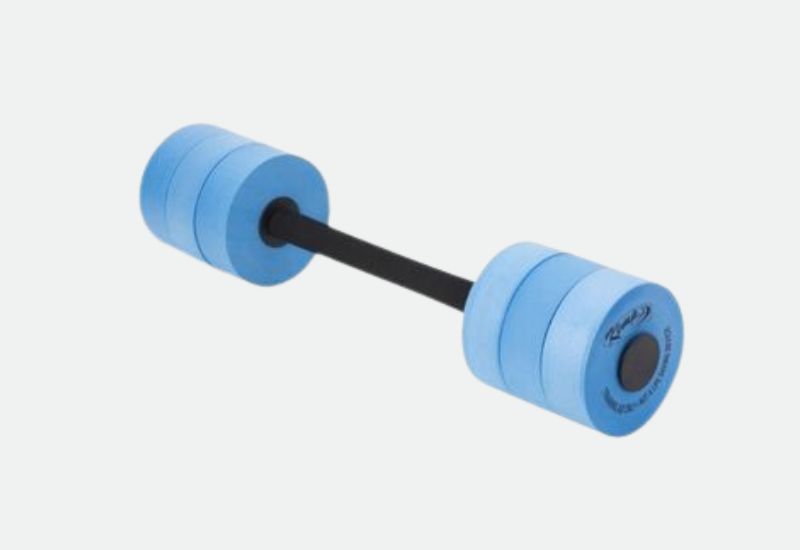 Water dumbbells have tons of versatility, but sometimes you want something that has a fixed-grip that you can use to level up your rehab and workouts in the water.
That's where this water barbell by KEMP steps in.
Constructed of closed-cell foam, this aquatic barbell won't soak up water and dries quickly between sessions in the water. The 26" bar handle is made of unpolished foam padding which is very comfortable and easy to grip. The bar also provides a lot of variety in grip width.
The KEMP Aquatic Bar Float is essential for people looking to make the most of their water aerobics classes, or those of you who are coming off an injury and want to reintroduce resistance training to your daily routine.
The barbell retails for around $20 and is available exclusively at Swim Outlet.
---
How to Choose the Right Water Weights and Dumbbells
Still not sure about which water weights are right for you?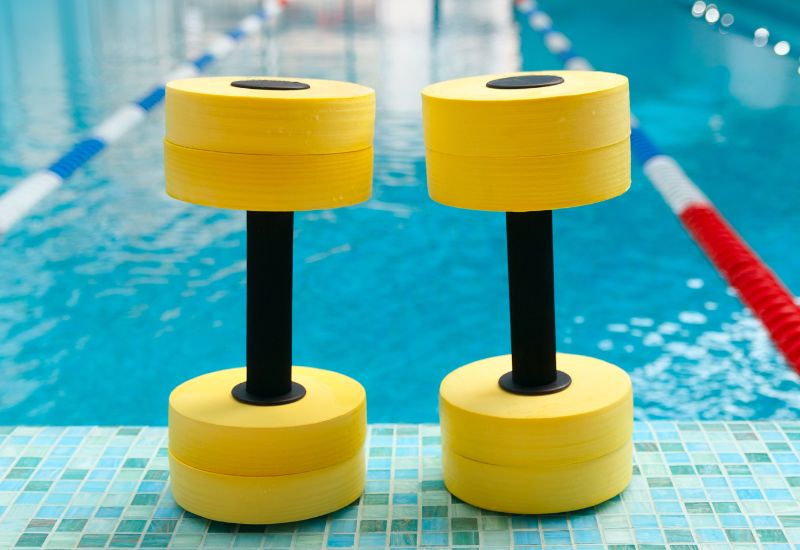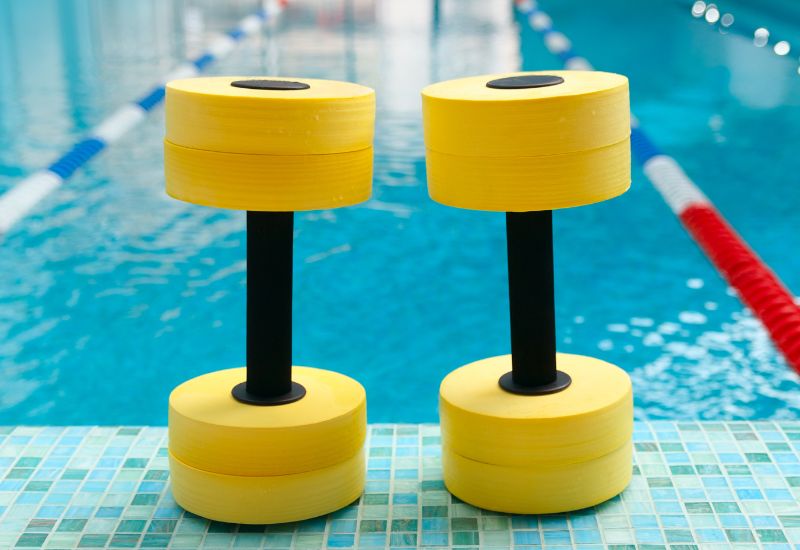 Here are things to consider when looking for the best ones for you.
✅ Exercise and use.
The main thing to look for when choosing water weights is matching them up with your goals in the water. There is a lot of different stuff you can do with aquatic weights, from using them for physical therapy to help you bounce back from injury to utilizing the added resistance from the water to build up a big sweat.
Water weights provide a long list of exercises and resistance levels for you. The shape, size, and construction of the dumbbells should align with what you are trying to accomplish in the water.
✅ Construction.
Water dumbbells are typically made of closed-cell EVA foam. This type of foam is awesome for water-based workouts as it doesn't soak up water, dries quickly, and is very durable.
Pool chemicals can quickly degrade fabric and materials of all types (notice how your swimsuits start to thin and stretch over time in chlorinated water?), but EVA foam is very resistant and will retain shape over time.
While a majority of water dumbbells are made of this kind of durable foam, there are some other options on the market that feature a composition primarily of plastic.
✅ Bell shape.
The "bells"—the end of the dumbbell—vary in thickness, shape and width. The classic dumbbell has a round bell, but there are also square, triangular, and bladed bells that offer a variety of resistance during your workouts in the pool. The square dumbbells are easier to store (and won't roll away) and give a different type of resistance against the water.
✅ Handle and grip.
The handle of the water weights you choose is important. Look for a handle that is thick enough to help you retain a proper grip while also soft enough that you can comfortably hold onto it for the duration of your time in the pool.
✅ Dumbbells vs Barbells.
Water weights are expanding in form. Gone are the days when you only had the option of the white foam dumbbells. Nowadays there is a wide variety of shapes and formats, including dumbbells and barbells.
Each type of weight has its advantages, with barbells being great for fixed-grip presses and even for using to float and kick with.
What are the Benefits of Water Dumbbells and Water Weights?
Water dumbbells provide a surprising contradiction when you compare them against their land-based counterparts. While they all generally take the same shape, water dumbbells are typically made of quick-drying EVA foam that is super light.
The way that aquatic dumbbells work is that they take advantage of the water's natural resistance—nearly 800 times denser than air.
On top of this, aquatic dumbbells are extremely buoyant, which makes it challenging to keep them submerged, providing an added dimension of resistance.
Water dumbbells are a killer way to get a great workout for those who want a strictly low-impact workout. Even for seasoned lifters and exercise enthusiasts, working out in the water with water dumbbells is a whole different animal.
Whether it's because you are coming off an injury, simply want to mix things up, or take it easy on your joints, water dumbbells are awesome for working your back, shoulders, arms, and chest, helping you get stronger and get in better shape.
---
More Stuff Like This
7 Best Water and Swim Shoes for Women. Whatever kind of aquatic activity you are into, here are our favorite water shoes for women.