There are fewer worse things in the world than hiking along or walking around, opening your bag and finding that your gear and clothing have gotten wet.
Not great.
Fortunately, there are a metric ton of options for protecting your gear and clothing from the wettest of the elements.
The waterproof (and water-resistant) backpacks detail below offer varying ranges of water-protectiveness.
So whether you are looking to protect your laptop and electronics or keeping a change of clothes dry while hiking or adventuring, here is a breakdown of the best waterproof backpacks.
Choosing the right waterproof backpack
There are a few considerations to keep in mind when picking out the best waterproof backpack for your life of wet and soggy awesomeness:
Size/Volume. Bags vary widely in size. There are bags that come as large as 120L (this is basically duffel bag territory) while smaller bags come in sizes as small as 2L in volume. Obviously, your size needs will vary according to duration of activity, whether you are traveling (will it come under the size restrictions for carry-on bags?), and how much gear you are lugging around.
Color combo. Having a bright waterproof backpack is handy for maintaining visibility in darker conditions, when walking through wooded areas, you are out on the water, and just generally being able to quickly find it when you put it down and meander off to get that perfect picture.
How waterproof is the bag? This is where we need to pay attention to the wording in product descriptions. Some bags will be listed as water-resistant, while others are described as being waterproof. A water-resistant bag will keep your stuff dry in casual rain showers, but won't fare well when submerged into water or exposed to sustained bouts of heavy rainfall.
Cost of your waterproof bag. The amount of money you are willing to fork over for the bag should parallel how much you are going to be using the bag. Costs for bags vary widely, depending on size, brand, and volume. Generally, most of the bags reviewed here are between $40-60.
With that in mind, let's get into my little list of my favorite waterproof backpacks!
IDRYBAG Waterproof Backpack and Dry Bag
I'm a big fan of dry bags. Ever since I got a 30L dry bag with my GoPro Hero 7 I have been utterly sold on the ease and utility of these bags.
The IDRYBAG takes the traditional dry bag and levels it up, with padded shoulder straps, reflective trim to keep you nice and visible, and a front zippered pocket to store things like passport/phone for easy access.
Like a little Russian doll, the IDRYBAG comes with a mini bag that you can place your high-value items inside (volume of the small bag is 2L), or simply use as a day bag when going out for a couple quick hours and don't want to lug all your gear with you.
The IDRYBAG checks off all the biggies when it comes to being an awesome waterproof backpack: it's fully waterproof, has tons of capacity, is small enough to carry-on to most airlines, and comes in a variety of different colors (four the last time I checked).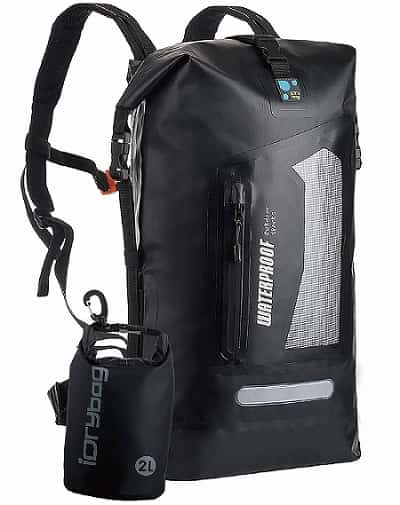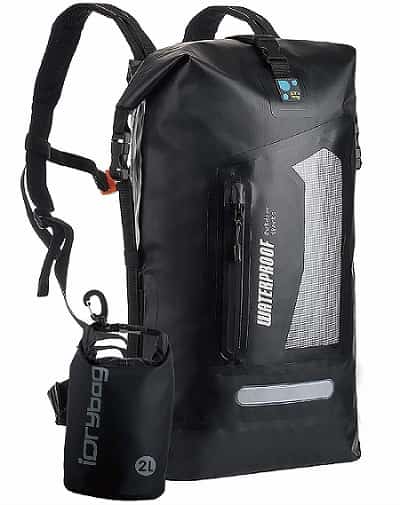 Vitchelo Waterproof Backpack and Dry Bag
This backpack is another dry bag that is a backpack…or it's a backpack that's a dry bag. Either way, you get most of the best features of both packs in one.
The 30L Vitchelo Backpack comes with some added bells and whistles, including mesh pockets on the side for water bottles, flashlights, or maybe even an umbrella or two. The front of the backpack has webbing for added gear, a handle at the top of the bag for easy carrying, padded shoulder straps, and both chest and waist straps to really keep your bag locked onto your body.
The Vitchelo backpack/dry bag comes is made of high grade Tarpaulin, comes with a 60-day money back guarantee, and a bonus waterproof pouch for your smartphone.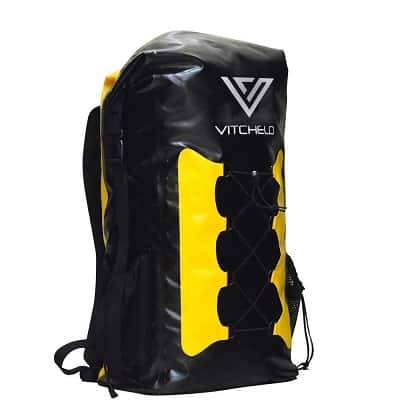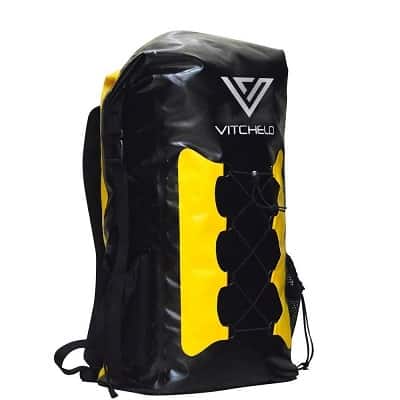 FE Active Eco Water-Resistant Bag
The FE Active Eco Waterproof Bag has a ton of bells and whistles that make it ideal for your water-soaked outdoor excursions. The bag is extremely light, coming in at about two pounds (less than one kilogram), and is constructed with a 5mm thick marine-grade PVC tarpaulin that will keep water out and your gear dry.
The bag is water-proof, so long as you close up the bag as instructed. The manufacturers completely submerged the bag for thirty seconds under the water and nothing inside got wet.
Other features include: mesh siding for water bottles/shaker cups, a corded scaffolding on the outside to hold larger items (bike helmet, fins, snorkel), and has padded shoulder and chest straps that help the bag sit comfortably and snugly against your back.
This bag is most ideal for excursions where you might get a little wet, but you aren't expected to cannon-ball into the lake while wearing it.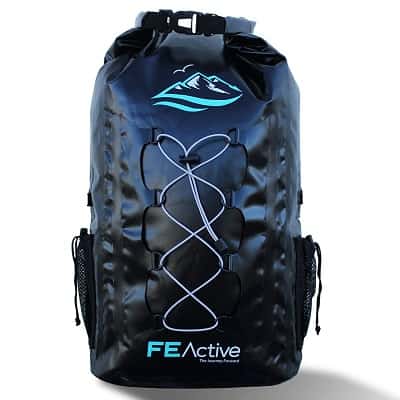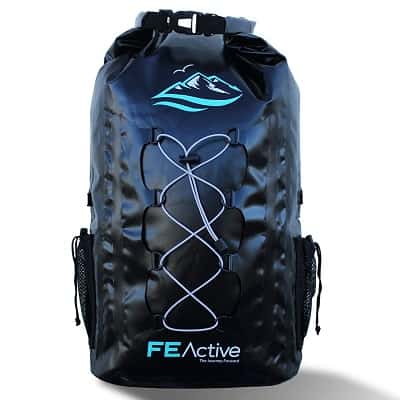 Venture Pal Lightweight Backpack
The Venture Pal is a waterproof backpack… sort of. There is a waterproof compartment within the main area of the bag that can be used to separate wet items from your dry gear, or keep your valuable dry stuff (electronics, etc) dry in the event you catch yourself falling into the ocean while paddle-boarding or getting caught out in some heavy rain. The exterior of the bag is made of a water-resistant nylon.
The shoulder straps on the Venture Pal backpack are padded and adjustable, and the chest strap comes with a bonus little feature—a bright orange whistle built-in to the buckle.
In terms of volume, the Venture Pal is one of the bigger bags on our little list, coming in at 40L in volume. The Venture Pal waterproof backpack comes in a dozen different color combinations and patterns, from your regular old black and orange to floral and camo prints.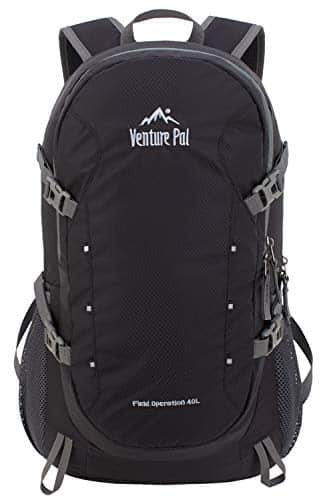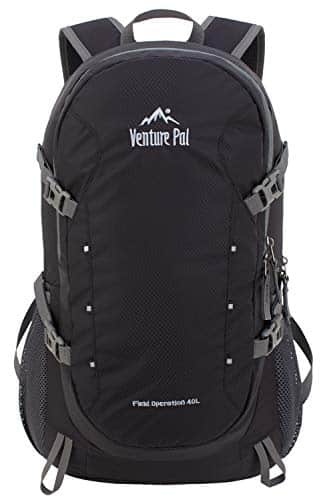 Earth Pak Waterproof Backpack (My#1)
Looking for a large, robust and waterproof backpack that doesn't mess around?
The Earth Pak Waterproof Backpack is probably what you are looking for. This thing simply looks like it bullies water into submission with its no nonsense aesthetic and design.
The completely waterproof backpack comes in two large sizes, 35L and 55L, has adjustable shoulder straps with a mild amount of padding, with chest and waist straps as well. The design of the bag is as simple as it is effective.
It comes in five different colors, comes with a free waterproof smartphone pouch, and D-rings on the shoulder straps and looping to secure the bag while kayaking, boating or cycling in the rain.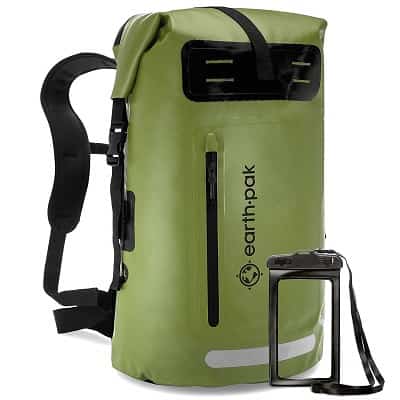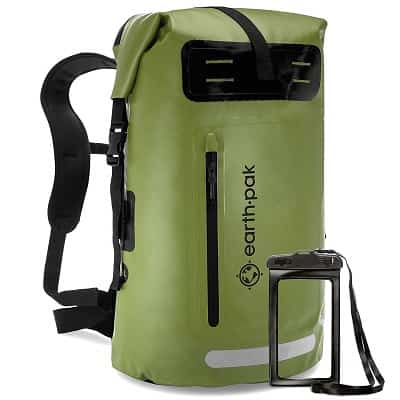 ---
More Stuff Like This:
5 Swim Bags to Help You Look Like a Champ on Deck This Season. Looking for a swim bag to haul your swim gear? Here are the 5 best swim bags on the market.