Looking for a swim bag to haul your swim gear? Here are my top picks for the best bags on the market for swimmers.
Swimmers lug a lot of gear around in their swim bags over the course of the day. Gone are the days where all we needed was a suit and swimming googles—now we have paddles, fins, swim snorkels, and all the rest.
Swim bags need to be able to carry a lot of gear, and they need to be able to take a beating—they get soaked, dropped, thrown, and stepped on daily, while also being water-resistant and spacious enough for all our stuff.
Here are the top swim bags available for competitive swimmers these days, as well as some quick notes on each.
(If you are looking for mesh bags for swimmers, check out this guide where we cover some of our favorites.)
Let's dive right in.
1. The Speedo Teamster Swim Bag
Easily the most popular bag on the pool deck, the Speedo Teamster swim bag has long been a staple for competitive swimmers at the pool. The familiar-looking Speedo logo on the back of the bag can be seen from across the parking lot.
There are a lot of reasons this bag continues to be the best.
The original Speedo Teamster (we will take a look at the Teamster 2.0 shortly!) is made with a quick-drying mesh weave for storing all of your soggy swim gear after a long session at the pool. A removable wet bag separates your sopping swimsuits and towel from garments that you want to keep dry.
The Teamster also has a bunch of pockets for your equipment and accessories, including aside mesh pockets for your water bottles and shaker cups. Padded shoulder straps make lugging your stuff a breeze, the bottom of the bag is water-resistant, side pockets are designed for your smartphone and other valuables, and there's even a removable bleacher cushion for swim meets where you are waiting for extended periods of time between events.
The Speedo Teamster Swim Bag is a classic and has been around for a few years now. With a capacity of 35L, tons of storage, and a large main compartment with an organizer, the Teamster continues to be a legend when it comes to swimming bags for kids and adults alike.
Available in a heap of different colors, from solids to vibrant prints, the Speedo Teamster Swimmer's Bag is our go-to for best in class.
Size: 35L, 20" x 17" x 8"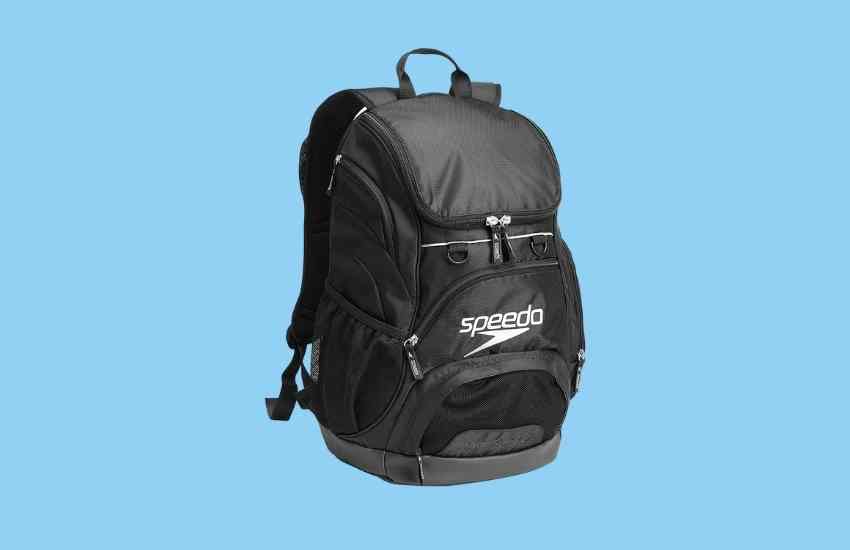 ---
2. Arena Team Swim Bag
Arena's contribution to the swim bag market is clean-looking and feature-rich. It has a reinforced bottom, enough pockets for all your swim gear, including your smartphones and GoPros.
It is made of mostly nylon, is water-resistant, and has ventilation, which comes in handy on those days where you leave your wet, sopping swim gear in your bag overnight.
Size: 35 x 23 x 49 cm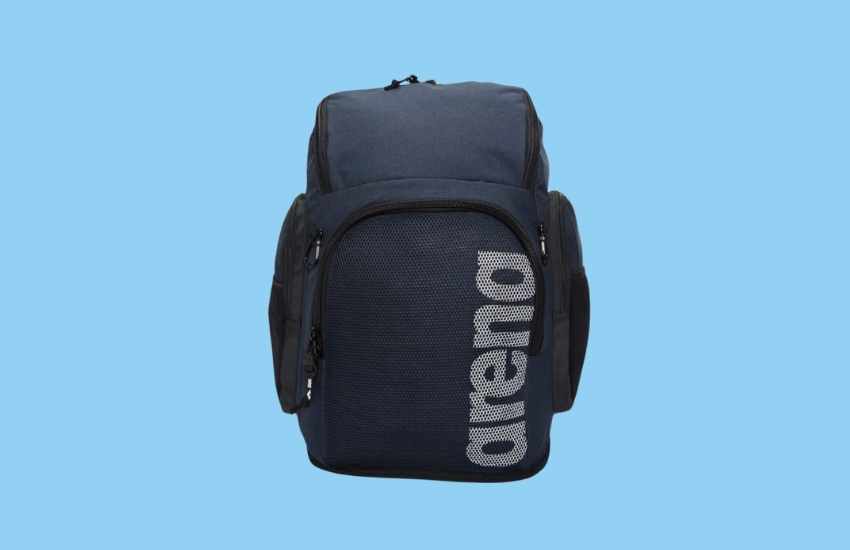 ---
3. Speedo Teamster 2.0 Swim Bag
How do you improve on the best? The Speedo Teamster 2.0 Swim Bag took a lot of what made the original Teamster such a staple for swimmers and made a handful of improvements and adjustments.
Most noticeably, the Teamster 2.0 features a "stiffer" and more narrow construction, meaning that the bag stands up better when you place it on the front. The top flap of the bag is customizable, which makes things easy to organize, from your swim goggles to earplugs to favorite swimming caps.
Like its predecessor, the Teamster 2.0 has a lot of the same water-proofing and water draining features, including an unlined main compartment, a large side pocket for separating wet and damp swim gear, and another side pocket for stashing your water bottle.
While the Teamster 2.0 looks smaller, it has the same volume as the original, just with a more streamlined (ha–swim pun!) construction and look. Available in a wide range of colors and bright prints, the Speedo Teamster 2.0 is an excellent update on a classic.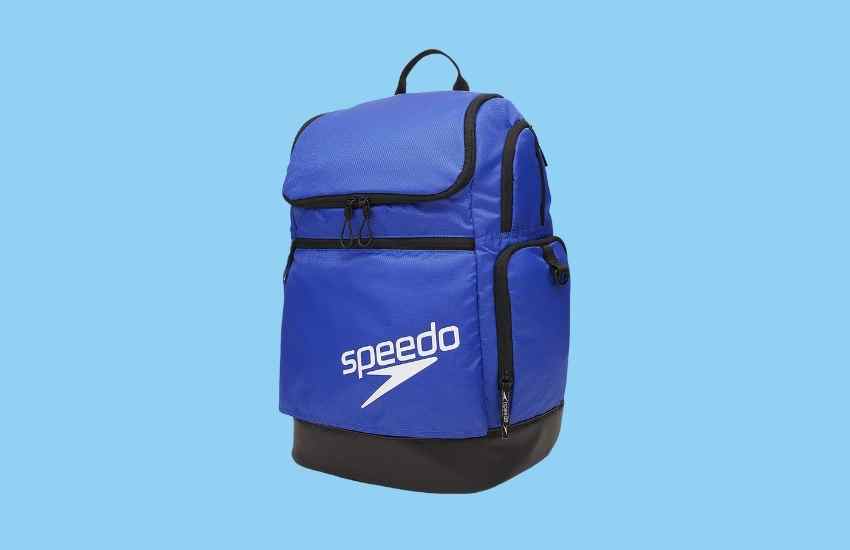 ---
4. TYR Big Mesh Mummy Swim Backpack
Many swimmers have both a waterproof backpack or duffel bag as well as a mesh bag for carrying their swim fins, paddles, kickboard, and so on.
The TYR Mesh Mummy Backpack combines these two bags into a mesh swim backpack. Made with polyester, which stands up to harsh pool chemicals like chlorine and bromine, the TYR Big Mesh combines a lot of the best features of both a traditional swimmer's backpack and a mesh swim bag.
For starters, the mesh venting means your gear has a chance to "breathe" between workouts, drying naturally. Side mesh pockets also allow your goggles and other smaller items a chance to dry on their own. A drawstring closure keeps your items inside between workouts, two shoulder straps make carrying your stuff simple and the bag can fit a surprisingly large amount of gear.
TYR offers the Big Mesh Mummy Mesh Backpack in a variety of bright colors and the swim mesh backpack is affordable, retailing for around $25, making it a cost-effective way to dry and store your swim gear between swim workouts.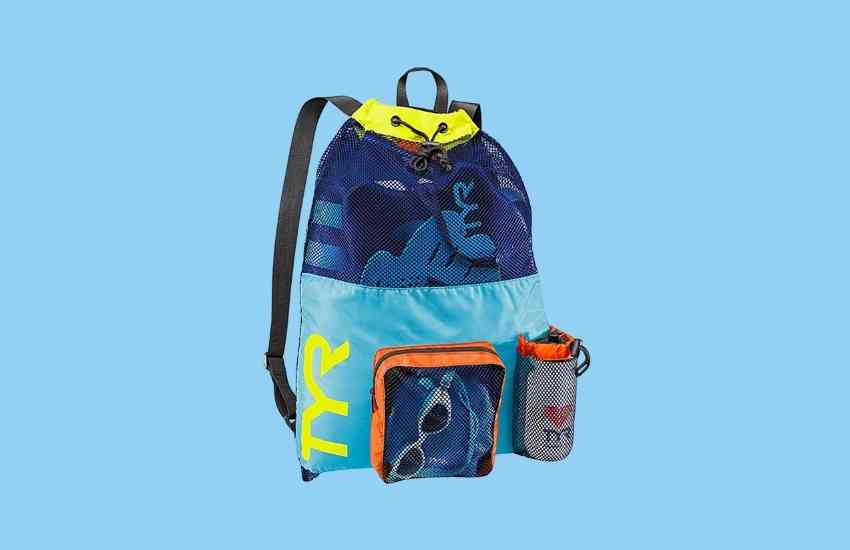 ---
5. Dolfin Ready Room Swim Backpack
The Dolfin Ready Room swim bag is the least expensive on this little list. But that doesn't mean it is cheap on features. One of the things I like most about this bag is that it has a separate padded compartment for laptops/tablets.
It is also easily accessible from the top with a 180-degree top-loading panel, making it easy to get in and out of the bag when in cramped spaces, like on a crowded coach bus on the way to the big meet, or in the stands between races.
Size: 12″ wide x 18″ tall x 7″ deep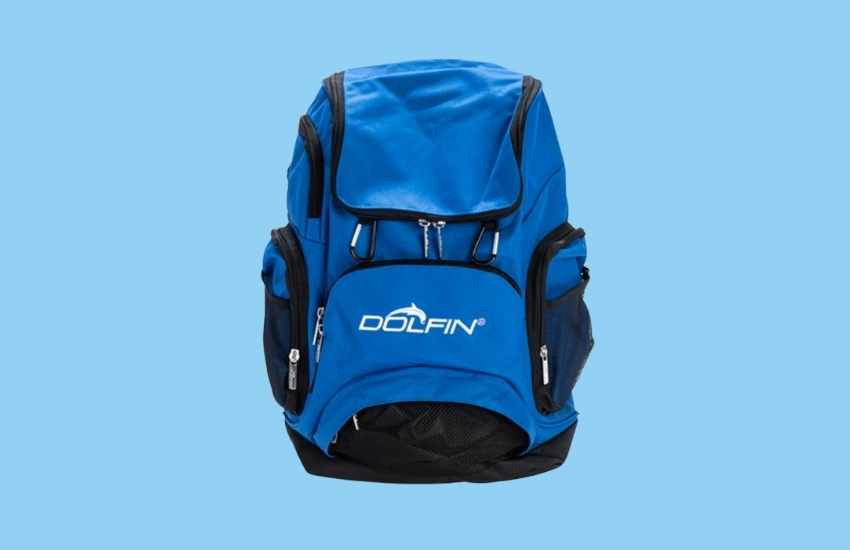 ---
6. TYR Alliance Backpack
This bad boy is one of the largest in terms of volume, coming in at 45L (they also have a 30L version of the bag).
Like the Dolfin bag it has a padded sleeve to slide a laptop or tablet in and out of, a waist strap to help secure the bag around your waist (helpful when it's full of heavy, wet swim gear), and even a whistle. Why not, right?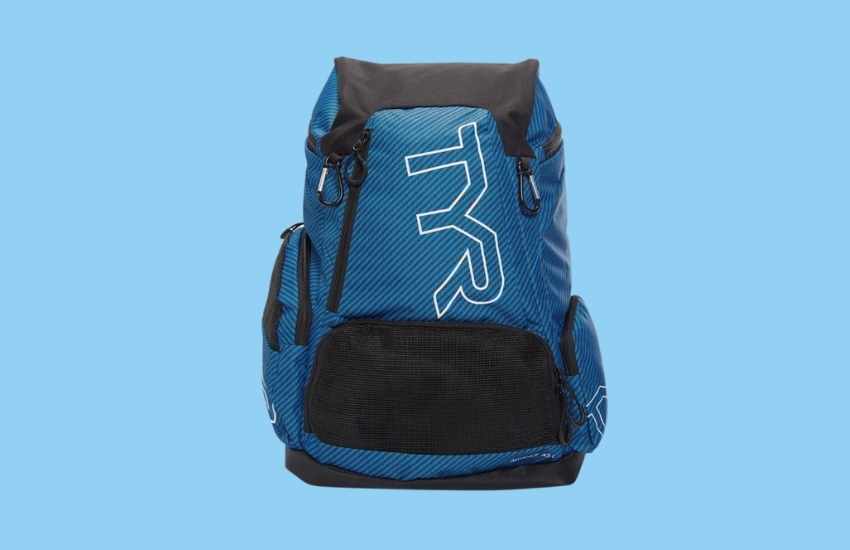 ---
7. Sporti Waterproof Backpack for Swimmers
Sporti is a low-cost brand (that is exclusive to Swim Outlet) that makes quality gear for recreational and competitive swimmers. I've had a chance to try out plenty of their stuff over the years, from your basic men's swim brief to pull buoys, and found their gear holds their own against the bigger swim brands in the market.
The Sport Waterproof Backpack for Swimmers is a no-frills, water-resistant bag for swimmers that has all of the key features of pricier swim bags on the market. Padded shoulder pads make carrying your swim stuff easy. The bag has a large, expandable wet pocket for your wet and damp swim gear, and the bag is lined with mesh panels for easy water drainage.
The Sporti Waterproof Backpack is also surprisingly large, with a 38L capacity. Made of 100% polyester, this bag is durable, carries a ton of stuff, and is priced super competitively.

---
The Final Lap: Best Swim Bag
The swim bag you end up choosing will depend on how much stuff you need to carry, how serious you are about your swimming, and how much punishment you plan on putting the bag through.
⭐ The Speedo Teamster Bag, the original, is an excellent choice for most competitive and recreational swimmers for carrying all of their swim stuff. Its water-resistant linings, separate wet bag, mesh pockets, sizable volume, and color options land it at the top of our little roundup yet again.
⭐ The TYR Mesh Swim Backpack is also a great choice for swimmers who want the quick-drying properties of a swimmer's mesh bag combined with the easy-carry functionality and space of a swimmer's backpack.
---
More Swim Gear Guides:
7 Pieces of Swimming Gear Every Serious Swimmer Needs. Want to take your swimming to the next level? Of course you do–this little list of swim gear will help you do just that.
The Best Underwater and Waterproof MP3 Players for Swimming. Ready to level up your swim workouts with music? Here's a breakdown of the most popular underwater and waterproof iPod/mp3 players on the market today.
The 8 Best Swim Caps for Swimmers. Looking for the best swim cap for training and competition? Here's your ultimate guide to picking out the best swimming cap for you.