Looking for a swim bag to haul your swim gear? Here are the 5 best swim bags on the market.
Swimmers lug a lot of gear around in their swim bags over the course of the day. Gone are the times where all we needed was a suit and swim googles—now we have paddles, fins, swim snorkels and all the rest.
Nowadays swim bags need to be able to take a beating—they get soaked, dropped, thrown and stepped on daily, while also being water resistant and spacious enough for all our stuff.
Here are the top 5 best swim bags available for competitive swimmers these days, as well as some quick notes on each.
(If you are looking for mesh bags for swimmers check out this guide where we cover some of our favorites.)
1. The Speedo Teamster Swim Bag
Easily the most popular bag on swim deck, the Speedo swim bag is how swimmers identify one another when not in the pool. The familiar-looking Speedo logo on the back of the bag can be seen from across the parking lot.
The Speedo Teamster bag has some cool features that come in handy at meet time, including pockets for your cell phone, water bottle, and a removable bleacher seat for meets with those awful aluminum bleachers that leave your butt feeling sore.
The Speedo bag is a classic, and comes in about a dozen different color combinations.
Size: 35L, 20" x 17" x 8"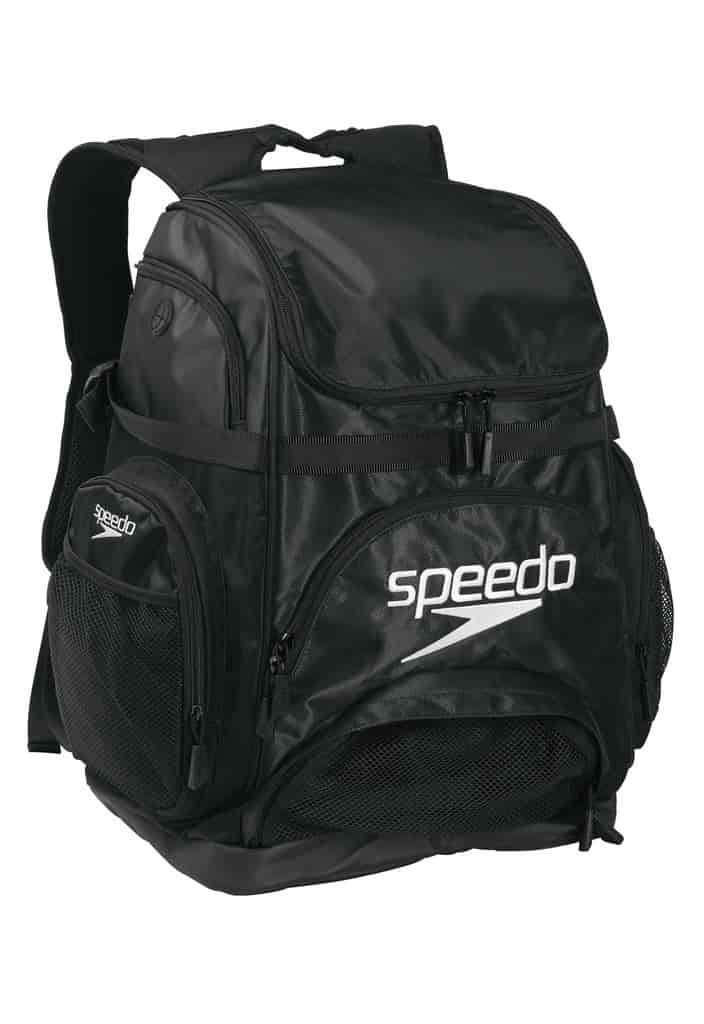 ---
2. Arena Spiky 2 Swim Bag
Arena's contribution to the swim bag market is clean-looking and feature-rich. It has a reinforced bottom, enough pockets for all your swim gear, including your smartphones and GoPros.
It is made of mostly nylon, is water resistant, and has ventilation, which comes in handy on those days where you leave your wet, sopping swim gear in your bag overnight.
Size: 35 x 23 x 49 cm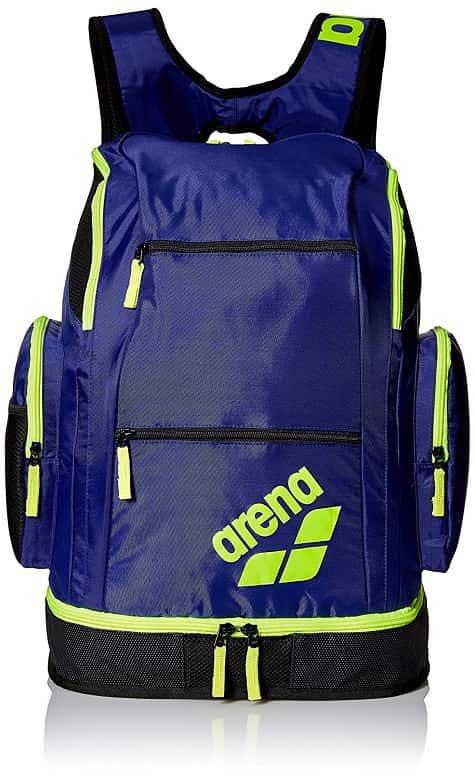 ---
3. Nike Swimmers Backpack 2
Nike is one of the smaller players in the swimwear game, but they still do offer some swim gear, including this swim bag, a fresh update on their original swim bag which I love the look of.
Like most of the bags on this list it is made of water-resistant nylon. It's large front panel can be easily customizable to stash your swimming essentials, from underwater MP3 player to your ear plugs.
Size: 32L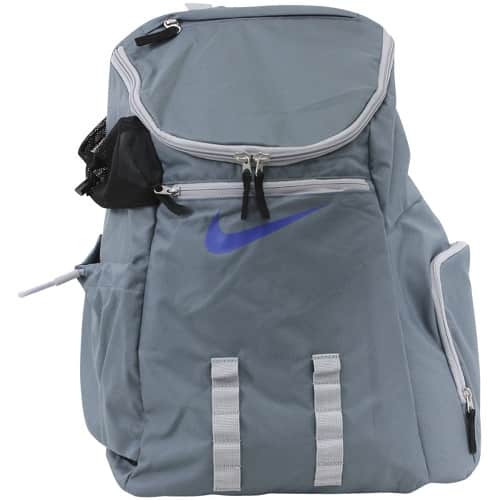 ---
4. Dolfin Ready Room Swim Backpack
The Dolfin Ready Room swim bag is the least expensive on this little list. But that doesn't mean it is cheap on features. One of the things I like most about this bag is that it has a separate padded compartment for laptops/tablets.
It is also easily accessible from the top with a 180-degree top loading panel, making it easy to get in and out of the bag when in cramped spaces, like on a crowded coach bus on the way to the big meet, or in the stands between races.
Size: 12″ wide x 18″ tall x 7″ deep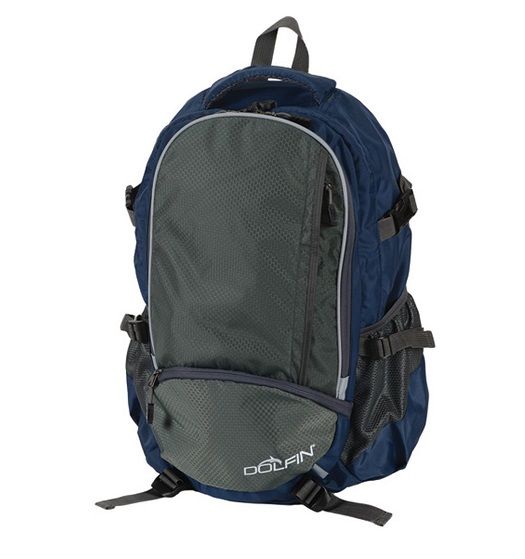 ---
5. TYR Alliance Backpack
This bad boy is one of the largest in terms of volume, coming in at 45L (they also have a 30L version of the bag).
Like the Dolfin bag it has a padded sleeve to slide a laptop or tablet in and out of, a waist strap to help secure the bag around your waist (helpful when it's full of heavy, wet swim gear), and even a whistle. Why not, right?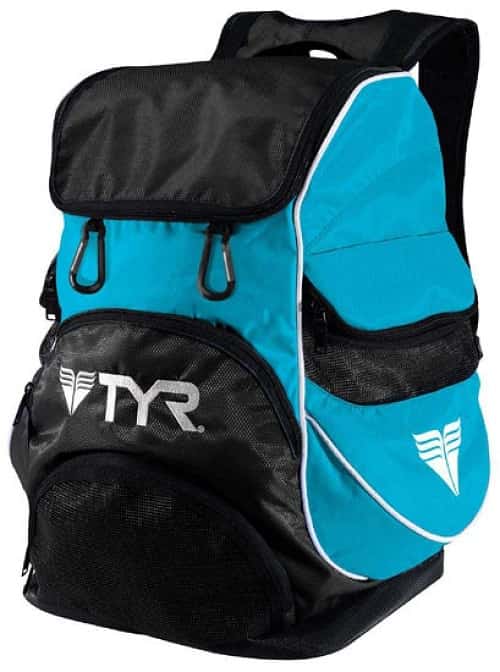 ---
More Swim Gear Guides:
7 Pieces of Swimming Gear Every Serious Swimmer Needs. Want to take your swimming to the next level? Of course you do–this little list of swim gear will help you do just that.
The Swimmer's Guide to Tech Suits. How fast are they really? Do I really need one? Everything swimmers need to know about picking out and racing in a tech suit.
The Best Underwater and Waterproof MP3 Players for Swimming. Ready to level up your swim workouts with music? Here's a breakdown of the most popular underwater and waterproof iPod/mp3 players on the market today.
The 8 Best Swim Caps for Swimmers. Looking for the best swim cap for training and competition? Here's your ultimate guide to picking out the best swimming cap for you.