Go to any local swim practice or swim meet and the first thing you will likely notice is the mass of brightly colored mesh bags that litter the end of each lane.
As the amount of gear that swimmers use in training has exploded—up significantly from the basic pull buoy and kick board of yesteryear—swimmers have grown to need mesh bags to transport and hold their swimming gear.
With your different types of swim paddles, fins, swimmer's snorkel, spare swimming goggles, and more the mesh bag is basically your own personal equipment locker.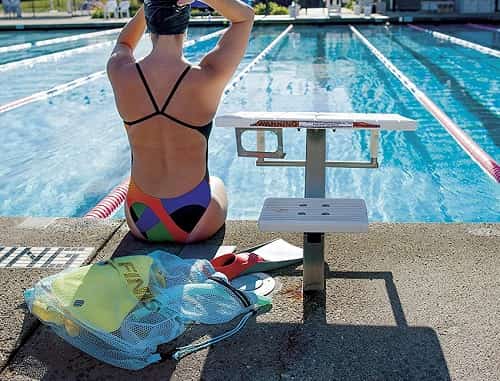 The big perk of a mesh bag is that it keeps your swim equipment together. This makes your swim gear a lot easier to carry around and also keeps your stuff from getting mixed in (and potentially lost or taken) with that of your teammates or other swimmers.
A couple of quick things you should look for when choosing a mesh swim bag:
Drawstring. If you put your mesh bag in your main swim bag (whether duffel or backpack), or you store it at the pool in your team's equipment bin, make sure the mesh bag has a draw-string at the top of the bag that closes. The long drawstring doubles down as your shoulder strap so that you can carry the bag around the pool deck.
Side pocket for small items. As someone who wears ear plugs (Mack's silicone for life!) I usually end up having to root around the bottom of my mesh bag looking for the small plastic case the earplugs are stored in. The same for goggles and even a swimmer's nose clip—with the items being so small they fall into the depths of your fins, paddles, DragSox, and so on. Pockets keep those smaller items easily accessible.
Name tag. The whole point of your mesh bag is to keep everything together so you don't lose anything. Being able to mark down your name/club on your bag helps keep the chlorinated mitts of other swimmers off your fins and paddles.
Most of the major swim gear companies make them, so here's our little roundup of the best mesh bags for swimmers.
1. Speedo Ventilator Mesh Bag
Of course Speedo would make a mesh bag—they are probably the world's most recognizable brand for swimming apparel and equipment. Whether it's Speedo goggles, their line of high-end tech suits, or their Speedo Teamster swim bag (which I presently also use), they make stuff for all levels of chlorinated athletes.
Their mesh bag is a simple water-proof design, with the little small side pocket (which is great for storing goggles, nose clips, ear plugs, etc), and they are available in a wide variety of colors—a dozen at last count. (Click through to see the full-color selection at Amazon.)
The Speedo Ventilator has a volume of 33L (to get an idea of how much that is the large Speedo Teamster Backpack is 35L), which should be more than enough space for all your swim toys.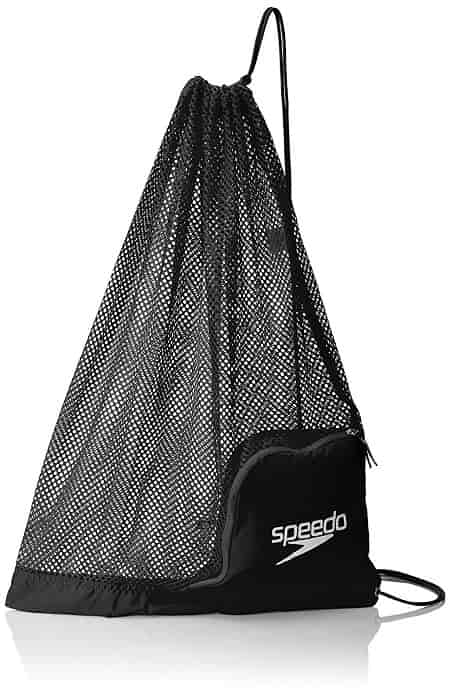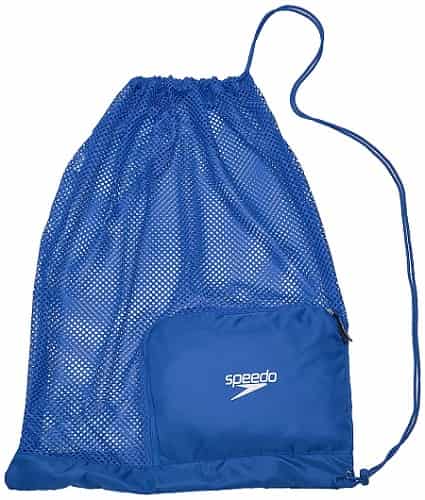 ---
2. Sporti Mesh Bag
In terms of bang for your buck, the Sporti Mesh Swim Equipment Bag is your best best. While the cheapest bag on this little list, it comes with the size and volume you'd expect from a mesh bag. I am able to put two of my size 14 swim fins in the bag with room to spare.
The bag comes with a big label at the bottom corner so that you can scrawl "No touchie touchie!" along with your name and team name. It's made of 100% polyester, and the only drawback of this bag is that there is no smaller pocket where I can stash my easily losable items.
The Sporti Mesh Bag is available in seven different colors, from black to pink.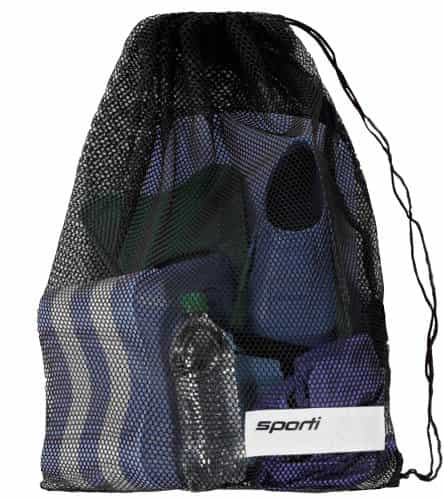 ---
3. FINIS Mesh Gear Bag
Longtime readers of this website will know that I am a pretty hardcore fanboy for FINIS swim gear. You got their Tempo Trainer PRO, the swimmer's snorkel, and the FINIS Duo underwater mp3 player, which I ranked as my favorite underwater music player for swimming.
Mesh bags aren't nearly as techy as any of those items, and FINIS actually goes away from their trademark yellow with this product (or is it gold?). The bags come in peach, a baby blueish color, or the standard black.
The standout features of the FINIS Mesh Gear Bag are a small zipped-up compartment at the top of the bag (I likey), volume that is right up there with the other bags on this list (giddyup), and a name tag at the bottom of the bag to identify your stuff.
Made of durable nylon and safe to machine wash.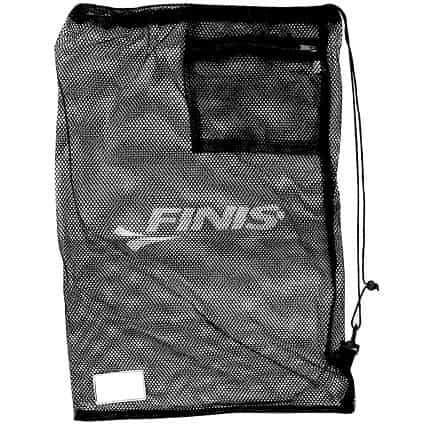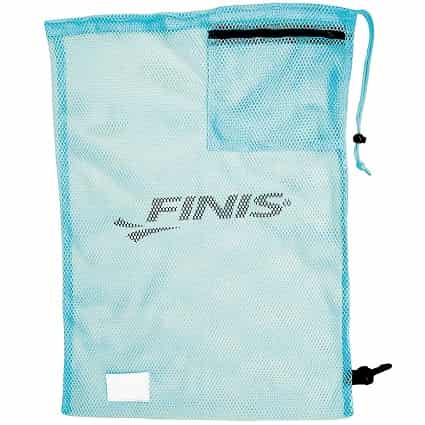 ---
4. Arena Fast Mesh Swim Bag
Another one of the big players in the competitive swim gear world is Arena. They make a ton of stuff that I like and use, including the Cobra Ultra goggles, Powerskin ST 2.0 racing suit, and much more.
Their mesh bag offering is a little different than the others on this list as it is designed basically as a backpack. It's got dual drawstrings that you can loop around your shoulders and carry your stuff around on your backside and comes in a TON of different colors and color combinations.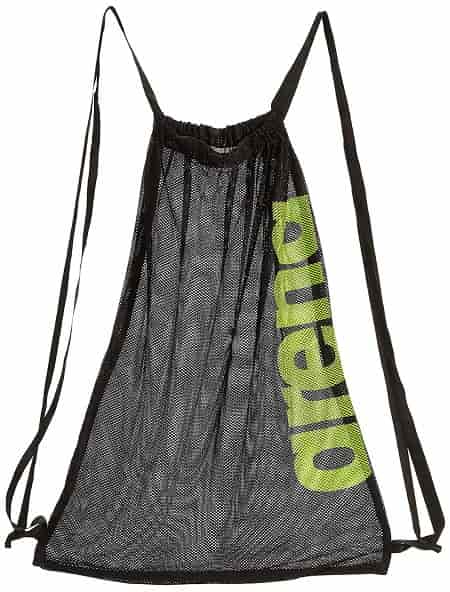 ---
5. TYR Mesh Equipment Bag
While the TYR mesh bag doesn't have the small pocket, there are some other features of this bag that are legit.
The bottom and top collars of the bag are thick and reinforced. Mesh bags take a beating, not only from the dropping, throwing, and storing in wet, dark places, but also from being subjected to all the chemicals are local swimming pools have to offer. The thicker collars on the bag are appreciated in this instance.
A diagonal shoulder strap (much thicker than the drawstring other mesh bags use for their "shoulder strap") makes it easy to carry. It's also the biggest bag on this list.
The bag is also friggin huge, easily the biggest on our little list. It comes in at 75L. To give you an idea of how big it is, the model wearing the bag below is American Olympian Matt Grevers…who is 6'7".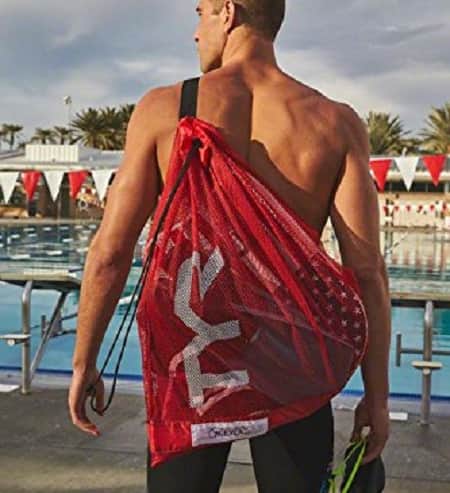 The TYR Mesh Bag color combos give you some options, as well. There's the default flat black, but you also got some black/yellow, pink/purple/white, and blue/yellow beyond the flat colors.