Want to power up your sprinting? Develop some more drop-dead power? Here's how dropping the flag-to-flag drill into your workouts will give your sprint speed a boost.
When it comes to freestyle drills there is no shortage of them. From the familiar catch-up, to the single arm, to the retraction drill, there are countless ways to tackle your freestyle.
But if you are looking to develop violent thrust in the water the flag-to-flag drill is your new go-to. Russian sprint monster Vlad Morozov is a big fan of them as well, incorporating them regularly into his swimming.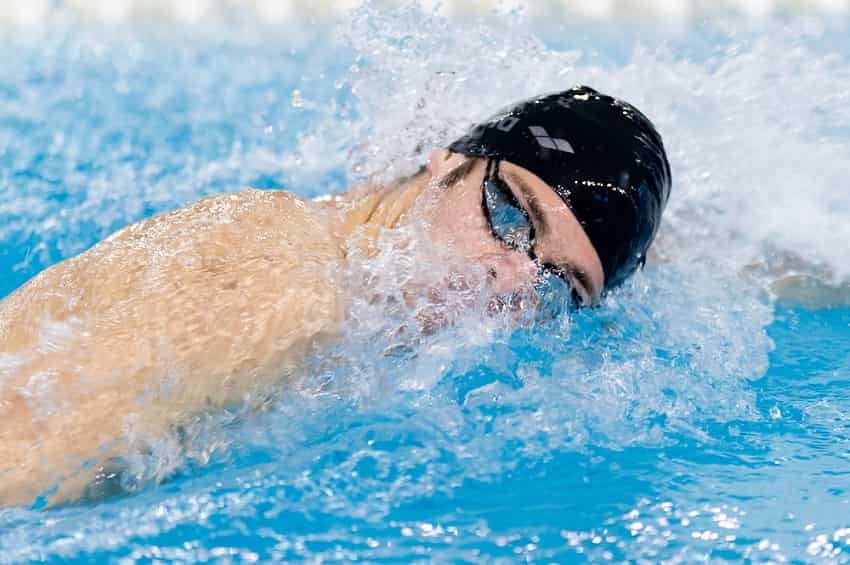 After all, this drill:
Will help you improve reaction time
Teach you to build speed from a dead-stop and without the momentum of a push-off and underwater work
Show you how critical that early vertical forearm is in getting up to speed
Awesome for developing those fast twitchy muscles
Is great to use across all strokes
Can be done in either a short course or long course pool (or even the dive tank, really).
How to Do the Flag-to-Flag Drill
The good news is that you don't need any equipment to do this. After a thorough warm-up:
Float out to the backstroke flags. Prop yourself into a horizontal position—some light sculling will help you get into formation.
When the interval rolls along put your head down and explode out of the hole into a full and complete sprint. The goal is to get up to speed as fast as possible.
Sprint the 15 meters or yards to the other set of backstroke flags.
Aim to do it with no breath, fantastic technique and with your arms moving at race pace tempo (or desired tempo).
You can do this in a long course pool—you'll just need to float from the 20m mark to the 30m mark and repeat the sprint effort after a suitable amount of rest.
Best Practices:
Use lots of rest. The key is developing white-hot, scorching speed. If you are getting gassed and you find yourself losing the pop, snap and crackle coming out of the hole, take more rest.
Focus on a high RPM from the get go. From the moment you explode out of the sculling motion you want to be moving your arms at a high turnover rate. Using a FINIS tempo trainer can be useful here.
Do a couple quick 5-10m sprints from a dead stop before your next big race to activate those short twitch fibers and get you ready to swim like a demon.
Sample Set:
Here is a sample set that I did recently on a quiet Tuesday evening at the local YMCA:
16 x 15m Freestyle flag-to-flag sprints @:50
The Takeaway
Swimming fast isn't a big mystery—it comes down to training fast. Tossing in some flag-to-flags to your regular training will help you fine-tune your top end speed and get that critical edge you are looking for.