There is a reason the Garmin Swim 2 watch ranks as our top wearable for swimmers. It kicks butt. Here's a review of why we love this swim watch so much.
Garmin is one of the most popular wearable developers on the planet, and they are especially popular among the endurance set, including runners, cyclists, triathletes, and you know it—swimmers.
They have been in the tracker and wearable business since nearly the beginning and have it pretty well figured out. Their experience, quality of product, and ease of use are why they topped my personal list of best waterproof fitness trackers.
A number of their swimming watches include the ability to track laps and strokes in the pool, but they only have one watch that is made specifically for swimmers—the aptly named Garmin Swim, now in its second iteration.
Here's what you need to know about this bad boy.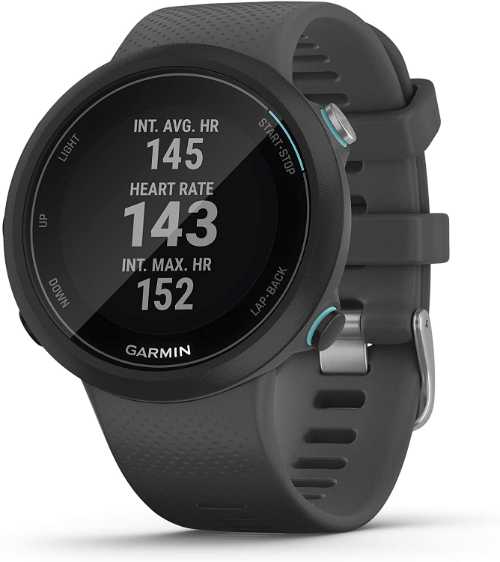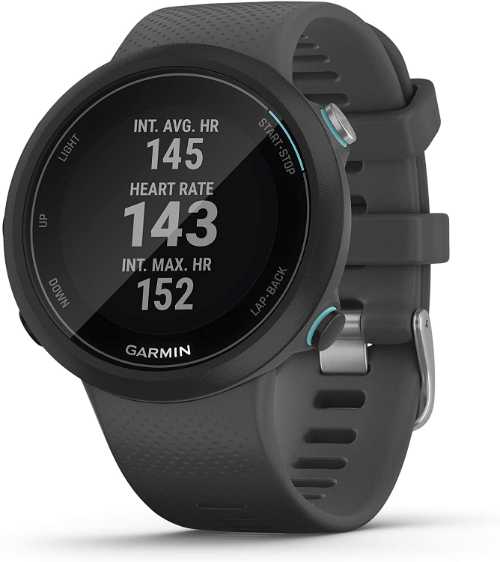 Breaking Down the Garmin Swim Watch
The Garmin Swim is—as you can probably guess by its name—a dedicated watch made for swimmers, both open water and pool-bound.
Lap counting.
This is a handy feature for those of us who lose count, or would prefer not to be bothered with counting at all, while swimming at the pool.
Hop in, bang out your workout, and the Garmin Swim will spit out a detailed report of how many laps you did, how many strokes you took, time of swim, etc.
SWOLF Scoring.
Gamification is a powerful way to get yourself motivation and improving in the pool. One of the best things you can do to become more efficient and give yourself a target in practice is to measure your SWOLF score with each lap. SWOLF, a combination of "swimming" and "golf" combines your stroke rate (which you want to keep low—as in golf) and overall speed.
For example, if for a 50m lap you did 32 strokes and swam it in a time of :32, your SWOLF score would be 64. Competitive swimmers might recognize this term alternately as "mini-maxi." One of the most rewarding aspects of getting better in the pool is being able to do the same times with less strokes.
Pool sizes.
I train at 2-4 different pools each week. The pool set-up can vary between short course meters, long course meters, and when I am on holiday south of the border, short course yards. The Garmin Swim watch is ready to go out of the box—charge it up, input the length of the pool you are swimming in, and off you go.
Recognizes all four strokes.
Are you swimming straight-up freestyle over the course of your entire workout? Some of you (particularly those swimming outdoors in lakes and oceans) might be, but for the rest of us, we are doing an assortment of strokes and drills.
The Garmin Swim recognizes the four main strokes, and a drill logging feature means you can set it to measure and track whatever else you are doing in the pool, whether it's strapping your butt to a kickboard or simply doing reps of closed fist freestyle.
Stroke recognition is done automatically, while the drill logging needs some inputting.
(Note: The Garmin Swim is not great for tracking kick. During my own swim workouts, whenever I jump on my kickboard and do kick, the watch either doesn't track it at all or sometimes half-counts it as drill. To track kick properly means manually using the watch.)
GPS monitoring.
One of the big upgrades that happened between the first and second models include adding GPS tracking to the watch.
Obviously, this is a huge feature, especially when you consider that this watch is designed primarily for swimming. Now, open water swimmers have a watch that they can use for both the pool and open water swims.
Multi-sport logging and tracking.
Another big addition to the second model of the Garmin Swim 2 was the ability to track other types of exercise, most notably running and cycling.
While it doesn't have all the bells and whistles when it comes to multi-sport tracking, the Garmin Swim 2 can handle the basics, which is a  big (and much requested) addition to the second edition of this watch.
It's light.
Even though the Garmin Swim looks big compared to the wrist-band fitness trackers, it's surprisingly light, weighing only 1.4 oz.
For swimmers who don't want to rock out in the pool with a big, clunky device on their wrist, the Garmin Swim is an excellent choice for a swim-ready watch.
Other features:
Upload workouts to your device wirelessly. You can wirelessly upload your workouts from your swim watch to the Garmin Connect app. The app, which is free and has a mobile and a desktop version, gives you all your data and also allows you to share it easily with your coach.
Battery life. There isn't a rechargeable battery with the Garmin Swim, meaning that you will have to change out the battery after a while. This will happen roughly once every 12 months with regular use.
Buttons are easy to use. This probably seems like a "duh" feature, but the buttons on the Garmin Swim 2 are easy to use. When you are huffing and puffing at the end of a rep you will appreciate the intuitive size and placement of the buttons.
Garmin Swim: The Downsides
No wearable is perfect, and the Garmin Swim has some limitations.
No heart rate monitor. This one will come as a surprise to most swimmers who are wearable-shopping. The Garmin Swim watch doesn't have heart rate monitoring (not that it would be all that accurate anyway) embedded as a feature.
Doesn't automatically track kick. This has been my biggest hang-up with Garmin watches in general. Unlike the Apple Watch, which automagically tracks kick, the Garmin needs to be used manually to track kicking sets.
*
Summary:
The Garmin Swim watch is a killer wearable for pool swimmers. While it doesn't have all the bells and whistles that come with Garmin's more expensive watches, and is not as accurate as the
Apple Watch for swimming
, it provides all the information you could possibly need to help improve your swimming at your local aquatic center.
Where to Buy the Garmin Swim
The watch retails for around $250 and is available at several online retailers, including Amazon and Swim Outlet.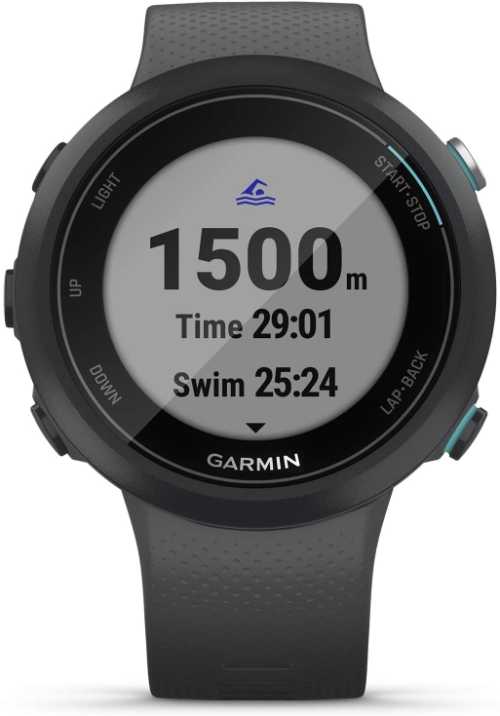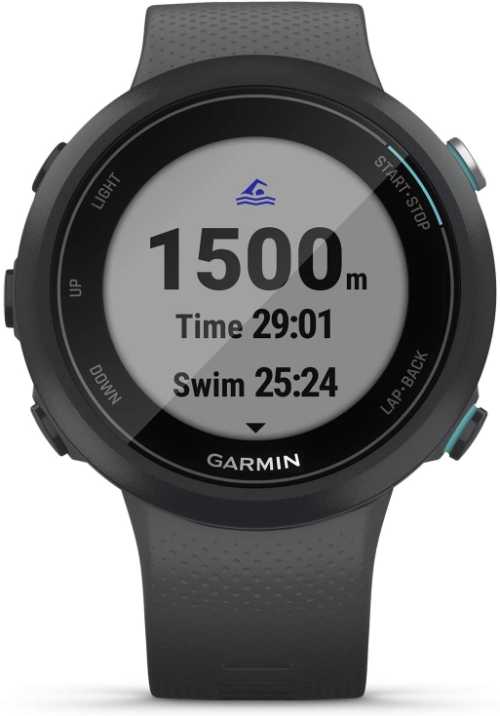 ---
Other Garmin Watches You Can Take Swimming
While the Garmin Swim is designed specifically for pool swimmers, for athletes who perform a lot of other activities, including running and cycling, Garmin produces other wearables that incorporate the swim features along with features like GPS tracking, heart rate monitoring, and more.
Garmin Fenix 6 ($$$$$$)
Garmin's mega loaded watch, the flagship model, the king of the mountain is the Fenix 56 The Fenix 6 is their top-of-the-line wearable and retails for around $500 and is Garmin's most feature-rich device.
Beyond including the swim-centric features that aquatic athletes will appreciate, the Fenix 6 features an epic GPS guide that will buzz you if your off-course, best-in-class topographic maps, and highly accurate step and heart rate monitoring. It's…comprehensive.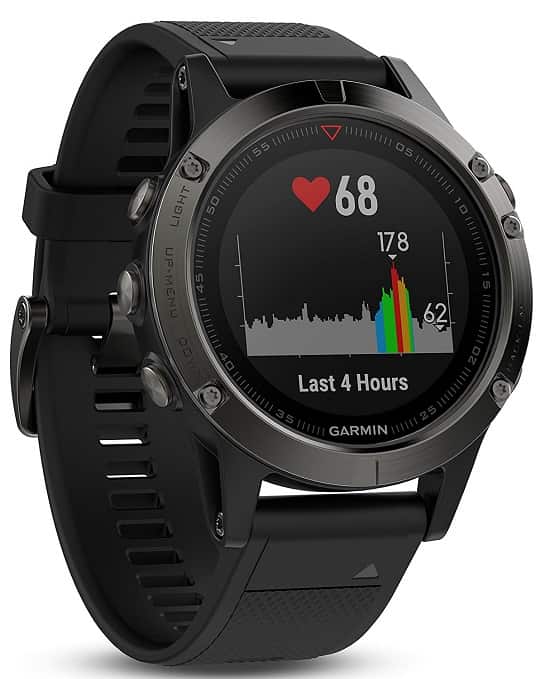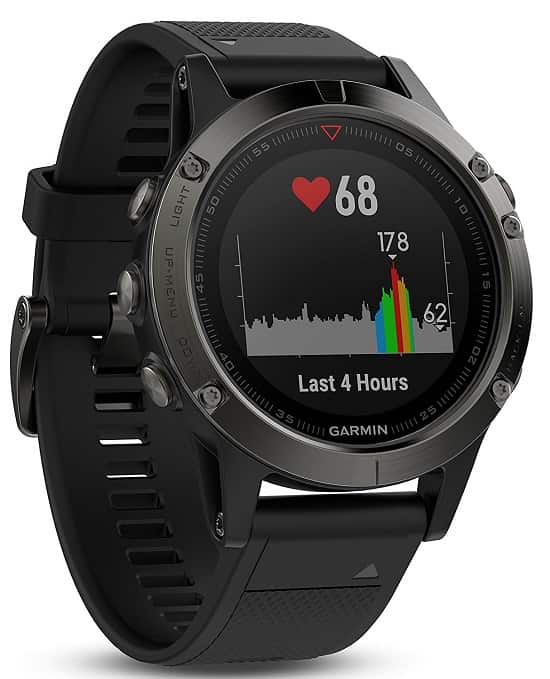 ---
Garmin Vivoactive 4 ($$$)
This watch is simply gorgeous and is designed to rival the Apple Watch and the Fitbit Ionic for supremacy in wearable sexiness. It comes close to having all the same features as the Fenix 6, but at a price point that is a couple hundred dollars cheaper. Did I mention how ridiculously good looking this watch is?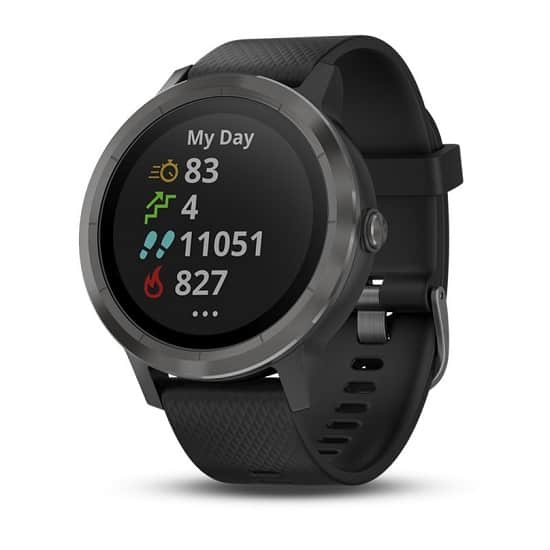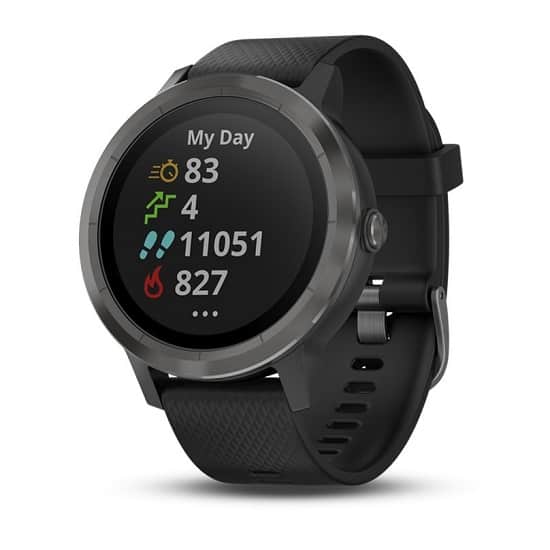 ---
Garmin Forerunner ($$-$$$$)
There are a few different editions of the Forerunner (the Forerunner 645 Music gives you the ability to stream up to 500 songs to the watch).
The Forerunner has the same swim features plus a whole bunch of other goodies includes push notifications, a gorgeous 215×180 pixel screen, the ability to measure VO2 max, and all the GPS goodness that Garmin does so well.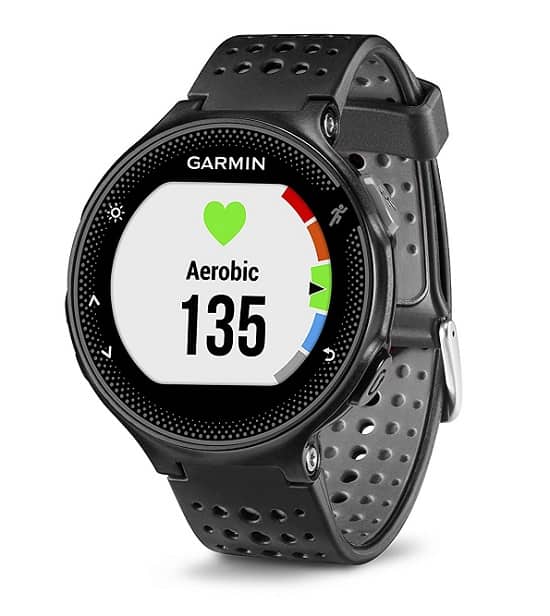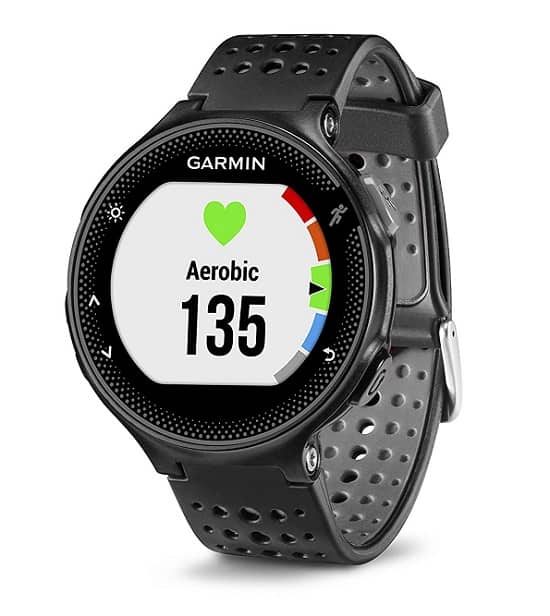 $ = about 100 dollars
---
More Stuff Like This:
The Best Waterproof Fitbits for Swimmers. Fitbit—one of the most popular wearables on the planet—have two waterproof fitness trackers for swimmers. Here are reviews of both of Fitbits waterproof trackers for swimming.
The Best Underwater and Waterproof MP3 Players for Swimming. Ready to level up your swim workouts with music? Here's a breakdown of the most popular underwater and waterproof iPod/mp3 players on the market today.
Best Watches for Triathletes. Simple in function and powerful in use, these watches for triathletes and multi-sport athletes will take your training and competition to the next level.