One of the elite swim coaches on the planet, University of Florida coach Gregg Troy stops by with his favorite distance set.
Gregg Troy has won national championships at every level. He has served on the coaching staff for three Olympic Games (1996, 2008 and 2012), and has done so while serving his swimmers a near-mythical amount of meters done at a high intensity.
The results speak for themselves: Troy has produced and worked with countless Olympians (75 of them and counting according to his University of Florida bio), including Ryan Lochte, Elizabeth Beisel, and the fastest man to swim the 50 and 100-yard freestyles, Caeleb Dressel.
Prior to taking the helm with the Gators he was the head coach at the legendary Bolles School for 20 years, where he won 26 state championships (15 male, 11 female).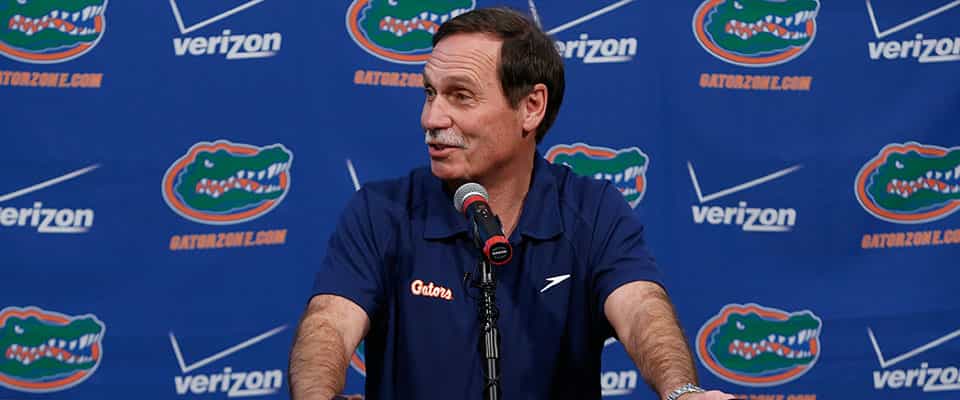 With that kind of pedigree of excellence, you just know that Troy is going to have some serious swim practices up his sleeve.
Troy took a moment from his busy schedule to send over this descending effort distance set that he likes to use with his swimmers.
Let's do this!

Gregg Troy's Favorite Distance Set
3-5 times through–
500 (get your split at the 400)
400 (get your split at the 300) Faster than your 400 split from above
300 (get your split at the 200) Faster than your 300 split from above
200 (get your split at the 100) Faster than your 200 split from above
** 1-5 x 100 All faster than the 100 split from above
Set Notes:
Intervals are to be adjusted according to the individual.
Total volume = sky is the limit, really. If you do the bare minimum as outlined it's a 4,500m set. With maxed out rep and set ranges you are looking at 9,500m.
The final round (the 100's) is tailored to what is needed. They could be pace-oriented, or all-out, and can be adjusted as a timed swim at a different distance (Troy has had swimmers do a 400 IM for his medley swimmers).
For those of you feeling extra distancey you can start at 1,000 and move down by the 200, or keep it shorter by starting at the 400.
A special thank you to Coach Troy for taking time out of his schedule to share this set with us. You can stay up to date with Coach Troy and the Gators on Twitter, as well as on Instagram.
More Stuff Like This:
This Is How Fast Katie Ledecky Swims in Practice. Need some humbling? Check out these two ridiculous sets that Ledecky crushed in the months leading up to her world-dominating performance in Rio.
Ryan Lochte's "Brutal" IM Set. This was an IM-focused set that Lochte performed while training under Gregg Troy in the lead-up to the 2012 London Olympics.