The swim meet went poorly. Here is what to do next.
The car ride home after was always the worst part. Even though the parents were in the front, sister in the next seat, I felt alone. Frustrated. Helpless.
In a sense it still felt surreal; had that actually happened? How did I add two seconds in my 100 freestyle? Hadn't I trained my butt off? Hadn't I done everything I could to swim at my best? Where did it all go wrong?
The days and moments after a disappointing swim meet can leave us feeling raw, vulnerable and frustrated.
Here is what you can do to help get things back on track.
1. Break down your preparation.
Start with an objective—or at least as objective as you can—overview of your training in advance of the meet.
How many practices did you actually make? How focused was your effort while you were in the water during those swim practices?
Were you taking care of yourself between practices to insure maximum recovery? Staying on top of how much you are actually sleeping and how well you are fueling yourself with pizza pops, err, healthy food choices?
Having your workout history available to you is profoundly helpful in this instance.
While we skew our thinking into believing that we made far more workouts than we did, this is usually not the case.
Browse through the past couple months of training and build some self-awareness on whether the bad performance was something that turns out was warranted given your spotty commitment to training.
This step should also be undertaken with your coach—the goal is to be objective as possible during this process so that you can have actionable things to work on moving forward.
2. Recognize where you are in your training.
Often, we can talk ourselves down when we realize that our expectations didn't match up to where we were in our training. After all, expecting to destroy a PB in the midst of a brutal training cycle isn't always (ever?) realistic.
Were you expecting a personal best time at a swim meet that took place on two days rest? Or was this a full blown shave down and taper meet where you were fully rested and primed to race really fast?
Again—sit down with your coach for clarification ask to what he or she was expecting from you at this meet and see how closely (or not) it aligns with how you swam.
3. You'll bounce back.
Fatalistic and rash thinking happens in the raw aftermath of a bad swim:
That's it, I'm done with this sport, I friggin' quit!"
It's okay to be pissed off—you expected more from yourself. I get it. (All too well.)
Don't stress about what others are thinking about you, or how you disappointed others, or that you will never bounce back. You're tougher than you think, and this isn't going to be the worst thing to ever happen to you.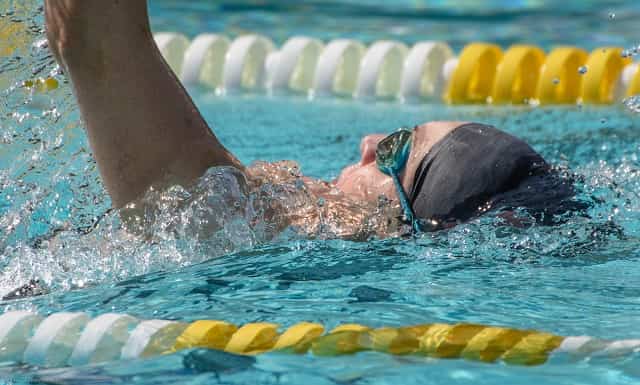 Use this moment as an opportunity to wield some world-class resilience. Take a deep breath (or fifteen of them if you have to).
After all, you've been through worse and emerged stronger. This moment is no different.
4. Hit reset.
Sometimes the best thing you can do is forget the last thing that happened. While it is tempting to think that our last swim represents who we are as an athlete or even as a person, this isn't the case.
When a bad swim happens at the beginning of the meet, as they inevitably can when we have that first swim full of jitters and nerves, it doesn't mean you need to let the rest of the meet slide too.
5. Use today's bad swim as jet fuel for tomorrow's excellent swim.
Adversity, setbacks, failures—they happen to everyone. And the difference between those who accomplish things at the highest levels and the rest is the determination to wield their failures as motivation for a better future performance.
Some research of high level, elite athletes found that a common thread through the elite of the elite was that they had a specific attitude towards moments of difficulty: they used them to fuel their rage to come back better and stronger. They talked about how they used that failure, the sharp and painful memory of those setbacks as scorching, white-hot motivation to be better.
Adversity can either crush you, or it can create a champion out of you. Failure can either be your greatest teacher and motivator, or it can be the thing that ultimately limits your potential. The choice is yours.
6. The next step: Reload.
Okay, so now that you have hopefully put that bad swim into perspective, and are willing to use the pain and fury as a mechanism for positive change in your swimming, you need to figure out what you are going to do better.
What will you do differently moving forward?
Having the rage and conviction to be better moving forward isn't enough—you need to put concrete and measurable steps to what comes next.
After all, being disappointed is the *easy* part—choosing to do something productive with it is what will make you great.
The Takeaway
Bad meets and disappointing swims happen to everyone.
If there is one big commonality between us and the best and brightest performers in swimming is that we all have super crappy days in the sport:
Michael Phelps' placing 4th in the 400m IM on the opening night of the London Olympics.
Missy Franklin's placing out of the medals in the 200m backstroke at the Rio Games.
Vladimir Salnikov placing out of the medals at the 1986 World Championships in an event he had dominated internationally for nearly a decade.
Kevin Cordes disqualification in the 4x100m medley relay at the 2013 Barcelona FINA World Championships.
You can let those moments define you, or they can fuel the next step in your swimming journey.