Fed up with the effects and smell of chlorine in your hair after swimming? Here is how to remove chlorine from your hair once and for all. 
Nothing quite beats swimming and splashing around at the pool.
Whether you are churning up and down the lane pool, getting a great workout in, or simply having a day at the water park, being in the water is awesome.
But you know what is not so awesome?
That lingering smell of chlorine. The dried-out, brittle, and cracked hair. And the discoloration that can happen over time.
Fortunately, getting chlorine out of your hair is relatively simple: grab a swimmer's shampoo and wash it out after your swim.
In this article on the best ways to get chlorine out of your hair, we will do a deep dive into hair chlorine removal, including:
The best products for getting chlorine out of your hair
How to stop chlorine from getting in your hair in the first place
Why caring for your hair is so crucial
And what happens if we leave chlorine in our hair over the long term
By the end, you will have everything you need to get your hair healthy and happy after your time in the pool.
Let's jump in.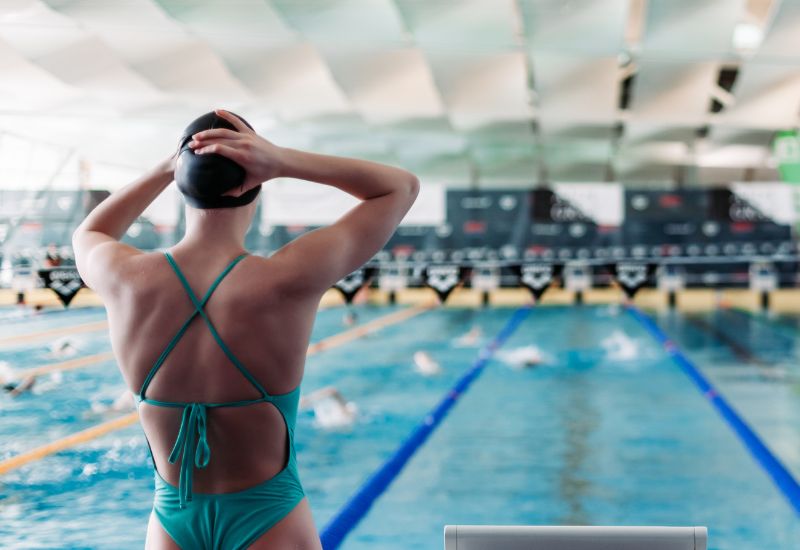 How to Get Chlorine Out of Hair
Alrighty, let's go right into the best ways to say goodbye to the damage and smell of chlorine in your hair.
⭐ Use a swimmer's shampoo
The fastest way to get chlorine out of your hair is by using a specially formulated shampoo to nuke chlorine.
This is especially key for swimmers who are at the pool a lot and are experiencing chlorine build-up in their hair, leaving it feeling brittle and dry.
Shampoos for swimmers are inexpensive, work very quickly, and are almost always made with all-natural ingredients that unleash a one-two combination of unlocking chlorine from the hair and washing away the scent.
The best swimmer shampoos for chlorine removal include:
The UltraSwim Chlorine Removal Shampoo was the first swim shampoo I ever tried, way back in my age group swimming days, and continues to be my tried-and-proven shampoo for washing away chlorine after swimming.
The UltraSwim shampoo is effective at both ridding hair of chlorine but it also helps to treat hair by feeding it aloe, Vitamin E, and other nutrients to restore the shine and oils in the hair.
TRISWIM Chlorine Removal Shampoo removes chlorine and other unwanted guests like bromine and hard water minerals from your hair.
It also kickstarts the recovery process of your hair with aloe vera, vitamin B5, and chamomile to help restore your hair and eliminate the dryness and itchiness typical of hair that has been exposed to chlorine.
TRISWIM is one of my favorite swim care brands, also making my favorite body wash for swimmers.
FAQ: Are swimmer shampoos and normal shampoos the same? No. Shampoos for swimmers are specifically formulated to unlock compounds like chlorine and bromine from the hair.
⭐ Complete the recovery process with a conditioner for swimmers
The primary function of swimmers shampoos is to break the bonds between chlorine and your hair. While some of them have moisturizing agents, the main job is chlorine removal.
To complete recovery, and get your hair soft, health and refreshed, use a conditioner for swimmers.
Another haircare product by the folks at SMR Sports, the TRISWIM Moisturizing Conditioner is made specifically to help aquatic athletes repair hair after a long day in the water.
It's got a bunch of natural ingredients like soy protein, keratin, and aloe vera to replenish the oils in your hair, leaving it feeling smooth and healthy. Whether it's damage from chlorine, bromine, or even salt water, regular use of this conditioner can replenish your hair.
The TRISWIM Conditioner has been my conditioner of choice in recent years, and has been particularly good at helping rid the brittle and dry status of my hair after long and extended chlorine exposure at the pool.
How to Get Chlorine from Getting in Your Hair in the First Place
A way to get chlorine out of your hair is by getting less of it in there in the first place.
Here are some proven ways that you can speed up the process of removing chlorine from hair by playing solid defense:
⭐ Get your hair wet.
One of the big misconceptions when it comes to hair care for swimmers is that they need to load their hair with product before they get in the water.
While this may be effective, it's inefficient and not very considerate of your fellow swimmers.
After all, when water gets into the hair, and the smell and substance of the conditioner or whatever you use ends up in the water, it burns up even more chlorine (making the pool cloudier) and increases the amount of chloramines in the water and air.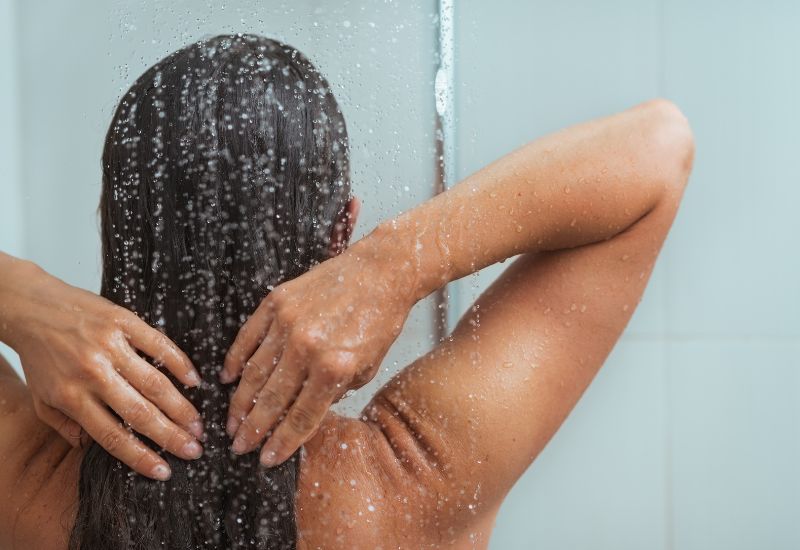 Depending on the scent of the product you apply to your hair, it can also make it harder for other swimmers to breathe. (So please, don't be that swimmer.)
Instead, do your pocketbook, the pool water and fellow swimmers a favor by simply getting the hair wet before taking a plunge.
By pre-soaking, it reduces the amount of chlorinated water can lock onto your, well, locks.
Additionally, rinsing your hair before diving in rids it of sweat and excess oil that can contribute to cloudy pool water.
⭐ Rock a swim cap.
Swim caps are an essential piece of swim gear.
There are a lot of reasons to wear a swim cap when you hit the pool, including keeping hair out of your eyes when swimming, reducing the amount of hair that's shed into the pool, and it can also drastically reduce the amount of chlorinated water that soaks your hair.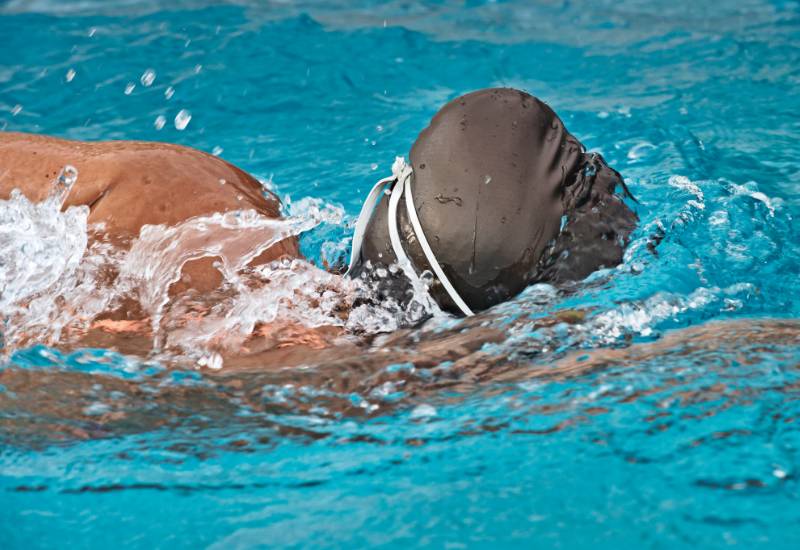 Swim caps won't keep your hair perfectly dry, but they do a great job of cutting down the amount of chlorine that comes into contact with your hair.
There are tons of different swim caps on the market, including swim caps for kids, neoprene swim caps (for open water swimmers), and swim caps for long hair.
Our favorite?
The Speedo Unisex Silicone Long Hair Swim Cap is made completely of silicone—which is nice and soft and won't tug and yank on your hair when putting it on or taking it off—and comes in a huge variety of colors.
The added space in the top and back is perfect for swimmers who have longer hair and ponytails, creating a comfortable and snug fit that helps keep chlorinated water out of your hair.
How to Remove Chlorine from Hair – FAQs
How does chlorine damage hair?
Chlorine is a disinfectant and sanitizer that is used to kill bacteria in the water, keeping swim pools safe for swimming.
While it's doing its job of keeping swimming pools free of algae and nuking bacteria that can cause infection, it's also stripping the natural oils and proteins from hair.
Over time, and with enough exposure to chlorine, hair become dry and brittle, and with enough exposure, it can thin and even cause hair to fall out.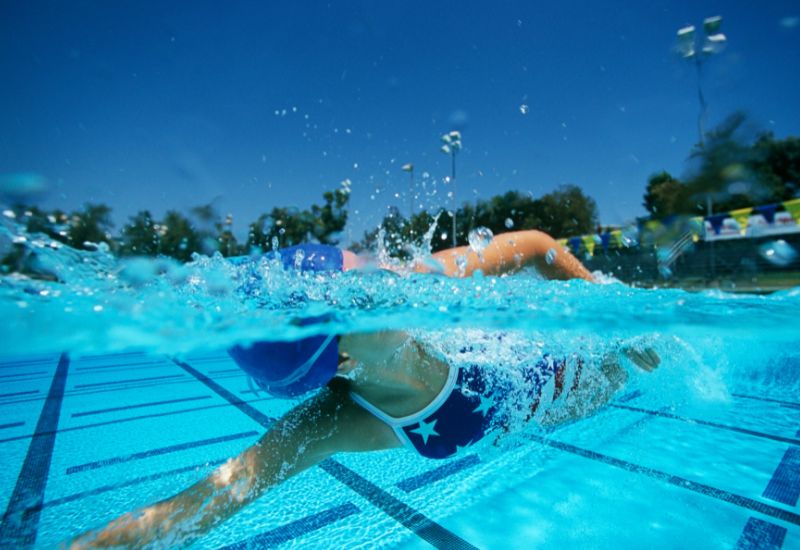 How soon should I start working on removing chlorine from my hair?
The sooner the better! Once you have finished your swim at the pool, hit the showers and rinse it out with fresh water. This is a great time to use that shampoo and conditioner for swimmers.
Chlorine continues to damage the hair long after you've left the pool, so the faster you can attend to removing it from your hair, the better.
With the shampoo and conditioner, follow the instructions on the label carefully to ensure maximum effect, which almost always entails leaving the product in your hair for a specific amount of time.
Can I remove chlorine from my hair with products at home?
There are plenty of home remedies out there that include using vinegar or baking soda.
In my experience, they can be helpful in a pinch but are not as effective as specialized chlorine-removal products.
Additionally, products like vinegar simply trade one powerful scent for another.
The Bottom Line
Ultimately, chlorine is kinda the best (keeps pool water clean and helps us avoid sickness and infection) and also the worst (leaves our hair feeling like a tumbleweed).
Fortunately, there are some simple things you can do to eliminate the damaging effects it can have on hair.
To recap:
By following this simple series of steps, you can enjoy your time in the lap pool without having to stress about the damaging effects and smell of chlorine in your hair.
---
More Articles and Guides Like This
How to Keep Water Out of Ears When Swimming. Ready to take the plunge at the pool, but want to avoid swimmer's ear? Here's a proven plan for keeping water out of your ears while swimming.