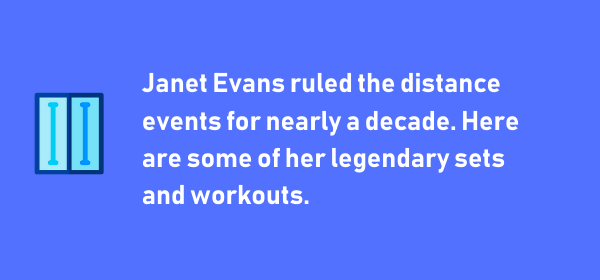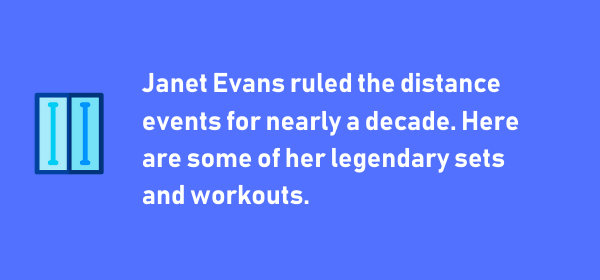 At the 1986 Goodwill Games in Moscow, a 14-year old Janet Evans steps out onto the pool deck.
All 5'1" of her.
Maybe 90 pounds soaking wet.
Nearby, a group of Soviet swimmers laugh.
The year before that, at US Nationals, Janet Evans walks behind the blocks.
One of her competitors, Tiffany Cohen, a double Olympic gold medalist from the Los Angeles Games in the 400 and 800m freestyles, openly snickers.
There were stares and laughs when Evans swims too. With her skinny arms and legs she motors across the pool with a dizzying stroke rate, taking around 60 strokes per length to cover the length of a 50m pool.
Two years later, at the Seoul Olympics, Evans would decimate the world in the 400m individual medley and the 400m and 800m freestyles.
A "Windmill in a Hurricane"
Evans nuclear-powered windmill required a level ten work ethic, something that Evans never struggled with. Her swim workouts, and her appetite for all the meters, border on legend and myth to this day.
"The most important thing is her attitude toward training," said her coach Bud McAllister. "You have to keep pushing yourself to go faster in training."
Besides Thanksgiving and Christmas, there were very few days off, including Sundays.
Even though she was supposed to avoid the pool that one day of the week, when she took the day off she noted that her "feel for the water" wasn't the same when she returned to the water.
"If I miss a day, my stroke won't feel right," she says.
Whenever people would ask her what made her better than the competition, her answer was simple: "Hard work."
Along the way there was lots of doubters…
She was too small to beat the powerful East German swim machine…
(She would demolish them on the way to winning golds and world records in the 400 IM, and the 400 and 800 freestyles in Seoul.)
She would slow down once she grew.
(After growing from 5'1" to 5'6" the only thing that changed was her stroke rate: now she only took around 50 strokes to swim 50m instead of 60ish.)
Evans would race again in Barcelona and in Atlanta.
Defending her 800m freestyle title in 1992.
And setting world records that would go untouched until the super-suit era (her 1500m free WR lasted almost 20 years).
Along the way, her commitment to training carried her.
The work ethic and sense of urgency to make the most of every opportunity is best summarized when she said…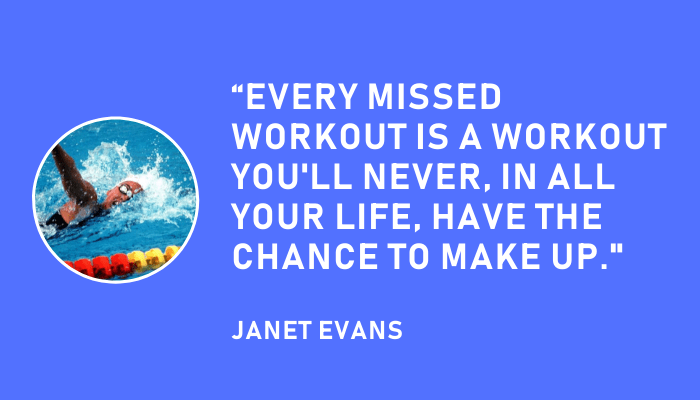 Janet Evans: Swim Practices and Training
Here are some of the workouts that Evans did during her storied career.
12×150 free as…
2 @ 2:15 – easy
1 @ 1:50
2 @ 2:10 – easy
2 @ 1:45
1 @ 2:05 – easy
3 @ 1:40
20×400 individual medley
One of the more epic IM sets that Evans did was during the early summer of 1988. The set was simple enough: 20×400 individual medleys, done long course.
The set had been Evans's idea. 8,000m of individual medley swimming.
"Her time on the last 400 was good enough to qualify for senior nationals," said McAllister.
IM Ladder Set
Ladder sets are common with middle distance and distance swimmers. Gregg Troy loves to use them with his swimmers, and Olympic distance king Kieren Perkins did them frequently in training as well.
With the following IM ladder set, which starts at a brish 2;45/200m, the interval gets harder on the way back down.
200 IM @ 2:45
400 IM @ 5:30
800 IM @ 11:00
600 IM @ 7:45
400 IM @ 5:10
200 IM @ 2:35
** Thank you to Bud McAllister for taking the time to share these sets.
More Stuff Like This:
5 Distance Sets from Olympic Gold Medalist Kieren Perkins. The work required to become an Olympic champion and world record holder in the mile is no joke. Here are some of the sets that Kieren Perkins used to become one of the best middle and distance swimmers in history.
This is What Katie Ledecky's Main Sets Look Like. You don't become the fastest distance freestyler in history without having done some impressive stuff in training. Here are a handful of Katie Ledecky's main sets. Try at your own risk.