Joe Schooling stunned the world when he won the 100m butterfly at the Rio Olympics. Here is some of the training that Joe Schooling did on his way to Olympic gold.
Eddie Reese has coached some of the most prolific swimmers in NCAA and Olympic history.
As head coach at the University of Texas (and previously at Auburn), Reese has collected a mind-boggling 14 NCAA championships while also serving on coaching staff for seven Olympic teams.
Along the way he has coached countless greats, including Olympic gold medalists Ian Crocker, Aaron Piersol, Brendan Hansen, Ricky Berens, Townley Hass and many others.
Among his more recent crop of Olympic gold medalists is butterfly sensation Joseph Schooling.
At the Rio Olympics, Schooling stormed to a gold medal in the 100m butterfly, upsetting veterans Chad le Clos, Lazslo Cseh, and the GOAT himself, Michael Phelps.
While at the University of Texas, Schooling performed some unreal fly kick sets, and in the book Eddie Reese: Coaching Swimmers, Teaching Life (Amazon) Reese recounts one of the more impressive kick sets that Schooling completed.
Joe Schooling Kicks Faster than Most People Swim
The set was done long course and the times Schooling descended into are a prime example of why Schooling ascended to the peak of the butterfly field in Rio.
(Check out the time on that final rep. Sweet chlorinated goodness.)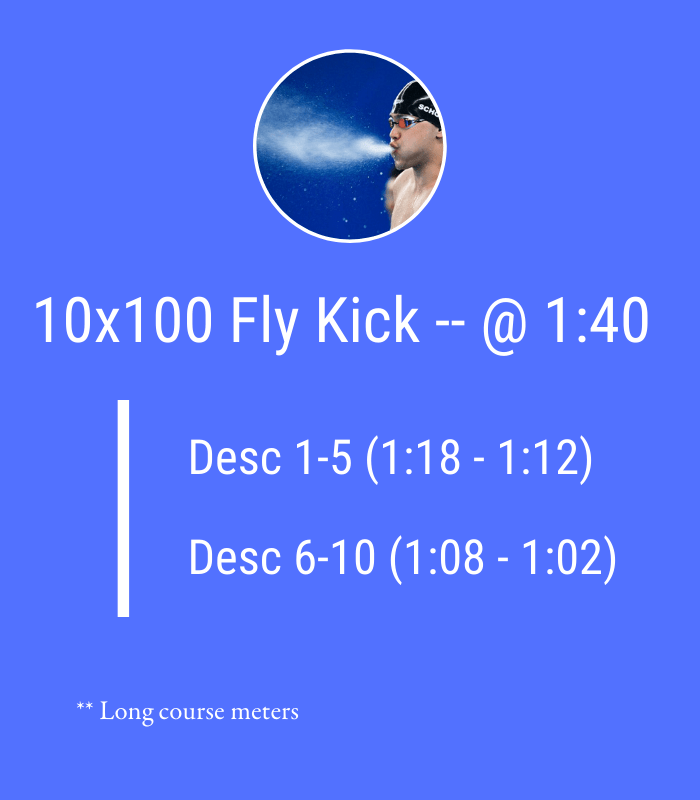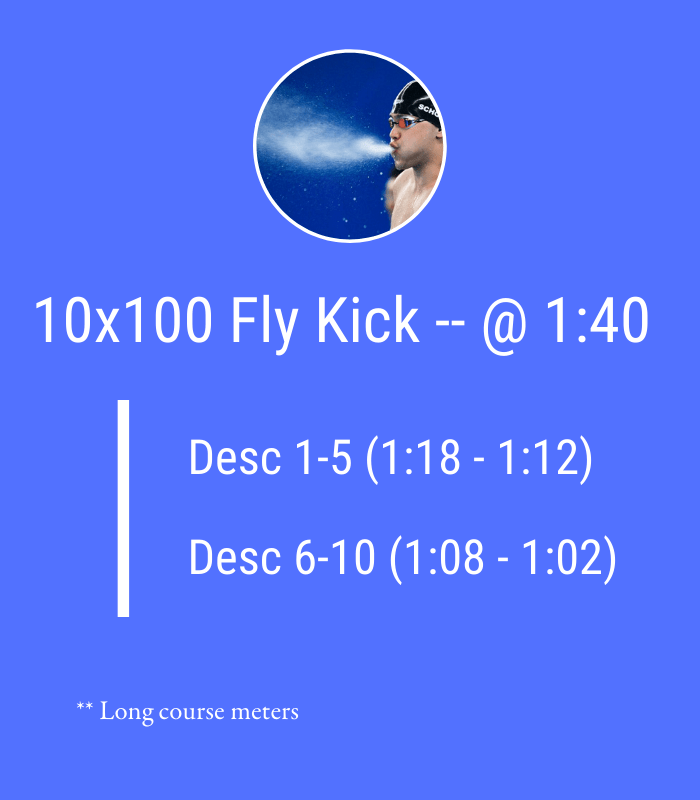 Schooling's Epic Short Course Yards Fly Kick Set
Schooling did another kick set in 2017 that was documented by the folks over at Flo Swimming.
This one was no less impressive, with Schooling holding an interval of 1:05 for 100's fly kick with a board (short course yards).
Here is what the set looked like:
3 rounds:
3×100 kick @ Fastest possible interval (Schooling used a 1:05 interval)
4×25 kick all-out @:45
2×50 easy
Those sets are no joke, and help explain Schooling's prowess both in NCAA swimming, where he won 12 NCAA titles, and on in the long course pool, winning the 100m butterfly at the 2016 Olympics.
A big part of his success was his kick.
Reese puts it more simply: "If you can't kick fly, you can't swim fly."
More Sets for Butterfliers:
How Michael Phelps Trained for the 200m Butterfly. The GOAT dominated his main event for nearly 15 years on the international stage. Here are some of the workouts he used to get there.
40 Ultimate Workouts for Competitive Swimmers. Our ever-growing list of swim practices and sets for swimmers. Whatever your stroke or flavor, we got you covered with plenty of ideas from some of the best swimmers and coaches on the planet.