You don't become the fastest distance freestyler in history without having done some impressive stuff in training. Here are a handful of Katie Ledecky's main sets. Try at your own risk.
At the Rio Katie Ledecky solidified her place as the greatest woman freestyler in history, and as the top female swimmer on the planet.
Since 2012 she has been on absolute tear, going undefeated in major international competition and repeatedly shattering world records in the 400, 800 and 1500m freestyles.
In Rio she added the 200m freestyle to her list of events, completing the hat trick of 200-400-800 freestyles for the first time since Debbie Meyer did so in 1968.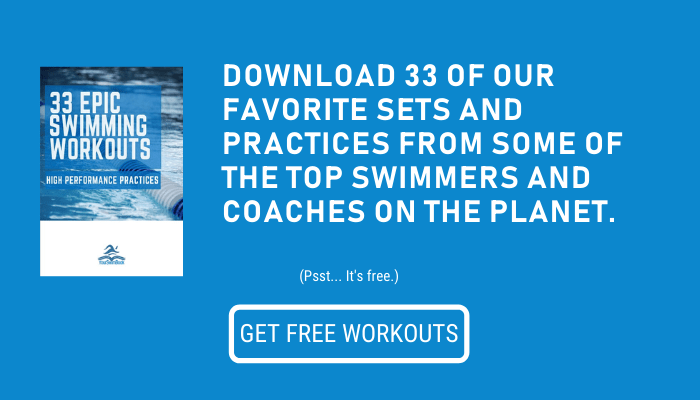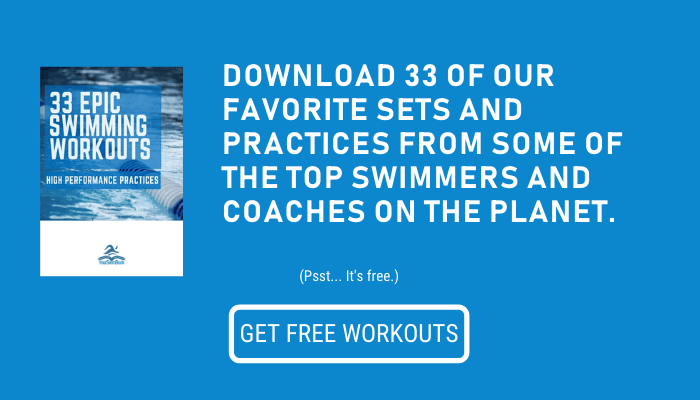 2012: An Effortless Hand-Off Between Coaches
Ledecky's age group coach at Maryland's Nation's Capital was Yuri Suguiyama. They worked together during her early teenage years, with Suguiyama guiding her to a surprise gold medal in the 800m freestyle at the London Olympics in 2012.
(Read more about how Ledecky used a training log book as home base for her goals, as a gratitude journal and even to more efficiently communicate with Suguiyama.)
When Suguiyama left NCAP for a job at the University of California, it was Bruce Gemmell of the Delaware Aquatic Club who took over the reigns of the program.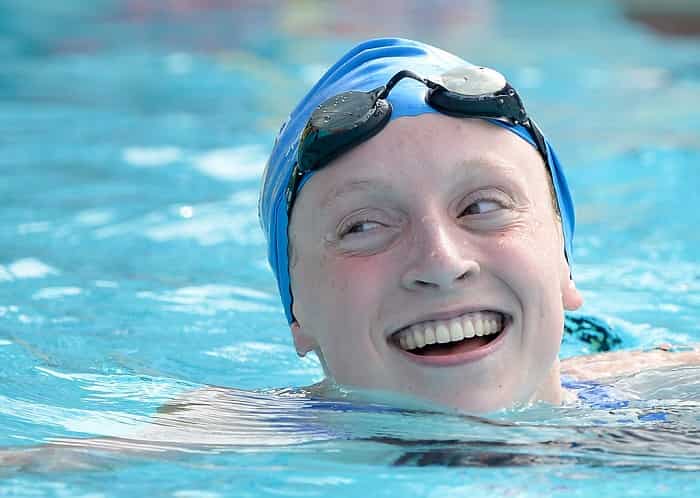 Already an accomplished distance coach—his son Andrew had qualified for the London team as well—it didn't take long to see that the new partnership would work out.
The following sets were some of the distance swim workouts that she did in preparation for the 2013 Barcelona FINA World Championships, where she would snag the world records in both the 800m and 1500m freestyles.
Gemmell cites Jon Urbanchek and his colors system as part of his coaching methodology, which he describes as "part science, part art, part witchcraft, part seat-of-my pants."
Here is a quick key for the colors that are mentioned so that you can get a better idea of what kind of intensity that the sets are supposed to be done at:
Low intensity, aerobic work (White/Pink)
Short rest, usually around 10-20 seconds between reps.
Heart rate between 130-150.
Used a lot during the early season, for recovery and for technique work.
Aerobic, threshold swimming (Red)
Ideal intensity for threshold improvement.
Sets are generally around 30-40 minutes.
Heart rate 150-170
Optimal threshold (Blue)
Taxing, uncomfortable
Slightly above threshold pace
Heart rate 160-180
20 to 30 sec rest between reps
Sets last between 20 and 30 minutes
The Main Sets: Katie Ledecky
The following workouts were all completed in short course yards. At the time Ledecky was training with a group of 4-5 other swimmers who all shared the same interval.
(The last one is simply ridiculous.)
Set #1 — Threshold
3 rounds—
1 x 300 @3:15 neg split
3 x 150 @1:45 (Target: 1:27.0)
3 x 100 @1:15 (Target: 56.0)
6 x 25 @:20 Fast Feet
:60 rest between rounds.
Gemmell would sometimes also like to have Katie and the group do the 25's kick towards the end of the set in order to help build up her legs and finishing kick.
"The real work is in the 150's, 100's, and 25's."
Set #2 – Active Rest/Race Pace
4 x [200 pink + 50 easy @3:00]
6 x [150 desc 1-3 pink to red, 4-6 red + 50 easy @2:30]
4 x [2 x 100 red @1:20 + 100 easy @1:40]
6 x [50 Race + 50 easy @1:30]
4,000 yard set of a 8,200 yard practice.
Set #3 –Threshold
5 rounds—
3×100 @1:10 cruise
1×300 @3:10 Pink (Target: 2:58)
3×100 @1:05 cruise
1×300 @3:10 Desc 1-5 Start at Pink (2:58)
"Cruise" is left purposely vague for the swimmers in the group to decide for themselves.
6,000 yard set of 9,700 yard practice
Set #4 – The Lactate Set
4 rounds—
1 x 200 @2:20 Target: mile pace
2×100 @1:20 Target: 500 pace
2×50 @:40 Target: 200 pace
6:00 rest between each round
2,000 yard set of a 7,100 yard practice
This would typically be done on a Wednesday or Saturday.
Set #5 – 5,000 for time
5,000 yards freestyle for time = 50:10
The last 600 yards was completed in 5:48.
Wow.
More Stuff Like This:
Cam McEvoy: The Hardest Sets I've Ever Done. You don't become the fastest swimmer ever in a textile over 100 meters without some epic training.
Butterfly Sets: How to Dominate Your Next 100m Butterfly. Bob Bowman used the following two sets to help develop Michael Phelps into a devastating butterflier.