Missy Franklin is a 5-time Olympic gold medalist, 8-time World Champion, NCAA champion, and one of the most recognized faces the sport has produced in decades.
Her book, Relentless Spirit: The Unconventional Raising of an Olympic Champion is an auto-biography written with her parents, D.A. and Dick, giving swimmers and swim-fans a behind the scenes look of the triumphs and tribulations of Missy Franklin's career in the water.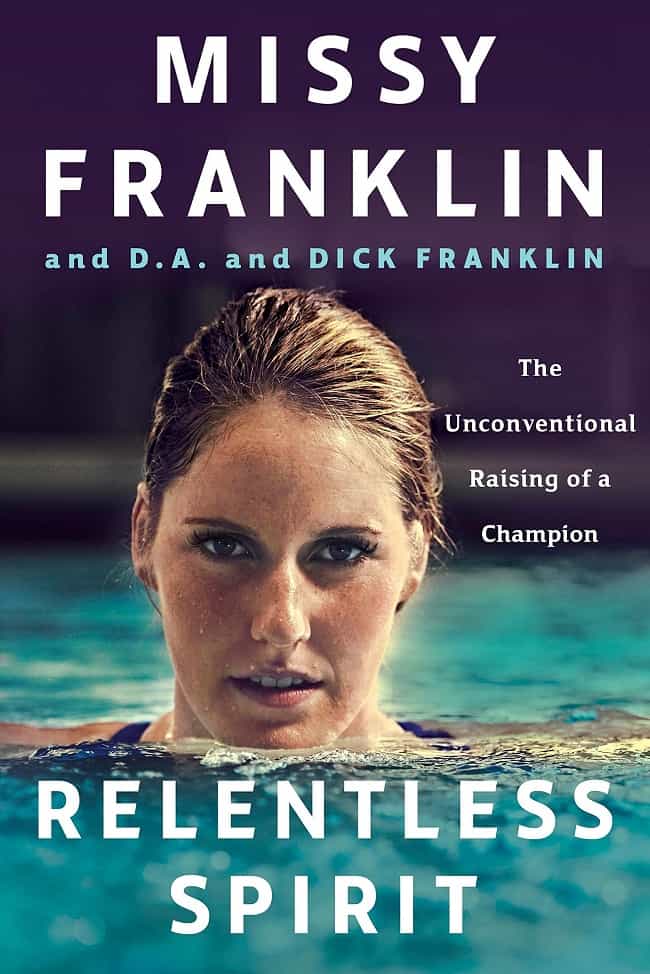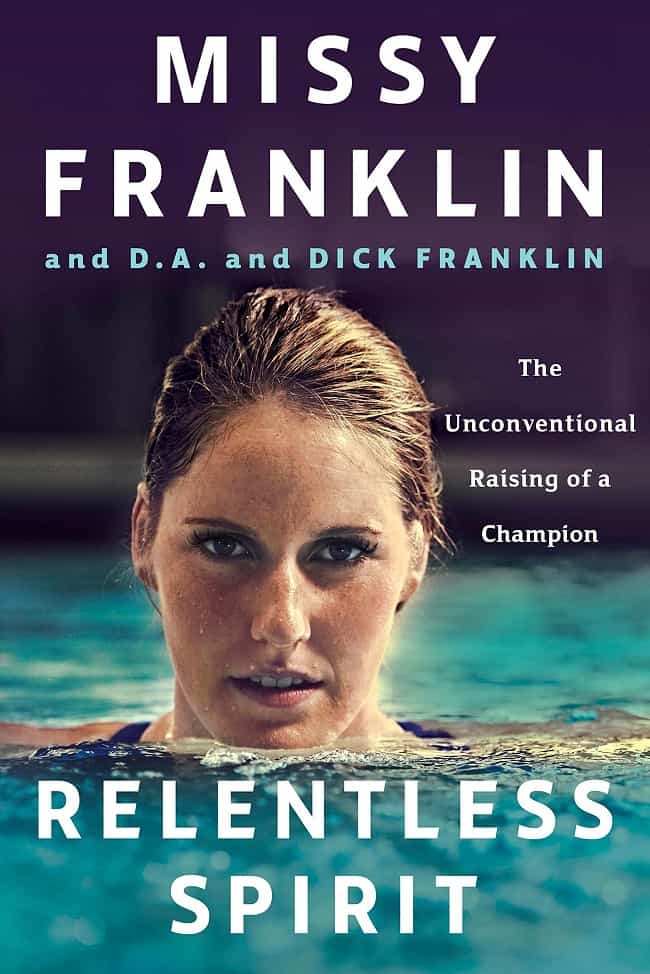 ---
Below is a selection of quotes from the book, as well as some of my own thoughts and applicable lessons for swimmers, parents, and swim coaches.
The book provides a detailed background to the Olympic highlights and the bubbly smile that came to define Missy Franklin. The book is written very much in Franklin's tone, both silly and serious. The book serves as a powerful primer on the politics of college swimming, the difficulties of choosing a swim team/coach, the drawbacks of sudden fame, and learning to deal with crushing disappointment while the world watches with a microscope.
Here are some of the highlights, key takeaways and quotes from Missy Franklin's Relentless Spirit: The Unconventional Raising of an Olympic Champion.
"Relentless" was Franklin's mantra. Her guiding principle. She would write it out on her wrist on race day, on the band of her swim goggles, engraved on a ring.
"It reminds me to keep on, moving every forward, hard… It tells me to reach deep down for my very best, even when it feels like there's nothing left."
Even budding superstars can feel out of place
At her first big international meet, a Duel in the Pool competition in 2009, she was surrounded by the swimmers she'd idolized. Olympic champions. World record holders. Before they were her idols, now they were her teammates.
"I felt like an imposter… It was overwhelming."
"I thought I'd be found out and exposed. A part of me thought I'd be sent home—one and done with my national-team career. My entire focus was on swimming my one event and trying to show everyone that I belonged in that pool with all these great swimmers."
The opponent that matters is the one in your lane
Franklin always approached her races with the mindset that she needed to focus on what was happening in her lane, and her lane alone. Anything else was wasted focus and energy.
"I knew that worrying about my opponents would only hurt my own racing: I almost never worried about my opponents."
"To this day, I swim my own race and let everything else fall from there."
"Even as a kid, I approached each event with a set of blinders on. It didn't matter who was swimming in the lane next to me, I always told myself. I could control only what I could control, so I kept my focus on my own lane."
This didn't mean she was oblivious to the competition.
"Over the years, I've come to know most of the top swimmers in the field… I've learned their tactics, their tendencies. I still try to tune them out when I step to the starting blocks, but at least I know this stuff, on some level. It registers."
At her first big international meet, her inexperience and ignorance meant that she wasn't overly focused on other swimmers. There was power in not knowing any better.
"It wasn't any kind of strategy. It was just that I didn't know any better. All I could do was get in the pool and swim my little heart out."
Motivating vs Enabling
Franklin's dad was careful about how he tried to help his daughter motivate herself.
"Motivation has to come from within… If you've got a truly motivated person, he or she will come to a thing on their own. They don't have to be coaxed or prodded," wrote Dick.
Missy's parents would wake up for those early morning practices, get breakfast going, and be there to drive her to practice.
"So we'd be up, we'd be getting ready, but we wouldn't be getting Missy ready. No, that was on her. It was always on her. Once she got out of bed, we were there to feed her, to drive her, to enable her. And did she ever once miss a practice? Was she ever even late for a practice? Do you really need me to answer?"
Missy:
"Instinctively, they knew to get me out of bed each morning was to leave it to me to get out of bed each morning. And I did."
The swimmer in the next lane can be a role model too
Missy watched the Sydney Olympics in 2000 and remembered wanting to be like "the American swimmers I was watching on television."
Her role models and inspiration at that young age were also found at her local pool.
"I also wanted to be just like the high school swimmers who worked as coaches in the club. To me, those were my role models, my ideals."
Franklin played a lot of sports growing up. That relentless ideal extended to other fields of play.
"I was a competitive kid… Soccer, basketball—whatever was in season. There was time enough for everything back then."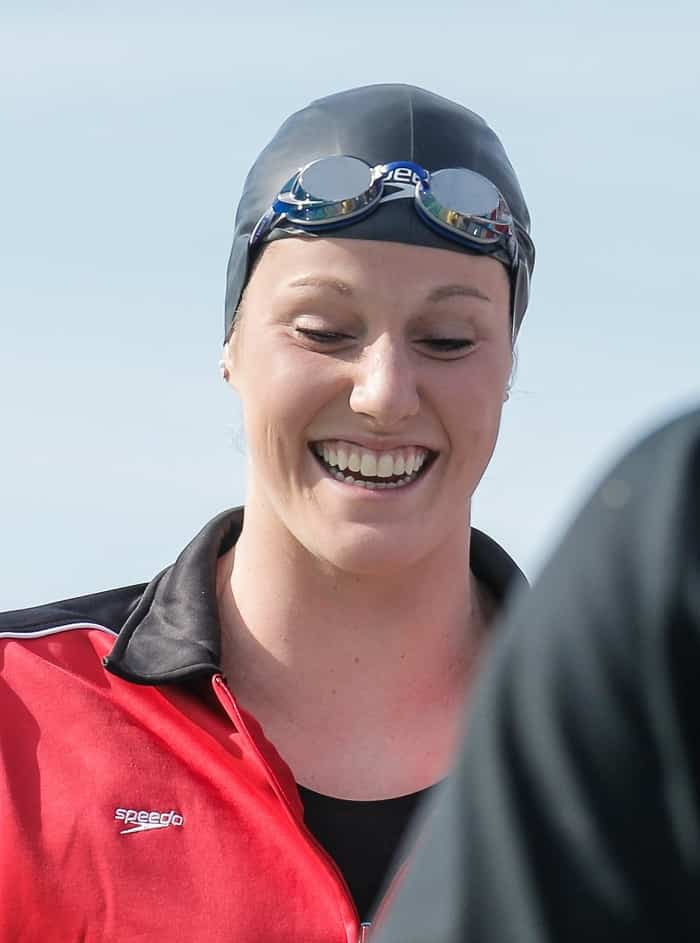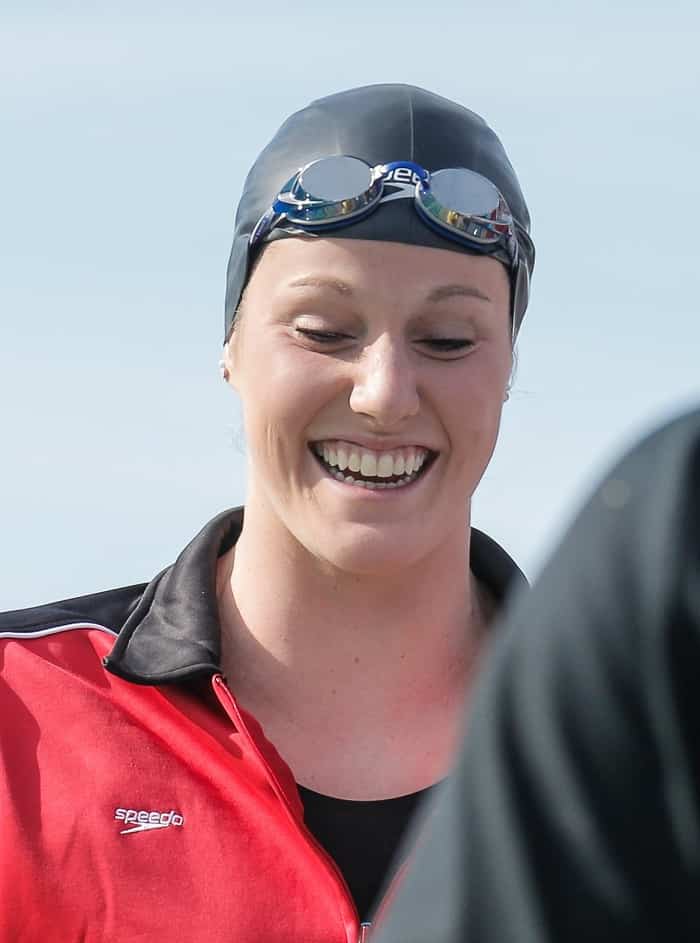 Adversity and failures are tools for growth
After not properly pacing a heats swim and missing finals at Junior Nationals, a 14-year old Franklin won the B-final in a NAG record, and in a time that would have won the A-final.
"I'd set a record but lost the race, but in the end I won something far greater than another medal… I came out of the pool thinking, Okay, this happened. What can I take away from this experience that will make me a stronger swimmer, a better swimmer?"
"No, I'm not always going to be at my best. But the best thing to do when that happens is not let it beat you down. The thing to do is move forward. Don't let these disappointments hinder you; let them help you grow."
Her competitive fire was rooted in seeing what she was capable of, and not necessarily beating other swimmers.
"It was more about seeing what was out there, what I was capable of… If another swimmer touched the wall ahead of me, I was happy for her… because it allowed me to see what my opponents 'best' looked like, and to think about what I'd have to do to make my 'best' a little better."
"My best effort—was the only expectation ever placed on me by my parents… It was such a tremendous gift for them to empower me in this way."
Video review was a powerful way for Franklin to assess and improve her technique:
"When I could see what I was doing right, what I was doing wrong, what I needed to change, I was able to get back in the water and make those adjustments."
Missy didn't specialize early
Franklin's development as a swimmer was generalized. She didn't specialize until even after she had made her first Olympic Trials cuts.
"One of the great benefits to swimming with Todd and the Colorado Stars was that the club didn't really believe in specialization. A lot of time, even at the lower ends of the youth level, you'll see a swimmer start to focus almost exclusively on one stroke, one distance. That's a mistake I think. If you spend all that time at eight and nine and ten years old doing breaststroke, then you might start to believe you are a breaststroker for life. If you mix it up, you give yourself a chance to grow into an event, and you set it up so you can better help your team, once you start to complete for your club or school."
"My stroke changed as I grew. I developed new areas of strength. In fact, my three Olympic trial cuts in 2008—my first!—didn't include backstroke… so you never know how things are going to work out."
At her first Olympic trials, Missy was simply stoked to be there. At 13-years of age, there were no expectations.
"There were more than 10,000 people in the stands in Omaha. But that didn't faze Missy," said her dad.
"I was just so happy to be there and to be at my absolute best and to be in the company of all these amazing swimmers."
Putting a plan together for success
The way that Missy set goals is similar to how Michael Phelps started with goal setting.
At age 12, Missy went to her coach, Todd Schmitz, and told him that she wanted to qualify for Olympic Trials. While some coaches would have scoffed, he replied, "Great! How are you going to do it?"
"Missy walked him through it," says her mom, D.A. "She'd already thought about it. She'd work more on her starts, because she was slow off the blocks. She'd work harder on her dry-land workouts. She had a whole list, and together the two of them came up with a plan to make Missy's goals happen… Todd shared that conversation with me, but Missy didn't. It was between her and her coach. And I just thought that was wonderful."
"Never underestimate the power of goals. Setting them, chasing them, breaking them."
"I love it when there's a carrot for me to grab at, a place for me to put my focus."
Success usually brings out the ugly side in others
After her massive performance in London, where she captivated the world, from her bubbly appearance in the viral USA Swimming lip sync rendition of Call Me Maybe, to her 4-gold medal winning performance, she was suddenly a superstar in the broader sport world.
The attention also came with some unexpected nastiness from others in the swim community.
It was her senior year in high school, and she'd committed to swimming for her high school team to help them win state.
"A few parents from our opponents' schools, as well as some opposing coaches and athletes, seemed to have something to say about it. A lot of journalists and commentators had their own opinions, too."
A family from an opposing school sent the Franklins a batch of cookies with a card that read: "We hope you'll convince Missy NOT to swim with the team so that the other girls will have their chance to shine."
"I loved my friends. And I knew we'd all be headed off in different directions after high graduation. This time in our lives was coming to an end and I wanted to hold on to it for as long as I could, in whatever ways I could… In the end, I tuned out all the criticism and found a way to enjoy my senior season with my friends."
The path to Rio was far from easy
After the London Olympics, and a 6-gold medal winning performance at World Championships in 2013, expectations for Franklin were sky-high heading into Rio.
But training had become more of a grind.
"It became a job, and it was a job she was good at, but she wasn't swimming with abandon. She wasn't loose, like she'd always been," said her dad.
After a disappointing swim at the US Olympic Trials, where she failed to qualify for the team in the 100m backstroke, Franklin had to do the usual media gauntlet:
"You talk to the media, try to come up with an original way to say how disappointed you are, how you're still hoping to swim your way onto the team. And then you try to keep it together beneath the stares of all these well-meaning people who keep looking at you like you're…broken."
Franklin qualified for the Olympics by swimming to second place at Trials in the 200m freestyle. But even though she'd won the event at world championships, and was the fastest ever in yards in the event, her confidence was low.
"I was overjoyed—but at the same time, I was terrified because it felt to me like I didn't deserve to be going to Rio."
"I didn't see how I stood a chance against the very best in the world—not with the way I'd been shaken at the trials. Not with the way I'd been swimming."
"…by the time I got to Rio I was so emotionally drained and unsure of myself I couldn't possibly swim to my ability."
At the Rio Olympics, Franklin swam on the prelims squad of the 4x200m freestyle relay. But although she swam the second-fastest split in the morning, and had qualified individually for the Olympics in the event, she would not swim with the "A" squad during finals.
She told US coach Greg Meehan:
"If I'm on a morning relay, if I'm on a finals relay, if I'm not on any relay at all, I'll support your decision. I want what is best for this team, whether or not that includes me."
Be a champion in adversity too
It's easy to be a role model for young swimmers when everything is going well. But it's markedly different when things aren't going well, when you aren't performing up to expectations, when you feel the creep of imposter syndrome.
"I could either kick myself and wallow in self-pity, or I could find a way to grow from this Olympic experience, and to stand as a different kind of role model in defeat."
"It's one thing to inspire all these little girls by winning a bunch of medals. That's easy. But it's another thing entirely to be an inspiration when things aren't exactly going your way."
Be an "inspiration in disappointment"
Endings are rarely a gold medal or a world record. There's only one given out, after all. More often than not, endings are fraught with disappointment, regret, sadness. But that doesn't mean you can't still be a champion in attitude and mindset.
"I'd let my teammates down. I'd ley my country down. I'd let myself down, most of all."
"I kept reminding myself that everyone knows what it's like to work hard for something and not get it. The real opportunity here was in showing the world what failure can look like, in a positive way."
"What it can mean to work hard for something and not get it and still look ahead to the next goal."
"It wasn't exactly the thing I'd set out for, but it was the thing at hand, and I would carry it proudly going forward."
Where to Buy "Relentless Spirit" by Missy Franklin
Or, you can check out our list of books for swim coaches and our list of recommended books for swimmers.
---
See Also:
Missy Franklin: What Doesn't Break You Makes You Stronger. Adversity and setbacks happen to us all. This is the story of how Missy Franklin battled back from back spasms to become the fastest woman to ever swim the 200-yard freestyle.
Missy Franklin and the Power of the Confidence Jar. Here's a confidence-building tool that Missy Franklin used during her reign to keep herself ready-to-go leading into big meets.