Ryan Lochte is no stranger to hard work in the pool.
From his high yardage weeks under Gregg Troy at the University of Florida (where he did this particularly "brutal" IM set), to his high quality training with Dave Marsh, to his well-documented forays into Strongman training, Lochte has developed a work ethic that has reached legendary status.
But as anybody who has tried to excel in the sport knows, it's about more than just effort.
During a week-long training visit in 2012 Guelph Marlins Head Coach Don Burton took his swimmer Andrew Ford to swim with Lochte and Coach Troy in Florida.
Burton reported back after the trip and some of the notes he made of Lochte's overall training (and the overall atmosphere at the University of Florida, which is reflected in more recent world class swimming from sprinter Caeleb Dressel in the 50 yard freestyle) that helped shed light on the way that Lochte handles training.
More than just the long meters and high quality efforts, Lochte also swims with a high degree of intention.
Showing that it's not enough to work hard.
You have to train with a focus on the details as well.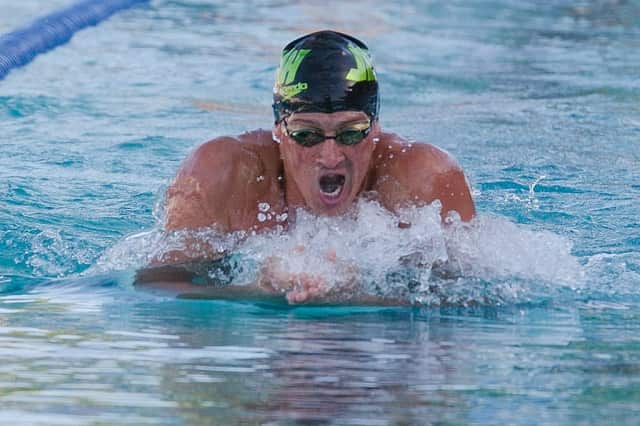 The Habits of a Champion Start in Practice
While Burton had glowing words in general for the way Troy runs his program, he had a lot of praise for Lochte.
After all, Lochte's training habits were described as a coach's dream:
He would always get into the water right away, being one of the first swimmers to hit the water at each practice. No coaxing from the coaches, or delaying tactics. Everybody in the group was also on deck at least 15 minutes before practice started.
His walls, which are superior even among international swimmers, are world-class in practice as well. Lochte never breathes from the flags to the walls, and his turns are always done with him keeping his chin tucked (not looking up at the "T" on the wall like most swimmers tend to do by default).
As for kick sets, when most swimmers are happy to take a couple pulls into the wall Lochte doesn't pull in, nor does he do flip turns during kick work.
Like the rest of the Gators he was training with, he didn't need prompting on when to start a set. The athletes are very well self-directed and take the assigned rest, even when coaches aren't necessarily on top of them making sure they are doing it right.
Dolphin kick-outs on every wall. Tom Shields put it best when asked to describe the fastest way to improve your underwater dolphin kick; simply make it part of your regular swimming. Lochte is no different, always kicking out a sizable distance off of each push-off and turn without prompting or reminding.
Train Fast to Race Fast
If you checked out the "brutal" IM set that was posted recently you know that Lochte can perform at the tail-end of the 6,000m workouts. He was able to belt out four 400IM's in the 4:20s, showing that regardless of how much yardage you are doing in the water it is still possible to swim fast.
This was no exception during the week that Burton was there.
On the Saturday, after 8 previous sessions in the pool, plus three rounds in the gym and three 1-hour dryland sessions they did a get-up-and-race set.
The set was (painfully) simple:
6 x 100 @ 6 minutes from a dive, all out.
Lochte did a mixed bag of strokes, and dropped some unbelievable times.
Here is how he did:
50.15 (freestyle)
51.1 (freestyle)
54.9 (butterfly)
55.2 (butterfly)
Assigned to rest as he was swimming so quickly.
1:05 (breaststroke)
The Takeaway
Swimmers too often believe that because they are doing high yardage that they cannot also summon speed from themselves. Or that because the set they are doing is high effort that the details can be glossed over.
Athletes like Ryan Lochte show that if you are serious about being and beating the best it's not a case of one or the other…
You gotta do both.
Burton summed up the week of training, and what it takes to excel at the international level, quite nicely:
"Anyone can do it. You have to want it this bad, every day. Pay attention to all the small details while working hard."