Here is everything you need to know about Speedo Tech Suits, from features, reviews, their history, to where to buy 'em. Let's go.
Speedo Tech Suits: A Brief History
Speedo is one of the leading swimsuit and equipment manufacturers in the world. So common are they with competitive swimming that the men's swimming brief is usually simply called a "Speedo."
The company's origins go all the way back to the 1920s, when swimming became popular thanks to a more liberal attitude about bathing in public. This was combined with the resurgence of the modern Olympic movement, which from the beginning had swimming events (including an aquatic obstacle course at one point).
Speedo has also been at the controversial spear of the swimsuit industry from the get-go.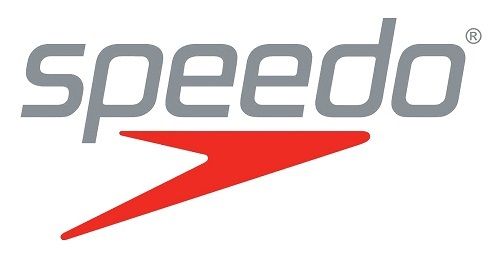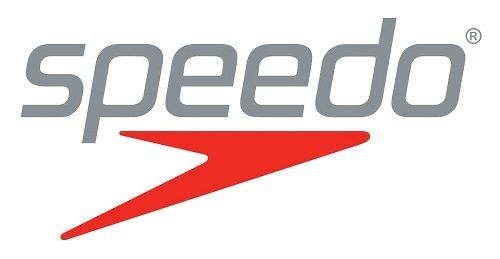 At the 1936 Olympics, Australian Claire Dennis took gold in the 200m breaststroke while also getting attention for her Speedo that dared to bare "too much shoulder."
In the 2000's, it would be swimsuit materials that would become a lightning rod for controversy, with rubber suits (including those made by Speedo) propelling swimmers to shatter almost every world record on the books at the 2009 World Championships in Rome.
Within months, FINA would institute rules for suit materials and cuts, giving us the current batch of best knee skins and jammers.
With their cutting-edge research laboratory, commitment to the sport, and countless world records and Olympic gold medals won by swimmers wearing their suits, Speedo has set the standard for tech and competition swimwear.
Whether you are looking for a Speedo kneeskin or a jammer, we got all of their racing suits reviewed, tested, and extra reviewed in this ultimate guide to Speedo tech suits.
Buckle in, let's get our tech on!
---

---
Speedo LZR Racer X 
The LZR Racer X Kneeskin is the flagship tech suit for elite-minded competitive swimmers.
It combines their most high tech materials, developed in their research laboratory–appropriately called AquaLab–with the feedback and input of hundreds of national and international-level swimmers. The suit's ancestor, the original LZR, debuted at the 2008 Beijing Olympics, where the suit was worn by 85% of the swimmers who made it to the medal podium. Not bad.
These days, swimming superstars including Katie Ledecky, Missy Franklin, Femke Heemskerk, Elizabeth Biesel and many, many more all either are sponsored by Speedo or wear this suit in competition.
Some fun facts about the LZR Racer X:
It has 16% less drag than previous Speedo tech suits. During exhaustive research in Aqualab designers were able to minimize the drag profile by up to 16% compared to previous editions.
Made to stretch vertically, not horizontally. Tech suits are hard to get in and out of–this is no secret. The LZR X is stitched together so that there is stretch from top to bottom, but not horizontally, insuring max levels of compression.
The LZR Racer X kneeskin features "ab activators." Seriously. The suit is paneled so that it encourages your core to brace itself, which has the side-effect of keeping you better positioned in the water.
FINA approved. The suit "legal" for use in competition.
LZR Racer X Sizing Chart
First, you are going to need four measurements: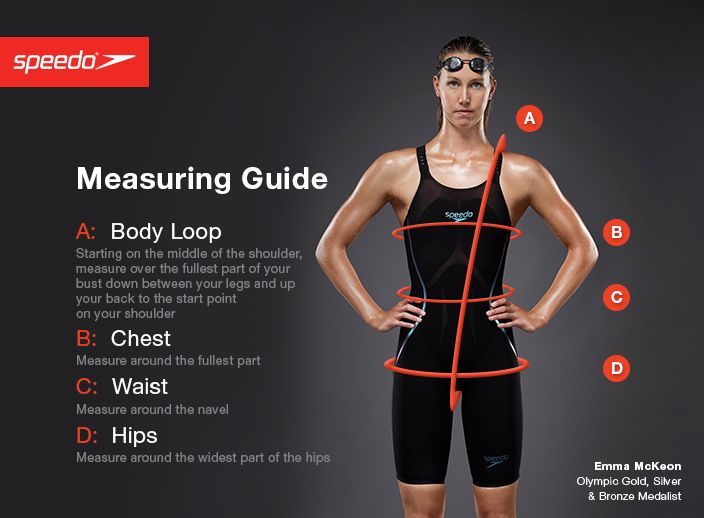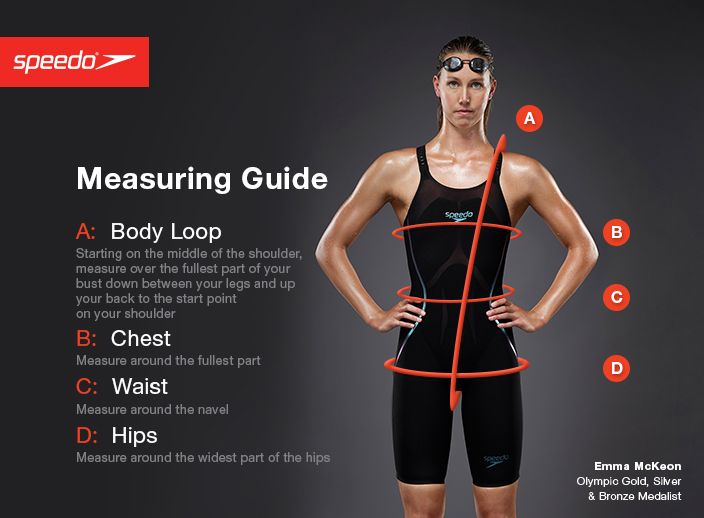 Second, take those measurements and line them up in the sizing chart below. Speedo emphasizes that the hip is the dominant measurement you should use when picking out a suit.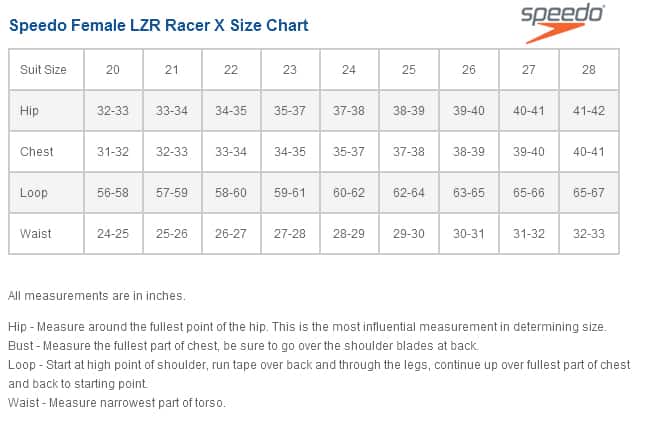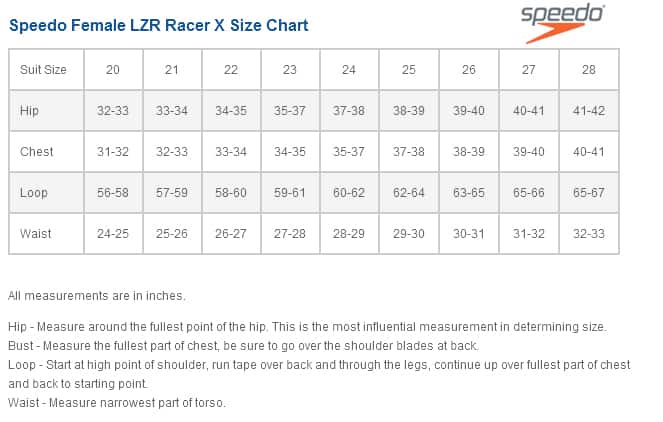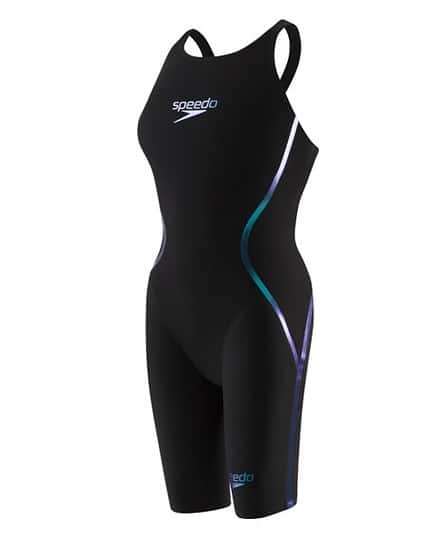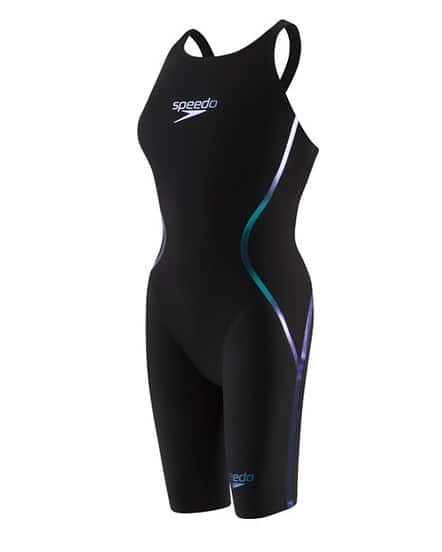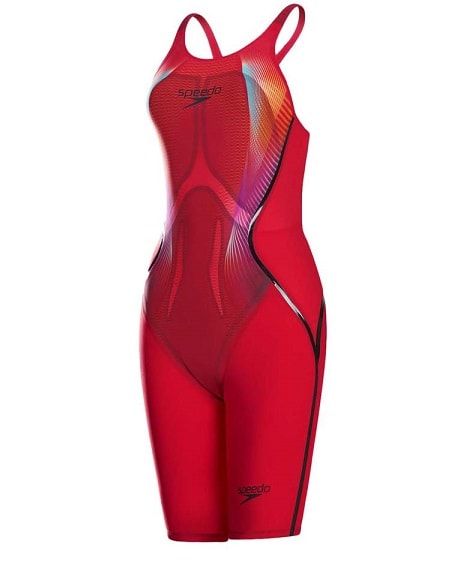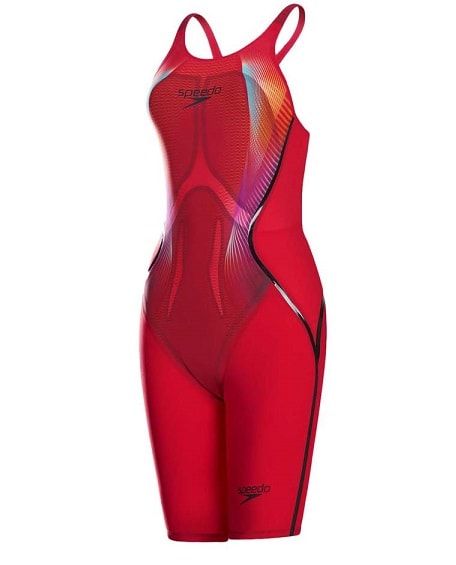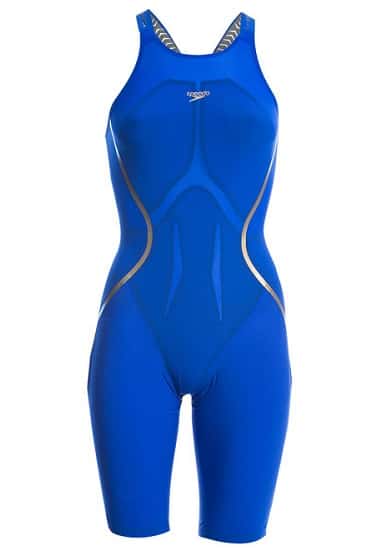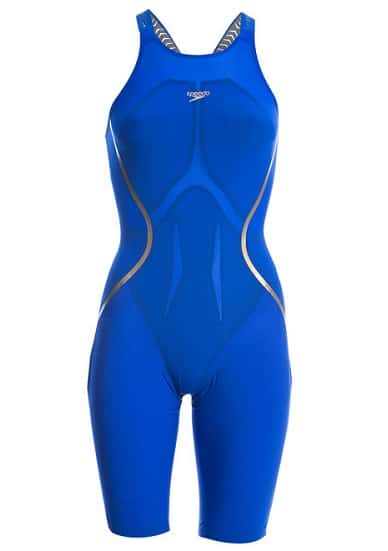 ---
LZR Elite 2 Recordbreaker Kneeskin
The Elite 2 Recordbreaker kneeskin is Speedo's other high-end racing suit for women. It's not as expensive as the LZR Racer X, but is still composed of much of the same space-age fabrics while also providing the same paneling and compression benefits.
Some of the highlights of the suit:
The suit has bonded stitching, which means that there are no stitches on the outside of the suit to cause unnecessary drag. This might not seem like a big deal, but Speedo noted a drag decrease of 6% with this kind of seam compared to stitching that is on the outside of the tech suit.
Silicone leg grippers. These help in your half hour battle to wrestle into the swimsuit, and more importantly, keep you from tearing (and consequently stretching or even worse–tearing) at the delicate fabric.
Composed of 65% nylon, 35% elastane (spandex).
FINA Approved. This kneeskin is allowed in competition.
Comes in ten different color combinations.
LZR Elite 2 Recordbreaker Kneeskin Sizing Chart
Because it is the same maker, and largely the same materials, simply use the same measurements as you would for the LZR Racer X as noted above.
Where to Buy: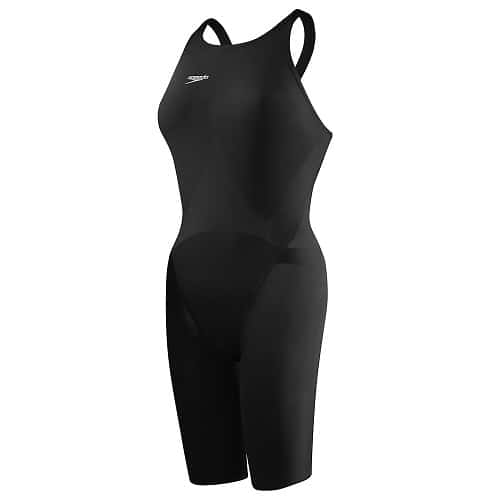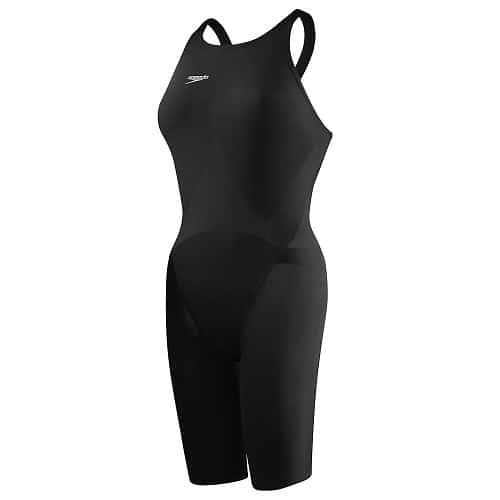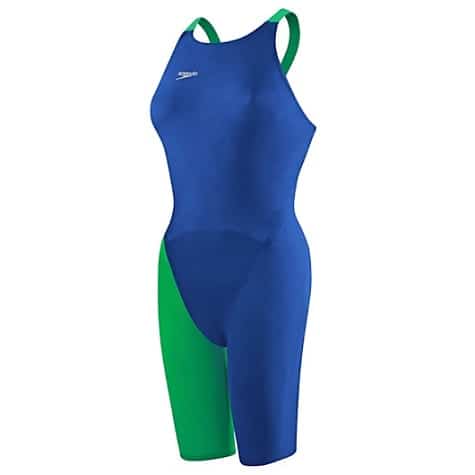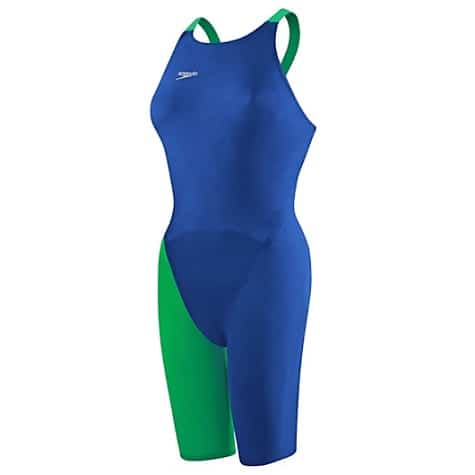 ---
Speedo Powerplus Kneeskin
The Powerplus is Speedo's bargain tech suit, coming in at less than $100. It's an excellent pick for repeated use and those meets where Olympic gold isn't on the line, but you still want the compression benefits and some of that water-repellent fabric covering your butt-butt.
Some fun facts about the Powerplus Kneeskin:
It has a higher amount of nylon than the two elite tech suits: 79% of the suit is made of nylon (this is what training suits are typically made of), with 21% of the suit Lycra. This makes it less "tech-y" than the others, but more "tech-y" than your regular practice suit.
The sizing runs closer to what you would normally order as opposed to your tech suit size. A simple rule of thumb is taking your tech suit size, your training suit size, and averaging them out.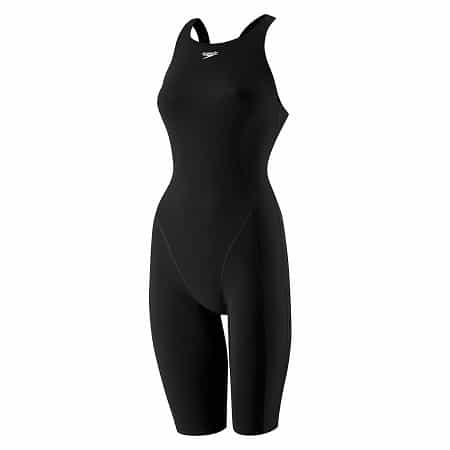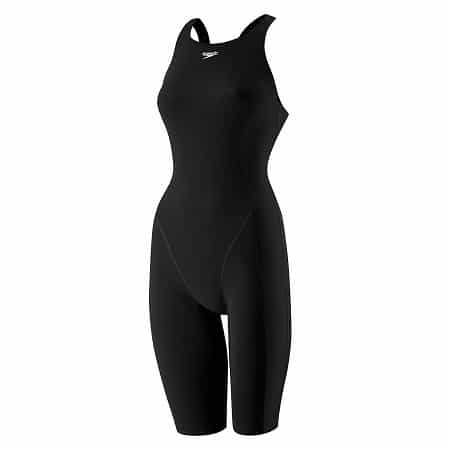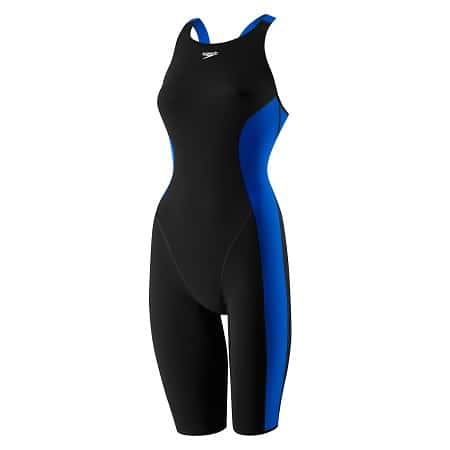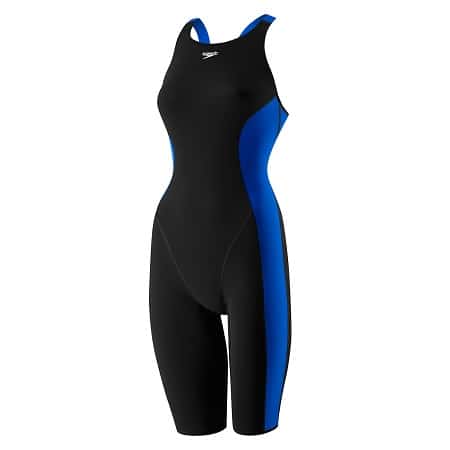 ---
Aquablade Recordbreaker
Our last Speedo tech suit isn't a kneeskin, but it is a high-performance racing suit that is affordably priced, coming in at around $100.
It's also a great fit for those non-championship meets (or even preliminaries of the big meets when you know you are going to qualify for finals and want to extend the life of your fancy pants suit).
The Speedo Aquablade Recordbreaker is a "classic" swimsuit, and the same kind of suit you would have seen prior to the 2000 Olympics when leggings and wet suits become popular with high level swimmers.
Some fun facts about the Aquablade:
The suit is made mostly of nylon (yup, the same material that your training suit is made of), with just 20% of the suit being composed of that highly delicate (but allergic to water) material, Lycra. So yes, it's "slower" than the high end suits, but it's also more durable.
The suit is paneled with vertical stripes that are designed to streamline water away from the body and improve your drag profile in the pool.
As with all the other suits on this list, it's A-OK for competitive use by the smarty pants over at FINA.
---


---
LZR Racer X Jammer
The fastest, baddest, most compression-y suit that Speedo makes for the fellas is the LZR Racer X Jammer.
The simple, X-design of the suit was everywhere at the Rio 2016 Olympics, with swimmers including Cameron McEvoy, Nathan Adrian, backstroke world record holder Ryan Murphy and Ryan Lochte rocking out in them.
"With the Speedo LZR Racer X jammer you feel the water, you feel the speed, and you feel fast." – Nathan Adrian
The LZR Racer X is the heir apparent to the Fastskin-3 and the original LZR racing suit, which was worn by over 80% of the swimmers who took home medals at the 2008 Beijing Olympics.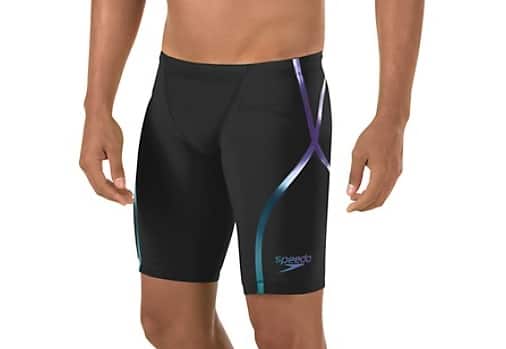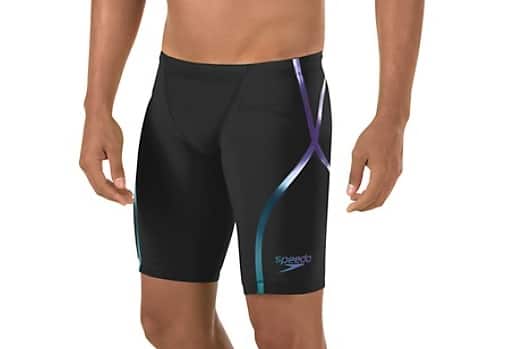 Speedo is the predominant player in the swimsuit and swim apparel market, and the LZR Racer X jammer is their fastest and sleekest swim-suit for competitive swimmers.
Some fun facts about the LZR Racer X:
The suit is made of 35% Lycra and 65% nylon. The amount of Lycra might not sound like a lot, but it's more than plenty, giving you max amounts of water-repellant-iness.
Bonded seams to further reduce drag: all the stitching is on the inside of the suit to reduce the friction (6% according to Speedo research) of having the stitches on the outside of the suit.
This suit is high in compression, which means that it takes a lot of time to put on. It's not uncommon to see swimmers taking 15-20 minutes to wrestle into a pair of these.
With all that high tech comes a hefty price tag. The Speedo LZR Racer X jammer comes in at around $300-350.
The heat and speed that comes with the LZR Racer X is also fully certified by FINA as approved for racing in competition.
Sizing information for the LZR Racer X jammer: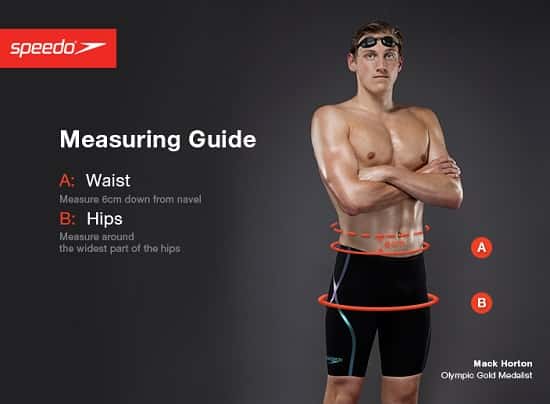 Where to Buy: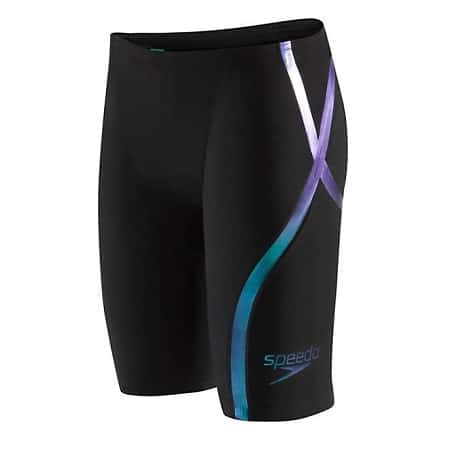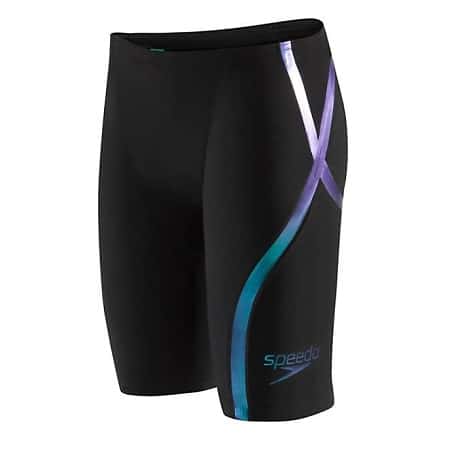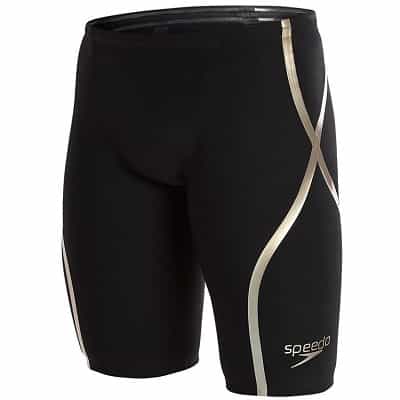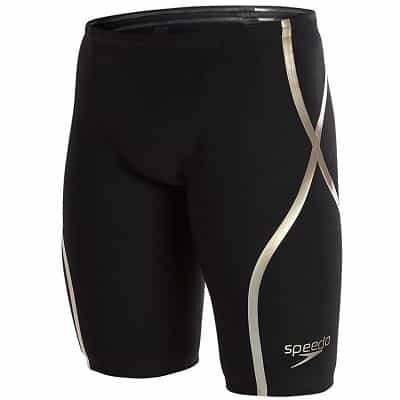 ---
LZR Elite 2 Jammer
The Fastskin LZR Elite 2 jammer is Speedo's other high end jammer for male swimmers. While it's not quite as expensive as the Racer X, it still comes with a price tag of around $250-300.
It also comes (in my opinion) in a series of better looking color combinations than the Racer X.
So in other words…all the same compression benefits, the same water-repellancy, and the same fast-drying materials, plus a splash of extra style. For a few less bucks. Bingo.
Some fun facts about the Fastskin Elite LZR 2:
It's made of the same ratio of materials as the Racer X: 65% nylon, 35% Lycra (aka spandex).
Has silicone leg grippers on the inside of the bottom of the pant legs to help you pull the suit on without tearing at that delicate and expensive fabric. (Nothing worse than tearing a $300 suit the first time putting it on.)
Also comes with a high-waisted version.
Sizing Information for the Fastskin LZR Elite 2 Jammer:
Because it is made of the same materials, you can rely on the sizing chart from the Racer X posted above to help guide you to the perfect fit of this suit.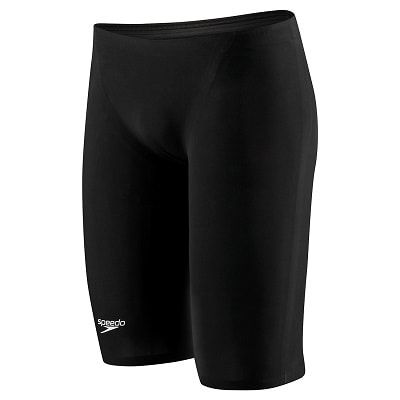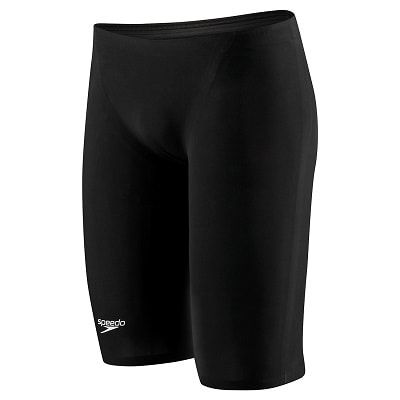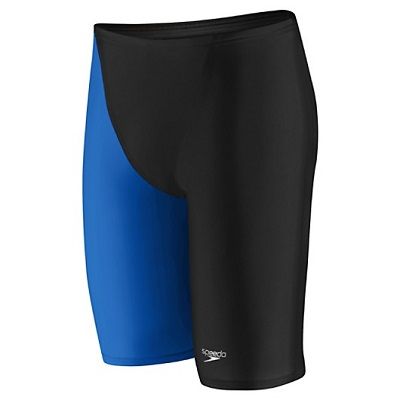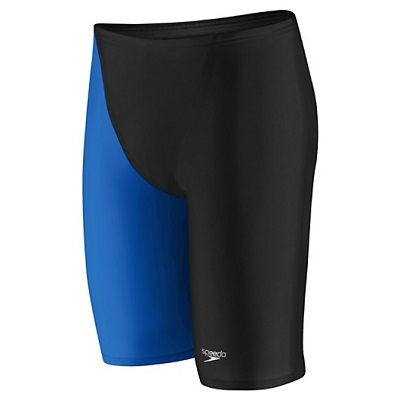 ---
LZR Racer Pro Jammer
Alrighty, we skip down a level of techiness with Speedo's mid-range racing suit, the LZR Racer Pro.
It retails for around $150-190, and this reduction in price also comes with a reduction in space age material in the suit.
Fun facts about the LZR Racer Pro Jammer:
Lycra content decreases by 10% points with this suit: the LZR Racer Pro is made of 25% Lycra and 75% nylon, which makes it more durable than the Racer X and the LZR Elite 2, but also a tiny bit slower.
It does have a sizable amount of compression, which helps to reduce muscle oscillation and keeps your hips nice and high in the water.
The suit is tech-y in its ability to dry extremely quickly.
The suit has traditional stitching on the outside of the swim suit.
The design and color combinations are identical to the LZR Elite 2.
FINA approved, just in case you were wondering. Or not.
Sizing for the LZR Racer Pro is similar to what you would fit for a training suit: I would recommend sizing one down just to make sure it's nice and snug, but you won't need to size down 2-4 sizes like you would with a high end tech suit.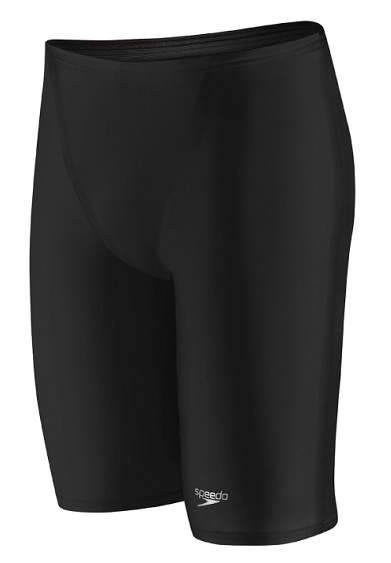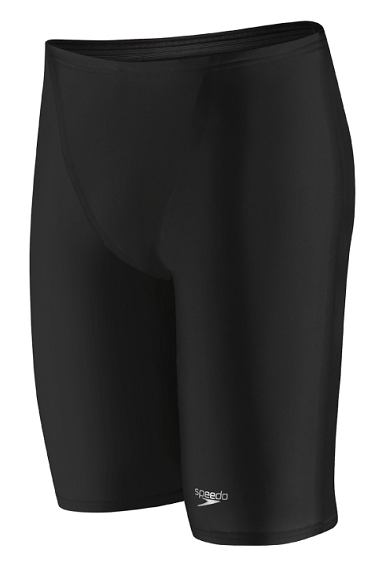 ---
Aquablade Jammer
Lastly, we have our cheapest tech suit for the male competitive swimmer, a suit that I have worn on countless occasions over the years because of its more than reasonable price point–the Speedo Aquablade Jammer.
The Aquablade is the cheapest suit on this list of Speedo tech suits, coming at around $40-80 depending on where you pick one up from. It's been my experience that at least one of the colors is almost always on sale.
Some fun facts about the Aquablade:
Although it sounds like a gangster suit with the name "Aquablade", it's the slowest of the suits if we are measuring strictly by what it's made of. It is constructed of 20% Lycra, and 80% nylon.
With it's cheap price point it's the perfect suit for mid-season meets, preliminary sessions, dual meets, and so on.
I've found that the "regular" cut is relatively high-waisted.
You can get away with ordering one of these suits in your regular training size, but to be sure to get some of that snug, compressive fit, order one size smaller than you normally would. With use the suit will stretch, so better to err on the side of snugness.
Stamped with the approval of the almighty FINA!
Where to Buy the Aquablade: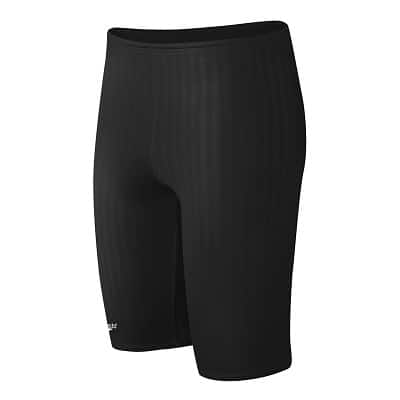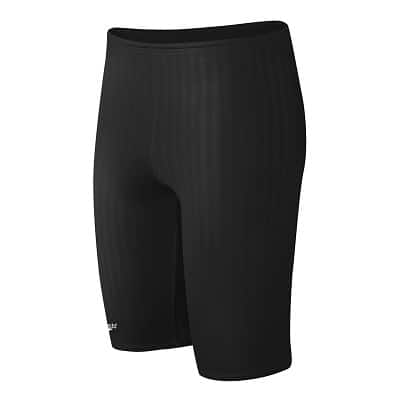 ---
More Tech Suit Resources:
9 Best Tech Suits for Crushing Your Best Times on Race Day. Competitive swimmers are always looking for the best tech suit to swim faster and more efficiently. Here is a detailed look at the top tech suits on the market that will help you demolish your PBs and the competition!
How to Care for Your Tech Suit. You've invested in yourself and your swimming by throwing down cash on a racing suit–here's how to make that investment last.
When Should Swimmers Start Wearing Tech Suits? More swimming organizations are banning high-priced tech suits for younger swimmers. We explore this growing movement and discuss some best practices for when to start investing in these suits.
6 Best Swimming Jammers for Training and Lap Swimming. Looking to get a new training jammer for your time at practice? Here's a breakdown of our favorite jammers, for lap swimming and training.