Ready to hit the pool with some tunes? Here is a breakdown of the best waterproof iPods for crushing your swim workouts.
Is there anything better than crushing that one track right when you step into the gym? That moment where BPM and motivation collide, the result being a devastating workout.
For far too long, this head-boppin', motivation-throttling benefit of working out with music was limited to our dryland activities. For the water-borne athlete we were left to swimming around the black line in silence.
No more.
Over the past few years audio companies have been pushing better and better options for crushing those arm-moving and leg-pulsing songs while working in the water. We covered a few of them in our flagship guides for the best underwater and waterproof mp3 players for swimming and the best waterproof headphones for swimmers.
In this guide we are going to focus exclusively on the waterproofed iPod.
Here's our full breakdown of the best waterproof iPod Shuffles for swimming.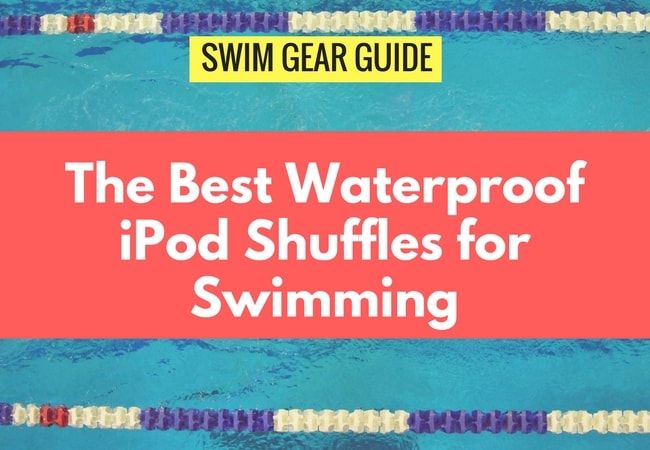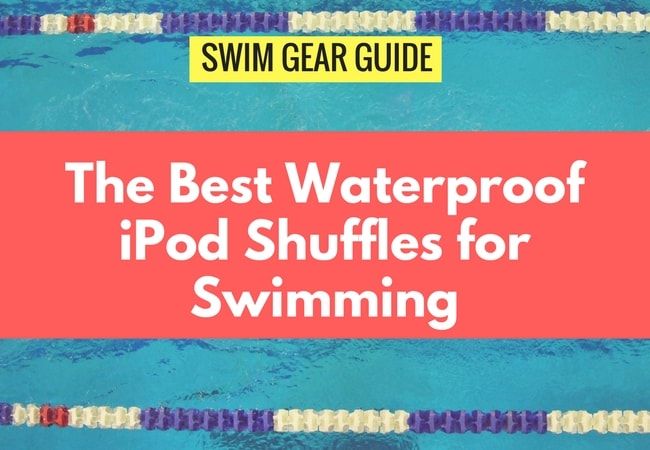 Apple iPod Shuffle by AudioFlood
The first of our waterproof iPod Shuffles is an offering by AudioFlood.
They are an American company, whose CEO, David Johnson, is an IronMan athlete who has logged his fair share of time in the lap pool and doing open water swimming. As a result, he's got a unique and shared perspective on what a swimmer needs in order to have a music player be awesome.
Here are some of the best features of AudioFlood's waterproof iPod Shuffle:
The casing and the device are rated to a depth of 200 feet. For 99.9% of swimmers that is more than deep enough, and covers all your deep breakouts, diving into the water, etc.
They come with short wire headphones: I can't emphasize enough how important this is. Long chords are unnecessary on waterproof iPods. You are strapping the device to the back or the side of your head on your swim goggles. More than 8" of headphone wire is pointless and causes a tangled mess on top of your head.
You get a series of different ear bud tips to match your ear canal size. This has always been the biggest issue with waterproof iPods (and players in general): getting the ear buds to stick in place. Once dislodged, water gets in there and the sound goes to hell. Also, having to stop every few strokes to adjust the headphones is a pain in the butt.
The bonuses. AudioFlood's package comes with a swim cap, a waterproof sack-bag thing to store your player, and of course, a USB cable to charge and/or play around with your playlists.
The AudioFlood waterproof iPod Shuffle retails for around $160-170 through Amazon and includes the Shuffle, the casing, headphones, and the above mentioned bonus items.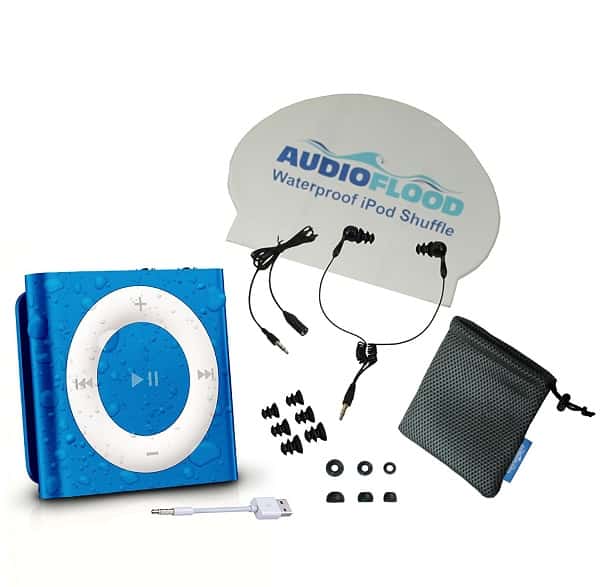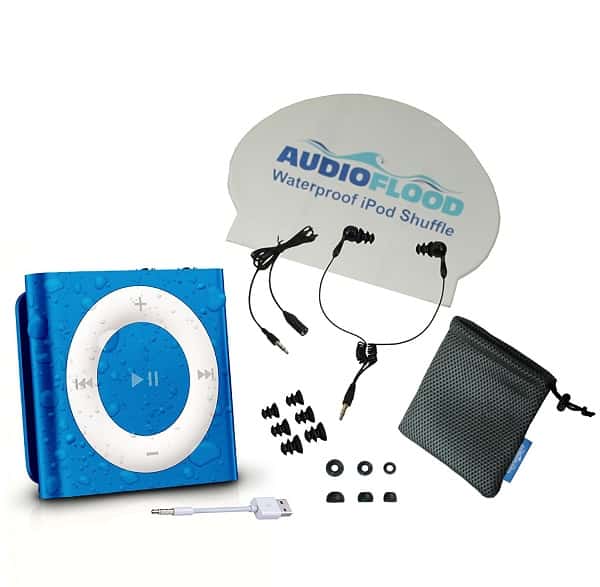 SwimBuds SPORT and Underwater iPod Bundle

(Winner Winner, Chicken Dinner)
Okay, so this set of underwater awesomeness is a little pricier—it rings in at around $250 but comes with literally everything, earning our distinguished champion's belt of best waterproofed iPods.
Remember how I was talking about how critical the fit of the ear bud is? (Refresher: without a proper earbud fit, water gets in, your swimming gets disrupted, and all sorts of ragey displeasure ensues.)
The SwimBuds comes with four different types of ear buds and tips.
More like… SwimBuds Mega-Super-Not-Bad-Awesome Pack.
Nailed it.
Anyhoo.
Here are some more of the features of the SwimBuds Shuffle bundle:
Warranty'd for a full year. It's nice buying without freaking out that you are somehow gonna break it on day three of using it and being out $250. This is also one of the longest warranties in this niche.
Did I mention all the different ear bud variations? You got the trees, buds, and my favorites (and go to in and out of the water), the winged buds that stay planted firmly in your ear no matter how fast (or not) you are going.
15 hours of battery life, around 500 songs of capacity.
Comes with the original Apple headphones as well as the waterproof chord and headphones. Don't use the former in the water.
Random bonus: Rebecca Soni, Olympic gold medalist, offers a 30-minute audio training session included with your purchase.
Where to buy the Swimbuds waterproof iPod Shuffle: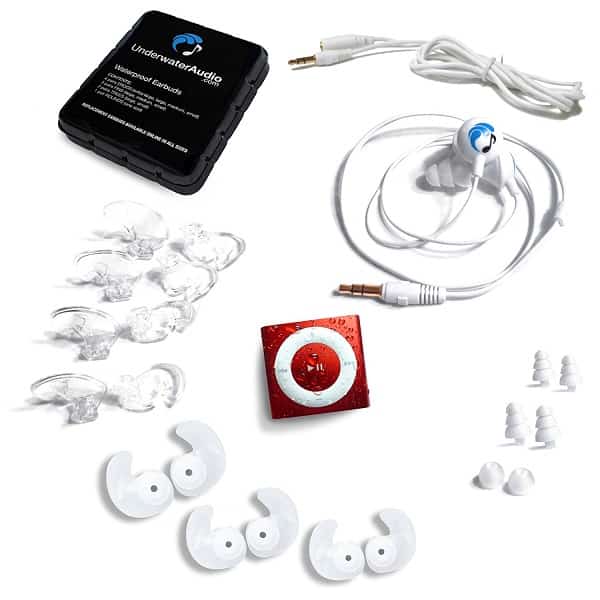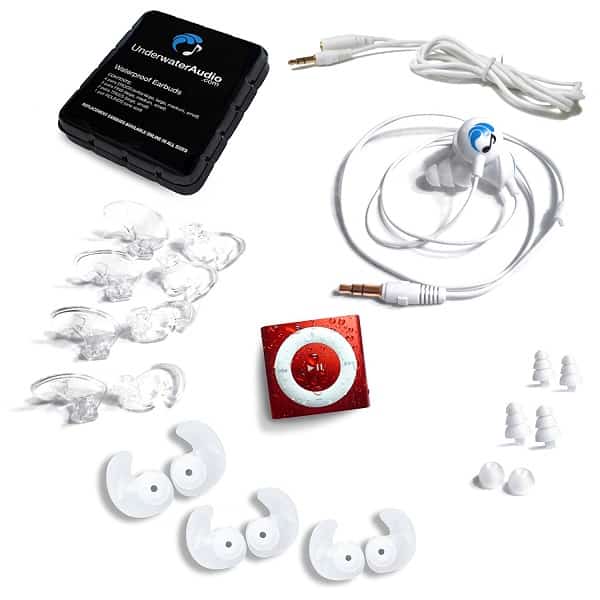 SwimBuds Waterproof iPod Starter Pack
Okay, so this is a paired down version of the Swimbuds bundle.
You get the same waterproof iPod Shuffle, along with one set of short-chord headphones. No extra ear buds and tips, but you still get that 30-minute audio workout from an Olympian and the one year warranty.
Oh, and it's also about $50 cheaper than the bundle package, with Amazon retailing it for around $170-190.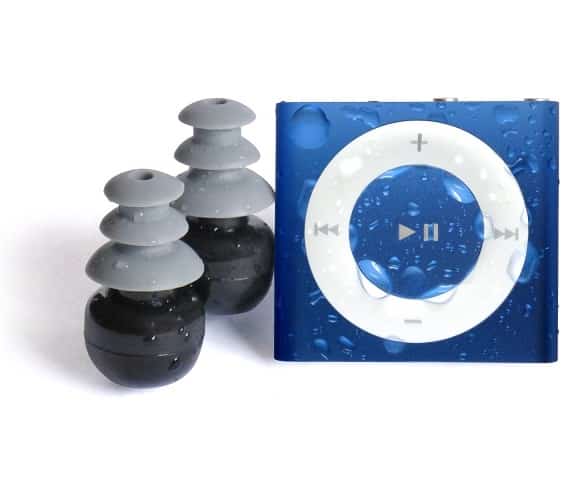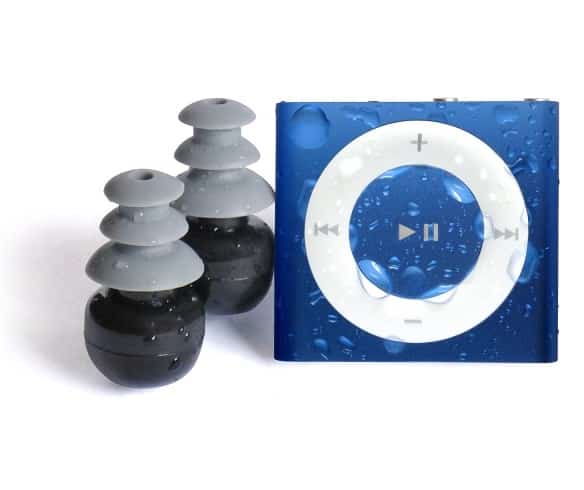 H20 Audio Waterproof iPod Shuffle Case
Okay, let's make one thing clear right off the bat: despite the attractive price point on this device, it's for the headphones and the waterproof casing only. There is no iPod Shuffle included with the $70 price tag. (Dare to dream though, right?)
But that doesn't mean you should dismiss it out of hand.
The H20 Audio Waterproof iPod Shuffle Case is well designed, durable, and the headphones are clutch. I am not traditionally a fan of earbuds while swimming, but these ones come close (I'd prefer to stick to my winged earbuds or bypass headphones altogether with the FINIS Duo—conducts music through your bone cheek!).
The best feature point isn't the headphones, or the price or whatever, it's the design and layout of the buttons on the player itself. iPod buttons are sleek and subtle, which is great when you are looking right at it—not when it's strapped to the back of your head and your swimming or kicking along.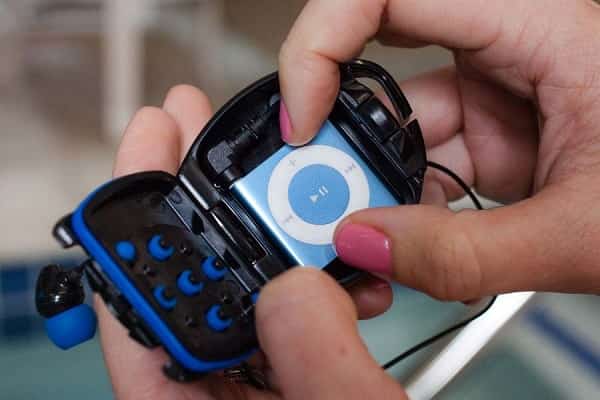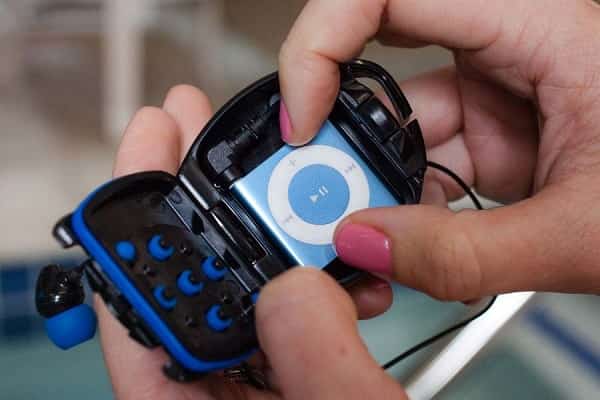 The player's buttons protrude enough that you can find them easily and hit "next track." Seems like a simple thing, but not having to fumble when skipping through tracks is something I can appreciate.
The "no iPod included" thing is also a bonus if you are already the proud owner of one of them and just need the waterproof casing to make it lap-proof.
Other neat-o facts about the H20 Audio case:
Comes with five different sets of ear plus and tips to help you find a comfortable and secure fit into your ear-holes.
The casing has goggle loops so that you can quickly snap the player to the side/back of your head with ease.
Compatible with iPod Shuffle generations 4-7.
The case is available in white/blue and black/blue. Both home and away colors.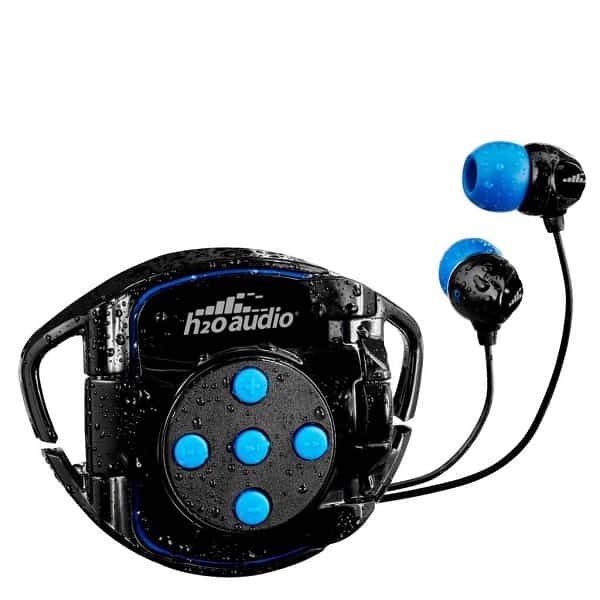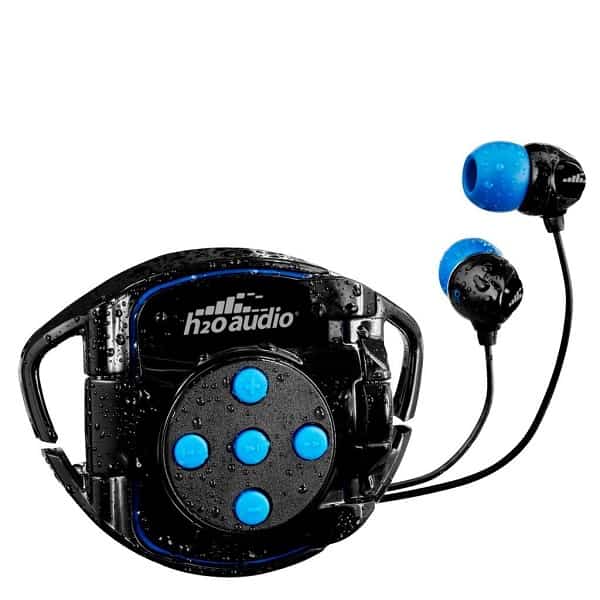 ---
More Swim Gear Guides:
The Best Waterproof Fitness Trackers for Swimming. Our comprehensive breakdown of the top wearables and fitness trackers for swimmers.
Apple Watch for Swimming: Going for a Rip in the Lap Pool. How neat-o is the Apple Watch for Swimming? It's super neat-o, actually. Here's a review of what swimmers need to know about crushing it with an Apple Watch in the pool.
Waterproof Fitbits for Swimmers. Fitbit—one of the most popular wearables on the planet—has two waterproof fitness trackers for swimmers. Here are reviews of both of Fitbits waterproof trackers for swimming.
6 BestUnderwater and Waterproof MP3 Players for Swimming. Ready to level up your swim workouts with music? Here's a breakdown of the most popular underwater and waterproof iPod/mp3 players on the market today.
5 Best Water-Resistant Tablets. Looking for a water-resistant tablet? Here is a breakdown of our favorite tablets for conquering the elements.