Looking for swimming goggles that have a nose piece? Here is our hand-picked selection of the best swim goggles with nose covers.
Swimming is one of the most enjoyable activities and sports you can engage in. Losing yourself in the silence of the water is a great way to exercise, spend time with yourself, and unplug from the outside world.
One of the essential pieces of swimming gear you need for your time in the water are swimming goggles. They help you to see where you are going, what's around you, and take in what's happening under the surface of the water.
But for swimmers who are looking for something a little more recreational than competition-grade swim goggles, swim masks or swim goggles with nose covers provide a soft and comfortable alternative.
Here is a breakdown of our top swim goggles with nose covers for adults and children.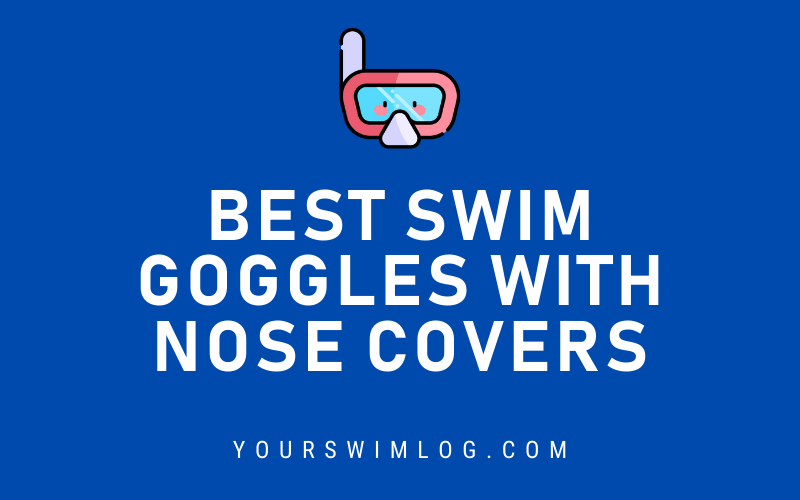 Speedo Adult Recreation Dive Mask and Swim Goggles
Speedo is one of the leading manufacturers of swimming equipment on the planet. They have a long history of producing excellent swimming goggles for competitive and recreational swimmers. It should come as little surprise that we ranked their swimming goggles with a nose piece as best in class.
The Speedo Adult Recreation Mask and Swim Goggles come in three different colors. This particular model is geared towards older children (14 years and age and above) and adults.
The polycarbonate lens is wide and has an anti-fog coating to provide crystal-clear vision in the water. The head straps, nose piece, and side skirt are made of long-lasting silicone that stand up to the wear and tear of pool chemicals.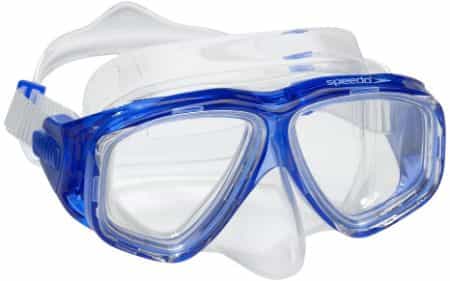 ---
Speedo Adventure Swim Goggles with Nose Cover (Junior)
For younger swimmers, the Speedo Adventure Swim Goggles provides all the same benefits and industry-leading construction of the adult goggle. (For more swim goggles for kids check out this list.)
The anti-fog polycarbonate lens keeps your vision under the water crystal-clear. A silicone skirt lightly suctions to the face, providing a leak-free swimming experience.
The head-straps are easy to adjust before getting into the water (and even once in the water), and with four colors to choose from, the Speedo Adventure Swim Goggles with Nose Cover will help maximize fun in the water.
Recommended for junior swimmers between the age of 6-14 years.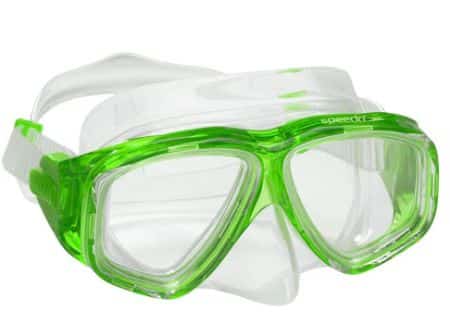 ---
Rongbenyuan Swimming Goggles with Nose Cover
Rongbenyuan might be a little tricky to say, but these swim goggles with nose cover are a cinch to put on. They are excellent for recreational swimming, snorkeling, and they fit most older children and adults.
They are available in a wide variety of colors, and the heavy-duty adjustable buckles on the sides make sure that the goggles stay in place no matter how active you are in the water.
All the usual bells and whistles are included with these goggles, including an anti-fog coating, panoramic 180-degree view, and soft silicone skirt for a comfortable fit.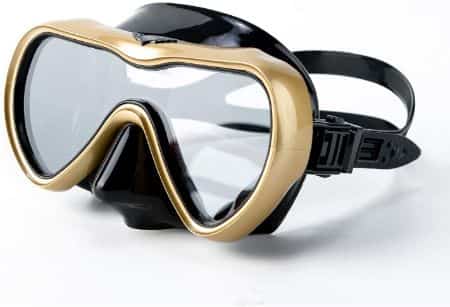 ---
COPOZZ Swim Goggles with Nose Cover
OPOZZ is a lesser-known player in the recreational swim gear market, but they do produce exceptional kit for scuba and snorkeling, including one of our favorite scuba masks.
Unlike the other goggles on this list, COPOZZ goggles come with a mirrored tint, making them ideal of sunny days and brightly-lit swimming pools.
These goggles come in five different colors and are made with tempered glass (compared to the typical polycarbonate of the other goggles on this list), which make them ideal for recreational swimming and deeper-water snorkeling and scuba diving.
The COPOZZ goggles have adjustable head straps for a proper fit and the silicone skirt and nose cover sit comfortably on the face.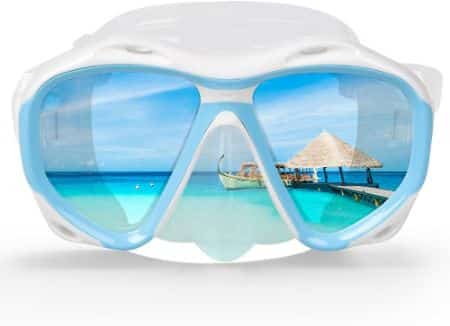 ---
Intex Reef Ryder Swim Goggles
Intex is another one of our favorite swim and pool manufacturers. Their above ground swimming pools consistently rank at the top of our list.
The Intex Reef Ryder Goggles provide all the usual benefits of goggles with nose covers, including a sturdy and flexible polycarbonate lens that provides an exceptional field of view.
The rubber skirt sits comfortably on the face and provides a leak-free swimming experience. Intex makes these bad boys in a couple of different colors and recommends them for swimmers aged 8-years and up.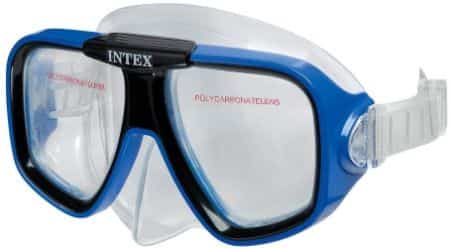 ---
Morgiana Swimming Mask with Nose Piece
A no-frills and Amazon choice'd swim goggle with nose cover is the Morgiana Swim Mask.
Available in half a dozen colors, the Morgiana Swim Goggles with Nose Cover has an anti-fog coating to prevent the goggles from getting steamed up while you are swimming. (To maintain the anti-fog, consider picking up one of our favorite anti-fog sprays for maximum visibility.)
The 100% silicone skirt sits snug on your face without leaving those long-lasting red rings on your face after extended use in the water.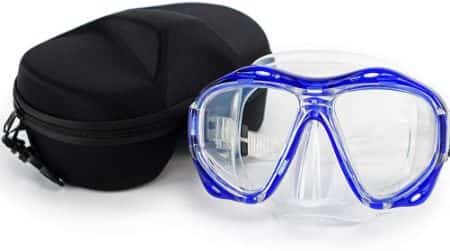 ---
More Stuff Like This
6 Best Fins for Snorkeling. Snorkel fins are a great way to level up your time in the water. Here is our hand-picked selection of the best fins for snorkeling.