Looking to power up your kick? Below is Bob Bowman's favorite set for improving your kick.
Bob Bowman is perhaps best known for coaching Michael Phelps' to five Olympic Games, where Phelps won a mind-numbing 23 gold medals.
During his coaching career, Bowman has served on the coaching staff for four Olympic Games, guided Bowman also helped develop Olympians Allison Schmitt, Chase Kalisz, and Becca Mann. Presently, Bowman is the head coach at Arizona State University, where he was named Pac-12 Men's Swimming Coach of the Year in 2016/2017.
Bowman has long preached the importance of his swimmers having a powerful kick in the water.
In training Phelps' underwater dolphin kick, the GOAT did long bouts of weighted vertical kicking. Bowman also worked with Phelps to be able to swim freestyle consistently in practice with a six-beat kick, something that reaped into massive personal best times and eventually, the fastest non-rubber suit time ever in the 200-meter freestyle.
Below is Bowman's favorite set for developing a PB-throttling kick.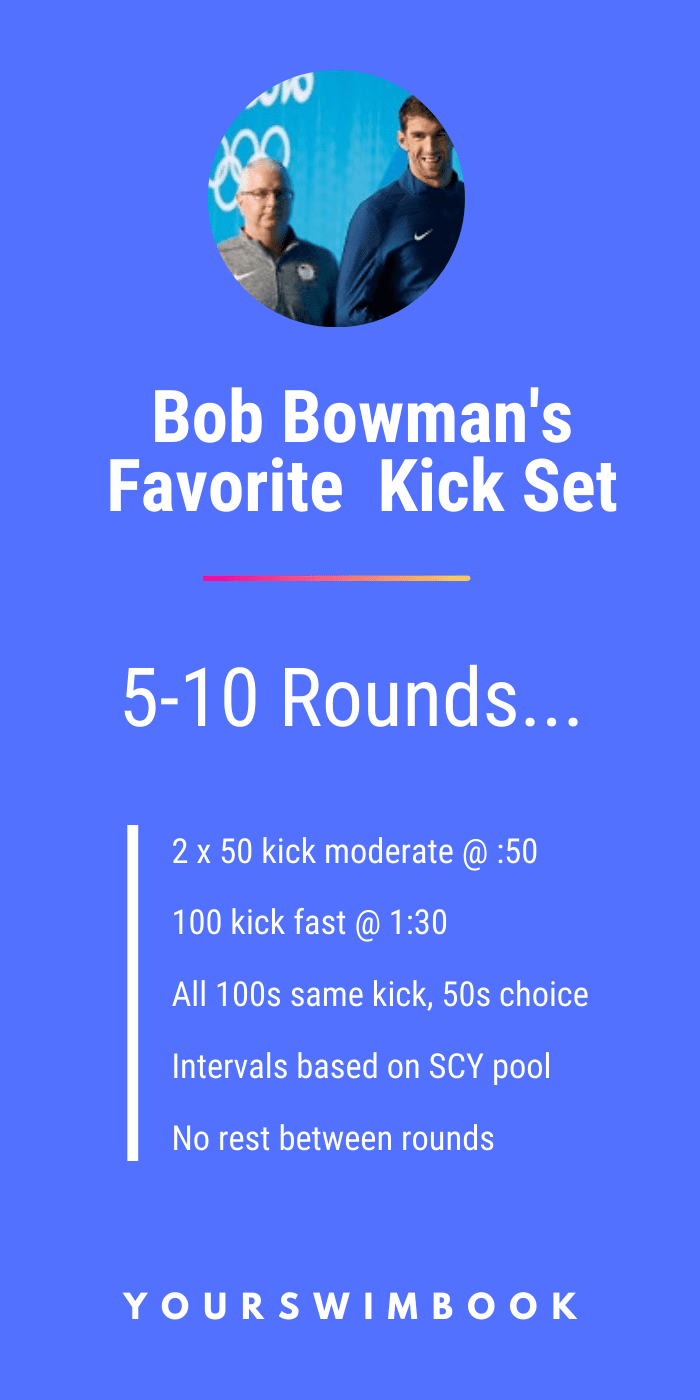 Board or No Board?
Kickboards used to be a staple of the swimmer's gear bag. With the increased use of swimmer's snorkels, the kick board has dropped a place or two on the totem pole.
But for Bowman, who believes that kicking a lot is crucial for developing faster swimmers, he has no problem going on and off the board, but for this particular set, he has his athletes use a kickboard.
"You can communicate with them and I believe that it stresses the legs more than inline kicking," says Bowman. "Remember, every drill has a cost!"
More Stuff Like This:
40 Ultimate Swim Practices for Competitive Swimmers. Here are 40 swimming workouts for sprinters, distance swimmers, butterfliers, IM'ers, and everyone in between courtesy of some of the top programs, swimmers and coaches in the world.
How to Develop an Unstoppable Freestyle Kick. The top athletes in the pool are not only fast swimmers, they are fast kickers. Here is your guide to a faster freestyle kick.