In this video we get a behind the scenes look at some of the dry land work that Cesar Cielo did during his preparation for the London 2012 Olympics.
In many of the exercises, Cielo, the current world record holder in the men's 50m freestyle, is using nothing but his body weight, while in others, particularly the Olympic lifts, he is lifting considerable weight.
SEE ALSO: 50m Freestyle World Record
Cielo performs a lot of strength training exercises that swimmers will recognize:
Front and back squats.
Kipling pull-up into a muscle up.
Track starts.
Track start into medicine ball chest pass.
And whatever this is called [0:18]
Notice that with all of the exercises Cielo maintains exceptional form, with a rigid spine-line and engaged core. The exercises nearly universally are designed to give him that explosive thrust that is so vital at the outset of the splash and dash.
Enjoy:

SEE ALSO:
Take Your Swimming to the Next Level
YourSwimBook is a log book and goal setting guide designed specifically for competitive swimmers. It includes a ten month log book,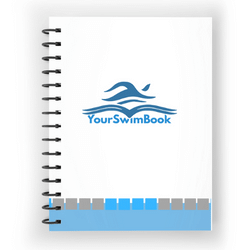 comprehensive goal setting section, monthly evaluations to be filled out with your coach, and more.
Learn 8 more reasons why this tool kicks butt now.
Join the YourSwimBook weekly newsletter and get motivational tips and more straight to your inbox. Sign up for free here.